#846: Love Finds A Way by Lorne Greene
Peak Month: November 1963
9 weeks on Vancouver's CFUN chart
Peak Position #7
Peak Position on Billboard Hot 100 ~ did not chart
YouTube.com: "Love Finds A Way"
Lyon Himan Green was born in 1915 in Ottawa. His parents were Russian Jews who emigrated from White Russia (present daddy Belarus) in 1913. It was a time when Russian Jews experienced pogroms, large-scale anti-Jewish riots, at the hands of the cossacks. Green's father owned a shoe repair store and made orthotics. Young Lyon Himan Green worked as a shoeshine boy outside his father's shop by the age of eleven, making 15 cents for each pair of shoes he shined. Lyon was called Chaim at home and he learned to speak Yiddish. Though he began studying chemical engineering, he switched to languages and drama. Green also worked at the campus radio station. Green was hired out of university to work at the CBC as as an announcer. By 1939 he gave newscasts on national radio and was dubbed the Voice of Canada. In 1941 Greene was the narrator for Churchill's Island, a National Film Board depiction of the defense of Great Britain. The film won the first Academy Award for Documentary Short Subject.

In 1953, Greene, who had added an "e" to his surname, was cast in a CBC TV special of Shakespeare's Othello. In 1954, he made his Hollywood debut playing the Apostle Peter in the Silver Chalice. He went on to other acting roles, including as an intelligence operative undercover as a captain of a freighter in the British TV series Sailor of Fortune. When Greene was asked to star in Bonanza he was offered a choice of being cast in the role of the father, Ben Cartwright, or one of the Cartwright sons, Adam. Greene decided to be Ben Cartwright, a role the clearly suited him best. Greene was actually approached by the producer of Bonanza to appear in the TV show after Greene had appeared in a 1959 episode of Wagon Train.
In 1959, Greene began a 14-year run as Ben Cartwright, playing a man who'd been widowed three times and father of three grown men. The foursome run the familys 600,000-acre Nevada ranch and share the challenges and victories they encounter in everyday living. As "Pa," Lorne Greene became a household name not only in Canada but in America as well. On the strength of the popularity of Bonanza, Lorne Greene went on to make several recordings. In 1963 he released "I'm The Same Ole Me" which climbed to #5 in Duluth, Minnesota, in October 1963. The B-side of the record was "Love Finds A Way".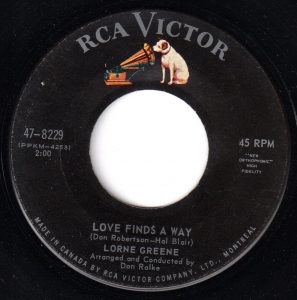 "Love Finds A Way" is a song about opposite sex attraction from the beginning of time. Rivers may separate them, dragons may get in the way, but love finds a way when it comes to sexual attraction. According to the song, it's all owed to "the power of love." The song was cowritten by Don Robertson and Hal Blair. Robertson had a Top Ten hit as a recording artist in 1956 with "The Happy Whistler". He also wrote a Top Ten hit for The Chordettes titled "Born To Be With You". Both songs made the Top 50 for the year of 1956 on the Billboard pop charts. Hal Blair teamed up with Robertson to write "Please Help Me I'm Falling" for Hank Locklin in 1960. Both wrote a few B-sides for Elvis Presley. They also went on to write the song Lorne Greene is most known for, "Ringo". This was an improbably popular ballad about the life and death of a notorious gunfighter. It reached #1 on the Billboard Hot 100 chart in December, 1964. Perhaps, having he subject of the ballad being the namesake of one of the Fab Four in the year of Beatlemania didn't hurt. Though Lorne Greene would release eight more singles, none of them were commercially successful.
Bonanza had it's final season ending in January 1973. Over its fourteen year run, Bonanza was the #1 TV show for three of those years and one of the Top four TV shows for nine years. Looking back at his role as Ben Cartwright in Bonanza, Lorne Greene reflected in a 1984 interview, "I patterned my portrayal (of Ben Cartwright) after my own father. My father wasn't a big man but he gave the impression of bigness, and that's what I've tried to do, combine authority with kindness." The enduring appeal of "the wild west" in the American imagination made Lorne Greene a wealthy man, far exceeding the wildest dreams of his Russian Jewish immigrant parents.
In 1973-74, Greene starred in Griff, playing a former police officer who became a private detective. In 1974, Lorne Greene played the father (Sam Royce) of Ava Gardner's character (Remy Royce-Graff) in the disaster film, Earthquake. Critics found the roles improbable as Greene was only seven years older than Gardner, and it showed. That year Greene appeared on the cover of People magazine with acupuncture needles sticking in his ear. He was one of the first celebrities to popularize acupuncture in North America. In 1977, Greene appeared as the first slave master of Kunta Kinte in the mini-series Roots. In 1978 Greene played Commander Adama in the original movie of Battlestar Galactica. Throughout the 1970's Greene was the face of Alpo dog food TV commercials. In 1981-82, Greene starred in Code Red, a show about firefighters, with his son played by a young actor named Nick Nolte.
Lorne Greene died on September 11, 1987.
April 2, 2018
Ray McGinnis
References:
Linda Greene Bennett, My Father's Voice: The Biography of Lorne Greene, iUniverse, Lincoln, Nebraska, 2004.
This Day in Jewish History / Ponderosa Patriarch Lorne Greene Dies, Haaretz, Tel Aviv, Israel, September 11, 2014.
Joe Leydon, "10 Things You Don't Know About Lorne Greene," Cowboys Indians.com, Dallas, Texas, February 1, 2015.
"C-FUNTASTIC FIFTY," CFUN 1410 AM, Vancouver, BC, November 16, 1962.
For more song reviews visit the Countdown.