#1081: Your Love Gets Me Around by Ronney Abramson
Peak Month: June 1977
9 weeks on CKLG chart
Peak Position #13
Peak Position on Billboard Hot 100 ~ did not chart
YouTube.com: "Your Love Gets Me Around"
Lyrics: "Your Love Gets Me Around"
Ronney Abramson was born in Paris, France. When she was two years old her family relocated to Montreal. With a musical aptitude, when she took a music degree with a focus on classical guitar at McGill University in Montreal, she started to appear in concert at coffee houses across Quebec and Ontario. Once she got known in central Canada she soon extended her appearances into New York state and Manhattan. Capitol Records signed her to a contract in 1971 and in 1972 she released a self-titled folk-rock album along with two singles. However, with flagging record sales, Capitol Records decided not to renew her contract. Nonetheless, Ronney kept on with her itinerary of concert dates at coffeehouses over the next few years. In addition, she made some freelance income from writing music for several made-for-TV movies.
In the mid-70s she moved to Toronto and played guitar in a band fronted by John Mills-Cockell. He connected Abramson to Bernie Finklestein who, in time, got her a contract with in 1976 with True North Records. The single "Your Love Gets Me Around" climbed to #39 on the Canadian RPM singles chart and #13 in Vancouver. Encouraged by the positive reviews, Abramson went back to the recording studio to work on an album. In the spring of 1978 the album Stowaway was released. Stowaway got plenty of positive reviews from the all-important music critics.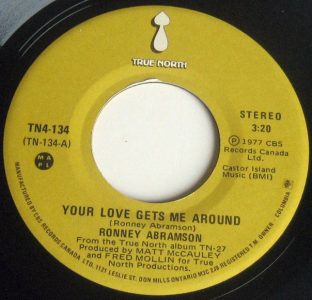 Here is a song about someone who is living a working class life. They go to and from work on public transit. They own a car, but since the clutch is gone can't take the risk of driving it anywhere (until they have enough money to pay for the car repairs). And they can't afford to take a holiday traveling by a bus, like Greyhound. Sure, she may dream of being a stowaway on a sailing ship and sail out to Turtle Bay, a place name ~ take your pick ~ off of Manhattan or the northern shores of the Island of Oahu, Hawaii. However, though she doesn't have the means to travel anywhere, the love she shares with her lover, metaphorically, gets her around to places she's never been before in the worlds being in love offers her.
Two more singles from the album, "Never Seem To Get Along Without You" and "Light Up Your Love", climbed into the Top 100 on the Canadian RPM singles chart, with the latter tune climbing highest to #81 nationally. Other recording artists on the True North label, Moe Koffman and Bruce Cockburn, both contributed as musicians on a couple of tracks on Stowaway. In 1978 Abramson contributed backing vocals on "Prenons La Mer", a track on Cockburn's album Further Adventures Of. She would appear as a background singer on several on Bruce Cockburn's albums into the 1980s.
Ronney Abramson's next album, in 1979, was Jukebox of Paris. David Clayton-Thomas was featured on the albums' debut single, "Trouble", which made it to the #9 in Fredricton, New Brunswick. As with her earlier albums, Abramson wrote all the songs on the album. The album mixed folk, pop and jazz. And the album included seasoned session musicians from Toronto, pianist John Capek, guitarist Bob Mann and drummer Jorn Anderson. At the 1979 Juno Awards, Abramson was nominated for most promising vocalist of the year. Subsequently, she released two more singles with True North in 1979. Both failed to chart. She took a break from recording and then in 1983 released three new singles with Duke Street Records. These also failed to chart.
1983 also saw her turn her attention to children's music, forming The Rugrats TV program. The album, Rugrat Rock won the best children's album award at the '84 Junos. She also contributed to a Canadian children's TV show called Grandpa's Garden. In '86 Abramson left the music industry and got a real estate license. Busy selling real estate, Abramson had hardly been seen in concert since the 1990s. However, in 2007 she did perform at the Danforth Music Festival. After 2010 Abramson released four of her songs on iTunes. As of the April 2017 these songs are still available on iTunes: "Light Up Your Love", "Your Love Gets Me Around", "Walking Me Home" and "Jukebox of Paris".
May 29, 2017
Ray McGinnis
References:
Ronney Abramson and Don Edwards, Ronney Abramson, Canadian Bands.com.
Ronney Abramson website, bandcamp.com
Juno Awards of 1979, Wikipedia.org
Bruce Cockburn, Further Adventures Of, (Personnel), Wikipedia.org
Turtle Bay, Manhattan, New York.
Turtle Bay, O'ahu, Hawaii.
"Vancouver's Official Music Survey," CKLG 730 AM, Vancouver, BC, June 21, 1977.
For more song reviews visit the Countdown.