#223: Love Her Madly by the Doors
Peak Month: May 1971
9 weeks on Vancouver's CKVN chart
Peak Position #2
1 week Preview
Peak Position on Billboard Hot 100 ~ #11
Year-End Top 100 on Billboard ~ #94
YouTube: "Love Her Madly"
Lyrics: "Love Her Madly"
The Doors were a psychedelic rock band from Los Angeles featuring Jim Morrison on vocals, Robbie Kreiger on guitar, Ray Manzarek on keyboards and drummer John Densmore. In 1965 Morrison and Manzarek were UCLA film students. They met each other for the first time on Venice Beach. Morrison had graduated and was living a vagabond life, sleeping on the beach, taking drugs and writing poetry. Morrison told Manzarek, "I was taking notes at a fantastic rock 'n' roll concert going on in my head." Then he sang "Moonlight Drive" to Manzarek. Discovering their addition interest in music, the two decided to form a band. Jim Morrison was born in Melbourne (FL) in 1943. He was the oldest child and his father was a U.S. Naval officer. Morrison suggested the name of the band. It came from the novel by Aldous Huxley's The Doors of Perception. Huxley's novel, in turn, drew inspiration from poet William Blake's "The Marriage of Heaven and Hell." In that poem Blake writes: "If the doors of perception were cleansed, everything would appear to man as it is, infinite." The Doors signed a record contract with Columbia Records in the winter of 1965-66.
James Douglas Morrison was born in Melbourne, Florida, in 1943. Raised as a military brat, he developed a fascination with literature and poetry. He studied Comparative Literature and Theatre at UCLA. Before he met Jim Morrison, Ray Manzarek had been in a band named Rick & The Ravens with his brother Rick. Raymond Daniel "Ray" Manzarek, Jr. was born in 1939 in Chicago. He played piano growing up and later in high school in a jazz band. After Manzarek met Jim Morrison, he attended a Transcendental Meditation lecture by the Maharishi Mahesh Yogi. Also at the lecture were John Densmore and Robby Kreiger. Krieger was born in Los Angeles in 1946. He learned the trumpet and piano, and settled on guitar in his teens. Densmore was born in Los Angeles in 1944. He began playing the piano in his childhood, and added drums in his youth. Densmore and Kreiger were in a band called the Psychedelic Rangers.
Soon, Densmore and Kreiger joined Morrison and Manzarek to form The Doors. In January 1966, the Doors became the house band for the LA club, Whiskey A Go Go. Meanwhile, Columbia Records was about to drop the band from their roster, so The Doors arranged a contract with Elecktra Records. For several weeks in June, The Doors opened for Them. Lead singer Van Morrison left an impression on Jim Morrison, shaping his vocal and stage presence. In 1967, The Doors released The Doors album with their summer hit, "Light My Fire". The song had been recorded in August 1966. An edited single version of the song was recorded on April 24, 1967. It went to #1 on the Billboard Hot 100, but stalled at #6 on CKLG in Vancouver.
Next, their fans waited with anticipation what The Doors would do for a follow up. The Doors didn't disappoint. Their second album, Strange Days, climbed to #3 on the Billboard 200 Album charts. The first single, "People Are Strange", was a big hit in Vancouver, climbing to #8 and #12 on the Billboard Hot 100. A month later, "Love Me Two Times" debuted on the Vancouver charts in December 1967. As with "Light My Fire", the song was mostly written by Robby Kreiger, although it was credited to The Doors.
In between the chart performance of these two singles on Strange Days, The Doors had a strange incident the night of a concert in New Haven, Connecticut, on December 10, 1967. Morrison was found with a girl making out in a bathroom shower stall prior to the concert. The police officer, not knowing who Morrison was, asked them both to leave. Morrison shouted obscenities at the officer and Morrison and Ray Manzarek (who was looking for Morrison as the concert was about to begin) were both sprayed with mace. The concert was delayed an hour as they recovered.
Once onstage, Morrison angrily told the crowd about his being sprayed with mace by a police officer. The police in the New Haven Arena were publicly on the receiving end of Morrision's jeers, goading and catcalls from the stage. As this progressed the police mounted the stage and arrested Morrison during the performance. This was the first time a rock n' roll performer had ever been arrested during a performance. Morrison was taken to the police station and charged with starting a riot and public indecency. The charges were dropped weeks later due to lack of evidence. Meanwhile, "Love Me Two Times" was banned from the airwaves in New Haven, CT.
Ahead of the release of their third album, Waiting For The Sun, The Doors released their debut single titled "The Unknown Soldier". Though the album and the 45 RPM pressings of the single listed the song as "The Unknown Soldier", in Canada the pressers got shortened the title by mistake simply to "Unknown Soldier".
In July 1968, The Doors released their third album, Waiting For The Sun. The second single, "Hello I Love You", became The Doors second #1 hit. The album also contained a track titled "Not To Touch The Earth". That songs' lyrics ended with these lines: "I am the lizard king/ I can do anything." Music critics and some fans took the song written by Jim Morrison as a personal description. From then on Morrison was often referred to in the press as the Lizard King. That month the Doors appeared in concert in Vancouver at Dante's Inferno on July 20th, with the Collectors and Painted Ship as the opening acts.
On March 2, 1969, The Doors were on tour in Miami while their song, "Touch Me" was into its seventh of eight weeks in the Top Ten of the Billboard Hot 100. That night they appeared at the Dinner Key Auditorium. During the performance Jim Morrison took off his shirt and poured champagne over his head and down his torso. He called out to the crowd, "Do you wanna touch me? Come up and touch me." Morrison was saying it was time to start a revolution and invited audience members to get on stage with him. Once over sixty people at the concert got on stage with Morrison, he asked them "Do you want to see my cock?" Within a minute, Ken Collier, the promoter for the concert grabbed the microphone from a very drunk Jim Morrison. He flashed a peace sign and said to the fans, "Keep calm, sit down, keep quiet, peace, this can't happen in Miami, we're not going to have this in Miami, sit down …" While Collier was making his announcement, Morrison pulled out his member. Then Morrison grabbed a security guy from behind named Lazzy Pizzi. When Pizzi felt someone grab him from behind, he turned to Morrison and flipped him off stage. Morrison fell into an astonished crowd. At that point, Ken Collier turned on the house lights and all four of The Doors were escorted backstage. As Morrison walked backstage he said to The Doors manager, Bill Siddons, "Uh-oh, I think I exposed myself." The Miami Herald reported the next day that Jim Morrison was trying to start a riot and called him "The King of Orgasmic Rock." They also commented that Morrison, a native of Florida, must be aware of the state's obscenity laws.
Jim Morrison's father was Rear Admiral George Stephen Morrison, the commander of the US Navy at the time of the Gulf of Tonkin incident on August 2, 1964. The Gulf of Tonkin incident was the catalyst for President Lyndon Johnson sending combat troops into Vietnam. Johnson lied to the US Congress about Vietnamese aggression against American naval vessels.
In his book, The Covert War Against Rock: What You Don't Know About the Deaths of Jim Morrison…, Alex Constantine explores the controversial subject of rock 'n roll performers being the targets of surveillance and possibly marked for assassination by the FBI and the CIA. When asked about this in 1983, Ray Manzarek said it was "conceivable" that Morrison was a target. Robby Kreiger said "…there was an FBI file on Morrison that we got a hold of, so the government was aware of the Doors." Manzarek told author, Alex Constantine, regarding the FBI, "they were going to stop all rock and roll by stopping the Doors. He was considered the most dangerous because he was saying….. 'We want the world and we want it NOW.'" In the original Electra Records bio release about Jim Morrison, the lead singer was quoted as saying "I like ideas about breaking away or overthrowing of the established order… I am interested in anything about revolt, disorder, chaos…"
F.B.I. harassment of The Doors was so pervasive that Jim Morrison developed an ulcer in his mid-'20's. Ray Manzarek recalls "the vice squad would be at the side of the stage with our names filled in on the warrants, just waiting to write in the offense…. They wanted to stop Morrison. They wanted to show him that he couldn't get away with it" (expressing anti-establishment views during his concerts). In her book, Those Who Died Young, Marianne Sinclair observes that "Doors' performances were frequently cancelled at the last minute through the efforts of local do-gooders, and audiences were regularly clubbed by policemen during concerts."
In late 1970, The Doors went to the studio to record their album L.A. Woman. Doors guitarist Robby Krieger composed the 75 percent of the music for "Love Her Madly" on a twelve string guitar, and wrote "25 per cent of the words."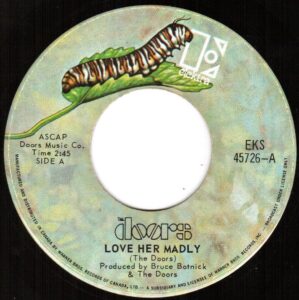 The lyrics were inspired by Krieger's troubles and fights with his then girlfriend and later wife Lynn. Krieger recalls "She had a bad temper, and when she'd get mad, she'd slam the door, and the house would shake. Every time we had an argument, she used to get pissed off and go out the door." The song's title was taken by Duke Ellington's line "We love you madly", a phrase that he interpreted to the audience at the end of his concerts. Lynn Veres was a go-go dancer when Krieger met her at the Ondine Club in New York City in 1967. She had a fling with Jim Morrison, but ended up with Krieger – they got married in 1972 and stayed together.
In a 2021 interview, Krieiger recalled "I came into our workshop on La Cienega and sung them the song. It was a bluesy, almost folk-rock thing that Arthur Lee and Love could have done. Ray Manzarek put on some great classical harpsichord-style keyboards, and John Densmore added a military drum and a shuffle, so it had a slightly Latin feel. It was an easy-listening song, but Jim loved that; he liked to croon. When he wanted to he could sing like Frank Sinatra, who he listened to a lot. Jim made it different and better.
Kriger added that Jim Morrison loved this part:
All your love is gone, so sing a lonely song
Of a deep blue dream, seven horses seem
To be on the mark.
"Jim always told me: 'Put in something that makes the listener confused,'" said Krieger. "It didn't mean much – seven horses were like a lucky omen. Jim liked horse racing from his Florida days. The bit about 'seem to be on the mark' simply fitted the military rhythm." The recording of "Love Her Madly" was mostly finished by December 1970.
Jim Morrison performed "Love Her Madly" only twice. Once at the Dallas State Fair Music Hall on December 11, 1970, and at the New Orleans Warehouse on December 12, 1970. He left for Paris around the time L.A. Woman was released by Elektra Records in March 1971.
"Love Her Madly" peaked at #1 in Reading (PA), Tucson (AZ), Birmingham (AL), Montreal, Green Bay (WI), Saint Charles (MO), Syracuse (NY), Seattle, and Phoenix, #2 in Vancouver (BC), Salinas (CA), Orlando, and Oxnard (CA), #3 in San Jose (CA), Salt Lake City, Memphis, New Haven (CT), Buffalo, Sarasota (FL), San Diego, Akron (OH), Olympia (WA), Chicago, Louisville (KY), and Escondido (CA), #4 in Los Angeles, Charleston (WV), Denver, Terre Haute (IN), and Pomona (CA), #5 in Waterloo (IA), Winnipeg (MB), Miami, Dayton (OH), Rochester (NY), San Antonio (TX), and San Bernardino (CA), #6 in Philadelphia, Ottawa (ON), Dallas, Corpus Christi (TX), Vancouver (WA), and Toronto, #7 in Chilliwack (BC), Reno (NV), Flint (MI), and Holland (MI), #8 in Albany (NY), Milwaukee, and Washington DC, #9 in Windsor (ON), Augusta (GA), Portland (OR), Jamestown (NY), Cleveland, and New York City, and #10 in Columbus (OH), Sioux Falls (SD), and Salem (OR).
Another track from L.A. Woman was "Riders On The Storm". Robby Krieger recalls, "This was the first time that we'd actually written some of the songs together in the studio. Before, I'd usually have some music and bring it in, and Jim would set some words to it. This time, we actually spent time jamming and making songs out of what came out of it. One day we were riffing on the old Western song "(Ghost) Riders in the Sky," and it morphed into "Riders on the Storm." The single climbed to #1 in Toronto, #7 in Vancouver and the Netherlands, and #14 on the Billboard Hot 100 in September 1971.
In March 1971, Jim Morrison flew to Paris with his girlfriend and eventually moved into L'Hotel. This was the same establishment where Oscar Wilde had died in 1900. Morrison loved Paris. He enjoyed walking to the Ile Saint Louis, perusing the books in Shakespeare and Company, and wandering around Saint-Germain-des-Pres drinking in the Café de Flore and Les Deux Magots.
Two months after "Love Her Madly" peaked on the North America pop charts, Jim Morrison died in Paris, France, in a bathtub on July 3, 1971. Morrison was 27 years old. He was found by his girlfriend, Pamela Courson. She died of a heroin overdose in 1974, at the age of 27. Morrison was said to have died of "natural causes" and possibly "heart failure." He had been left in a bathtub for up to 72 hours. No autopsy was performed. Over 45 years later tabloid headlines, like that of the Daily Star, appear declaring: "Jim Morrison 'found ALIVE in New York': Shock Claim."
Morrison biographer Danny Sugarman is married to Fawn Hall. She was one of the indicted Iran-Contra co-conspirators. Working as Oliver North's secretary, she shredding an 18-inch file of documents linking the Reagan administration to the sale of weapons to Iran and the funding of the contras in Nicaragua. In her testimony before a congressional inquiry Fawn Hall said "sometimes you have to go above the law." For his part Danny Sugarman told Morrison biographer Bob Seymore that after he made a Freedom of Information Act request, he had seen government documents and files concerning Jim Morrison's death. But Sugarman told Bob Seymore he promised Pamela Courson he would never write about them in his book. Sugarman also told Bob Seymore "You could say that the CIA and other intelligence agencies may have had a hand in the deaths of Hendrix, Janis Joplin and then Morrison. Simply for the reason that they were leaders of a generation during the 1960's" (who were anti-establishment). In his own biography about Jim Morrison, Danny Sugarman wrote "Jim was certainly popular enough, and more threateningly, smart enough to cause the powers that be ample reason to take some sort of action to prevent his subversive influence. Surely the authorities were wary of him."
Curiously, Sugarman dedicated a chapter in his 1981 biography about the Lizard King speculating that Jim Morrison was alive and hadn't died in Paris. An owner of the Bank of America Communications in Louisiana was named James Douglas Morrison. This Morrison was also someone who claimed to be an intelligence officer who had worked for the CIA, NSA and others. The second James Douglas Morrison sent letters to CIA Director William Colby from his CIA station in France. Author Thomas Lyttle in his essay "Rumors, Myths, and Urban Legends Surrounding the Death of Jim Morrison" summarized "someone or some group is actively pursuing and setting up a mass "urban legend" regarding James Morrison…. a lot of official-looking information is being generated surrounding the myth and legend of Jim Morrison."
As for his death on July 3, 1971, Alex Constantine notes the medical examiner attributed Morrison's death to an unspecified "heart failure. The heart failed, quit. Dr. Vasille noted "a little blood round the nostrils," indicating a hemorrhage, inconsistent with heart failure. Paramedics from the local Fire Brigade reported that Morrison was still smiling when they arrived, also not consistent with the officially-stated cause of death."
Jim Morrison is buried in Père Lachaise Cemetery. In 1990 Morrison's father placed a flat stone on his son's grave. The Greek inscription ΚΑΤΑ ΤΟΝ ΔΑΙΜΟΝΑ ΕΑΥΤΟΥ in English means "true to his own spirit."
Ray Manzarek died in 2013 after pursuing a successful solo career. He later played with Echo and the Bunnymen and Iggy Pop. In 2002, Manzarek and Robby Kreiger gathered several other musicians together and toured as The Doors. John Densmore sued them and legal battles ensued for several years. John Densmore turned to acting as a second career. He also wrote articles for The Nation, The Guardian, Rolling Stone, Los Angeles Times, Chicago Tribune, Huffington Post, and Utne Magazine. Densmore has written two autobiographies of his years with Jim Morrison and The Doors.
Los Angeles native, Robby Kreiger, continues to perform and has five concerts currently scheduled in September 2019, including a date at Whisky a Go Go in Los Angeles on September 28. Robby Kreiger and will also be one of the recording acts performing on the Rock Legends Cruise from February 27 to March 2, 2020. Others on the cruise include The Who's Roger Daltry, Roger Hodgson of Supertramp, Paul Rogers of Free and Bad Company, Uriah Heap, Mark Farner of Grand Funk Railroad, Elvin Bishop and the Atlanta Rhythm Section.
December 17, 2021
Ray McGinnis
References:
Jeff Weiss, "L.A. Woman: Track List," LA Weekly, January 19, 2012.
Max Bell, "The Doors' Love Her Madly – the Story Behind the Song," Loudersound.com, April 19, 2021.
Rosemary Breslin, Jerry Hopkins and Paul Williams, "Jim Morrison Lives: The Legacy of the Lizard King," Rolling Stone, September 17, 1981.
Frank J. Lisciandro, Jim Morrison: Friends Gathered Together, (Vision, Words & Wonder, 2014).
John Densmore, Riders On The Storm: My Life With Jim Morrison and the Doors. (Delta, 1991).
Arthur Miller, The Doors!: Jim Morrison – The Lizard King!, (CreateSpace, 2018).
Andy Greene, "Ray Manzarek, Doors Keyboardist, Dead at 74," Rolling Stone, May 20, 2013.
"New Haven Police Close 'The Doors,'" New York Times, December 11, 1967.
"John Burks, Jim Morrison's Indecency Arrest: Rolling Stone's Original Coverage," Rolling Stone, December 10, 2010.
Ray Manzarek, Light My Fire: My Life With The Doors, (Penguin, 1999).
Jeff Cohen and Norman Solomon, "30-Year Anniversary: Tonkin Gulf Lie Launched Vietnam War," Fairness and Accuracy In Reporting, New York, July 27, 1994.
Alex Constantine, The Covert War Against Rock: What You Don't Know About the Deaths of Jim Morrison... (Feral House, 2000).
Adrian Mack, "Jimbo's Ghost isn't the Spookiest Thing About Morrison," Georgia Straight, Vancouver, BC, May 27, 2011.
David Trayner, "Jim Morrison 'found ALIVE in New York': Shock Claim," Daily Star, January 29, 2016.
Jerry Hopkins and Danny Sugarman, No One Here Gets Out Alive, (Warner, 1981) 372.
Marianne Sinclair, Those Who Died Young, (Plexus Publishing, 1979).
Bob Seymore, The End: The Death of Jim Morrison, (Omnibus Press, 1991) 44, 61, 63, 78.
Thomas Lyttle, "Rumors, Myths, and Urban Legends Surrounding the Death of Jim Morrison," in Secret and Suppressed: Banned Ideas and Hidden History, Jim Keith, ed., (Feral House, 1993) 117.
"John Densmore bio," John Densmore.com.
"Robby Kreiger bio," Robby Kreiger.com.
Marilyn Brouwer, "Jim Morrison in Paris: His Last Weeks, Mysterious Death, and Grave in Père Lachaise," Bonjour Paris, March 6, 2019.
"Your Average Rock n' Roll Radio Survey," CKVN 1410 AM Vancouver, BC, May 28, 1971
For more song reviews visit the Countdown