#112: Love Is Alright Tonite by Rick Springfield
Peak Month: February 1982
14 weeks on Vancouver's CFUN chart
Peak Position #2
Peak Position on Billboard Hot 100 ~ #20
YouTube.com: "Love Is Alright Tonite"
Lyrics: "Love Is Alright Tonite"
Richard Lewis Springthorpe was born in 1949 in suburban Sydney, Australia. His dad was an Australian Army officer, and in his childhood, Rick lived on an army base. He was 13 when he learned guitar. Rick joined various bands in England, where his father was stationed from 1958 to 1963, and several more after returning to Australia. When he was still 14, in mid-June 1964, Rick saw the Beatles in concert in Melbourne at Festival Hall. In 1968, he was approached by bass guitarist Pete Watson to join his group Rockhouse. By the fall of '68, Watson changed the band's name to MPD Ltd and, in October when he was 19 years old, they toured South Vietnam to perform in concert for Australian troops. Another member of MPD Ltd was Danny Finley (drummer). Upon returning to Australia, they formed Wickedy Wak. By 1969, Springthorpe was in a band called Zoot. The band recorded a heavy rock version of the Beatles "Eleanor Rigby", which climbed to #4 on the Australian pop chart in 1970.

Rick was scouted for a solo career and his stage name became Rick Springfield. In 1971 he released his debut album Beginnings. In 1972, Rick Springfield had a Top 20 hit in Vancouver with "Speak to the Sky". The single also climbed to #6 in Australia and #14 in the USA. A followup single from the album, "Hooky Jo", was a Top 20 hit in Australia in 1972. In 1973, Springfield's single "What Would the Children Think" Was a Top 30 hit in Fort St. John (BC). From September 1972 to September 1973, Springfield starred as "himself" in the ABC-TV Saturday morning cartoon series Mission: Magic! He wrote and performed an original song in each episode.In the mid-70s, Springfield's albums Comic Book Heroes, Mission: Magic! and Wait for Night were commercial flops.
On January 14, 1977, Rick Springfield gave his first Concert in Vancouver at the PNE Garden Auditorium. Meanwhile, Springfield focused on his acting career appearing as a guest in several primetime TV dramas. These included Six Million Dollar Man, The Incredible Hulk, The Rockford Files, The Eddie Capra Mysteries, and General Hospital. In the daytime soap opera, Springfield played Dr. Noah Drake from 1981 to 1983.
In 1981, Rick Springfield released his album Working Class Dog. The debut single, "Jessie's Girl" climbed to #1 in both Australia and the USA, #6 in Canada – and #3 in Vancouver. He subsequently won a Grammy Award for Best Male Rock Vocal Performance for "Jessie's Girl". His next release from the album, "I've Done Everything For You" climbed to #8 on the Billboard Hot 100. In Vancouver it made the Top 30. A third single release from the album was "Love Is Alright Tonite".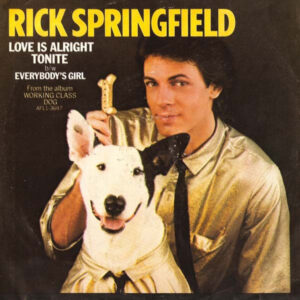 Rick Springfield wrote "Love Is Alright Tonite". The song is an uptempo fast-driving rock song. It is about a "working class dog" who looks forward to getting together and going out with his "baby" each night. His girlfriend's dad is difficult, and a bit of an obstacle to the dating relationship. He sings "Don't worry, Daddy, I'll have her home at a respectable hour." Though the boyfriend is just making enough to pay the rent "living on the brink," he trusts everything will be alright. And he's anticipating the night when there'll be "a feeling of incredible power," s synonym for some hot sex, veiled enough to not get the song banned from airplay.
"Love Is Alright Tonite" peaked at #2 in Vancouver, #3 in Phoenix, #4 in Montreal, #5 in San Bernardino (CA), Cleveland, and Philadelphia, #6 in Winnipeg (MB), #8 in Kansas City (MO), and Washington D.C., #9 in Baltimore, and St. Cloud (MN), and #10 in Kitchener (ON). In Vancouver, "Love Is Alright Tonite" was kept out of the number-one spot by "Tainted Love" by Soft Cell. In Vancouver, "Tainted Love" was a huge hit, dominating the CKLG Top Thirty at number-one for twelve weeks – from January 20 to April 7, 1982.
In 1982, Rick Springfield released the studio album Success Hasn't Spoiled Me Yet. The lead single, "Don't Talk To Strangers" climbed to #1 in Vancouver, #2 on the Billboard Hot 100 and #10 in Australia. The song earned him another Grammy Award nomination for Best Rock Vocal Male Performance. But he lost out to Lionel Ritchie who won the award for "Truly". A third single from Success Hasn't Spoiled Me Yet, "What Kind of Fool Am I", was a Top 20 hit in Vancouver in the summer of '82.
In 1983 Rick Springfield had another Top Ten hit in the USA titled "Affair of the Heart". The song was nominated for a Grammy Award in the Best Male Rock Vocal Performance category. But Springfield lost to Michael Jackson's "Beat It". In the fall of 1983, Springfield had another Top 20 hit with "Human Touch". Like "Affair of the Heart", the single came from the Livin' In Oz album.
In 1984, Rick Springfield was back in the Billboard Hot 100 Top 5 singles with "Love Somebody". The single stalled at #15 in Vancouver. It was the first of several single releases from his studio soundtrack album from the film Hard to Hold. Springfield released a second album in 1984 titled Beautiful Feelings. The following year, his album Tao contained the single "Celebrate Youth" which was a #5 charting single in West Germany. On August 17, 1985, Rick Springfield performed in Vancouver at the Pacific Coliseum.
Starting in 1995, Rick Springfield was a member of the original Broadway cast of the Tony Award-nominated musical Smokey Joe's Cafe. The musical was based on the songs of Jerry Leiber and Mike Stoller. It closed in January 2000 after 2036 performances.
In 2010, Springfield published his autobiography, Late, Late at Night: A Memoir. In his memoir, Rick Springfield described how he attempted to hang himself at age 17, but the rope he attempted to use snapped. Since publishing his memoir, Rick Springfield has spoken publicly about dealing with depression, in hopes of offering a path forward to others who are struggling. After comedian Robin Williams took his life in August 2014, and Chris Cornell of Soundgarden in took his life in May 2017, it began to eat up Springfield. In the fall of 2017, Springfield came very close himself to dying by suicide. Since he hit rock bottom again, Springfield wants others who are contemplating suicide to know that "the moment will pass," that more positive thoughts will emerge to anchor the will to go on living.
In May 2014, Springfield published Magnificent Vibration: a novel, which also made The New York Times Best Seller list. The subject of the novel is the miracle of meditation. On 9 May 2014, Springfield was honored for his contribution to music with a star on the Hollywood Walk of Fame.
Over the decades, Rick Springfield has released 22 studio albums. His most recent solo effort, from 2019, is titled Orchestrating My Life. Rick Springfield appeared in concert at the PNE in Vancouver on August 24, 2012, September 7, 2015, and two years later on September 1, 2017.
In 2020, Rick Springfield formed the Beatles and power pop cover band The Red Locusts. The band released a self-titled debut album in 2021. That same year, Springfield started hosting a weekly radio show on Sirius XM's "80s on 8" Channel called 'Working Class DJ with Rick Springfield.' On each episode Springfield spins eight songs around a theme.
September 23, 2022
Ray McGinnis
References:
"Rick Springfield: On learning the craft of acting, wanting to be a rock star and living with depression," ABC, Australia, August 20, 2015.
Paul Cashmere, "Rick Springfield Become The Red Locusts With A Nod To The Beatles," Noise11, Melbourne, Australia, July 26, 2021.
"Rick Springfield admits he recently considered suicide in new interview," FOX News, January 12, 2018.
Breanna Mona, "Ahead of MGM Northfield Center Stage show, rocker-actor Rick Springfield talks about his 40-year career, meditation and The Beatles," News-Herald, Northfield, Ohio, December 2, 2021.
Rick Springfield, Late, Late Night, Simon & Schuster, 2010.
Smokey Joe's Cafe, Virginia Theatre, 245 W. 52nd Street, New York, March 2, 1995 to January 16, 2000.
"Rick Springfield – Concerts – Canada," setlist.fm.
"Beatles – Concerts – Australia," setlist.fm.
"C-FUN Top Thirty," CFUN 1410 AM, Vancouver, BC, February 20, 1982.
For more song reviews visit the Countdown.