#1204: Love is Just a Four Letter Word by Joan Baez
Peak Month: May 1969
6 weeks on Vancouver's CKLG chart
Peak Position #9
Peak Position on Billboard Hot 100 #86
YouTube.com: "Love Is Just A Four-Letter Word"
Lyrics: "Love Is Just A Four-Letter Word"
Joan Baez was born on Staten Island, New York, in 1941. Her mother was from Edinburgh, Scotland, and her father from Puebla, Mexico. Joan remembers racial slurs thrown at her due to her Mexican heritage. Her younger sister, Mimi Farina, was also became a folk singer and recording artist. Joan Baez was 17 years old in 1958 when she began her studies at the Boston University School of Drama. She was part of a group of peers who had a passion for both folk music and human rights. She began to perfect her adaptations of traditional folk songs showcasing the challenges of the human condition. These include lyrics concerning underdogs in a struggle, race relations, poverty, war and its folly, romantic betrayal, unrequited love and spiritual breakthroughs. She appeared on the folk music scene in 1959 at Club 47 in Cambridge, Massachusetts. That same year she performed at the first Newport Folk Festival in Newport, Rhode Island.

Baez's treatment of these traditional American folk tunes influenced pop and rock artists who would later make their stamp on songs Baez first introduced to a new generation. These included "House Of The Risin'", a song that was recorded by The Animals and number one hit for them in 1964; "Babe I'm Gonna Leave You", a track on the debut album, Led Zeppelin, by Led Zepplin; and "What Have They Done To The Rain", which was recorded by The Searchers and became a hit single for them in '64.
In 1962 Joan Baez was featured on the cover of TIME magazine as the ambassador of the new Folk music scene in America. Her album, Joan Baez in Concert climbed to #10 on the Billboard pop album chart in 1962. And in 1963 Joan Baez in Concert Part 2, climbed to #7 on the Billboard pop album chart. Also in '63 Baez introduced a new singer named Bob Dylan to the audience at the Newport Folk Festival. She also popularized songs by newer folk singers that led to their growing popularity. These included Leonard Cohen, Paul Simon, Tim Hardin and Phil Ochs. Throughout the Sixties Joan Baez was in the forefront of the Civil Rights movement. She performed on stage in Washington D.C. at the Lincoln Memorial on August 27, 1963, prior to Dr. Martin Luther King Jr. giving his "I Have a Dream" speech. In November 1963, her recording of "We Shall Overcome" peaked ago #6 in Kingston, Ontario.
In 1964, she withheld 60% of her taxes from the Internal Revenue Service in protest of U.S. military spending. In 1965 she took part in the Selma to Montgomery voting rights marches that were a catalyst for the passage of the Voting Rights Act securing voting rights for racial minorities. In 1967 she was arrested on two occasions for blocking the entrance to the Armed Forces Induction Center in Oakland, California, in support of young men who were protesting the draft. Also in 1965, Baez had a regional hit single climbed to #23 in Vancouver. It was titled "There But For Fortune". The song made it to #19 at CHUM-AM in Toronto and #5 in San Jose, California.
Two subsequent single releases, "It's All Over Now Baby Blue" and "Farewell Angelina", both made the Top 40 on the UK Singles chart in 1965. However, these songs were not given a spin by DJs in North America, as she was being tacitly boycotted by broadcasting companies in the USA. Nonetheless, the album from which both singles came, Farewell Angelina, climbed to #10 on the Billboard album chart.
In 1966 "Pack Up Your Sorrows" was a charting single in Cleveland (OH), but got little attention elsewhere. While her version of "The Little Drummer Boy" got airplay in Los Angeles in the winter of '66. And in 1967 a single from her album, Joan, titled "Be Not Too Hard", charted in a half dozen states in the USA in August and September of that year. It was a song written by the British poet Christopher Logue, with music by Donovan.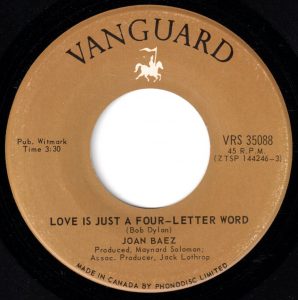 "Love is Just a Four-Letter Word" is a song written by Bob Dylan, and long associated with Baez, who recorded it numerous times. Baez performed it throughout her career. Written by Dylan in the mid-60s, Baez immediately took to the song, and began performing it, even before it was finished. In the film Don't Look Back, a documentary of Dylan's 1965 tour of the UK, Baez is shown in one scene singing a fragment of what was then an incomplete song in a hotel room late into the evening. Baez tells Dylan, "If you finish it, I'll sing it on a record." She first included the song on Any Day Now, her 1968 album of covers of songs by Bob Dylan. Since then she has recorded it on three additional occasions.
Baez' 1968 recording was also released as a single that appeared on the pop charts in 1969. Dylan himself never recorded the song.
Listeners to Vancouver radio station CKLG liked "Love Is Just A Four Letter Word" and it peaked at #9. In America, the song peaked on the Billboard Hot 100 at #86. It climbed to #2 in Fresno (CA), and #8 in San Francisco. But the song only got chart action in about a dozen of fifty states.
"Love Is Just A Four-Letter Word" concerns circumstances of people for whom love has become more of a trap then a form of freedom. Romantic notions of everlasting love "blow up in smoke" and individuals discover they have been setting traps for themselves when pursuing love, romance and marriage. Perhaps for listeners of Vancouver radio the glow of love had also begun to fade and the four letters in the word love much less potent then once imagined. In slang, a four-letter word is also a term for any swear-word. Bob Dylan communicates the insight that there is a thin line between love and hate. Once lovers are bound in the bonds of love, besides the words "I love you," may come a blue streak as well.
The same year she released the single, "Love is Just a Four Letter Word", Joan Baez performed at the Woodstock Festival on a dairy farm in the town of Bethel, New York, in the Catskill Mountains. Billed as "An Aquarian Exposition: 3 Days of Peace & Music," Baez was six months pregnant after her marriage to David Harris the previous year. She performed a 65-minute set after midnight as the headliner for the first night of the festival.
In a "gypsy cafe" a friend of a friend has a baby on her knee and is talking to the infants' father. She says to him that "love is just a four-letter word," possibly in reply to something he said about love. The person overhearing the conversation is a novice in the matters of love as their "experience is limited and underfed." While they search for their "double," or soulmate, they think the idea that love is just a four-letter word is ridiculous. With hindsight, the one overhearing the conversation at the gypsy cafe sees the woman with the baby on her knee as a teacher. This is because love has been elusive. Words like "forever" and "eternity" have not become part of her own narrative. And so she concludes, after many years and setting traps for herself, the phrase "love is just a four-letter word" is instructive.
The opening line of "Love Is Just A Four-Letter Word", starts: "Seems like only yesterday I left my mind behind." For Joan Baez, the line may have had code reference to her own life. In his book, The Covert War Against Rock 'n Roll, Alex Constantine, writes that Baez is a survivor of ritual child abuse and multiple personality. Her father worked at Cornell University as Head of Operations Research where the CIA did mind control experiments. Constantine claims this her letters about her mental health issues is a cover for trauma-based mind control programming. Baez had discussed the trauma-based programming she suffered in her childhood with social activists who were in contact with Alex Constantine, requesting anonymity. Constantine points to one of Baez's songs, "Play Me Backwards", that elude to her traumatic experience: …I'm paying for protection/Smoking out the truth/Chasing recollections/Nailing down the proof. In 1996, Baez told Detroit News reporter, Kevin Ransom, that she had to deal with her ongoing "inner demons," phobias, anxieties, panic attacks and memories with therapy. Baez told Kevin Ransom that therapists were what kept her "glued together, to get me to the next gig, or to the next march."
In her 1987 memoir, And A Voice To Sing With, Joan Baez recalls a story reported in the New York Times on February 21, 1967. It concerned "An American identifying himself as Harold Cooper, a CIA man, had ordered the Japanese interpreter, Ichiro Takasaki, to substitute an innocuous translation in Japanese for Miss Baez' remarks in English on Vietnam and Nagasaki's atom bomb survivors." Cooper insisted Takasaki alter the political statements made by Joan Baez. He warned the Japanese interpreter, "if you don't cooperate, you will have trouble in your work in the future." Takasaki submitted to the threat and mistranslated her statements. Ichiro Takasaki later told reporters, "I knew that Miss Baez was a marked person who was opposed to the Vietnam Was and who had been tacitly boycotted by the broadcasting companies in the United States. American friends also repeatedly advised me not to take on the job (as translator for Joan Baez in Japan), but I took it on as a business proposition since the Japanese fans were coming not to hear her political statements, but her music. I met Mr. Cooper once in the presence of a Times reporter in Japan, but even in that meeting he openly demanded that I mistranslate. I tried to reject the absurd demands, but he knew the name of my child and the contents of my work very well. I became afraid and agreed."
Alex Constantine writes that in 1969 the European Exchange System announced that the sale of Joan Baez's records had been banned from all Army PXs, (stores on army bases). That year, Joan Baez had condemned the United States draft on the CBS show, The Smothers Brothers Comedy Hour. Her comments were cut from the broadcast when it aired, as the show had been pre-recorded. The Smothers Brothers were subsequently cancelled by CBS. This was in the context of Joan Baez's husband, David Harris, being sentenced to a three-year sentence for evading the draft. If Joan Baez was under surveillance, she would not have been the only folk singer. In an article by Aaron J. Leonard titled, Newly Unearthed FBI File Exposes Targeting of Folk Singer Dave Van Ronk, the reporter explores the extent that the FBI interfered with Van Ronk's attempts to get work.
Her biggest success with single releases was with "The Night They Drove Old Dixie Down", in 1971. It became a Top Ten hit in both the USA and the UK. Also in 1971, Joan Baez wrote "The Story of Bangladesh". This song was based on the Pakistani army crackdown on unarmed sleeping Bengali students at Dhaka University on March 25, 1971, which ignited the prolonged nine-month Bangladesh Liberation War.
In 1973, Baez released the album, Where Are You Now, My Son? The title song was 21:42 in length. Taking up the B-side of the album, it was comprised half of a spoken-word poem and half of tape-recorded sounds from Joan Baez's visit in Hanoi, in North Vietnam, December 1972. At that time, there was an eleven day "Christmas Bombing" campaign over Hanoi by the U.S. Air Force from December 18 to 29. It was part of Operation Linebacker II, by the United States Seventh Air Force and US Navy Task Force 77. The track brings alive the experience Baez and her traveling companions survived the 11-day-long bombing campaign.
After the United States backed Chilean coup of September 11, 1973, installing General Augusto Pinochet, Joan Baez recorded an album titled Gracias a la Vida. The song was a cover of the Chilean composition by poet Violetta Parra, written in 1965. When she released the album, Baez stated as a "message of hope to the Chileans suffering under Augusto Pinochet." The album included 13 tracks sung in Spanish and one in Catalan. She was interviewed by reporter, Nancy Faber, for People in April 1974. In reference to a track on the album, "Te Recuerdo Amanda", Baez told People, "It's about a Chilean song written by one of the men tortured and killed at the stadium in Santiago during the coup. His name was Victor Jara. People who were there say he kept on singing to keep everyone's spirit up. The soldiers ordered him to stop, but when he wouldn't, they ordered him to stand in the middle and sing. Then they cut off his fingers and said, 'Now play for us.' While he was trying, they beat him to death." Baez tells Nancy Faber that the Chilean coup was "interconnected with the American government," which Faber tells her readers is a "far-out thought." Baez invited the reporter to come the next day to a friend's house in Palo Alto. The occasion was "a reception for members of Amnesty International, honoring the former Swedish ambassador to Chile for his successful rescue of some 1,300 Allende supporters imperiled by the coup."
In the fall of 1974, Joan Baez came to Vancouver and was in concert at the War Memorial Gymnasium at the University of British Columbia.
Of the woman who covered numerous songs he wrote, Bob Dylan says that Baez's "…voice was like that of a siren from off some Greek island. Just the sound of it could put you into a spell. She was an enchantress." In 1975 Baez had her last appearance in the Top 40 on the Billboard Hot 100 with "Diamonds And Rust". The song, about her 10-year relationship with Bob Dylan includes these lines "Well, you burst on the scene already a legend, the unwashed phenomenon, the original vagabond…" The album, Diamonds And Rust, peaked at #11 on the Billboard album chart.
In the years that followed Joan Baez kept giving musical expression to a series of social justice issues. On her 1977 album, Blowin' Away, she recorded "Altar Boy And the Thief", a rare example in the 1970's of a song positively addressing gay subject matter. That summer Baez appeared in concert on July 5th at the Queen Elizabeth Theatre in Vancouver.
One of the tracks from her album, Blowin' Away, was titled "Time Rag" which was released as a single. The song was an autobiographical reflection on her music career since "The Night They Drove Old Dixie Down". In it she sings "Ripping along towards middle age, my music career kind of missed a page. Record sales began to drop. The management all began to hop. Not worry, they said, you'll see. What you need is some fresh publicity. Just give us a nod and we'll all leap, towards putting you back at the top of the heap. I said, 'fine, I'll give it a whack,' I hung up the phone and I turned my back. Began daydreaming I was somebody else, when the phone jumped over from the wall to the shelf. 'We just had a break, this is really fine. We can make the January issue of TIME, if you'll give us Monday, a week from today. From two to four, now what do you say?'" In the song Baez recounts the failed interview she has with the TIME reporter. She talks extensively to the man from TIME about Chile, Ireland, politics, poetry, sexuality and music. But all the reporter wants to know about is some inside scoop about her relationship with Bob Dylan. Though "Time Rag" was very commercially accessible, it was one of seven consecutive singles that failed to crack the Billboard Hot 100 in the late 70s.
In 1983 Joan Baez appeared at the Grammy Awards and sang "Blowin' In The Wind". Baez also played a significant role in the 1985 Live Aid concert for African famine relief, opening the U.S. segment of the show in Philadelphia, Pennsylvania. She mounted several tours including one that took her to Czechoslovakia in May 1989. Her performance, which included meeting Vaclav Havel, has been cited as an important moment is spurring on the Velvet Revolution (November 17 to December 29, 1989) and overthrow of the communist government.
In 1993, she traveled to the war-torn Bosnia and Herzegovina region of former-Yugoslavia in an effort to help bring more attention to the suffering there. She was the first major artist to perform in Sarajevo since the outbreak of the Yugoslav Civil War.
On September 2, 2002, Joan Baez appeared in concert at Malkin Bowl in Vancouver's Stanley Park.
In 2007, John Cougar Mellencamp invited Joan Baez to perform with him for American soldiers recovering from injury at Walter Reed Medical Hospital. However, the U.S. Army officials at Walter Reed refused to let Baez play and the invitation was rescinded. Apparently, Baez's stance against the Vietnam War that ended over forty years earlier had been enough to sustain the military's annoyance with her.
On March 31, 2009, Joan Baez performed at the Vogue Theatre in Vancouver. And on August 2, 2009, Baez played at the 50th Newport Folk Festival, which also marked the 50th anniversary of her debut performance at Newport. On November 11, 2011, Baez took part in a concert for protesters at the Occupy Wall Street site of Zuccotti Park. Over the course of her career Joan Baez had released over thirty albums. On November 16, 2014, Joan Baez performed in concert in Vancouver at the Vogue Theatre.
Update 2021
In April, 2017, Baez released on her Facebook page her first song in twenty-seven years titled "Nasty Man". It was a protest song against US President Donald Trump, which became a viral hit. In 2018 she released her 25th studio album titled Whistle Down the Wind. Joan Baez has lived in her home in Palo Alto, California, for 49 years.
In February 2019 Baez went on a 18-concert tour to Europe. She performed in Portugal, France, Belgium, Netherlands, Germany and the United Kingdom. And in July she returned to Europe where she performed 15 more concerts across Belgium, France, Germany, Italy, Spain and Switzerland. In between, she toured from April 9 to May 5, 2019, – across Texas, Alabama, Georgia, Arkansas, Missouri, Virginia, Tennessee, Washington D.C., New Jersey, New York and Massachusetts.
In January 2021 Joan Baez learned that she was one of the honorees to be recognized by the Kennedy Center. In response, she said "It has been my life's joy to make art. It's also been my life's joy to make, as the late Congressman John Lewis called it, 'good trouble.' What luck to have been born with the ability to do both; each one giving strength and credibility to the other. I am indebted to many for a privileged life here. I've tried to share my good fortune with others anywhere and everywhere in the world. Sometimes there have been risks, but they are only a part of the meaning of it all. I extend my deepest thanks to the Kennedy Center for recognizing me, my art, and the good trouble I've made."
January 27, 2017
Ray McGinnis
References:
David Browne, "Joan Baez's Fighting Side: The Life and Times of a Secret Badass: The Sixties Icon Helped Invent the Idea of the Protest Singer – More Than Five Decades Later, She's Still At It," Rolling Stone, April 5, 2017
Baez, Joan. And A Voice To Sing With. New American Library, New York, 1987.
Joan Baez, "Altar Boy and the Thief," 1977
Joan Baez in Concert, Occupy Wall Street, Zuccotti Park, New York City, November 11, 2011
Alex Constantine, The Covert War Against Rock: What You Don't Know About the Deaths of Jim Morrison, Tupac Shakur... (Feral House, Port Townsend, Washington, 2000).
Aaron J. Leonard, "Newly Unearthed FBI File Exposes Targeting of Folk Singer Dave Van Ronk," Truthout.org, Encinitas, California, July 8, 2018
Teresa Wiltz, "Joan Baez Unwelcome At Concert For Troops," Washington Post, May 2, 2007
Operation Linebacker II, Wikipedia.org
Kevin Ransom, Joan Baez Brings Her Life and Music into the '90s, Detroit News, February 22, 1996.
Nancy Faber, "Baez Slows Down: Joan Baez Singing of Fewer Causes Now," People, April 29, 1974
Victor Jara bio, Wikipedia.org.
"Joan Baez Concerts: Canada," setlist.fm.
"Boss 30," CKLG 730 AM, Vancouver, BC, May 9, 1969.
For more song reviews visit the Countdown.