#1016: There Is Love by Jim Valley
Peak Month: June 1967
9 weeks on Vancouver's CFUN chart
Peak Position #8
Peak Position on Billboard Hot 100 ~ did not chart
YouTube.com: "There Is Love"
Jim Valley was born in 1943 in Tacoma, Washington, and grew up in Seattle in a musical family. In the third grade, he won an art scholarship to the Frye Art Museum for young gifted students. In fourth grade Valley took up the trumpet and had dreamed about being as great as the 1940's big band leader, Harry James. Jim Valley was in grade seven when rock 'n roll recordings started to appear on the Top Forty. Jim listened to Bill Haley & the Comets, Little Richard, Buddy Holly, Fats Domino, Chuck Berry and others. Valley mastered a dance called The Bop and with his dance partner won several dance contests. When he was in grade nine attending Jane Addams Jr. High School in Seattle, Jim learned to play the piano. He wrote a Doo-Wop type song for one of the people in his junior choir at the school, Cassie Kenyon. He named the song Cassandra. A next door neighbor, Curt Pearson, heard the song and suggested Valley start up a band and make a recording of Casandra. Pearson knew a lad named Greg Thompson who'd just been given drum set for his birthday. Pearson also put Jim Valley in touch with a friend of his who played the saxophone and a guy who had a guitar but couldn't play it. The band was called Vince Valley and his Chain Gang. Since there was no one who knew how to play the electric guitar, Jim Valley bought one with money from his summer job in his dad's laundry. Soon after he became the band's guitarist.
While attending Shoreline High School as a sophomore in 1958, Jim Valley met Al Berry, a piano player. He also met Bud Potter, who Jim taught to play electric guitar. With these two additions the band was next billed as The Viceroys. In the spring of 1959 they played their first dance and made $60. From 1959 to 1963 the Viceroys were one of Seattle's most popular bands in constant demand to play school dances. Then in the spring of 1963, the band recorded an instrumental called "Granny's Pad". It climbed to #5 in both Spokane and Seattle, and #4 in Bakersfield, Califorina. It was played by many of the area bands including a little known group in Bosie, Idaho called Paul Revere and the Raiders. The Viceroy's had a follow-up instrumental titled "Goin' Back To Granny's" that became a #1 hit on the pop charts on KJR in Seattle in September 1963.
The Viceroys now become one of the top bands in the Pacific Northwest, along with the Wailers, the Frantics, Little Bill and the Bluenotes, the Dynamics and Tiny Tony and the Stactics featuring Merelee Rush. Seattle radio stations promoted dances featuring these "famous Northwest groups." Pat O'Day and Dick Curtiss, two DJs from KJR, started showcasing concerts at the Seattle Opera House. These were headlined by recording acts like The Beach Boys, Roy Orbison and Little Stevie Wonder. The Viceroys had a Top 20 instrumental in Seattle called "Dartell Stomp" that became a Top Ten hit in Providence, Rhode Island.
It was at one of the concerts at the Seattle Opera House that the Viceroys were asked to perform and also be the backup band for artists who didn't have a band accompanying them. On this particular show were appearing the Beach Boys, Little Stevie Wonder, Little Eva, April Stevens and Nino Temple and Ray Stevens. Little Stevie Wonder was to have his own band so the Viceroys didn't rehearse his songs. However, that morning at the Opera House, it was discovered that Wonder had arrived only with his drummer. The Viceroys ended up going on stage with Little Stevie Wonder and the set was successful, including Wonder's big hit, "Fingertips parts 1 & 2".
In 1965 Valley joined the Portland, Oregon, based band, Don & the Goodtimes. While he was with the band he wrote a hit for them called "Little Sally Tease". The following year Valley was asked to be a member of the Boise, Idaho, based Paul Revere & the Raiders. Valley began to tour with the Raiders in March 1966. The band moved to Los Angeles, and Jim met Jackson Browne, an 18 year old guitar player, who influenced Jim Valley's musical direction. Valley was nicknamed "Harpo" since he physically resembled Harpo Marx, one of the five brothers (the others were Chico, Groucho, Gummo, and Zeppo) of vaudevillian Marx Brothers act that released 13 feature films between 1921 and 1949. He was interviewed by Dick Clark on an episode of Where The Action Is in 1966.
In 1967 Jim "Harpo" Valley left Paul Revere and The Raiders after the promise of recording some of the songs he wrote never materialized. He sang with a folk group called the Lamp of Childhood and launched a solo career releasing "There Is Love". The song debuted on KJR 950 AM in Seattle at #5, spending nine weeks on the KJR charts and six weeks in the top ten. "There Is Love" climbed to #8 on CFUN in Vancouver and made the Top 30 in Salem, Oregon.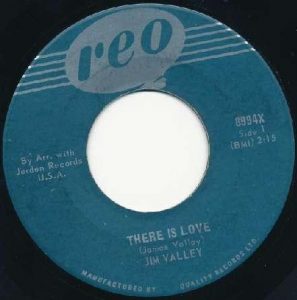 There was a girl to came inside me, to stay,
and even though she's gone she's here, today.
And when I think of her my heart starts to cry.
An angel without wings is hard to find,
perfection in her body and her mind.
And when we were together there was love.
Our souls would touch and we would tremble,
'cause just a few have ever known.
But angels have to go on with their journeys,
and even though she's gone I'm not alone,
even though she's gone I'm not alone.
And now I see what perfect love can do,
create a world full of life so new,
that everywhere I look now I see love.
There is love.
"There Is Love" is a song about being transformed by the beauty of a stranger who you get to know and fall in love with. Though the woman he was intimate with ~ Our souls would touch and we would tremble ~ has gone, she is still inside of him. He is so altered by the encounter that now, all he sees is love. The world is brand new, even though his heart starts to cry when he thinks of her. She was "an angel" and her body and mind were "perfection," the singer recalls.
However, diminishing love is built in to the nature of many romantic relationships. Every romantic poem, song, greeting card, and movie promises that it will last forever exactly how it is. New lovers are promised that their blissful connection to each other will never fade and that no other love will ever replace it. Yet, after dating for awhile, many people find they are falling out of love and not deeper in love. Why did the "angel" leave the guy in the song? Was she very fragile in her angelic state, took ill and died? Did she become a nun? Did she decide she didn't want a romantic relationship 'cause it tarnished her angelic essence? Or was the guy, finally, not her type? We can't know why the relationship didn't last since the song's lyrics don't reveal anything concrete about why she moved on. Since he is left alone, although he still feels love his heart cries when he thinks about her. It is possible the song could have been titled "There Was Love," since the object of the man's desire has gone away.
Next Valley released a cover of Gordon Lightfoot's "Go Go Round". The song was only a minor hit in Lancaster, Pennsylvania. Next he recorded "Try Try Try" with the Mamas and Papas' back up band. But none of these songs did well outside of the Pacific Northwest region and Vancouver, BC.
In September of 1968 Jim spent a few months in Big Sur, California getting close to nature and began composing songs for an album titled, Walking Through the Quiet. Dunhill declined to release the record as they judged it too folksy. Valley returned to his native Washington, working a railroad job and becoming a father to two daughters in 1969 and a son in 1970. Jim's son Timothy Bananas was five years old when he compose words for one of Jim's favorite children's songs…"I Broke my Bo-Wo-Wones in Louisiana". The song was featured on Valley's 1983 album, Rainbow Planet.
In 1971 Valley released the Christian-themed Family album. With the Seattle-based Shoestring Orchestra and Choir, in 1974 Valley issued a single "Rabbits in the Park." In 1975 Valley moved his family to San Diego. While there he wrote a musical about the Children's Crusade of 12th century France. Three years later, in 1978, Valley moved back to Seattle and released the solo disc Dance Inside Your Heart. From there, he worked with the Tacoma school district, teaching music to gifted students and in 1983 releasing his first proper children's LP, Planet Rainbow. The project won a Parent's Choice award, and set the stage for a series of subsequent efforts including Friendship Train, McFiddle DeeDee, and Dinosaur Ride. In 2002, he also released the adult contemporary set Rolling Sea.
Over the years Jim Valley has performed in a variety of settings including hospital wards for children. He lives in Gig Harbor, Washington.
September 4, 2017
Ray McGinnis
References:
Jim Valley bio, Jim Valley.com
Where The Action Is, ABC TV August 9, 1966.
Jane Addams Jr. High School, Seattle, WA.
"C-FUNTASTIC FIFTY," CFUN 1410 AM, Vancouver, BC, June 3, 1967.
For more song reviews visit the Countdown.