#1: Love Like A Man by Ten Years After
City: Chilliwack, BC
Radio Station: CHWK
Peak Month: July 1970
Peak Position in Chilliwack ~ #2
Peak position in Vancouver ~ did not chart
Peak Position on Billboard Hot 100 ~ #98
YouTube: "Love Like A Man"
Lyrics: "Love Like A Man"
In 1960 a band formed in the Nottingham and Mansfield region called Ivan Jay and the Jaycats. They changed their name to the Jaybirds in 1962, and later to Ivan Jay and the Jaymen. Ivan Jay sang lead vocals from late 1960 to 1961. Original members included Alvin Lee and Leo Lyons. Alvin Lee (born Graham Anthony Barnes) was born in Nottingham in 1944. He began playing guitar at the age of 13. He was one of the co-founders of Ivan Jay and the Jaycats. Leo Lyons was born in 1943 in Mansfield, England. At the age of 16, he joined Ivan Jay and the Jaycats in 1960. The Jaybirds played in Hamburg, West Germany, at the Star Club for over a year. Lyons and Lee were were joined by Ric Lee in August 1965. Ric Lee was born in 1945 in Mansfield, England. Before joining Ivan and the Jaymen in 1965, Lee had been a drummer for Ricky Storm and The Mansfields. In 1966, Chick Churchill joined the band on keyboards, piano and synthesizer. Churchill was born in 1946 in the coal mining town of Ilkeston, in Derbyshire in the East Midlands of England. Churchill began playing the piano at the age of six and studied classical music until he was fifteen. He became interested in blues and rock music, and joined his first band Sons of Adam in Nottingham.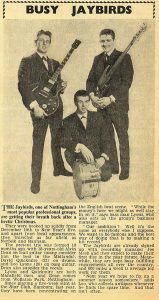 An early article in a Nottingham paper mistakenly refers to Alvin Lee as Alvin Dean.
Joe Meek got the Jaybirds a record deal in 1963. Meek was the famous producer of the Tornados ("Telstar" – #1 UK), Heinz ("Just Like Eddie" #5 UK), Michael Cox ("Angela Jones" – #7 UK), John Leyton ("Johnny Remember Me" – #1 UK) and "Wild Wind" – #2 UK, the Honeycombs ("Have I The Right?" – #1 UK), Emile Ford and the Checkmates ("What Do You Want to Make Those Eyes at Me For?" – #1 UK), Lance Fortune ("Be Mine" – #4 UK), and Mike Berry ("Don't You Think It's Time" – #6 UK). The Jaybirds released over a dozen singles from 1964 to 1966.
After Chick Churchill joined the Jaybirds, they changed their name in November 1966 to Ten Years After. The band's name was a nod to 1966 being ten years after Elvis Presley's triumph as a chart-topping rock 'n roll singer in 1956. This was the year 'Elvis the Pelvis' topped the Billboard Pop charts with for 24 weeks on the Best Sellers in Stores chart with "Heartbreak Hotel", "I Want You, I Need You, I Love You", "Hound Dog", "Don't Be Cruel" and "Love Me Tender". (Presley also topped the Billboard pop charts for 25 weeks throughout 1957 with "Too Much", "All Shook Up", "(Let Me Be Your) Teddy Bear", and "Jailhouse Rock").
In 1967 the band released the self-titled album Ten Years After. In 1968, the band released a live album titled Undead. But it was their 1968 release of Stonedhenge that resulted in a positive review in New Music Express. Stonedhenge was described as "a most ear-worthy effort, varied in content and all self-written." NME suggested that Ten Years After "could go places." The album peaked at #6 on the UK Album chart. A third studio album, Ssssh, climbed to #4 on the UK Album chart and #6 on the West German Album chart in 1969. On March 21, 1969, Ten Years After came to Vancouver for a concert at the PNE Garden Auditorium. On August 17, 1969, Ten Years After appeared in concert at the Woodstock Music and Art Fair (Woodstock).
But it was the 1970 release of Cricklewood Green that established Ten Years After as an international band among the music critics. The album peaked at #4 in the UK, #5 in Denmark, #8 in Finland, Norway and West Germany, #11 in Canada, and #14 on the Billboard 200 Album chart. On March 8, 1970, Ten Years After returned to Vancouver for their second concert appearance at the PNE Garden Auditorium.
From the album came the single release of "Love Like A Man".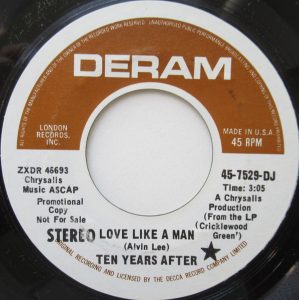 "Love Like A Man" is a song written by Alvin Lee. The opening notes to the song were first put together by Alvin Lee when he was 13 years old. Lyrically, the guy in the song is turned on by the woman he's been in a relationship with. When she flashes her eyes at him, "all systems go." There is a lot to their love connection based on his visual stimulation: "You look so good to me girl, you make me high." But the relationship is troubled: "Your satisfaction is growing less. If you come on back to me, use my address."
The opening line is "You roly-poly all over town." Originally, "roll-poly" referred to a tubby guy who is short and round. Alternately, "roll-poly" is a sweet dish with thick pastry spread with jam. But, given the woman in (and out?) of his life is straying from him – "you come on back to me" – maybe in this song "roll-poly" is slang for having sex outside of the relationship.
"Love Like A Man" peaked at #2 in Chilliwack (BC) and San Jose (CA), and #16 in Holland (MI). Internationally, it climbed to #8 in Austria, #9 in West Germany, #10 in the UK, #13 in Ireland, #15 in Denmark, and #19 in the Netherlands. But in the USA the song stalled at #98.
As "Love Like A Man" appeared on some of the AM-radio pop charts, Ten Years After gave a concert at the Strawberry Fields Festival in Bowmanville (ON) in early August 1970. Later that month they appeared in concert at the Isle of Wight Festival, along with Jimi Hendrix, Lighthouse, Chicago, Procol Harum, Joni Mitchell, Tiny Tim, Sly & the Family Stone, Melanie, Donovan, Jethro Tull, Joan Baez, Ritchie Havens, Free, Leonard Cohen, and Emerson, Lake & Palmer.
Though the next album released in late 1970, Watt, peaked at #5 in the UK. But it received negative reviews, regarding the song lyrics as "uninspired." In 1971 the band released A Space in Time. The album featured their most successful single release, "I'd Love To Change The World", which was a Top Ten hit in Canada that cracked the Top 40 in the USA. The album made the Top Ten in Denmark and Sweden. On April 28, 1971, Ten Years After gave a concert in Vancouver at the Pacific Coliseum.
The next studio album, Rock & Roll Music to the World, climbed to #2 in Denmark and #9 in Sweden. But unlike the previous four album releases it failed to crack the Top 40 on the album charts in the USA. On December 3, 1972, Ten Years After performed at the Pacific Coliseum in Vancouver.
Ten Years After released Positive Vibrations in 1974, and again had their most loyal record buyers in Denmark and Sweden. The band split up after the release of Positive Vibrations. Chick Churchill managed Chrysalis Music after the split. Ric Lee kept active performing with a number of other musicians, including Savoy Brown, and some former members of the Animals, and the Yardbirds.
Since 1974, Ten Years After reunited on a number of occasions. They have released just four studio albums between 1989 and 2017. The most recent effort is A Sting in the Tale.
Alvin Lee died in 2013. Leo Lyons has released albums as part of Hundred Seventy Split. Ric Lee and Chick Churchill remain as original members of Ten Years After, performing in concert with Colin Hodgkinson on bass guitar, and Marcus Bonfanti on vocals and guitar.
Ten Years After appeared in concert in Vancouver on June 10, 2008, at the Yale Hotel. In 2019 Rick Lee published a memoir, From Headstocks to Woodstock, A Drummer's Tale.
October 23, 2023
Ray McGinnis
References:
William Yardley, "Alvin Lee, British Blues-rock guitarist of Ten Years After, Dies at 68," New York Times, March 7, 2013.
David Scott, "Leo Lyons: The Man who Played Woodstock," American Blues Scene, August 17, 2019.
Ric Lee, From Headstocks to Woodstock: A Drummer's Tale, 2019.
"Chick Churchill – Biography" Ten Years After Now.com.
"Ten Years After – Concert Dates – Canada," setlist.fm.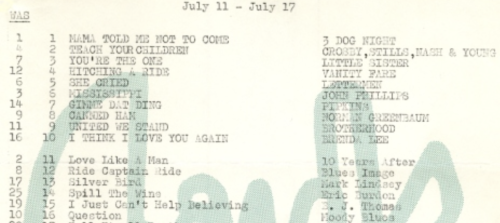 CHWK, 1270-AM, Chilliwack (BC), July 11, 1970 | Top 15