#234: Love Me Love Me Love by Frank Mills
Peak Month: February 1972
9 weeks on Vancouver's CKLG chart
Peak Position #1
Peak Position on Billboard Hot 100 ~ #46
YouTube: "Love Me Love Me Love"
Lyrics: "Love Me Love Me Love"
In 1942, Frank Mills was born into a musical household in Montreal, and grew up in Verdun, Quebec. His older sister and mother both played the piano. Young Frank learned to play piano by ear. He also learned to play trombone in high school and played in a school band. His parents both died of cancer by the time Frank was seventeen. Initially, he entered McGill University in pre-med. However, his marks weren't good enough to continue. When he scored 98% on a Music Department entrance exam, his direction was certain.
In 1970, Mills joined The Bells and the group released their second single "Fly Little White Dove Fly". The song was part of a genre of anti-war/peace movement songs finding their way onto AM radio at the time. Other songs at the time included "War" by Edwin Starr, "Lay Down (Candles In The Rain)" by Melanie and "Aquarius/Let The Sun Shine" by the Fifth Dimension. The Bells offered a gentle nudge for radio listeners to move toward one another in love instead of pulling back from each other due to fear or division. The Bells went on to have a number of hits but none was bigger than "Stay Awhile", which peaked at #2 in Vancouver, #9 in Australia and #7 on the Billboard Hot 100. At the time they appeared on the Merv Griffin Show.
After less than two years, Frank Mills left The Bells to pursue a solo career. In October 1971, Frank Mills had a #1 single in Canada called "Love Me, Love Me, Love".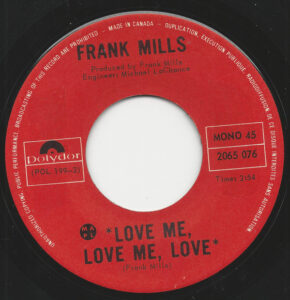 "Love Me, Love Me, Love" was written and produced by Frank Mills. The song is about an organ grinder who has "a little monkey with a little cup of tin, who danced for joy when someone put a penny in." As the monkey gets coins from passersby, the organ grinder sings "If you love me, love me, love, why did you ever leave me…" The song is told by a narrator who passes by the organ grinder. The plaintive song the organ grinder sings, makes the narrator wonder what drove him to sing about his "tale of loneliness, how fate had done him wrong."
With curiosity growing, the passerby goes back to the corner where the organ grinder played. He discovers the organ grinder had died, as a police officer informs him. The song continues to haunt the passerby, and in his mind he can still hear the echoes of the organ grinder singing his song.
The earliest organs were very small with only a few notes. Called a serinette (French serin for "canary"), they had been invented to teach canaries to sing particular melodies. However, enterprising individuals realized that they could take these organs outside and play them to earn money. Many were built by Italian organ builders who had settled in France and Germany, creating companies such as Frati, Gavioli, Gasparini and Fassano. These early organs had more pipes than the serinette, could play more than one tune, and were considerably larger, in sizes up to 29 inches long and 16 inches deep. Wooden bass pipes were placed underneath the organ and on the front were often mounted a set of pan-flutes or piccolo pipes, with decorative finishes. By the 1760s onward, organ grinders were part of the street scenes across the cities of Europe.
In many towns in Europe the barrel street organ was not just a solo performer, but used by a group of musicians as part of a story-telling street act, together with brightly coloured posters and sing-along sessions. In New York City, the massive influx of Italian immigrants led to a situation where, by 1880, nearly one in 20 Italian men in certain areas were organ grinders.
The stereotypical organ grinder was a man, bearing a medium-sized barrel organ held in front of him and supported by a hinged or removable wooden stick or leg that was strapped to the back of the organ. The strap around his neck would balance the organ, leaving one hand free to turn the crank and the other to steady the organ. A tin cup on top of the organ or in the hand of a monkey, was used to solicit payments for his performance.
In an article titled "A Short History of Organ Grinders," it is stated: "Although the use of any animal would help attract attention, the monkey was often used because he had a thumb and could carry a cup to collect coins. Training the monkey to do this often involved what we would today consider to be cruel methods. However, it was possible for a man to support his family with enough hours on the street."
The organ grinder would pick up an organ in a small storefront shop, or, livery and then walk or take the streetcar to his chosen neighborhood. After moving from block to block throughout the day, he would return the organ to the livery and pay a portion of the take to the owner.
Charles Dickens wrote in the 1840s to a friend that he could not write for more than half an hour without being disturbed by the most excruciating sounds imaginable, coming in from barrel organs on the street. In an article about the history of organ grinders, it is noted: "Until the invention of the phonograph and radio, the organ grinder brought the only music that many people, especially the poorer folks in cities, heard. That is why illustrations of organ grinders often show children or adults dancing around him. It might not have been great music, by today's audio standards, but it was a rare and desired commodity for many in those days."
George Orwell wrote an article in 1929 titled "Beggars From London," "To ask outright for money is a crime, yet it is perfectly legal to annoy one's fellow citizens by pretending to entertain them. Their dreadful music is the result of a purely mechanical gesture, and is only intended to keep them on the right side of the law. There are in London around a dozen firms specialising in the manufacture of piano organs, which they hire out for 15 shillings a week. The poor devil drags his instrument around from ten in the morning till eight or nine at night. The public only tolerates them grudgingly – and this is only possible in working-class districts, for in the richer districts the police will not allow begging at all, even when it is disguised. As a result, the beggars of London live mainly on the poor."
The disappearance of organ grinders from European streets was in large part due to the early application of national and international copyright laws. Between 1890 and 1920 Tin Pan Alley used organ grinders to help market their songs. But over in Europe, at the start of the 20th century, publishers of sheet music and the holders of copyrights to the most popular operatic tunes of the day often banded together in order to enforce collection of performance duties from any musician playing their property in any venue. When faced with notaries and the hounding of other legal representatives of the music industry of the time, organ grinders soon disappeared.
In New York, where monkeys were commonly used by organ grinders, mayor Fiorello La Guardia banned the instruments from the streets in 1935, citing traffic congestion, the "begging" inherent in the profession, and organized crime's role in renting out the machines. An unfortunate consequence was the destruction of hundreds of organs, the barrels of which contained a record of the popular music of the day. Before the invention of the cylinder record player, these organs the organ grinders player were the only permanent recording of pop tunes.
Many cities in England also had ordinances prohibiting organ grinders. The authorities often encouraged policemen to treat the grinders as beggars or public nuisances. The policeman in "Love Me, Love Me, Love" only informs the person affected by the song the organ grinder sings the the old man has died. But, in practice, police were often harassing and fining organ grinders to move them away from street corners on their beat. Especially, in wealthier neighborhoods.
"Love Me Love Me Love" peaked at #1 in Vancouver (BC), Sioux Falls (SD), and Sault Ste. Marie (ON), #3 in Hamilton (ON), Green Bay (WI), Arcata (CA), Midland (MI), and Ottawa (ON), #4 in Kansas City (MO), Seattle, and Detroit, #5 in Regina (SK), La Crosse (WI), and Phoenix, #6 in Toronto, Davenport (IA), and Syracuse (NY), #7 in San Bernardino (CA) and Youngstown (OH), #8 in Tucson (AZ), Grand Rapids (MI), Wilmington (DL), Columbus (OH), and Flint (MI), #9 in Olympia (WA) and Boise (ID), #10 in Windsor (ON), Minneapolis/St. Paul, and Cleveland, and #11 in Pensacola (FL). "Love Me Love Me Love" charted in over half the states across the USA, and stalled at #46 on the Billboard Hot 100.
Mills follow up single was a cover of the Ricky Nelson #1 hit in 1958, "Poor Little Fool". Nelson's recording was ranked #18 for 1958 by Cashbox Magazine and #23 on the year end Billboard singles chart.
Mills is best known for his instrumental single, "Music Box Dancer", a hit that peaked at #3 on the Billboard Hot 100 on May 5, 1979. He named the instrumental after a music box dancer when his daughter brought him a broken music box to mend. On his website, as Mills tells it, "There was a little dancer who popped up and spun around on a pedestal. Her arm was broken off. As I looked at it I said, "That's what the song is, it's the "Music Box Dancer!"
"Music Box Dancer" might not have been a hit since Frank Mills had recorded an in 1973 album with a record label that went bankrupt. The album lay dormant, including the track "Music Box Dancer." Then Mills first record label, Polydor, picked up the album and released a single from the tracks with "Music Box Dancer" on the B-side. As Frank Mills website describes what happened next. Dave Watts, a DJ in Ottawa who was a friendly acquaintance of Frank Mills. Watts listened the A-side, but wasn't impressed. So he played the B-side for his listeners. "Music Box Dancer" climbed to #1 on CFRA in Ottawa on June 30, 1978. It stayed in the top spot for two weeks and ten weeks in the top ten. The single also climbed into the top ten in Hamilton that summer and to #3 in Vancouver, BC, in August 1978. In early 1979, Nashville's newscaster on WNGE-TV, Bob Parker, started to play "Music Box Dancer" during the closing credits of the newscast. Nashville DJs started to get requests for the tune and promptly gave the song airplay. It climbed up the charts in both Nashville and Knoxville, Tennessee.
"Music Box Dancer" began to chart in Windsor, Ontario, in early March 1979, and spent eight weeks in the top ten on CKLW, peaking at #3. What Polydor had initially referred to as "a little funny piano tune" climbed to #1 in Bangor (ME), Athens (GA), Madison (WI), Burbank (CA), Kansas City (MO), Springfield (IL), Allentown (PA), Altoona (PA), Hartford (CT) and Minneapolis/St. Paul (MN).
Over Frank Mills career he has recorded or arranged 28 albums. According to the Canadian Pop Encyclopedia twenty of these have been certified Gold or Platinum in Canada for record sales. He now lives in Vermont, taps maple syrup and has his own brand for sale named Sriop 'e Radle au Francoise! Mills last studio album was released in 2015 and titled After The Dancer.
In a 2017 interview with Surrey Now-Leader, Mills said "I'm not recording anymore." Instead, he's enjoying his grandchildren and listening to them play the piano. Mills performed in Surrey, BC, on May 5, 2017, at the Bell Performing Arts Centre.
November 19, 2021
Ray McGinnis
References:
Frank Mills bio, Frank Mills.com.
Vernon, Jaimie. Canadian Pop Music Encyclopedia – Volume 2 (L thru Z). Bullseye Canada, 2012, p. 101.
Tom Zillich, "'Music Box Dancer' Piano Man Frank Mills Returns to Surrey's Bell: Interview: Vermont Resident, who Turns 75 in June, Still Enjoys Applause of Performing in Concert," Surrey Now-Leader, Surrey, BC, April 26, 2017.
"Ricky Nelson Poor Little Fool," Daily Doo Wop, Jane Minogue, February 23, 2018.
Ian Clayson and Penny Valentine, Sharon Sheeley: Songwriter of Poor Little Fool, Guardian, August 29, 2002.
Sue Deschene, "Frank Mills Coming to Yarmouth," Chronicle-Herald, Halifax, Nova Scotia, October 24, 2017.
"The Sudden Demise of New York's Organ Grinders," Ephemeral New York, January 5, 2015.
Jan Bender, "A Short History of Organ Grinders," bendermelodies.com.
"CKLG 'Thirty'," CKLG 730 AM, Vancouver, BC, February 18, 1972.
For more song reviews visit the Countdown.