#156: Love Of The Common People by Wayne Newton
Peak Month: December 1967
9 weeks on Vancouver's CKLG chart
1 week Hit Bound
Peak Position ~ #1
Peak Position on Billboard Hot 100 ~ #106
YouTube: "Love Of The Common People"
Lyrics: "Love Of The Common People"
Carson Wayne Newton was born in 1942 in Norfolk, Virginia. When he was four years old his parents took him to see the Grand Ole Opry. He began to learn guitar, steel guitar and piano from the age of six. At the age of six he was featured on a local radio show each morning on his way to elementary school. At the age of six, young Wayne also performed in front of the USO and for President Harry Truman. With his brother, Jerry, they performed at country fairs and clubs as the Rascals in Rhythm. They had several guest spots with the Grand Ole Opry roadshows and on ABC-TV's Ozark Jubilee. They also gave a performance for President Eisenhower. From 1958 to 1962 the brothers performed six days a week on the Lew King Rangers Show. In 1961, Wayne Newton & The Newton Brothers cover of the Johnnie Ray hit from 1951, "The Little White Cloud That Cried", charted in at least five states. Further success awaited them with their first of twelve guest appearances on The Jackie Gleason Show on September 29, 1962.
Newton had a very high voice and it was the butt of jokes. Late night TV host, Johnny Carson, made wisecracks on his show implying Wayne Newton was gay. Newton was so enraged that he went to Carson's office to confront him. In a 2007 interview with Larry King, Newton described the confrontation: "And I said to Mr. Carson, I said, "˜I don't know what friend of yours I've killed, I don't know what child of yours I've hurt, I don't know what food I've taken out of your mouth, but these jokes about me will stop and they'll stop now or I will kick your ass.'" And that was the end of Johnny Carson's jokes implying that Newton was, as they said in the early 60's, "a homosexual."
Newton had his first Top 20 hit in 1963 titled "Danke Schoen". However, he almost didn't get to record the single. Capitol Records wanted Bobby Darin to record the song. However, Darin had been grooming a young 21-year old tenor named Wayne Newton. Darin was convinced that Newton was perfect for the song and the song for Newton. Consequently, when Darin threatened to quit his contract with Capitol, Newton got to record the song. Darin had only signed with the label in late 1962. And he'd given the label some hit records with "Y0u're The Reason I'm Living" and "18 Yellow Roses". So Capitol relented and let Wayne Newton record "Danke Schoen".
Success on the pop charts was only occasional for Newton. He had a Top 30 hit in 1965 with "Red Roses For A Blue Lady." But commercial success on the pop charts continued to mostly elude Wayne Newton, though he kept on releasing new material. He released 18 more singles that didn't crack the Top 50 on the Billboard chart. (His third and final song to crack the Top 30, "Daddy Don't You Walk So Fast", would peak at #4 in 1972).
In 1967, Newton released five singles. Each of these failed to crack the Billboard Hot 100. The last of these was "Love Of The Common People". (In fact, between late 1965 and the spring of 1968, Newton released twelve singles, and only one cracked the Hot 100, "Games That Lovers Play", peaking at #86).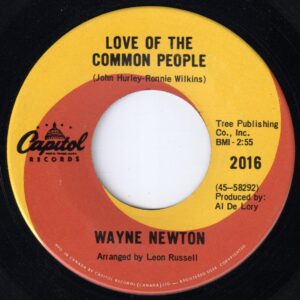 "Love Of The Common People" was written by the songwriting team of Josh Hurley and Ronnie Wilkins. Hurley was born in Pittsburgh in 1941 and Wilkins was born in North Carolina the same year. Wilkins was a teenager when he was discovered by a Charlotte talent agent who heard him perform on Lumberton radio station WAGR. Wilkins wrote "Poor Little Cupid" for Joe "Wooden Heart" Dowell, a non-charting single in 1963. Hurley and Wilkins wrote "Spread It On Thick" for the Gentrys in 1966 The pair would later write "Son Of A Preacher Man" for Dusty Springfield. Wilkins went on to tour with Loggins and Messina, and became a member of Roger Miller's backing band. Hurley released three solo albums in the 1970s there were not commercially successful. He died at the age of 45 in 1986 of liver failure and a brain hemorrhage.
"Love Of The Common People" describes a family living in poverty. They get by on "free food tickets," while a hole in the roof allows rain drops to fall into a glass of milk in the kitchen. A little sister cries, because the only dresses she can wear to a party all have patches on them. As well, there are holes in pants pockets where bus fare – if you had money for that – would fall and you'd lose it in the snow on the ground. So, in an effort to try to get a job, another family member (possibly the father) walks through the snow. Since he also has holes – in this case in his shoes – and his feet are chilled to the bone. In short, this family has a general problem with holes: a hole in the roof, holes in a sisters' dress requiring patches, holes in pants pockets, and holes in shoes.
In writing the song, Ronnie Wilkins was able to draw on scenes of hardship he'd witnessed growing up in North Carolina. "I learned through my Baptist upbringing, from a close-knit family around cotton, tobacco and peanut farms, and walking on dirt roads that I could be anything I wanted to be." And so the relief from hardship in "Love Of The Common People" is provided in the later verse: "Faith is your foundation, with a whole lot of love and a warm conversation, and of course there is prayer, making you strong where you belong."
"Love Of The Common People" peaked at #1 in Vancouver (BC), #2 in Roanoke (VA), and La Crosse (WI), #3 in Peterborough (ON), and Owen Sound (ON), #4 in Toronto, and Houston, #5 in Flint (MI), #6 in Guelph (ON), and Charlottesville (VA), #8 in Oshawa (ON), and #9 in Yakima (WA).
Newton's recording of "Dreams Of The Everyday Housewife" was the only other charting version of the song besides Glen Campbell's in the summer of '68. Newton went on to have a successful career performing in Las Vegas and also as an entrepreneur who owned hotels in "sin city," including the Aladdin. "Dreams Of The Everyday Housewife" was included in a January 4, 1969 episode of the TV show Petticoat Junction.
In 1972, Wayne Newton had his only Top Ten hit in the USA with "Daddy Don't You Walk So Fast." This was after Newton left Capitol for RCA. His follow single to "Daddy Don't You Walk So Fast," was "Can't You Hear The Song".
While raising a family, Newton once hired a nun to live in his home as a governess for his daughter. In 1980, Wayne Newton became one of the owners of the Aladdin Casino in Las Vegas. An October 1980 investigative report by NBC was aired with the headline: "Wayne Newton and the Law." The feature inferred there were a number of people in organized crime figures had helped finance the purchase in exchange for favors. Two subsequent reports extended the narrative giving it legs. Newton was annoyed and sued NBC for libel. He was given a $19.3 million award in 1986 after the jury ruled in his favor. However, a federal appeals court overturned the verdict in 1990. Wayne Newton ended up filing for Chapter 11 bankruptcy in 1992 declaring $20 million in debt. Almost all of the debt he accumulated was due to his legal wrangles with NBC during the 1980's. In 2013, Wayne Newton declared Chapter 11 bankruptcy again. In the process, he and his family moved out of a 52-acre property into a $3 million, 20-acre property, also in Las Vegas. Newton, and his brother Jerry, stopped speaking to each other for over twenty years related to inheritance issues.
In 1989, Wayne Newton co-authored a biography titled, Once Before I Go. Over the decades, Wayne Newton released over fifty singles. When he performs in concert, Wayne Newton requires staff at the venue to provide him backstage with cans of Coors Light beer. Newton continues to perform regularly at Bally's in Las Vegas. Between June 18 and December 12, 2018, Newton will appear in concert on 57 occasions.
June 3, 2022
Ray McGinnis
References:
Ed Koch, "Wayne Newton Owned the Strip: 'Mr. Las Vegas' Will go Down as Entertainer, but also Owned the Aladdin," Las Vegas Sun, May 15, 2008.
Ethan Tree, 5 Things You Didn't Know About Wayne Newton, Mental Itch.com, January 8, 2010
Ken Ritter, "Wayne Newton Moving Out of Las Vegas Home. Why?" Christian Science Monitor, June 6, 2013.
Newton, Wayne and Maurice, Dick. Once Before I Go. William Morrow & Co, 1989.
Wayne Newton Show schedule, Wayne Newton.com
"Grandson of a Preacher Man," The Robesonian, Lumberton, NC, January 15, 2009.
"Boss 30," CKLG 730 AM, Vancouver, BC, December 16, 1967.
For more song reviews visit the Countdown.