#449: Love Really Hurts Without You by Billy Ocean
Peak Month: May 1976
10 weeks on Vancouver's CKLG
Peak Position #4
Peak Position on Billboard Hot 100 ~ #22
YouTube: "Love Really Hurts Without You"
Lyrics: "Love Really Hurts Without You"
Leslie Sebastian Charles was born in Trinidad in 1950. Trinidad and Tobago was a British colony at the time, and his family moved to Britain in 1960 during the colonial period. Once Les became a teenager, he started to sing in clubs on Saville Road in London. He recorded some ballads in the Pye Records studio in the mid-60s. However, the label decided not to release them. In 1969 he joined a band called The Shades of Midnight, and in 1971 his first single was released titled "Nashville Rain". The single was credited to Les Charles. From 1972 to 1974 Charles was the frontman for Scorched Earth, a group that backed other artists at studio recordings. Scorched Earth released a couple of singles in the UK in 1974. During these years he was variously going by the stage name of Joshua, Big Ben – a humorous choice for a man who was 5'8″ – and Sam Spade.
In the mid-70s Les Charles changed his stage name once more. This time to Billy Ocean. He was inspired to make the change as a fan of a Trinidad and Tobago football team named Oceans 11. By 1976 Billy Ocean had released nine singles and all of them were commercial failures. His tenth release was "Love Really Hurts Without You".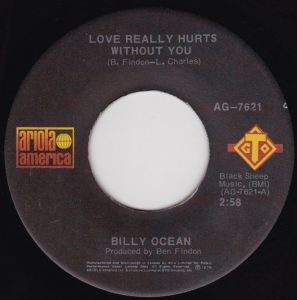 Ocean originally wrote "Love Really Hurts Without You" around 1969-70 while working as a pattern cutter at a fashion house on Savile Row. A co-worker mentioned that she was selling her piano. Ocean spontaneously borrowed £23 from his boss to purchase the instrument. Ocean remembers, "We carried the piano up to the third floor and it fitted perfectly in my little bedroom." At the time he was still living in his parents' council flat in London. Ocean recalls "the novelty of it was coming home every lunchtime and evening and tinkling my piano until eventually I did get something out of it which was the song 'Love Really Hurts Without You'. My left hand started playing the melody and my right hand just did some down beats and my voice just started coming out with" the lyrics. Looking back, he said of the experience "You run around town like a fool and you think that it's groovy and the song just came together there and then."
"Love Really Hurts Without You" is a song about a woman who is in a relationship with a man. But she has affairs on the side. The lyrics tells that she "cheats" and she "lies." She even dresses up to tease her steady, but then goes out on the town. For the man she's living with, he feels her absence and declares "love really hurts without you."
In an article on Fatherly.com, Jeremy Brown asks "What is it that drives women into someone else's arms, and what can men do to prevent it?" He asked Alicia M. Walker, author of The Secret Life of the Cheating Wife: Power, Pragmatism and Pleasure in Women's Infidelity. Walker told him that some women cheat because they are bored. For others, the reason they cheat arises from feel neglected, physically or emotionally. But there are other women who confess that they cheat because they want to. "A lot of the time the reasons are physical, sometimes they're emotional and, sometimes, as much as we don't want to admit this or know this, sometimes it's just a matter of somebody having an opportunity. There's a lot of data showing that a woman will have an affair with a coworker and are more likely to report that 'My marriage is great and I'm super satisfied. I literally saw an opportunity and took advantage of it.'"
Walker, who is a professor of sociology at Missouri State University, adds that satisfaction in bed is often at the heart of the matter. Is the husband or boyfriend isn't attentive to what the woman desires, she may find someone else with whom she can get those desires met. Walker advises, "Any man who is concerned about this, you should really start looking at your own behavior in the bedroom and really make sure that you're holding up your end of the table. Because, if you're not, there's somebody out there who's more than willing to do that."
"Love Really Hurts Without You" climbed to #1 in Phoenix, #3 in Indianapolis, #4 in Vancouver (BC), Sioux Falls (SD) and Hamilton (ON), #5 in Reading (PA) and Dayton (OH), #6 in London (ON), Milwaukee and Springfield (MA), #7 in San Bernardino (CA), #8 in Philadelphia, and #9 in Bakersfield (CA) and Rochester (NY). Internationally, "Love Really Hurts Without You" peaked at #2 in the UK, #3 in Ireland and Australia, #7 in Belgium and Denmark, #9 in Sweden, #10 in Norway, #11 in the Netherlands and #13 in New Zealand. Billy Ocean recalls that the hit single enabled him to quit his job at a Ford factory. "I was on the [Ford assembly line] when I heard that song on Radio Luxembourg. I felt so good, because I knew I was free to leave. So I left."
In 1977 "Red Light Spells Danger" climbed to #2 on the UK singles chart. In 1981 he had a Top Ten R&B hit in the USA titled "Nights (Feel Like I'm Getting Down)". The single was included in Jane Fonda's workout video.
In 1981 Ocean had contract difficulties with a former record label, with an impact on royalties. In addition, he had writer's block. Ocean told People magazine about the squabbles with the record label, "Things deteriorated to the point where I didn't feel any trust for anyone. I worked myself into a real depression." In 1982 one of Ocean's infant son died moments after birth when a midwife prematurely cut the umbilical cord. He became depressed and withdrew to spend time with his wife, daughter Cherie and son, Antony. Ocean recalls, "I didn't want to talk to anybody or see anybody. I couldn't write. I didn't want to sing. I couldn't do anything, except step back and assess my life."
In 1984 Billy Ocean returned to the recording studio and had an international hit on the pop charts with "Caribbean Queen". It climbed to #1 on the Billboard Hot 100, #2 in West Germany, #3 in Vancouver (BC) and Switzerland, #6 in the UK and #7 in Ireland. "Caribbean Queen" was featured in an episode of Miami Vice. He recorded the single with a different title and lyric for Europe with "European Queen" and in South Africa "African Queen" became a #7 hit. "Caribbean Queen" won Ocean a Grammy Award for Best Male R&B Vocal Performance in 1985.
Billy Ocean continued to have a string of Top 20 hits in the mid-80s. "Loverboy" climbed to #1 in South Africa, #2 on the Billboard Hot 100, #3 in Belgium, #5 in Denmark, #7 in New Zealand, Australia and Vancouver (BC). Billy Ocean had a third hit in 1985 titled "Suddenly". It zoomed to #4 in the UK and the Billboard Hot 100, but stalled at #17 in Vancouver (BC). It also topped the Adult Contemporary chart in the USA.
In the winter of 1985 Billy Ocean released his biggest hit single, "When The Going Gets Tough, The Tough Get Going". The tune was featured in the 1985 action-adventure-romance film The Jewel of the Nile. The single raced to #1 in the Australia, Belgium, Ireland, the Netherlands, Norway, the UK and Vancouver (BC). It peaked at #2 in West Germany, Spain, Sweden, Switzerland and on the Billboard Hot 100, and into the Top Ten in Austria, France and New Zealand. His next release, "There'll Be Sad Songs (To Make You Cry)", also topped the Billboard Hot 100. But it stalled at #12 in the UK and #14 in Vancouver (BC). He had two more hits that swiftly followed, "Love Zone" and "Love Is Forever". The latter topped the Adult Contemporary chart in the USA.
In 1988, Billy Ocean had one last Top Ten hit titled "Get Out Of My Dreams, Get Into My Car". The song was inspired by the revised lyric for the hit song "You're Sixteen". In 1961 Johnny Burnette had sung in the original version "you walked out of my dreams and into my arms." But when Ringo Starr covered the song in 1974 he sang "you walked out of my dreams and into my car." Billy Ocean remembered the lyric and took it to the bank. The single was also featured in the 1988 film License to Drive. Ocean managed one more Top 20 hit later that year with "The Colour Of Love".
In 1989 Billy Ocean released a Greatest Hits album. After 1989 he stopped releasing singles, though he did record a few more albums. But Time to Move On in 1993 was his only studio release between 1988 and 2009. The only regular album releases were one of 14 compilation/Best of variety.
In 1993, after his Granada-born father died, Billy Ocean inherited land in Granada. Ocean decided to build a recording studio there. After the success of "Caribbean Queen", Ocean chose to take time out and live in Granada. He first visited the island just before the American invasion of Grenada in 1983. In 2009 Billy Ocean found himself involved in developing a resort, and also an agricultural program. He also released his studio album Because I Love You.
In 2015 Billy Ocean toured in the USA for the first time since 1990. He told a local paper in Modesto, CA, that he practiced Rastafarianism. In 2020 he released his eleventh studio album titled One World.
May 13, 2020
Ray McGinnis
References:
Billy Ocean, "Celebrity Travel: When the Going Gets Tough the Tough hit Grenada," Daily Mail, April 28, 2009.
Steve Dougherty, "The Tide Is High for Pop's Billy Ocean, the Caribbean King of Love Songs," People, September 15, 1986.
Michael P. Coleman, "EXCLUSIVE INTERVIEW WITH BILLY OCEAN! The Grammy Winner Performs in Modesto,Tours US For First Time In 25 Years, Prepares To Release New Album," Modesto, CA, February 27, 2015.
Jeremy Brown, "The Reasons Why Married Women Cheat on Their Husbands," Fatherly.com, March 23, 2020.
Myf Warhurst, "An Intimate Chat with Billy Ocean," Australian Broadcasting Company, June 13, 2019.
"Vancouver's Official Music Survey," CKLG 730 AM, Vancouver, BC, May 25, 1976.
For more song reviews visit the Countdown.