#1205: Love Song by Elton John
Peak Month: May 1976
6 weeks on Vancouver's CKLG chart
Peak Position #10
Peak Position on Billboard Hot 100 ~ did not chart
YouTube.com: "Love Song"
Lyrics: "Love Song"
Reginald Kenneth Dwight was born in 1947. When he was three years old he astounded his family when he was able to play The Skater's Waltz by Émile Waldteufel by ear at the piano. When he was eleven years old he won a scholarship as a Junior Exhibitor at the Royal Academy of Music. Between the ages of 11 and 15 he attended the Academy on Saturday mornings. In 1962, by the age of 15, he was performing with his group, The Corvettes, at the Northwood Hills Hotel (now the Northwood Hills Public House) in a northern borough of London. While he was playing with a band called Bluesology in the mid-60s he adopted the stage name Elton John. His stage name, which became his legal name in 1967, was taken from Bluesology saxophonist Elton Dean, and their lead singer, Long John Baldry.
The Northwood Hills
In 1967 John met Bernie Taupin, a songwriter. Since they teamed up they've worked together on 32 studio albums between 1969 and 2016. In the same five-decade span Elton John has released 128 singles. Of these 42 reached the Top Ten in Canada on the RPM singles chart, 29 made Top Ten on the UK charts and 26 singles made Top Ten on the Billboard Hot 100. Elton John holds the distinction of having the most successful single release in the rock 'n roll era ~ 1955 to the present ~ with his 1997 version of "Candle in the Wind" which has sold over 33 million copies. The biggest selling single remains "White Christmas" by Bing Crosby which has sold 50 million copies.
In 1969, Elton John released his debut album, Empty Sky. He received critical acclaim for his musicianship and heralded as a great new singer-songwriter. John didn't disappoint his critics, as his next album, the self-titled, Elton John, included "Your Song" and "Border Song", two of his most enduring contributions to pop music. His third album was Tumbleweed Connection, released in the fall of 1970. The album peaked in the Top 5 of the Billboard 200 Album chart.
On April 23, 1971, Elton John made his first concert appearance in Vancouver (BC) at the Agrodome.
One of the tracks from Tumbleweed Connection is "Love Song". On "Love Song" Elton John sings with Lesley Duncan. Her married name is Lesley Cox. She was born on August 12, 1943. Duncan was a singer-songwriter, best known for her work during the 1970's. She received significant airplay on BBC Radio 1 and BBC Radio 2. However, she never achieved great commercial success. A notable reason for this was her crippling stage fright. She is considered one of Britain's first female singer-songwriters. The song for which Duncan is best known is "Love Song". In 1974 she sang the song in a guest appearance at a performance Elton John gave at the Royal Festival Hall. The tune did not appear on the Billboard Hot 100 in the USA. However, Vancouver record buyers liked the song and took it to #10 on CKLG five years after it was released on Tumbleweed Connection.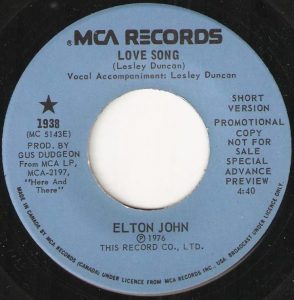 The songs' lyrics describe a choice point in a relationship "until you give your love, there's nothing more that we can do." While it may be that both partners moved toward each other in the name of love, one partner is hesitating and will either open the door of love or keep it shut. The song is sung from the point of view of the person who is ready to make a commitment. "Love Song" is one of a very few songs to be released by Elton John that he didn't write, or co-write, with Bernie Taupin. Leslie Duncan once said of the tune she wrote, it was "a little song I'd knocked up as a suitable B-side." It has been covered by more than 150 artists, including Olivia Newton-John, David Bowie and Barry White. "Love Song" climbed to #2 in Phoenix (AZ), #10 in Vancouver (BC), #15 in Pittsburgh (PA) and #17 in San Antonio (TX).
Born in Stockton-on-Tees, Lesley had a difficult background, leaving school just before her 15th birthday and home soon after. In 1962, while she was working in a London coffee bar, she and her brother Jimmy took some songs to a leading Tin Pan Alley music publisher. Jimmy was signed with a weekly retainer of £10, and Lesley with £7, on the grounds that she had fewer songs, no guitar and was a girl. Within a year, she had an EMI recording contract and had appeared in the film What a Crazy World (1963), with Joe Brown, Marty Wilde and Susan Maughan.
Lesley Duncan released a dozen singles from 1963 to 1970, while continuing to write songs for other performers, including the Walker Brothers. She was also in great demand as a session singer, contributing backing vocals to Dusty Springfield's singles from 1964 up to her See All Her Faces album in 1972; Springfield returned the favour, doing backing vocals on Lesley's singles. Throughout the 70s, Lesley sang backing vocals for Donovan, Long John Baldry, Kiki Dee, Ringo Starr and many others, and also sang on the Jesus Christ, Superstar album, Pink Floyd's Dark Side of the Moon (1973) and the Alan Parsons Project's Eve (1979). Lesley Duncan preferred her main gig as a session singer even though she released several albums and a dozen singles of dubious commercial success. She died in 2010 at the age of 66.
In 1994 Elton John was inducted into the Rock and Roll Hall of Fame. In 1998 he became Sir Elton John when he was knighted by Queen Elizabeth II in recognition of his "services to music and charitable services." Among the many performances he has given include the funeral for Princess Diana at Westminster Abbey in 1997, and Queen Elizabeth II's Diamond Jubilee Concert outside Buckingham Palace in 2012.
Elton John is currently on his Farewell Yellow Brick Road tour with two concerts in Vancouver in September 2019.
January 26, 2017
Ray McGinnis
References:
"Elton John bio," Rolling Stone, New York
Elton John bio, Elton John.com
"Tumbleweed Connection," Rolling Stone, New York
David V Barnett, "Lesley Duncan Obituary: Acclaimed Singer Songwriter, She Wrote Elton John's Love Song," Guardian, March 23, 2010.
"Vancouver's Official Music Survey," CKLG 730 AM, Vancouver, BC, May 25, 1976.
For more song reviews visit the Countdown.