#468: Love Song by Simple Minds
Peak Month: February 1982
10 weeks on Vancouver's CFUN chart
Peak Position #4
Peak Position on Billboard Hot 100 ~ did not chart
YouTube.com: "Love Song"
Lyrics: "Love Song"
James "Jim" Kerr was born in 1959 in Glasgow, Scotland. He stammered during his childhood and early adolescence. When he was 18 he formed a band in 1977 called Johnny and the Self Abusers. He used the pseudonym Pripton Weird, and played keyboards. He was one of the bands' lead vocalists. Within eight months they changed their name to Simple Minds, a nod to a line from David Bowie's song "Jean Genie". Another Glaswegian, Charles "Charlie" Burchill, was also born in 1959. He learned to play guitar and was one of the founding members of Simple Minds. A third Glasgow boy was Derek Forbes, born in 1956. He learned to play bass guitar in his teens. A fourth Glaswegian born in 1959 was Brian McGee. He learned drums from a young age. McGee, Burchill and Kerr met in high school and formed a band called Biba-Rom! Norman Michael "Mick" MacNeil was from the Isle of Barra, Scotland, and born in 1958. He learned to play keyboards.
Johnny and the Self Abusers split over musical direction with four of the bandmates, preferring a post-punk, art rock and alternative rock sound to a punk rock sound. There were several lineup changes during the first year, but Kerr, Burchill, Forbes, McGee and MacNeil became the core of the band by 1978. In 1979 they released their debut album with the title track, "Life In A Day" cracking the UK pop chart.
Over the next two years the band released two more albums experimenting with minimalist and new wave sounds. But it was there fourth album, Sons and Fascination, which garnered more commercial appeal. Their debut single release in August 1981 was "Love Song".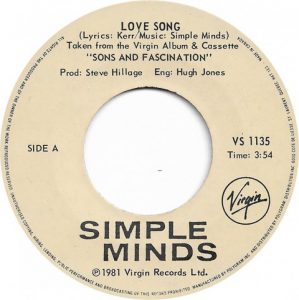 The lyrics to "Love Song" were written by Jim Kerr. It is reported that "The song is an ode to the close bond between Europe and America: "a relationship that's lasted across the centuries, through good and bad times, a "Love Song" between two continents." In the song Kerr writes "America's the boyfriend untouched by flesh of hand" with a "heart of steel." What is unspoken is that Europe is America's lover. And America is "some promised land" with "glory days that come and go." This is a boyfriend who declares "I cut my hair, paint my face, break a finger, tell a lie, so well, so well."
But what is the relationship with this boyfriend that is America? The song opens with the line "in coats of many colors, reptile man drop." Are the many colors the nations flag? The colors of the seasons across the United States? And who is the reptile man? Is this the underbelly of something wild and untamed that needs to be given a love song?
Glory Days are days that harken to a persons most successful time in their life. As a phrase it came into common usage around 1970. While "old glory" is a term from the American Civil War related to the nations' flag. The original Old Glory was a flag that sea captain William Driver had flown on his ship the Charles Doggett from 1824 in the South Pacific. He kept the flag after he retired and flew it outside his home in Nashville, Tennessee. Driver supported the cause of the Union and President Abraham Lincoln against the Confederates during the American Civil War. When Confederate soldiers demanded his old glory flag, he told them they'd have to kill him. But they backed down.
It is one thing for an individual to have 'glory days', as Bruce Springsteen would sing about a few years later. But, in the case of "Love Song", it is the nation of America that is having "glory days that come and go." So, this 'boyfriend' is having glory days that are woven with patriotism. And Europeans have long viewed America as a promised land with both envy and skepticism – which, for Europeans come and go, depending on the political landscape of America from year to year.
In "Love Song" 'America 'the boyfriend' has a 'heart of steel'. And in 1938, the nation spawned the comic book super hero, Superman, who had a nickname 'man of steel'. And so, "Love Song" evokes that Superman reference as we think about what kind of boyfriend America is in the world: an empire, a superpower, a military power, perhaps with a heart of steel.
"Love Song" peaked at #3 in Winnipeg (MB), and #4 in Vancouver (BC). The single stalled at #47 on the UK pop chart in 1981. But it climbed to #6 when it was re-issued in 1992. While in America, "Love Song" was not commercially successful.
After Sons and Fascination, Brian McGee left the band. He was eventually replaced by Mel Gaynor. In 1982 Simple Minds single "Promised You A Miracle" peaked at #13 on the UK singles chart. The song triggered a prolonged period of commercial success for the band, during which they yielded 21 original UK hit singles in a row into the late 90s.
By 1984 Simple Minds had released eight studio albums. And although they had six Top 40 hits on the UK pop chart, they hadn't cracked the Billboard Hot 100 and the lucrative American record market. In the winter of 1984-85 a teen comedy-romance film called The Breakfast Club was being completed. Producer Keith Forsey and collaborator Steve Schiff were scoring the film. Both knew and loved Simple Minds. They wrote "Don't You (Forget About Me)" with the band in mind. After playing a demo of the song for A&M Records, they arranged for Forsey to meet Simple Minds after one of their concerts on their Tour du Monde across the USA. But, Simple Minds hadn't been given notice about Keith Forsey showing up and they were disinterested.

After failing to interest Bryan Ferry of Roxy Music, Billy Idol and Cy Curnin of Fixx, Forsey tried a second time to get Simple Minds to consider recording the song. Jim Kerr's wife, Chrissie Hynde, persuaded him to agree. Jim Kerr recalls that the band "rearranged and recorded 'Don't You (Forget About Me)' in three hours in the north London studio and promptly forgot about it," believing that it would be a throwaway song on the soundtrack to a forgettable movie. However, the film made on a one million dollar budget grossed over 51 million at the box office. "Don't You (Forget About Me)" became a number one hit on the Billboard Hot 100. In the UK it peaked at #7, but remained on that singles chart for 65 weeks. In Vancouver (BC) the song peaked at #1 for two weeks and spent nine weeks in the Top Ten on CKLG.
Derek Forbes left Simple Minds after "Don't You (Forget About Me)" was released. Though he claimed he wrote on over 60% of the 1985 Once Upon A Time album, he was never credited. Later in 1985 he and Brian McGee joined the Germany synth-pop band Propaganda, which included their "Outside World" tour across Europe and America. Forbes and McGee remained with Propaganda into the early 90s, which included the release of the 1990 album 1234. From that album came "Wound In My Heart" which went to #1 in Argentina and "Your Wildlife" which was a dance club hit.
From Once Upon A Time Simple Minds released "Alive And Kicking", which peaked at #3 on the Billboard Hot 100, #2 in Vancouver (BC) and #1 in Italy. A second single from the album, "Sanctify Yourself" climbed into the Top 20 in many American and Canadian radio markets. And a third single from the album, "All The Things She Said" became the fourth Top Ten single for Simple Minds on the UK singles chart.
In 1989 Simple Minds had their only number one hit in the UK with "Belfast Child". The song also topped the Dutch and Irish singles charts. Another single in 1991 from their Real Life album "Let There Be Love" topped the Italian pop chart and made the Top Ten in another four European countries. Simple Minds enjoyed a final international success in 1995 with "She's A River", from their eleventh studio album. It became a Top Ten hit in Italy, Canada, Belgium, Scotland and the UK.
As of 2018 Simple Minds has released 18 studio albums and 52 singles. They have mounted tours almost every year since 1979. In 2020 Simple Minds will perform 70 concerts in 15 countries between February and December. This will be their 39th tour they have mounted.
Derek Forbes became a member of the Scottish new wave-Celtic rock band, Big Country, from 2012 to 2015.
March 23, 2020
Ray McGinnis
References:
Michael Sutton, "Jim Kerr," AllMusic.com.
"Charlie Burchill," Simpleminds.org.
"Johnny and the Self-Abusers," Simpleminds.org.
"Brian McGee," Wikipedia.org.
Pete Reid, "And Scotland's Greatest Bassist Is...", DearScotland.com.
Pete Reid, "Interview with Derek Forbes, Scotland's Greatest Ever Bassist," DearScotland.com.
Eugene Chadbourne, "Mick MacNeil," AllMusic.com.
"Simple Minds 40 Years of Hits Tour 2020," Simpleminds.org.
For more song reviews visit the Countdown.