#805: Love Me Two Times by The Doors
Peak Month: January 1968
7 weeks on Vancouver's CKLG chart
Peak Position #4
1 week Hitbound
Peak Position on Billboard Hot 100 ~ #25
YouTube.com link: "Love Me Two Times"
"Love Me Two Times" lyrics
The Doors were a psychedelic rock band from Los Angeles featuring Jim Morrison on vocals, Robbie Kreiger on guitar, Ray Manzarek on keyboards and drummer John Densmore. In 1965 Morrison and Manzarek were UCLA film students. They met each other for the first time on Venice Beach. Morrison had graduated and was living a vagabond life, sleeping on the beach, taking drugs and writing poetry. Morrison told Manzarek, "I was taking notes at a fantastic rock 'n' roll concert going on in my head." Then he sang "Moonlight Drive" to Manzarek. Discovering their addition interest in music, the two decided to form a band. Jim Morrison was born in Melbourne (FL) in 1943. He was the oldest child and his father was a U.S. Naval officer. Morrison suggested the name of the band. It came from the novel by Aldous Huxley's The Doors of Perception. Huxley's novel, in turn, drew inspiration from poet William Blake's "The Marriage of Heaven and Hell." In that poem Blake writes: "If the doors of perception were cleansed, everything would appear to man as it is, infinite." The Doors signed a record contract with Columbia Records in the winter of 1965-66.
Before he met Jim Morrison, Ray Manzarek had been in a band named Rick & The Ravens with his brother Rick. Raymond Daniel "Ray" Manzarek, Jr. was born in 1939 in Chicago. He played piano growing up and later in high school in a jazz band. After Manzarek met Jim Morrison, he attended a Transcendental Meditation lecture by the Maharishi Mahesh Yogi. Also at the lecture were John Densmore and Robby Kreiger. Soon, Densmore and Kreiger joined Morrison and Manzarek to form The Doors. In January 1966, the Doors became the house band for the LA club, Whiskey A Go Go. Meanwhile, Columbia Records was about to drop the band from their roster, so The Doors arranged a contract with Elecktra Records. In 1967, The Doors released The Doors album with their summer hit, "Light My Fire"/ The song had been recorded in August 1966. An edited single version of the song was recorded on April 24, 1967. It went to #1 on the Billboard Hot 100, but stalled at #6 on CKLG in Vancouver.
Next, their fans waited with anticipation what The Doors would do for a follow up. The Doors didn't disappoint. Their second album, Strange Days, climbed to #3 on the Billboard 200 Album charts. The first single, "People Are Strange", was a big hit in Vancouver, climbing to #8. A month later, "Love Me Two Times" debuted on the Vancouver charts in December 1967. As with "Light My Fire", the song was mostly written by Robby Kreiger, although it was credited to The Doors.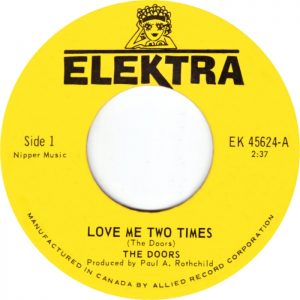 "Love Me Two Times" was controversial at the time and banned in some radio markets as the subject was about having sex twice in one day with a sexual partner. In his book, Light My Fire: My Life With The Doors, Ray Manzarek described the song as "Robby [Krieger]'s great blues / rock classic about lust and lost, or multiple orgasms, I'm not sure which." But in Vancouver the song was considered hip, representing a newfound sexual honesty and freedom some people were longing for. Kreiger said it was about a sailor on his last day with his girlfriend before heading out to sea.
In the media world of curiosity we live in there appeared an article titled "How Many Times Could You Have Sex in a Day?" Featured in Health24.com, the article invited ten couples to share their personal best. The top personal best was seven times in twelve hours. A guy named Brandon confided "let me tell you something: It wasn't as fun as I thought it would be. We were trying to have our first kid, and she was keeping track of her ovulation. On one of the peak days, she made me call in sick to work and then have sex with her all day. It was a lot, and my penis started to hurt and feel raw. That was the most times we did it in one day." However, philosopher Ben Rode recommends that couples have sex twice a day in order to deepen intimacy and discover a whole new depth of love. Sex can be a catalyst to enhancing a felt sense of being loved and accepted on every level, Rode advises. Of course, this assumes the health benefits of having sex twice a day are entered into as a mutually agreed upon goal to strive for, and not about putting pressure on either partner to "perform."
The Kinsey Report: Sexual Behavior in the Human Male (1948) and Sexual Behavior in the Human Female (1953), produced data on sexual habits between couples. Kinsey and his researchers found 18- to 29-year-olds had sex an average of 112 times per year. For the next age cohort, 30- to 39-year-olds, these couples had sex an average of 86 times per year. Consequently, for most radio listeners, even if they'd had sex twice in one day, it was likely not a regular habit. So, "Love Me Two Times" by The Doors, affirmed a frequency of lovemaking that was higher then the sexual activity for most couples.
"Love Me Two Times" soared to #4 in Vancouver while it stalled at #25 on the Billboard Hot 100 climbing to #25. The song peaked at #3 in Akron (OH), #6 in Providence (RI), #9 in Rochester (NY), Orlando (FL) and Columbus (OH), #10 in Hartford (CT) and Seattle, and #12 in Los Angeles.
In between the chart performance of these two singles on Strange Days, The Doors had a strange incident the night of a concert in New Haven, Connecticut, on December 10, 1967. Morrison was found with a girl making out in a bathroom shower stall prior to the concert. The police officer, not knowing who Morrison was, asked them both to leave. Morrison shouted obscenities at the officer and Morrison and Ray Manzarek (who was looking for Morrison as the concert was about to begin) were both sprayed with mace. The concert was delayed an hour as they recovered.
Once onstage, Morrison angrily told the crowd about his being sprayed with mace by a police officer. The police in the New Haven Arena were publicly on the receiving end of Morrision's jeers, goading and catcalls from the stage. As this progressed the police mounted the stage and arrested Morrison during the performance. This was the first time a rock n' roll performer had ever been arrested during a performance. Morrison was taken to the police station and charged with starting a riot and public indecency. The charges were dropped weeks later due to lack of evidence. Meanwhile, "Love Me Two Times" was banned from the airwaves in New Haven, CT.
In July 1968, The Doors released their third album, Waiting For The Sun. The debut single, "Hello I Love You", became The Doors second #1 hit. The album also contained a track titled "Not To Touch The Earth". That songs' lyrics ended with these lines: "I am the lizard king/ I can do anything." Music critics and some fans took the song written by Jim Morrison as a personal description. From then on Morrison was often referred to in the press as the Lizard King.
On July 20th, 1968, the Doors performed in concert in Vancouver at Dante's Inferno. The opening acts were Painted Ship and the Collectors.
On March 2, 1969, The Doors were on tour in Miami while their song, "Touch Me" was into its seventh of eight weeks in the Top Ten of the Billboard Hot 100. That night they appeared at the Dinner Key Auditorium. During the performance Jim Morrison took off his shirt and poured champagne over his head and down his torso. He called out to the crowd, "Do you wanna touch me?Come up and touch me." Morrison was saying it was time to start a revolution and invited audience members to get on stage with him. Once over sixty people at the concert got on stage with Morrison, he asked them "Do you want to see my cock?" Within a minute, Ken Collier, the promoter for the concert grabbed the microphone from a very drunk Jim Morrison. He flashed a peace sign and said to the fans, "Keep calm, sit down, keep quiet, peace, this can't happen in Miami, we're not going to have this in Miami, sit down …" While Collier was making his announcement, Morrison pulled out his member. Then Morrison grabbed a security guy from behind named Lazzy Pizzi. When Pizzi felt someone grab him from behind, he turned to Morrison and flipped him off stage. Morrison fell into an astonished crowd. At that point, Ken Collier turned on the house lights and all four of The Doors were escorted backstage. As Morrison walked backstage he said to The Doors manager, Bill Siddons, "Uh-oh, I think I exposed myself." The Miami Herald reported the next day that Jim Morrison was trying to start a riot and called him "The King of Orgasmic Rock." They also commented that Morrison, a native of Florida, must be aware of the state's obscenity laws.
Jim Morrison's father was Rear Admiral George Stephen Morrison, the commander of the US Navy at the time of the Gulf of Tonkin incident on August 2, 1964. The Gulf of Tonkin incident was the catalyst for President Lyndon Johnson sending combat troops into Vietnam. Johnson lied to the US Congress about Vietnamese aggression against American naval vessels.
In his book, The Covert War Against Rock: What You Don't Know About the Deaths of Jim Morrison…, Alex Constantine explores the difficult subject of rock 'n roll performers being the targets of surveillance and possibly marked for assassination by the FBI and the CIA. When asked about this in 1983, Ray Manzarek said it was "conceivable" that Morrison was a target. Robby Kreiger said "…there was an FBI file on Morrison that we got a hold of, so the government was aware of the Doors." Manzarek told author, Alex Constantine, regarding the FBI, "they were going to stop all rock and roll by stopping the Doors. He was considered the most dangerous because he was saying….. 'We want the world and we want it NOW.'"
Jim Morrison died in Paris, France, in a bathtub. He was 27 years old. He was found by his girlfriend, Pamela Courson. She died of a heroin overdose in 1974, at the age of 27. Morrison was said to have died of "natural causes" and possibly "heart failure." No autopsy was performed. Over 45 years later tabloid headlines, like that of the Daily Star, appear declaring: "Jim Morrison 'found ALIVE in New York': Shock Claim."
Ray Manzarek died in 2013 after pursuing a successful solo career. He later played with Echo and the Bunnymen and Iggy Pop. In 2002, Manzarek and Robby Kreiger gathered several other musicians together and toured as The Doors. John Densmore sued them and legal battles ensued for several years. John Densmore turned to acting as a second career. He also wrote articles for The Nation, The Guardian, Rolling Stone and Los Angeles Times, Chicago Tribune, Huffington Post, and Utne Magazine. Densmore has written two autobiographies of his years with Jim Morrison and The Doors. Los Angeles native, Robby Kreiger, continues to perform and has nine concerts currently scheduled between June and September 2018.
May 22, 2018
Ray McGinnis
References:
Rosemary Breslin, Jerry Hopkins and Paul Williams, "Jim Morrison Lives: The Legacy of the Lizard King," Rolling Stone, September 17, 1981.
Lisciandro, Frank J. Jim Morrison: Friends Gathered Together. Vision, Words & Wonder, 2014.
Densmore, John. Riders On The Storm: My Life With Jim Morrison and the Doors. Delta, 1991.
Miller, Arthur. The Doors!: Jim Morrison – The Lizard King!
Andy Greene, "Ray Manzarek, Doors Keyboardist, Dead at 74," Rolling Stone, May 20, 2013.
CKLG Boss 30, Vancouver, BC, August 5, 1967.
"New Haven Police Close 'The Doors,'" New York Times, December 11, 1967.
"John Burks, Jim Morrison's Indecency Arrest: Rolling Stone's Original Coverage," Rolling Stone, December 10, 2010.
Manzarek, Ray. Light My Fire: My Life With The Doors. Penguin, NY, 1999.
"How Many Times Could You Have Sex in a Day?," Health24.com, November 4, 2017.
Ben Rode, "How Making Love Twice A Day Changes Your Relationship & Your Life," Medium.com, September 13, 2017.
Nicole McDermott, "How Much Sex Is Too Much?," Greatist.com, October 5, 2015.
Jeff Cohen and Norman Solomon, "30-Year Anniversary: Tonkin Gulf Lie Launched Vietnam War," Fairness and Accuracy In Reporting, New York, NY, July 27, 1994.
Constantine, Alex. The Covert War Against Rock: What You Don't Know About the Deaths of Jim Morrison... Feral House, 2000.
Adrian Mack, "Jimbo's Ghost isn't the Spookiest Thing About Morrison," The Straight, Vancouver, BC, May 27, 2011.
David Trayner, "Jim Morrison 'found ALIVE in New York': Shock Claim," Daily Star, January 29, 2016.
John Densmore bio, John Densmore.com.
Robby Kreiger bio, Robby Kreiger.com.
"Boss 30," CKLG 730 AM, Vancouver, BC, January 20, 1968.
For more song reviews visit the Countdown