#790: Love's Gone Bad by Chris Clark
Peak Month: December 1966
7 weeks on Vancouver's CKLG chart
Peak Position #3
Peak Position on Billboard Hot 100 ~ #105
YouTube.com link: "Love's Gone Bad"
Lyrics: "Love's Gone Bad"
Christine Elizabeth Clark was born in Santa Cruz, California, in 1946. From early childhood she expressed an interest in singing. She was active in school bands and by 1960, when she was 14, Chris Clark was on stage. She went on her first tour with Jan And Dean and Dick & Dee Dee. She also was on a tour with The Coasters and The Olympics at a VFW Hall in Marin County. Other recording artists Chris Clark performed with in the early 60's was Bobby Freeman. She went down to Los Angeles to play in a number of clubs until she was kicked out when they discovered she was underaged. Her big break came near the end of 1963 when she had an audition with Motown.
Chris Clark was the first white singer to sign with Motown. In the fall of 1965 she recorded "Do Right, Baby, Do Right." Clark was considered America's answer to Dusty Springfield. Clark had soul. But Motown didn't quite know what to do with her and how to market her. The single charted in Oakland, California, but got scant airplay elsewhere. Her next single release was penned by Holland-Dozier-Holland. It was titled "Love's Gone Bad".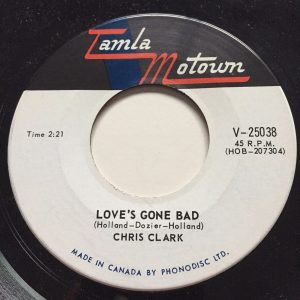 When the single was recorded, Eddie Holland and Lamont Dozier told Chris Clark to "break loose" at the end of the song. "Love's Gone Bad" provided a telling list of signs that a love relationship had gone south. Her brain is pounding, her veins are as cold as ice, her mouth taste's bad from bitter tears, black rainbows and crows flying overhead. Since her man's left her, she can't sleep at night. She recognizes she's been made a fool by someone who promised they'd be true. In her despair, the singer begins to see a relationship pattern: "Every time some love I choose/I seem to always be the one to lose."
On The Everygirl.com, an article appeared in 2016 titled 6 Reasons We Chose the Wrong Partners and Stay in Unhappy Relationships. Among the reasons offered is fear. In this case, someone has expressed interest in us and our fear is telling us this is the last person we will ever have a chance of settling down with. It's this person or a life of loneliness. If fear is leading a decision to partner up with someone, other important signals, such as how you are feeling with this person, can be suppressed. Another reason people choose a partner who is "bad" for them is a lack of self-esteem. Settling for someone who treats you poorly is a recipe for unhappiness. If you believe no one will ever really want you, and try to accommodate disrespectful behavior, you're on a road to nowhere. A third reason identified in the article is the pressure one feels from society to make a decision and settle down. There are lots of stories in the media and expectations from friends and family. We may get asked, "so why are you still single?" Making a decision to choose someone and get that item off of our "to do list," may lead to unhappiness in the future. While, for women, if having children is one of the hopes for a relationship, you want to make sure this is someone you are settling down with who you can effectively co-parent with. A fourth reason that can lead to unhappiness, is believing that the other person will complete you. No matter how remarkable the love of your life may be, you'll still have your own highs and lows. And these will be your highs and lows to come to terms with.
"Love's Gone Bad" peaked at #3 in Vancouver, #7 in Chattanooga (TN), #9 in Bakersfield (CA), and #10 in Cleveland and San Francisco.
Chris Clark's next release was "I Want To Go Back There Again". It was a regional hit in several record markets in the USA. However, it failed to make the Billboard Hot 100. Motown was a hugely successful record company by the mid-60's. Clark reflects, "the thing was that we had so many hits at the point that I came to Motown, every single month, every single week, we were like four of the Top Ten, five of the Top Ten. So they had to do followups on the Temptations and Smokey and the Supremes and the Miracles and Stevie. And the fact that they did so much recording on me as they did says so much. They really tried everything to break me." But the big break never materialized. There was no breakout hit record for Chris Clark. In 1969, Motown tried once again to get Chris Clark noticed. They released an album titled CC Rides Again, on the subsidiary, Weed Records. It featured Chris Clark riding an elephant. She had a 102 degree fever for the photo shoot. And she couldn't get the elephant to stay on location where the photos for the album were to be taken. Instead, the elephant lumbered away with Chris Clark unable to get off. The album was full of covers. It included "Spinning Wheel" by Blood, Sweat and Tears, "With A Little Help From My Friends" and "Get Back" by The Beatles, Elvis Presley's "In The Ghetto" and "Good Morning Starshine" from the musical Hair. However, the album was a commercial failure.
However, Chris Clark was approached by Berry Gordy Jr. to be one of several cowriters of the script for Lady Sings The Blues. The 1972 film earned five Academy Award nominations, including for Chris Clark. Clark got married to Ernest Tidyman, who cowrote the screenplay for Shaft. Clark went on to be an executive with Motown's film and TV production studio in Los Angeles. Her work over the years included photography and graphic design. It was not until 2006 that Chris Clark appeared again to sing in concert. This occasion was the Royal Albert Hall in London, UK. A Motown Collection had been released and she shared the stage with The Temptations and The Four Tops. She got the invitation from The Temptations who had her open for all of the concerts (13 or 14) in the UK.
In 2015, Chris Clark was credited with composing one of the songs for the film, When the World Came to San Francisco. Looking back, Berry Gordy Jr. says of Chris Clark, "She just didn't get the material. She worked with Holland-Dozier-Holland. She did one of the greatest songs I ever wrote. But she could never break that glass ceiling." Gordy recalls that on stage and in the recording studio, Chris Clark was one of the best: "She was up against Smokey. She was up against Stevie. She was up against Marvin. She was up against Diana and the Supremes, Gladys Knight and the Pips, the Marvelettes. And she held her own against those people."
June 7, 2018
Ray McGinnis
References:
Joel Selvin, "An Unsung Soul Singer Resurfaces," SFGate, San Francisco, CA, August 28, 2007.
Bill Dahl, Chris Clark – Motown's Great White Hope, Ponderosa Stomp.com, August 30, 2013.
6 Reasons We Chose the Wrong Partners and Stay in Unhappy Relationships, January 22, 2016.
Michael A. Gonzales, Shafted: On Ernest R. Tidyman and the Makings of Shaft, Mulholland Books, February 25, 2011.
When the World Came to San Francisco, IMDb.com.
"Boss 40," CKLG 730 AM, Vancouver, BC, December 10, 1966.
For more song reviews visit the Countdown.