#492: Lucy, Lucy, Lucy, by Alan Schick
Peak Month: May 1974
10 weeks on Vancouver's CKLG's chart
Peak Position #6
Peak Position on Billboard Hot 100 ~ did not chart
YouTube.com link: "Lucy, Lucy, Lucy"
Alan Schick was born around 1949. He was a one-hit-wonder on the Vancouver (BC) pop charts in the summer of 1974. In 1969 Alan Schick replaced Joey Gregorash in the Manitoba band, the Mongrels. They were managed by Lorne Saifer – who presently manages Burton Cummings. Schick wrote both sides of a 1969 single release: "Do You Know Your Mother?" and "Heartaches". Alan Schick also penned the bands' next single release in 1970, "Ivy In Her Eyes". Saifer got the group a contract w/RCA and later took the group to Chicago to record an album produced by Randy Bachman. The results were less than spectacular; the album was never released and the Mongrels were done.
Lorne Saifer took over management of Alan Schick as a solo artist. Saifer and Schick traveled to Los Angeles in pursuit of a record deal. Through Saifer's new position as a record executive, Schick was able to get a contract with MCA Records. At the time the offer came in, Alan was not actively performing and did not have a band behind him. Schick recorded his only album – Lucy Lucy Lucy. The title track was released on a single as the B-side to "My Love And I". However, it was "Lucy, Lucy, Lucy" that was played on DJ Doc Steen of CKRC in Winnipeg. And the song began to take off.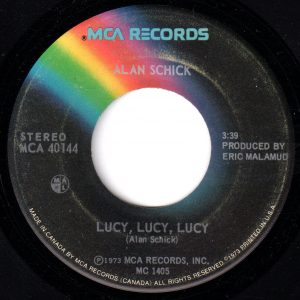 In an article about Alan Schick on the Manitoba Museum website, it is stated that "Lucy" was Lucy Giesbrecht… a high school friend who used to cut loose in her white saddle oxfords. She was the life of the party!" Performing on the album were former FIFTH members Vance Masters on drums, Mel Kzionsek on bass, Fred Redekopp and former Mongrels guitarist – Duncan Wilson. In the song Schick described Lucy as a "sweetheart of memory lane." This is because when Lucy hears oldies songs on the jukebox she can't help but get up and dance. She goes to put in a dime in the jukebox to hear another song. He also describes her as once being "the apple of my eye." Schick also is identified as a singer in a band who is going to dedicate the next song to be played for those on the dance floor to Lucy.
"The apple of my eye" is an exceedingly old expression which first appears in the Biblical book of Deuteronomy 32:10: "He found him in a desert land, and in the waste howling wilderness; he led him about, he instructed him, he kept him as the apple of his eye." The apple of one's eye was originally in reference to the central aperture of one's eye. The phrase can come to mean something that is cherished above everything else. In 1973 Stevie Wonder's hit tune "You Are The Sunshine Of My Life" contained these lyrics: "You are the sunshine of my life, that's why I'll always be around. You are the apple of my eye, forever you'll stay in my heart."
Lucy wears white saddle oxfords. "It's the 'hardy perennial' of shoe fashions… ever smart…ever now!," claimed a 1930s description for brown and white saddle shoes. If there ever was a 21st century shoe that was always in style it was the saddle shoe. Developed in the 1900s it took 50 years to reach movie star status in the 1950s but it was a wardrobe staple, experiencing only slight changes over half a century. It is an icon of vintage style today. Originally, saddle shoes were a two-toned shoe that men embraced as the shoe to wear at the golf course starting around 1910. And so saddle shoes were at first a sports shoe. Bu the 1920s women began to wear saddle shoes on dance floors when they did the Charleston. Women liked the pure white contrast with black leather saddle. Pure white soles were also in vogue. Consequently, the saddle shoe required frequent cleaning and whiting of the white canvas material.
Over the decades the saddle shoe has gone through a number of changes. At first it was given a Cuban heel around 1922 in order to look more sensible for walking with a house dress. In the 1930s many saddle shoes were given a flatter crepe rubber non slip sole. Black and white saddle shoes gave way to blue and white. In addition, wedged heels became the fashion. With World War II and rationing, making things last was acceptable. One woman named Marge Goral recalls, "At the time it was the style to wear dirty saddle shoes, so spent the rest of the day rubbing my new shoes in the grass and driveway gravel until they looked just right." In addition, women wore Bobby sox and had a comb tucked inside one sock. This was a cue that the gal wearing this outfit cared about her appearance. After the war ended the dirty shoes fad ended. The latest craze was for red rubber soles and spotless "just like new" saddle shoes. Girls would spend an hour everyday cleaning and polishing shoes to perfection. By the 50s the saddle strap was iconic and was affixed to everything in footwear fashion. The "in thing" were "bubble" saddle shoes with a buckle at the back of the shoe. By the 1960s white soles had replaced black soles in saddle shoes. So in the 1973 hit "Lucy, Lucy, Lucy" it seems that Lucy is recalling the 60s white saddle shoe style when she dresses for a dance.
"Lucy, Lucy, Lucy" peaked at #1 in Winnipeg, #6 in Vancouver (BC) and #7 in Hamilton (ON). It also made the Top 20 in Saint John (NB).
Alan Schick and his backing band went on tour to promote the album. Vance Masters recalls the first concert "was scheduled for Dryden, a pulp and paper community" in Northern Ontario, near Kenora. He writes "the band pulled into town and the stench from the mill was so overpowering that Alan immediately became ill and they had to cancel the show. Their next gig was in Saskatchewan, and they fared no better at that one than they had in Dryden, but for a different reason. Fred (Redekopp) had taken up trying to learn how to juggle, and on occasion, would start into his juggling act as a take-off on Elton John. The owner of the club just plain didn't like the music, but he used Fred's "extracurricular activity" as an excuse for firing the band by loudly proclaiming, "I didn't hire jugglers."
Alan Schick released a follow up single featuring a track from his debut album, titled "Soul Deep". Both the A-side and the B-side, "Summer Song", were original compositions by Schick. "Summer Song" got a bit of airplay in the Maritimes, (and maybe in Winnipeg).
Almost nothing is available online about what Alan Schick did after he recorded his one album. There are no interviews to be found. However, there are a few YouTube.com versions of "Lucy, Lucy, Lucy". On several of these there are comments from 2017 with these phrases "RIP Mr. Schick," and "Alan, you will be dearly missed." A comment from "Tom Roulston" read "Alan, I remember you sitting at the piano in my family home in Winnipeg and I thought you sounded like Paul McCartney and kinda looked like him too! I enjoyed many adventures with you and my sister tooling around Manitoba in your VW bug. You will be missed. Rest In Peace." A post by "Brian Bingham" stated "Alan Schick died in October, 2016 at age 67."
An obituary was published in both the Toronto Star and the Globe and Mail. He was a father to one daughter, Jessie, and sons John and Paul. He died on October 11, 2016.
January 31, 2020
Ray McGinnis
References:
"Alan Schick," Vance Masters.ca.
"Alan Schick," Manitoba Museum.com.
"Alan Schick Obituary," Toronto Star, October 14, 2016.
"Saddle Shoes History: 1920s to 1960s," Vintage Dancer, March 14, 2014.
"CKLG Thirty," CKLG 730 AM, Vancouver, BC, May 31, 1974.
For more song reviews visit the Countdown.