#719: Down At Lulu's by The Ohio Express
Peak Month: August 1968
7 weeks on CKLG's Vancouver Charts
1 week Hit Bound
Peak Position ~ #3
Peak Position on Billboard Hot 100 ~ #33
YouTube.com: "Down At Lulu's"
Lyrics: "Down At Lulu's"
The Ohio Express was a brand name for a group of studio musicians in New York City with lead vocals on the single releases from 1968 to 1969 by Joey Levine. At the same time the musicians who toured as the Ohio Express appearing live in concert were a different group altogether. In 1967, Super K Productions arranged a contract with a rock group from Mansfield, Ohio, called Sir Timothy and the Royals. With no group available to promote the debut singles by The Ohio Express (as they were anonymous studio musicians in New York City) Sir Timothy and the Royals became the touring band for Ohio Express concerts. The live and in concert version of The Ohio Express was made up of rhythm guitarist Doug Grassel, vocalist and lead guitar player Dale Powers, bass player Dean Kastran, keyboard player Jim Pfahler and drummer Tim Corwin. The Ohio Express' debut single, "Beg, Borrow And Steal," was actually a re-mix of the Rare Breed recording from 1966. Rare Breed were also a group of anonymous studio musicians in New York City and the Rare Breed name for the studio musicians became obsolete by 1967.

According to the book, Stars of David: Rock 'n' Roll's Jewish Stories, Super K Productions was headed by Jerry Kasenetz and Jeff Katz. Kasenetz and Katz created the concept of bubblegum music in early 1966. Katz recalls, "We thought there must be a niche for young kids five through fifteen. That's when we started getting into the idea of kids chewing gum and blowing bubbles." It was Buddah Records chief executive, Neil Bogart, who asked Kasenetz and Katz to create a marketing name for the music which they dubbed bubblegum music. The pair recorded the Music Explosion from Mansfield, Ohio, and their song, "A Little Bit O' Soul", went to #2 in the spring of '67. While the Music Explosion were a garage rock band, "A Little Bit O' Soul" became a prototype for bubblegum music. After "Beg, Borrow And Steal", The Ohio Express was given a record contract on Buddah Records. At Buddah Records Joey Levine was writing music for the studio musicians who recorded as Ohio Express. It was Levine who did the demos for their songs. This began with "Yummy, Yummy, Yummy," a bubblegum anthem that went to #1 for two weeks at the end of June 1968 on CKLG in Vancouver and #4 on the Billboard Hot 100. Levine's vocals were retained on the single release. With the success of "Yummy, Yummy, Yummy", Joey Levine became the lead vocalist for the Ohio Express studio recordings for their next four single releases.
Levine grew up in Queens. His mother had been a professional singer, his sister a vaudevillian, his dad a piano player and an uncle of his was a record producer. Joey Levine formed a band in high school named Joey Vine and the Grapes. He later was lead singer for a group called The Third Rail who had a minor hit titled "Run, Run, Run" that peaked at #53 on the Billboard Hot 100 in September 1967. Levine co-wrote "Yummy, Yummy, Yummy" with Artie Resnick who had composed "Good Lovin'" for the Young Rascals and "Under The Boardwalk" for The Drifters. Joey Levine also was a featured vocalist on demos for the 1910 Fruitgum Company. That Buddha Records bubblegum group had the Top Ten hits "Simon Says" and "1, 2, 3, Red Light".
The next songs with Joey Levine on lead vocals for The Ohio Express were "Down at Lulu's", "Chewy Chewy," "Sweeter Than Sugar" and "Mercy".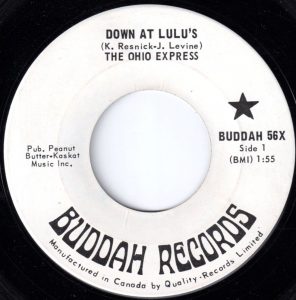 "Down at Lulu's" was a song about a club where bands play and people line up outside to get tickets to get inside. It is a place where you show up alone but always meet someone by the end of the night to go home with. In Vancouver in the 1960s, some of the clubs singles went to in search of someone to meet included The Pink Pussycat at Water Street and Cordova Street, The Commodore, The Penthouse, Oil Can Harry's on Thurlow Street, The Cave, The Panorama Roof on top of the Hotel Vancouver and The Smilin' Buddha on Hastings Street.
"Down At Lulu's" climbed to #33 on the Billboard Hot 100 and to #3 in Vancouver. Other radio markets where the song did well include a chart run to #1 in Battle Creek (MI); Peaking at #2 in Sarasota (FL), Hamilton (ON), Buffalo (NY) and St. Louis; Cresting at #3 in Seattle, Denver and Bowling Green (KY); Stalling at #4 in Winnipeg, Columbus, Indianapolis and Madison and Bakersfield (CA); And climbing to #6 in Kansas City (MO), Milwaukee (WI) and Fredericton (NB). The song was primarily a hit in the Pacific Northwest, Missouri and the Great Lakes States, and Ontario.
The Ohio Express took part in the Dick Clark Caravan of Stars and appeared on the Dick Cavett Show and American Bandstand. The band opened for Johnny Rivers, and shared the stage with performers Neil Diamond, Blood, Sweat & Tears, The Lemon Pipers and Tiny Tim. The boys from Mansfield, Ohio, once attended a party at the home of Jimi Hendrix. Drummer Tim Corwin recalls, "We lived on airlines. I knew every waitress at O'Hare Airport — so many flights out of Chicago. I knew half the airline stewardesses. We would fly first class and we would sometimes get on with these stuffy business guys and they would look at us with our beads and stuff on and they would go, 'Look at this!' "
A highlight Tim Corwin looks back on was going on tour with The Who. "We did a tour with them in 1968 — that was a fun thing. Those guys were a wild bunch. We started up in Montreal at the baseball stadium. They had 20,000 people in that thing. They had a riser off the ball field of about 20 feet. I remember we opened up and started playing and all these things were bouncing off the head of my drums. I looked around, and Keith Moon was behind me with a bag of sunflower seeds."
Meanwhile, the group that appeared in concert as the Ohio Express didn't perform at all on any of the studio recordings by the Ohio Express. The disconnect between the studio musicians and Joey Levine on the Ohio Express recordings and the group touring as the Ohio Express led to some embarrassing mix-ups on stage. In October 1968, when "Chewy Chewy" was released, the band touring as the Ohio Express was not told about the new single. Consequently, when fans requested the song during performances in the fall of 1968, the Ohio Express on stage hadn't heard of the song and weren't able to include it in their repertoire. Though their proceeds from the concert tours were held in escrow, most of the money never was accounted for and never ended up in the pockets of the bandmates.
Dale Powers joined the United States Army and fought in Vietnam from 1970 to 1971. After returning from Vietnam, Powers spent over 35 years in industrial sales in Mansfield, Ohio. He became a born-again Christian in 1996 and has since been involved in Race Ministries working on musical projects to advance Christian evangelism. Dean Kastran also was drafted and fought in Vietnam. He plays in the Race Ministries Band that Dale Powers started.
In 1969, Joey Levine teamed up with the former members of The Music Explosion to record "Gimmie, Gimmie Good Lovin'" credited to a group by the name of Crazy Elephant. The song hit #12 on the Billboard Hot 100 in the spring of '69. later was the lead singer for the ad hoc group of studio musicians named Reunion. In 1974 they had a hit with Joey Levine on lead vocals. The song was called "Life is a Rock (But the Radio Rolled Me)". Levine also was featured in numbers of TV jingles including "Sometimes You Feel Like a Nut". This was an advertisement for the chocolate bars Mounds and Almond Joy. He also opened up an ad business and wrote commercials for Revlon, 7-Up, Chevrolet, Diet Coke, Sears and J.C. Penny.
After the Berlin Wall fell down in 1989, former East Germans discovered rock 'n roll, including The Ohio Express. As a result, The Ohio Express went on numerous tours to Germany in the following decades.
Doug Grassel kept an involvement in music and kept a version of the Ohio Express in tact for twenty years until he died of fibrosis of the lungs in 2013. Tim Corwin, told Classic Bands.com interviewer, Gary James, that the Ohio Express still tours on occasion. Corwin has also appeared on German television performing "Yummy Yummy Yummy" in a promotion of Ferrero, an Italian Chocolate company.
September 26, 2018
Ray McGinnis
References:
Scott R. Benarde, Stars of David: Rock 'n' Roll's Jewish Stories, Brandeis University Press, Lebanon, NH, 2003, pp. 145-151.
Gary James, "Interview with Tim Corwin of Ohio Express," Classic Bands.com
Gary James, "The Music Explosion Interview," Classic Bands.com
"Best Vancouver Bars and Clubs: A History," BC Business, September 5, 2011
The Ohio Express.com
Dale Powers Bio, Race Ministries.org
"Passings: Doug Grassel of the Ohio Express," Vintage Vinyl News, October 5, 2013.
"Boss 30," CKLG 730 AM, Vancouver, BC, August 30, 1968.
For more song reviews visit the Countdown.