#871: Lydia Purple by The Collectors
Peak Month: July 1968
7 weeks on Vancouver's CKLG chart
Peak Position #7
Peak Position on Billboard Hot 100 ~ did not chart
1 week Hitbound on CKLG
YouTube.com: "Lydia Purple"
Lyrics: "Lydia Purple"
The Vancouver rock band The Collectors, was formerly named The Classics who were a Vancouver group led by Howie Vickers in the mid-60s. The Classics were part of the regular line-up on Let's Go, a show on CBC TV. Though the Classics released several singles the group needed room to grow and reformed as The Collectors. They would become one of the most innovative of Vancouver's recording acts through the rest 60s. In the spring of 1967, Vickers was asked to put together a house band at the Torch Cabaret in Vancouver. Along with Claire Lawrence on horns, they recruited guitarist Terry Frewer, drummer Ross Turney and Brian Newcombe on bass. Within a couple of months, fellow Classics member Glenn Miller replaced Newcombe on bass and Bill Henderson, a student at UBC, replaced Frewer on guitars. With Vickers now handling vocals, their sound changed from doing covers of R&B tunes to psychedelic rock. This led them to gigs along the Canadian and US west coast. Their strongest fan base in America was in California. There audiences welcomed their complex arrangements mixed with harmonies and extended solos and musical ad-libs.
The Collectors issued several singles that were hits in Vancouver and elsewhere in Canada and the US west coast. These included two hits in 1967 called "Looking At A Baby" and "Fisherwoman." A third successful single on the local pop charts was "Lydia Purple".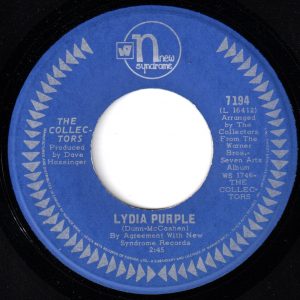 "Lydia Purple" was one of the very few songs the Collectors recorded that wasn't written by one of the members of the band. It was composed by Don Dunn and Tony McCashen, a songwriting team from San Diego. Their biggest success as a songwriting team was "Hitchcock Railway", a minor hit by Jose Feliciano. McCashen played with The Monkees, Joe Cocker and others. His songs have been recorded by numbers of recording artists including Them, Joe Cocker, Kenny Rogers and the First Edition and Bobby Vee. Recording artists who've put a song by Don Dunn on vinyl include Sonny & Cher, Nancy Sinatra, Thelma Houston, Diana Ross, Rare Earth, the 5th Dimension, The Righteous Brothers and Junior Walker & The All-stars. Dunn has also been a guest vocalist on studio recordings for Diana Ross, Themla Houston, Kenny Loggins, Seals and Crofts, Steely Dan, Kim Carnes, David Gates and Jennifer Warnes. He eventually moved to Nashville to focus on writing folk and country songs.
"Lydia Purple" would make a very interesting client for a therapist. She lives in a steeple. A steeple is a tall tower on a building, topped by a spire and often incorporating a belfry and lantern. It would seem near impossible for Lydia Purple to be living in the spire, which narrows to a spear-like point. Spires are intended to reach up to the sky, reminding followers of a religion who they are worshipping. The lantern of the steeple is just below the spire. The lantern houses the light in the steeple, in which there is room enough for a person to change the light fixture, but not much else. Below the steeple's lantern is the belfry. The belfry is the section of the steeple enclosing bells for ringing. Typically, the bells ring hourly with one ring for one o'clock and twelve rings for twelve o'clock. Inside a belfry the sound of the ringing bells are very, very loud. If Lydia Purple was lucky, there was a tower room at the base of the steeple where there was a clock visible for onlookers to see. Perhaps there could have been a very small room in that part of the steeple from where she could peak through her keyhole.
The people Lydia Purple knows have slanted views and take her for granted. Perhaps this can explain her choice to isolate herself. With a belfry above her and clock tower beside her, Lydia Purple may have been a source of some talk in the community. "Have you seen that girl who lives above the church sanctuary?" To make matters worse, Lydia is in this small space pretending she is free. She writes to her nonexistent lover. She paints the walls of her small steeple room. She spends her time for several years writing sonnets daily, drinking apple tea and singing to herself "sweep the dirt, hide the hurt." One can presume she routinely sweeps the dirt in her very small steeple space. She also has a mirror on a wall, one of the ones she's painted. It is to the mirror Lydia talks. Whatever can be said about her mental health, by the third year Lydia Purple is able to give herself clearer answers. Since she's lived in the steeple for three years, Lydia either takes occasional trips to the market to get groceries, or she has others who aid her in her solitary existence and sustenance.
As odd and even disturbing as the lyrics are to "Lydia Purple", most people, myself included, just sang along to the song whenever CKLG played it that summer. In 1968 we didn't question the scenario that was being painted. Most listeners figured Lydia Purple was some sort of recluse, an poet, a painter, a hippie (drinking apple tea), who wanted to live in a steeple. So she was a nonconformist. And in the late 60's it was risky to take a song too literally. And in this case, it was a sort of fantasy, and psychedelic.
Rock critic Ritchie Unterberger, writes that "Lydia Purple" was chosen as the single for The Collectors self-titled album, even though it was "the only song on the album neither written nor selected by the Collectors themselves, as well as the only one to use session musicians." The Collectors' Bill Henderson told Unterberger, "We fought that one, we didn't want to record that. We didn't want to record anybody else's song, but [Hassinger, the producer] and the recording company were going, 'You gotta have a hit, and this one sort of sounds like you guys, and we think it's a hit.' So finally we relented and worked on it, we really changed it a lot…. we wrote arrangements that required a cellist and harpsichord, and we wanted someone that could really play harpsichord. We did the recorders ourselves. In Canada, it got tons of play."
In an interview with Swiss rock historian, Jan Derrer, Collectors band member, Glenn Miller, recalls the studio recording of Lydia Purple in Los Angeles. "We hired a string arranger and brought in some studio players who played in the symphony for the string overdubs. They did a lot of that work – three guys and a girl. They called themselves 'The Hollywood String Quartet'. And we had Los Angeles studio musician Larry Knechtel who played piano and electric harpsichord." Miller recalls the recording dynamics for "Lydia Purple" were unconventional. He reveals, "We didn't use much compression on any of the tracks. Bass was recorded with a mic in front of the amp. Same with guitars. The drums were Ross Turney's personal set of Ludwigs."
Although there are some comments online that suggest "Lydia Purple" may have made the Billboard Hot 100, a search of Billboard Magazines chart archives produces no result for "The Collectors" or "Lydia Purple". While their prior hit, "Looking At A Baby" did get into the Top 30 on several radio stations in California and made #4 in Toronto and #6 in Orillia, Ontario, "Lydia Purple" was a unique hit in Vancouver where it climbed to #7.
After "Lydia Purple", The Collectors had several more hits, including "Early Morning" in 1969 and "I Must Have Been Blind" in 1970. After Howie Vickers left the band in 1969 they were in the process of reforming. Before 1970 came to a close they named themselves Chilliwack, a Salish Native Canadian name meaning "valley of many streams." It is also the name of a city in the Fraser Valley, east of Vancouver.
In a letter to me local Vancouver music critic Richard Skelly (Richmond Review, Radio West.ca, RPM Magazine) writes, "The Collectors… had spent almost two years recording in California and working the psychedelic circuit up and down the Pacific coast. They did get back to Vancouver, but were stateside weeks or even months at a time. This put strains on marriages and finances. Perhaps it wasn't that alluring to be offered money-losing tours when fellow Vancouverites, the Poppy Family, (were) selling truckloads of records without (hardly) ever leaving home. In interviews, Bill (Henderson) reflected that, unlike the Collectors, Chilliwack felt it made more sense to succeed first in Canada and then tackle the USA…. (In 1970) the band had to honour commitments to perform concerts at the Osaka World Expo in Japan. As the Collectors, they'd been commissioned to create and record background music for the Canadian Pavilion. For that government-assisted Asian trip, they expanded to a five piece with Rick Kilburn on bass and Robbie King on keyboards."
Chilliwack had their first Top Ten hit in Vancouver with "Lonesome Mary" in 1971. According to Skelly, Chilliwack's record company, A&M, "fumbled by wasting "Ridin'" as the flip side to "Lonesome Mary". An ode to train travel, it had a jangly Byrds meets CS&N vibe. Unfortunately, "Ridin'" was the only obvious followup single. Likely, realizing the mistake, A&M supposedly flew the band down to whip off a pair of straight up rockers: "Hit Him With Another Egg" and "Rock n Roll Music". I never heard the finished but never-released product." Skelly writes that later re-recorded versions of these songs ended up as tracks on a subsequent album, All Over You, but these were not as good as their first recordings.
Chilliwack released three albums between All Over You, Riding High and Rockerbox between December 1972 and December 1975. Aside from "Crazy Talk", from the Riding High album, their single releases received minor attention outside of radio markets in BC.
In January 1977 the band recorded their sixth studio album, Dreams, Dreams, Dreams. At the time the band members were all involved with Scientology and there was a dedication to the founder of the Church of Scientology, Ron L. Hubbard, on the back of the album. By 1977 the bands musicians consisted of Henderson, Turney, Miller and Howard Froese on guitar, vocals, solina and piano. The album included several successful single releases in the Canadian market that included "Fly At Night", "California Girl" and "Baby Blue".
But it was the band's ninth album release in 1981, Wanna Be A Star, that took them to the pinnacle of their success. The single "My Girl (Gone, Gone, Gone)," went Top 30 on the Billboard Hot 100, #3 nationally in Canada and #1 in Vancouver.
February 28, 2018
Ray McGinnis
References:
Bill Henderson, The Collectors, Canadian Bands.com.
Chilliwack bio ~ thecanadianencyclopedia.ca.
Bill Henderson bio, gonegonegone.com.
Richard Skelly, email to Ray McGinnis.
Jan Derrer, "Lydia Purple" by Canadian Group "The Collectors" – History Of A Psychedelic Song From The Sixties, Lost and Sound, Switzerland, June 23, 2009.
Ritchie Unterberger, Liner Notes for The Collectors' 'The Collectors,' Ritchie Unterberger.com, 2010.
John D'agostino, Starting Over With the Country Life : Music: Songwriter Don Dunn reached the top–and the bottom–several years ago. Now he's making a run for the money again, this time in Nashville, Los Angeles Times, March 19, 1991.
Gonna Buy Me A Ticket…, Echoes In The Wind Archives, April 1, 2008.
"Boss 30," CKLG 730 AM, Vancouver, BC, July 20, 1968.
For more song reviews visit the Countdown.