#18: Magificent Seven by Al Caiola
City: Calgary, Alberta
Radio Station: CFAC
Peak Month in Calgary: January 1961
Peak Position #3
Peak position in Vancouver ~ #28
Peak Position on Billboard Hot 100 ~ #35
YouTube.com: "The Magnificent Seven"
Alexander Emil Caiola was born in 192o in Jersey City, New Jersey. During World War II Caiola played with the United States Marine Corps 5th Marine Division Band that also included jazz singer and bandleader Bob Crosby. Caiola served in the Battle of Iwo Jima as a stretcher bearer. He got work with CBS TV in 1946, and stayed until 1956, working on shows hosted by Ed Sullivan, Jackie Gleason, Arthur Godfrey and Steve Allen. Caiola was a studio musician in the 1950s in New York City. He released some minor records under his own name in that decade, including Deep in a Dream: The Guitar of Al Caiola in 1955. In addition, he performed under the musical direction of John Serry Sr. on an album for Dot Records in 1956. That year he released the album, Serenade In Blue. In 1958, Caiola released a jazz guitar album titled Music for Space Squirrels. And in 1959, another jazz guitar album High Strung, was released on RCA Victor after Caiola left Atco Records. In 1960, Al Caiola released seven studio albums featuring his guitar. These were variously on Time Records, Roulette Records, Chancellor Records, and finally United Artists.
In 1955, Al Caiola wrote the music for the film noir drama The Man With the Golden Arm. In 1956 he received an Academy Award nomination for Best Music Score of a Dramatic or Comedy Picture. That year he also scored music for The Ten Commandments. Other films Bernstein scored into the late 50's include Some Came Running, a drama starring Frank Sinatra, Shirley MacLaine and Dean Martin.
In 1960 John Sturges directed a Western film called The Magnificent Seven. The film starred Yum Brynner, Eli Wallach, Steve McQueen, Charles Bronson, James Coburn, Brad Dexter, Horst Buchholz and Robert Vaughan.
The plot in The Magnificent Seven concerns a gang of bandits led by Calvera (Eli Wallach) periodically raids a poor Mexican village for food and supplies. After the latest raid, during which Calvera kills a villager, the village leaders decide they have had enough. On the advice of the village elder, they decide to fight back. Taking their few objects of value, three villagers ride to a town just inside the United States border hoping to barter for weapons. They are impressed by Chris Adams (Yul Brynner), a veteran Cajun gunslinger, and approach him for advice. Chris suggests they instead hire gunfighters to defend the village, as "men are cheaper than guns." At first agreeing only to help them recruit men, Chris eventually decides to lead the group. Despite the meager pay offered, he finds five willing gunmen.
The five other gunmen are the gunfighter Vin Tanner (Steve MacQueen), who has gone broke after a round of gambling and resists local efforts to recruit him as a store clerk; Chris's friend Harry Luck (Brad Dexter), who assumes Chris is hiding a much bigger reward for the work; the Irish Mexican Bernardo O'Reilly (Charles Bronson), who has fallen on hard times; Britt (James Coburn), an expert in both knife and gun who joins purely for the challenge involved; and the dapper, on-the-run gunman Lee (Robert Vaughan), plagued by nightmares of fallen enemies and haunted that he has lost his nerve for battle. On their way to the village, they are trailed by the hotheaded Chico (Horst Buchholz), an aspiring gunfighter whose previous attempts to join Chris had been spurned. Impressed by his persistence, Chris invites him into the group.
At the end of the film, after a gunfight, only Chris, Vin and Chico are left standing. The instrumental theme was recorded by Al Caiola.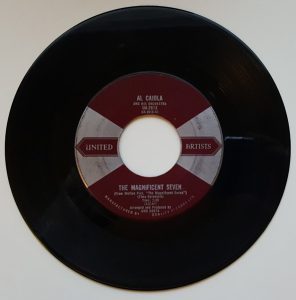 "The Magnificent Seven" was written by Elmer Bernstein. It was nominated for an Academy Award in the category for Best Score of a Dramatic or Comedy Picture. Bernstein lost to Ernest Gold who wrote the score for Exodus. Elmer Bernstein was born in 1922 in New York City to Jewish emigrants from the Ukraine (mother) and Austria-Hungary (father). During his childhood, Bernstein performed professionally as a dancer and an actor, in the latter case playing the part of Caliban in The Tempest on Broadway, and he also won several prizes for his painting. He attended Manhattan's progressive Walden School and gravitated toward music. At the age of twelve he was awarded a piano scholarship. During World War II, Bernstein wrote music for the (U.S.) Armed Forces Radio.
Bernstein faced censure during the McCarthy era of the early 1950s. Bernstein was called by the House Un-American Activities Committee when it was discovered that he had written some music reviews for a Communist newspaper. After he refused to name names, pointing out that he had never attended a Communist Party meeting, he found himself composing music for 1953 movies such as Robot Monster and Cat-Women of the Moon. This was a step down from his earlier Sudden Fear (1952) and Saturday's Hero (1951).
In addition to The Magnificent Seven in 1960, Bernstein scored music for three other films, notably The Rat Race starring Tony Curtis and Debbie Reynolds. In 1962 Elmer Bernstein was again nominated at the Academy Awards for Best Music Score of a Dramatic or Comedy Picture, this time for the 1961 drama Summer and Smoke. The following year he was again nominated in the Music Score category for To Kill A Mockingbird. In addition, in 1962 he was nominated for Best Original Song in the title theme "Walk On The Wild Side" for the film of the same name. As well, Bernstein received two Grammy Award nominations for "Walk On The Wild Side" (Best Instrumental Theme; Best Instrumentalist with an Orchestra). Bernstein also scored music for the Academy Award winning Hud, starring Paul Newman. Though the film received seven Academy Award nominations, winning three, it did not earn an additional award for Elmer Bernstein for scoring the music.
In 1966, Elmer Bernstein received three Academy Award nominations for music score. Two of these were for the film Hawaii, and one other for Return of the Seven. Finally, in 1967, and his ninth Academy Award nomination, Bernstein won in the Best Original Score category for Thoroughly Modern Millie. He ended the decade with a nomination for Best Original Song for "True Grit" from the film True Grit.
Elmer Bernstein continued to receive acclaim at the Academy Awards with four more nominations between 1974 and 2002. His last nomination was for Best Original Score for the film Far From Heaven (2002). Bernstein was given the nod to write the score for Gangs of New York in 2002, but his score was rejected and he was replaced. It was his final involvement in a film production.
Over at the Grammy Awards, in 1985, Elmer Bernstein received a Grammy nomination in the category Best Score Written for a Motion Picture for Ghostbusters. He also received a separate Grammy Award nomination that year for Best Instrumental Theme "Ghostbusters Theme". At the end of the eighties, Bernstein scored the music for the Academy Award nominated My Left Foot.
In 1994, Elmer Bernstein was again nominated for a Grammy Award in the category Best Score Written for a Motion Picture for the film The Age of Innocence. And in 1996, he received his own star on the Hollywood Walk of Fame. Several notable films Bernstein worked on in the 1990s include The Field (1990), The Grifters (1990), and Cape Fear (1991). He died in 2004 at the age of 82.
"The Magnificent Seven" peaked at #2 in Chicago, #3 in Calgary, and Baltimore, #6 in Albany (NY), La Crosse (WI), and Kalamazoo (MI), #7 in San Francisco, Oklahoma City, Minneapolis/St. Paul and Davenport (IA), #8 in Erie (PA), #9 in Vancouver (WA), #10 in Philadelphia, #11 in Portland (OR), Fort Dodge (IA), Cleveland, and Akron (OH), #12 in Springfield (MA), and #14 in New York City.
Starting in 1963, "The Magnificent Seven" was used in commercials in the U.S. for Marlboro cigarettes for many years. A similar-sounding (but different) tune was used for Victoria Bitter beer in Australia, as was a similar-sounding (but different) tune for the introduction to the National Geographic television show. The theme was included in a scene of the 1979 James Bond film Moonraker. Other uses of "The Magnificent Seven" include in the 2004 documentary film Fahrenheit 9/11; in the 2005 film The Ringer; and the 2015 film Hardcore Henry. The instrumental theme song has been featured in episodes of The Simpsons that had a "Western" theme (mainly in the episode titled "Dude, Where's My Ranch?"). The opening horn riff in Arthur Conley's 1967 hit "Sweet Soul Music" is borrowed from "The Magnificent Seven".
Al Caiola's The Magnificent Seven album, other than the title track, consisted of a variety of pop songs with a jazzy bent. Guitars Guitars Guitars was similar. There was a wide variety to his albums as the album titles indicate: Hit Instrumentals from Western TV Themes (1961), Percussion Espanol (1960), The Magic World of Italy (1964), Salute Italia! (1960), Italian Guitars (1960), Spanish Guitars (1962), City Guy Plays Country (1963), Solid Gold Guitar Goes Hawaiian (1965), 50 Fabulous Italian Favorites (1964).
Al Caiola was also a conductor, musician or arranger for many pop hits in the 1950s and 1960s. These include "Sugartime" for the McGuire Sisters, "De De Dinah" and "Venus" for Frankie Avalon, Dinah Washington's album, What A Difference A Day Makes. Caiola played guitar for The Village Stompers on "Washington Square"; "Blame It On The Bossa Nova" for Eydie Gormé; Del Shannon on "Little Town Flirt", "Runaway", "Hats Off To Larry", "Ginny In The Mirror", "So Long Baby", "Cry Myself To Sleep" and "The Swiss Maid"; Buddy Holly on "It Doesn't Matter Anymore", "Raining In My Heart", "True Love Ways" and "Rave On"; "A White Sport Coat (And A Pink Carnation)" for Marty Robbins, "One Step At A Time" for Brenda Lee; "Spanish Harlem" and "Stand By Me" for Ben E. King; "C.C. Rider" for Chuck Willis; "Put Your Head On My Shoulder" and "Diana" for Paul Anka; Caiola also played in the recording studio for Brian Hyland, Chad & Jeremy, Sarah Vaughan, Clyde McPhatter, Johnny Mathis ("Chances Are"), Ivory Joe Hunter, Bobby Darin "Mack The Knife" and "Splish Spash"; Louis Armstrong, Frank Sinatra, Tony Bennett, Petula Clark, Neil Sedaka "Calendar Girl", and many more.
Over his career, Al Caiola released over forty studio albums. His last studio album release was in 2005 titled Classic Italian Love Songs. Al Caiola died at the age of 96 in 2016.
September 11, 2023
Ray McGinnis
References:
Mike Barnes, "Al Caiola, Guitarist on Themes for 'Bonanza' and 'The Magnificent Seven,' Dies at 96: He worked in the studio or on tour with just about everyone: Sinatra, Simon & Garfunkel, Mathis, Streisand and Darin," Hollywood Reporter, November 11, 2016.
Michael Freedland, "Elmer Bernstein: Prolific Hollywood composer whose scores ranged from The Magnificent Seven to Far From Heaven," Guardian,
August 20, 2004.
Claudia Luther, "Elmer Bernstein," Los Angeles Times, August 19, 2004.
Robert Koehler, "The Magnificent Seven," Variety, May 6, 2001.
James Powers, "'The Magnificent Seven': THR's 1960 Review: On October 12, 1960, John Sturges' star-studded 128-minute western hit U.S. theaters," Hollywood Reporter, September 23, 2016.
Track list credits, "The Very Best of Buddy Holly," Discogs.com.
Track list credits, "Del Shannon with Runaway + Hats Off to Del Shannon," Discogs.com.
Track list credits, "Ben E. King – Spanish Harlem," Discogs.com.