#312: Make Believe by Wind
Peak Month: October 1969
9 weeks on CKLG's Vancouver Charts
1 week Hit Bound
Peak Position ~ #2
Peak Position on Billboard Hot 100 ~ #28
YouTube: "Make Believe"
Lyrics: "Make Believe"
Michael Anthony "Tony" Orlando Cassavitis was born in 1944 in New York City. In 1959 Orlando formed a doo-wop group called The Five Gents when he was 15-years-old. The Five Gents recorded some demo tapes. In the following months music publisher and producer Don Kirshner hired Orlando to write songs in an office across from New York's Brill Building. In 1959 Tony Orlando recorded a doo-wop single titled "Ding Dong" on the Milo label. In 1961 he recorded "Halfway To Paradise" which climbed to #13 in Vancouver (BC) and #39 on the Billboard Hot 100. His next single, "Bless You", peaked at #11 in Vancouver in September '61, and #15 on the Billboard Hot 100. He had a minor hit titled "Talkin' About You" which made the Top 50 in Vancouver in January 1962, and cracked the Top 30 with "Chills" in the summer of '62, and "Shirley" in early 1963.
However, with the British Invasion in 1964, Tony Orlando was sidelined and hopes of his singing career taking off faded. In 1967 Orlando was hired at the age of 23 as general manager of Columbia Records publishing subsidiary April-Blackwood Music. By the late 1960s, Orlando had worked his way up to vice president of a larger publishing company, CBS Music, where he signed, co-wrote with and produced Barry Manilow (under the name "Featherbed") and worked with James Taylor, the Grateful Dead, Laura Nyro and other artists. As a composer, in 1967-68 he wrote some songs that were variously recorded as album tracks by the New Colony Six, the Ohio Express and the 1910 Fruitgum Co.
In early 1969 Tony Orlando released a single titled "I Was A Boy (When You Needed A Man)" under the alias Billy Shields. Later in '69 he released a single titled "Make Believe" credited to Wind.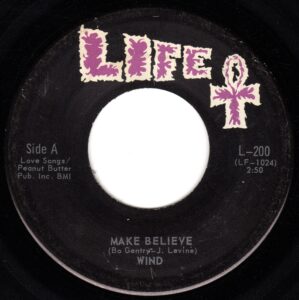 "Make Believe" was cowritten by Bo Gentry and Joey Levine. Gentry was an uncredited co-writer of Tommy James and the Shondells 1967 hit "I Think We're Alone Now". Gentry cowrote "Mirage" and "Mony Mony" with Tommy James for Tommy James and the Shondells in 1968. (The later song was covered in the 1980s by Billy Idol). As well in 1968, Gentry also cowrote "Indian Giver" for the 1910 Fruitgum Co. Levine was instrumental in bubblegum music in the late 60s. Levine cowrote and actually sang lead vocals in the 1968 Ohio Express recording of "Yummy Yummy Yummy". Another hit for the studio group titled "Down At Lulu's" also featured Joey Levine on lead vocals. In 1974 he was the lead vocalist for the studio band Reunion and their Top Ten hit "Life Is a Rock (But the Radio Rolled Me)".
Starting in the early 1970s, Joey Levine began working on jingles for television commercials, as well as singing on them. One of his most well-remembered jingles was "Sometimes You Feel Like A Nut" for Mounds and Almond Joy chocolate bars. Other notable TV commercials he wrote include: "Pepsi– The Joy of Cola", "Gentlemen Prefer Hanes", "Just For the Taste of It – Diet Coke", "Orange you smart, (for drinking Orange Juice)", "Come See the Softer Side of Sears", "Heartbeat of America – Chevrolet", "Dr Pepper – You Make the World Taste Better", "You Asked For It, You Got It, Toyota," "Who's that Kid With the Oreo Cookie," and "This Bud's For You" for Anheuser-Busch.
"Make Believe" is a song about someone who has a crush, but the person who is adored does not return the love that is expressed. They couple kiss and it confirms for the guy they are meant for each other. However, the female he's kissing finds it unremarkable. He cries, but she doesn't shed any tears. According to the lyrics, the guy in the song thinks they've been doing "all the things that lovers do…" But the outcome for the pair are polar opposites: he is in love, and because she thinks his love is "make believe," he is also in pain.
In an article titled "Unrequited Love: The Five Forms of Unrequited Love and Six Steps to recovery," in Psychology Today, Dianne Grande PhD, defines some terms and offers advice. One form of unrequited love is falling in love with someone who is unavailable. This person may already be in a relationship, or a famous person that has never been introduced to the fan who admires them. Another situation is where someone has a crush on someone nearby, without ever trying to initiate a romantic relationship. The person who is adored never even knows they have a secret admirer. Nonetheless, the person who can't muster the courage to reveal their romantic feelings can still experience frustration when the love isn't returned (even though the other person doesn't know).
A third circumstance in unrequited love is where a person you've pursued has rejected you as a romantic partner. There may have been a period of dating, and now one person in the dating relationship is in love and the other is not. Bottom line: the relationship is not a fit. Another possibility Dianne Grande discusses is "longing for a past lover." In this case the person who has been "dumped" wishes there was some way they could get back together.
Grande advises that those whose love is unreturned "Try to accept the other person as they are, and that they are unable to feel the same type of attraction that you feel for them. The individuals who have done the rejecting often feel at least as badly as those they've rejected. In many cases, they also experience frustration, as well as guilt and anxiety over the situation in which they have no control." Meanwhile, for the person who has pursued an unattainable love object, Dianne Grande suggests that since the love they seek is not reciprocated, they detach. Resist following an ex-partner on social media. As well, let time do some healing. Resist jumping into any other romantic relationship for six months. Reconnect with friends and organizations that give meaning and enhance your own sense of worth and being capable and lovable.
With Tony Orlando's falsetto vocals on display in parts of the song, "Make Believe" reminded numbers of radio listeners of the Four Seasons.
"Make Believe" climbed to #1 in Grand Rapids (MI) and Sioux Falls (SD), #2 in Vancouver (BC), Wilmington (DL), Victoria (BC), Idaho Falls (ID), Simcoe (ON), and Oswego (NY), #3 in Orlando (FL) and Medicine Hat (AB), #4 in Salem (OR), Escondido (CA), Boston and Battle Creek (MI), #5 in Manchester (NH), Oshkosk (WI) and Oak Park (IL), #6 in Hamilton (ON), Clarksburg (WV) and Birmingham (AL), #7 in Toronto, Portland (ME) and Washington D.C., #8 in Albany (NY), Cincinnati (OH), Edmonton (AB), Geneva (NY), Philadelphia, Cleveland (OH), Columbus (OH) and San Diego, #9 in Kalamazoo (MI), Council Bluffs (IA), Salt Lake City, Muncie (IN) and Lansing (MI), and #10 in Easton (PA) and Milwaukee.
In the USA "Make Believe" by Wind got significant chart action from Massachusetts and New York state across the Great Lakes states; From Minnesota south to Missouri, as well as Florida, Arizona, California and Washington. However, in almost 30 states the single got little to no attention. Consequently, "Make Believe" stalled at #28 on the Billboard Hot 100. Wind (aka Tony Orlando) released just one more single "I'll Hold Out My Hand"/"Teenybopper", garnering minor attention.
In 1970 Tony Orlando took the alias Dawn and recorded a single titled "Candida", which climbed to #7 in Vancouver. This was followed by his #1 hit in January 1971 "Knock Three Times", also credited to Dawn. "Knock Three Times" spent seven weeks in the Top Ten in Vancouver, including two weeks at #1.
In 1971 Tony Orlando cowrote "Could It Be Magic" with Barry Manilow. The version of the song was uptempo and was not commercially successful. Manilow had a hit with the song as a ballad in 1975.
In 1972 Tony Orlando renamed his act Dawn featuring Tony Orlando. Trying to cash in on some nostalgia, he released a single with a cover of Del Shannon's "Runaway" and the Turtles "Happy Together". Later that year he did a cover of Les Paul and Mary Ford's number-one hit from 1953, "Vaya Con Dios". Though these recordings didn't catch on, his next releases became ear worms.
"Tie A Yellow Ribbon Round The Old Oak Tree" became the number-one hit of 1973 on the Billboard charts. In Vancouver the song spent five consecutive weeks at number-one and 14 weeks in the Top Ten. His other Top Ten hit in 1973 was "Say Has Anybody Seen My Sweet Gypsy Rose". In 1974 Orlando was back in the Top Ten with "Steppin' Out (Gonna Boogie Tonight)".
On August 24, 1974, Tony Orlando and Dawn gave a concert at the Pacific Coliseum in Vancouver. Then in 1975 he had his third number-one hit with a cover of an old Jerry Butler song "He Don't Love You (Like I Love You)". Tony Orlando's last Top 20 hit was a cover of the 1961 Sam Cooke hit "Cupid". It climbed to #15 in Vancouver in March 1976.
On August 19, 1978, Tony Orlando and Dawn returned to Vancouver with another concert at the Pacific Coliseum. His last single release of note was his 1979 cover of the 1961 hit by the Drifters titled "Sweets For My Sweet".
On April 9, 2016, Tony Orlando came back to Greater Vancouver and performed in concert at the Hard Rock Casino in the suburb of Coquitlam.
May 5, 2021
Ray McGinnis
References:
Steve Knopper, "Tony Orlando Still Hasn't Needed that Backup Career Option, Despite his Mother's Advice," Chicago Tribune, July 23, 2015.
"Tony Orlando and Dawn – Canada concert dates," setlist.fm.
Tommy James with Martin Fitzpatrick, Me, the Mob and the Music: One Helluva Ride with Tommy James & The Shondells, (Scribner, 2011), pp 99-101.
"Bo Gentry bio," Wikipedia.org.
Scott R. Benarde, Stars of David: Rock 'n' Roll's Jewish Stories, (Brandeis University Press, 2003).
Dianne Grande, "Unrequited Love: The Five Forms of Unrequited Love and Six Steps to Recovery," Psychology Today, March 13, 2020.
"Boss 30," CKLG 30 AM, Vancouver, BC, October 17, 1969.
For more song reviews visit the Countdown.