#1362: Make It Up To Me In Love By Paul Anka and Odia Coates
Peak Month: November 1976
7 weeks on CKLG chart
Peak Position #19
Peak Position on Billboard Hot 100 ~ did not chart
Peak Position on Record World ~ #104
YouTube: "Make It Up To Me In Love"
Paul Anka was born in Ottawa, Canada, in 1941. His father was Syrian-American and his mother was Canadian-Lebanese. At the age of 14, in the spring of 1956 he traveled to Los Angeles to record his first single "I Confess". He was 16 years old when he had a number one hit with "Diana" in August 1957, a song he wrote about a girl in the church he attended. (Diana Ayoub, who inspired Anka to pen the song, died in December 2022). Next, he recorded a duet with Micki Marlo titled "What You've Done To Me". On October 23, 1957, Paul Anka appeared in concert at the Georgia Auditorium in Vancouver. Others performing on the bill included Buddy Holly and The Crickets, Buddy Knox, Eddie Cochran and Frankie Lymon and the Teenagers. In early 1958 Paul Anka was back in the Top Ten with "You Are My Destiny".
In July 1959, Paul Anka enjoyed the peak of success with "Lonely Boy" climbing to number-one for four consecutive weeks on the Billboard Hot 100. His #2 hit in 1959, "Put Your Head On My Shoulder" spent ten weeks in the Top Ten and seven of these in the Top Five. It was kept out of the #1 spot by Bobby Darin's "Mack The Knife". Subsequent Top Ten hits included "It's Time To Cry", "Puppy Love", "My Home Town" and "Dance On Little Girl".
His career has included writing songs for others. "She's A Lady" became a signature song for Tom Jones. He also wrote the English lyrics to "My Way" for Frank Sinatra. He appeared in his first movie in 1958, Let's Rock, a movie about the new rock 'n roll phenomenon, and in the 1962 army film, The Longest Day. Anka also appeared in the 1960-61 NBC crime series, Dan Raven in a cameo as himself. Anka later would appear in The Red Skelton Hour and the crime series Kojak. In 1982 he hosted his own entertainment series called The Paul Anka Show.
Paul Anka continued to have a string of Top Ten and Top 20 hits into 1963 in Canada, the United States, the UK and Italy. These included "Love Me Warm And Tender" and "A Steel Guitar And A Glass Of Wine". But with the British Invasion, Paul Anka was sidelined. In 1969, Paul Anka finally returned, briefly, to the Top 30 with "Goodnight My Love", (#27 Billboard Hot 100) a remake of the 1956 R&B classic by Jessie Belvin. It would take eleven more single releases before his unexpected re-entry to the top of the pop charts in 1974.
Odia Coates was also born in 1941, in Vicksburg, Mississippi. The daughter of an evangelical minister, her family moved during her childhood to Watts, California. It was there her father was called as pastor in the Beautiful Gates Church Of God In Christ. At that church Odia sang in the church choir. As her vocal abilities matured, she became a member of the Northern California State Youth Choir, co-founded by Edwin Hawkins.
After "You're Having My Baby" became a #1 hit for Paul Anka and Odia Coates, the duo kept releasing more hit singles. These include the Billboard Hot 100 Top Ten hit later in 1974, "One Man Woman/One Woman Man", and 1975's "I Don't Like To Sleep Alone". Later in 1975 they released "I Believe There's Nothing Stronger Than Our Love", which made the Top 20.
Their fifth and final duet on the pop charts was "Make It Up To Me In Love". This was a disco tune released in the middle of the disco craze. In 1976 disco tunes kept climbing to the top of the charts. These included "Love Machine" (The Miracles), "December 1963 (Oh What A Night)" (The Four Seasons), "Disco Lady" (Johnny Taylor), "Love Hangover" (Diana Ross), "You Should Be Dancing" (Bee Gees), "Play That Funky Music" (Wild Cherry) and "Don't Go Breaking My Heart" (Elton John and Kiki Dee). All these hits and more in 1976, and the John Travolta-Bee Gees disco film, Saturday Night Fever was yet to come. Over one third of the year-end hits on the Billboard Hot 100 were in the disco realm. So Anka and Coates saw the opportunity and recorded a disco tune.
However, in America "Make It Up To Me In Love" was not a hit, failing to climb into the Billboard Hot 100. But in Vancouver the song stayed on the charts for a couple of months, eventually peaking at #19.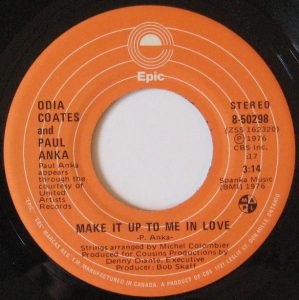 "Make It Up To Me In Love" narrated a tale of a couple facing some difficulties and coming through it with their love stronger than ever.
On August 25, 1977, Paul Anka gave a concert at the Pacific Coliseum in Vancouver.
Over the decades Paul Anka has charted more than fifty singles onto the Billboard Hot 100. In 1990 he became a US citizen. On October 4, 2007, Paul Anka appeared in concert at the Centre For Performing Arts in Vancouver. In 2013 Paul Anka published My Way: An Autobiography. On August 28, 2015, Paul Anka performed at the Hard Rock Casino in the Vancouver suburb of Coquitlam.
Over the decades Paul Anka has charted more than fifty singles onto the Billboard Hot 100. In 1990 he became a US citizen. He continues to perform and between March and mid-May of 2017 he has over twenty concerts scheduled. At the age of 49, Odia Coates died of breast cancer in 1991.
March 11, 2017
Ray McGinnis
References:
Heidi Parker, "He's Married Again! Paul Anka, 75, Weds His Girlfriend of Six Years In Beverly Hills With Mogul Pal Warren Buffet in Attendance," Daily Mail, London, UK, October 29, 2016.
Jay Weston, "Paul Anka's "My Way," Reviewed From the Inside!," Huffington Post, December 6, 2017.
Paul Anka bio, Capitolint.com.
Harry Foster, Let's Rock, Columbia Pictures, 1958.
Charles F. Haas, Girls Town, Metro-Goldwyn-Mayer, 1959
Mickey Rooney, The Private Lives of Adam And Eve, Universal Pictures, 1960
"The Real Paul Anka," The Gilmore Girls, The WB Network, 2006
Dan Raven, NBC, 1961
Paul Anka, "Red Roses For A Blue Lady", The Red Skelton Hour, CBS, 1965
"Tonight My Love, Tonight," Danny Thomas Show, ABC, 1961.
"Diana Ayoub, Ottawa woman who inspired Anka hit, dead at 83," CBC, December 6, 2022.
"Vancouver's Official Music Survey," CKLG 730 AM, Vancouver BC, November 30, 1976.
For other reviews on this website visit the Countdown.