#91: Make My Life A Little Bit Brighter by Chester
Peak Month: November 1973
13 weeks on Vancouver's CKLG chart
Peak Position #3
Peak Position on Billboard Hot 100 ~ did not chart
YouTube.com: "Make My Life A Little Bit Brighter"
Lyrics: "Make My Life A Little Bit Brighter"
Chester was a band from Toronto that formed in the early 70's. They were comprised of Glenn Morrow on keyboard, guitar and vocals; Jim Mancel on lead vocals; Mike Argue on lead guitar and vocals, and Glen "Wedge" Monroe on drums, piano, and guitar. Morrow was born in 1946. An obituary with the City of Toronto states Morrow "started playing in bands around Toronto in his early teen years. Hammond B-3 organ and piano were his favorite instruments to perform on. An extremely talented keyboardist-arranger, he played with the Bluenotes, T.K's., Tarot" and played organ with Canadian Rock Theatre in 1972. Jim Mancel released a single in 1970 titled "I Could Give You The World".
Chester's first single release was in 1973 with "Make My Life A Little Bit Brighter".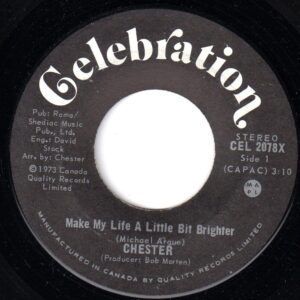 "Make My Life A Little Bit Brighter" was written by Michael Argue. Record World reviewed the single stating "Group debuts with a cutie that could warm up the airwaves this summer. Disc is a left field pop fly that could go for a home run." While Cashbox in its review wrote "Great commercial effort by newcomer group that has combined all of the necessary ingredients for the making of a pop smash. This is one you'll be singing in the weeks to come."
The songs' lyrics tell us about a guy who meets his "honey" on the street. Now they wake up together in the morning and savor "all those moments" with each other.
"Make My Life A Little Bit Brighter" peaked at #3 in Vancouver, #5 in Montreal, #9 in Ann Arbor (MI), #11 in Toronto, and #15 in Winnipeg (MB).
In 1974, Chester was nominated at the Junos for Most Promising Group. They lost out to Bachman-Turner Overdrive. Subsequently, the band released a single titled "Start A Dream".
Chester switched to the Quality label in 1975 and released "Betty Bingo". The song got a little airplay, but not much success. A final release with Quality in 1976 was "You Give Me Strength".
Glenn Morrow went on to play in Chris DeBurg's backing band starting in 1977. Morrow performed with Chris on fourteen world tours helping to build the act from a support position with such acts as Supertramp, Frampton, Asia, and America, to a world class headline concert act with a number one position in Europe. In all, Monroe was part of over one thousand concerts with DeBurg. In the mid-90's, Chris DeBurg concerts took Morrow to the Kremlin in Moscow, Lebanon, South Africa, the Mediterranean and all across Europe. The position with Chris DeBurgh lasted nineteen years until Glenn was forced to retire because of deteriorating health. In 1989, Glenn Morrow was diagnosed with incurable Lymphoma.
Another very popular actor-singer in Europe, David Hasselhoff – and star of Baywatch – was introduced to Glenn after his album went into the top ten. Glenn toured three times as music director/keyboardist with the last tour taking them from the earthquake in L.A. to the ski slopes of Switzerland for rehearsals. He also did a guest appearance on one of the early Baywatch shows. Exposure in Europe prompted world famous opera tenor Peter Hofmann (Sony Records) to hire Glenn as music director for his 20-piece orchestra on his first "rock classics" tour.Monroe died in 1997 at the age of 51. In 1998 the City of Toronto was debating whether to name a lane in the Upper Beaches Glenn Morrow Mews.
While Chester was still recording, Michael Argue began to release a number of solo singles. These were "Dancing With Your Lady" (1974) and "Trust In Me" (1975). After Chester split up, Argue released "Watermelon Eyes" (1977) and "The World Needs A Lover Tonite" (1978). While Jim Mancel also pursued a solo career, releasing a half dozen singles between 1975 and 1981.
References:
"Chester (Band)," Wikipedia.org.
"Naming of the private road at 55 Kildonan Road – Glenn Morrow Mews (Ward 26- East Toronto)," City of Toronto Council and Committees, 1998.
"Michael Argue," Discogs.com.
"CKLG Thirty," CKLG 730 AM, Vancouver, BC, October 19, 1973.
For more song reviews visit the Countdown.