#770: Mama by B.J. Thomas
Peak Month: June 1966
8 weeks on Vancouver's CFUN chart
Peak Position #4 CFUN
Peak Position on Billboard Hot 100 ~ #22
YouTube.com link: "Mama"
Lyrics: "Mama"
Billy Joe Thomas was born in Hugo, Oklahoma, in 1942. His family eventually moved to Houston, Texas. When he was in his teens playing baseball, Billy Joe Thomas took the name of BJ. This was because there were too many boys on the baseball team with the name of Billy Joe. During his teens he sang in a church choir. In 1958, BJ Thomas heard "To Be Loved" by Jackie Wilson. He credits the song as being a catalyst for his love of singing. In the late 50's, in grade eleven, his Junior year, BJ Thomas became lead singer for a local band named The Triumphs. He got to know Roy Head and the Traits. The Traits and The Triumphs participated in several Battle of the Bands events in the early 60's. In 1966, BJ Thomas got a record contract with Scepter Records.

He released an album, I'm So Lonesome I Could Cry. The title track, "I'm So Lonesome I Could Cry", climbed into the Top Ten in the USA and #3 in Vancouver.
A follow up single from the album was "Mama".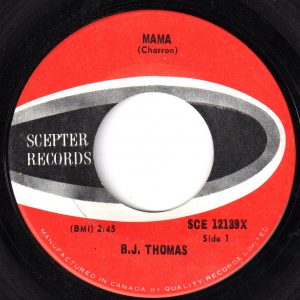 "Mama" is a song of devotion by a son to his mother. The song offers up a list of things typical of a devoted mother. In this case, she ties the shoes of son, expresses an interest when him wants to show her what he has done. She patches an eye when its injured and volunteers for Little League baseball. And she's there to console her son when he tells her his first love is over. She treats all the friends he makes like her own children, offering them a home away from home. She instills dedication and obligation that result in solid marks for his high school graduation. And when he gets married, she walks him down the aisle.
"Mama" was written by Mark Charron. He was a composer whose songs were recorded by Ronnie Milsap, Ray Conniff, The Trashmen, The Partridge Family, Chuck Jackson and The Newbeats. In addition to peaking at #3 in Vancouver, "Mama" also did well in Madison, Wisconsin (#3), Detroit (#4), Toronto (#5), Montreal (#5), Springfield, Massachusetts (#6), Birmingham, Alabama (#7), Houston (#8) and #9 in Edmonton, Alberta. In Australia, the song climbed to #2 in Sydney and #1 in Melbourne.
Numerous popular songs play tribute to mothers. The Backstreet Boys had a song from their Millennium album about a mother's support for her pop star son called "The Perfect Fan". In 2011, Justin Bieber had a Top 30 hit with "Turn To You", about the single mother who raised him. The Intruders had a Top Ten R&B hit in 1973 titled "I'll Always Love My Mama". The song points to a mother who is a maid, who with her paycheck buys her son new shoes. In 1997, Boys II Men had a Top Ten hit titled "A Song For Mama," reminding her she is the "queen of my heart." In 1995 the Spice Girls had an international Top Ten hit in Europe and Australia with "Mama". In the Spice Girls case, their song is about a mother-daughter relationship that had a rocky start. But later, the Spice Girls admit "I never thought you would become the friend I never had." In the USA, Tupac had a #1 Rap hit in 1995 titled "Dear Mama" expressing his endless appreciation for the woman who brought him into this world.
BJ Thomas struggled to find a hit single after his initial chart success in 1966. With the release of "The Eyes of a New York Woman, in 1968, he found his way back into the Top 30 in the USA and #7 in Vancouver. His next single, "Hooked On A Feeling" didn't chart in Vancouver, but climbed to #5 on the Billboard Hot 100. However, it was his song, "Raindrops Keep Falling On My Head", from the 1969 film, Butch Cassidy and The Sundance Kid, that took him to the top of the charts. Other notable hits for Thomas into the mid-70's include "No Love At All", "Rock And Roll Lullaby" and "(Hey Won't You Play) Another Somebody Done Somebody Wrong Song".
BJ Thomas has struggled with addictions over both alcohol and drugs. Looking back on his years as an addict, Thomas reflects, "You say 'Well, you know if I do this, it's probably going to kill me' and you go 'Ah, I don't care.' And that's the addiction talking, not really you. Finally you have to get to the point where you realize, 'You know what? I don't want to die. I want to live.'"
Thomas has been sober since 1976. Around this time he and his wife, Gloria, became Christian. That same year BJ Thomas released Home Where I Belong. The album was a huge hit on the Christian album charts. This established BJ Thomas as a leading artist in the contemporary Christian singles and album charts. Between 1979 and 1983, he had seven Top Ten hits on the American Christian charts. This included a #1 hit on that chart titled "Jesus On My Mind". In addition, BJ Thomas charted two number one hits on the Billboard Country charts in the mid-80's.
Over the years BJ Thomas had charted eight pop songs into the Top 20 on the Billboard Hot 100. While in Vancouver, he charted sixteen songs into the Top 20.
July 9, 2018
Ray McGinnis
References:
BJ Thomas From Then to Now, BJ Thomas.net
Howard Kerbel, A Conversation With BJ Thomas: Love, Near Tragedy And A Song That Saved Him, Huffington Post, August 6, 2016.
John W. Kennedy, Conversation: BJ Thomas, Pentecostal Evangel, March 13, 2014.
Mark Charron Credits, All Music.com.
"C-FUNTASTIC FIFTY," CFUN 1410 AM, Vancouver, BC, June 11, 1966.
For more song reviews visit the Countdown.