#301: Mammy Blue by Pop-Tops
Peak Month: November 1971
9 weeks on Vancouver's CKLG chart
Peak Position #2
Peak Position on Billboard Hot 100 ~ #57
YouTube: "Mammy Blue"
Lyrics: "Mammy Blue"
Phil Trim was born on in 1940 as Theophilus Earl Trim in Point Fortin, Trinidad and Tobago. After he moved to Spain, he became part of a Trinidad Steel Band in Madrid. Then in 1967 as he formed and became the lead singer of the Spanish baroque rock group Los Pop Tops/Pop Tops. Other members of the band were guitar player and backing vocalist Julián Luis Angulo, saxophonist, clarinetist and backing vocalist Alberto Vega, bass and trumpet player Enrique Gómez, organ player and pianist Ignacio Pérez, drummer José Lipiani, and guitar player Ray Gómez.
In 1953, Ray Gomez was born in Casablanca, Morocco. From his early childhood he was influences by American music, rhythm & blues and jazz, in particular, Ray Charles. Surrounded by North African rhythms, Ray began playing drums, next piano, and finally guitar. When he was just ten, he gave his first concert in front of 5,000 people. As well, he performed on radio stations, singing and playing music of The Beatles. In 1965 his family migrated to Spain, and he was considered a child prodigy when he joined the Spanish band Los Pekenikes.
A number of the members of Los Pop Tops had previously been part of Los Tifones, a band that had formed in 1961. Former Los Tifones members included José Lipiani, Alberto Vega, Ignacio Pérez, Julián Luis Angulo, and Enrique Gómez. However, Ray Gomez and Phil Trim combined to give fresh new energy and direction to the newly formed Los Pop Tops.
In 1967 Los Pop Tops, as they billed themselves initially, released the single "Con su blanca palidez" in Spain. The song was a Spanish cover of the 1967 hit by Procol Harum titled "A Whiter Shade Of Pale". This was followed in the winter of 1967 with another Spanish single release: "Viento to otoño (Autumn Winds)". A third single release in Spain was dedicated to Dr. Martin Luther King Jr. titled "The Voice of the Dying Man (La voz del hombre caido)".
In the fall of 1968, credited as Los Pop Tops, the Spanish group's debut international single "Oh Lord, Why Lord" charted in Vancouver (BC) on the CKLG Boss 30. The song concerned racial prejudice based on discrimination due to a person's skin colour: "I've searched the open sky to find the reason why. Oh Lord, why Lord. The color of my skin is said to be an awful sin. Oh Lord, why Lord. No, I cannot understand, no, I can never, never understand. Oh Lord, why Lord." The song was the first to incorporate Pachelbel's Canon in D in a popular song. Dedicated to the recently slain Dr. Martin Luther King Jr., the single stalled at #78 on the Billboard Hot 100.
Five more single releases in Spain, in late 1968 and into 1969, followed. The group returned to the recording studio in 1971, releasing an album with a single titled "Mammy Blue". It was credited simply to the Pop-Tops.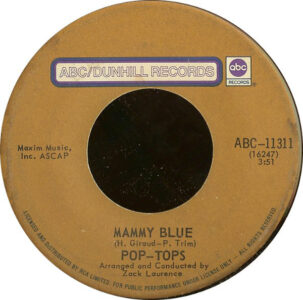 "Mammy Blue" was composed by Hubert Giraud, who was born in 1920 in Marseille, France. The song was written in English by the Pop-Tops Phil Trim. Giraud began his career playing the harmonica with Django Reinhardt's jazz group, the Quintette du Hot Club de France. In 1941, he was recruited by Ray Ventura to play the guitar during Ventura's big-band tour of South America. Six years later, he joined Jacques Hélian's orchestra in scoring a series of post-WWII romantic comedy films, including Georges Combert's 1951 feature, Musique en tête. His song "Dors, mon amour" ("Sleep, My Love"), performed by André Claveau, won the Eurovision Song Contest in 1958.
"Mammy Blue" is narrated by a son to his mother. He sings "I may be a forgotten son, who wandered off at twenty-one." Now the son has returned to his home, hoping to find his mother. We learn from the lyrics that decades have flown by: "I've been through all the walks of life." However, there is no sign of her, and he laments "It's sad to find myself at home. And you, you're not around." What he wants is to feel closeness and the intimacy of a mother-son relationship he abandoned years ago, and offer an apology: "If I could only hold your hand. And say "I'm sorry, yes I am" I'm sure you really understand." However, he laments "Oh ma, where are you now?" Faced with this deserted dwelling, he remarks: "Her house we shared upon the hill. Seems lifeless but is standing still. And mem'ries of my childhood fill, oh Mammy, Mammy, Mammy."
The man refers to himself, speaking in the empty space "I feel I'll always be your grown up child." He cries out that he needs his mammy's "warm embrace," her "shoulder" and her "comforting smile." Has he returned home and it's too late? Has his mammy died? The narrator sings "And now without you by my side, I'm lost. How will I survive?" Given the "forgotten son" left home at the age of twenty-one, and has been gone for decades, he has certainly survived without her by his side for a long time. However, it is likely that his Mammy is irretrievably gone from his side, because she is dead. And so he is lost in lament and sorrow.
An article was published in December 2020 on MomJunction.com titled "Mother-Son Relationship: Why It Is Important And How It Evolves Over Years." It points out that "boys who do not have a healthy bond with their moms in early childhood could be hostile and aggressive in their later years, or insecure in relationships and establishing goals…"
We don't know why the adult son left his mother at the age of twenty-one, and seemingly went for decades without being in communication. The MomJunction article warns against a scenario that could contribute to the fracture in the mother-son relationship in "Mammy Blue". The scenario is described as follows: "When the mother protects the son so much that she shadows him in every walk of his life, it is called 'momism'. Mothers can be protective of their sons, but when it goes overboard, it could make the boy meek and dependent. After he grows up, he might feel suffocated and would crave for freedom from the clutches of his mother. This results in cracks in the bond." And perhaps in reaction to being too 'protected' by ones mother as a child, the young adult son abandons his mother and becomes "forgotten," as he goes AWOL from maintaining the bond.
In North America "Mammy Blue" climbed to #2 in Vancouver (BC), #3 in Seattle, #4 in Toronto, #5 in Tucson (AZ), #7 in Olympia (WA), and #8 in Spokane (WA). But "Mammy Blue" stalled on the Billboard Hot 100 in the USA at #57.
Internationally, the Pop-Tops English version also reached #1 in Austria, Belgium, Denmark, Finland, Israel, Norway, Sweden and Switzerland. Their biggest success was in West Germany where the Pop-Tops "Mammy Blue" stayed at #1 for ten weeks in the winter of 1971-72. Elsewhere "Mammy Blue" peaked in Japan at #2, and the Netherlands at #3, They recorded a Spanish version and "Mammy Blue" climbed to #1 in Spain and Argentina. As well, the Pop-Tops recorded an Italian version of the song which topped the Italian pop chart. The Pop-Tops also enjoyed Top Ten success with "Mammy Blue" in Greece and Mexico.
In June 1972 the Pop-Tops spent five weeks on the CKVN Top 40 with "Suzanne Suzanne". It climbed to #16 in West Germany. Two final international single releases in 1972-73: "Hideaway" and "My Little Woman", were minor hits in a number of European countries. The group split up later in 1973.
In 1974 Phil Trim went solo and recorded several albums both in English and Spanish. Although his repertoire consisted mainly of soulful love ballads, he was most successful in the Disco genre with dance tunes such as "Give me your love" (1977) and "Summer Love" (1978). Phil has remained active in the recording studios as composer-producer-musician doing work for other vocalists as well as his own, and over the decades has frequently performed in live concerts and on television. Between 1978 and 1994 he released four studio albums.
After the Pop-Tops split in 1973, Ray Gomez met George Harrison and was invited to England where he subsequently met Keith Emerson, Jon Anderson and others. Gomez was invited to visit the USA and when he flew to New York City on December 14, 1974, he was invited to work with John Lennon. Gomez had been a session musician on albums for Stanley Clarke, Roy Buchanan, Cat Stevens, Chaka Khan, Hall and Oates, Herbie Hancock, Deodato, Aretha Franklin on "Another Night", and others. From 1992 to 1995, Gomez variously wrote, produced, sang and played on commercials for Coca Cola, Brut de Fabergé, AT&T, Bell Atlantic, Palmolive, Chevrolet, Chrysler, Molson, Coors, Budweiser, KFC, Pontiac, Gillette and others. Gomez has continued to perform at music festivals in North America and Europe.
June 2, 2021
Ray McGinnis
References:
"Pop-Tops," Wikipedia.org.
"Ray Gomez Biography," raygomez.com.
"Hubert Giraud," Wikipedia.org.
Kalpana M, "Mother-Son Relationship: Why It Is Important And How It Evolves Over Years," MomJunction.com, December 17, 2020.
"CKLG Thirty," CKLG 730 AM, Vancouver, BC, November 26, 1971.
For more song reviews visit the Countdown.