#40: Marble Breaks And Iron Bends by Drafi Deutscher
City: Edmonton, AB
Radio Station: CJCA
Peak Month: May 1966
Peak Position in Edmonton ~ #8
Peak position in Vancouver ~ #31
Peak Position on Billboard Hot 100 ~ #80
YouTube: "Marble Breaks And Iron Bends"
Lyrics: "Marble Breaks And Iron Bends"
Drafi Deutscher was born in 1946 in Charlottenburg, in the western zone of Berlin, West Germany. In his youth he began to sing and write songs. At the age of 17 he got his first record deal. And between 1964 and 1966, Deutscher had a string of hits in West Germany. These include a number-one hit in June 1964 titled "Shake Hands", and a #7 hit on the West German pop chart titled "Keep Smiling". In 1965 Deutcher returned to the Top Ten in West Germany with a #3 hit titled "Cinderella Baby". And for three weeks he had a number-one hit in June and July 1965 with the German-language song titled "Heute male ich dein Bild, Cindy-Lou".
In December 1965, Drafi Deutcher had his second number-one hit on the West German singles chart with "Marmor, Stein und Eisen bricht". His German-language song stayed in the top spot for four consecutive weeks in December 1965. It was knocked out of the number-one spot by the Rolling Stones' "Get Off of My Cloud". But his smash hit single returned to the number-one spot on the West German pop chart for two more weeks on January 22nd and 29th, 1966.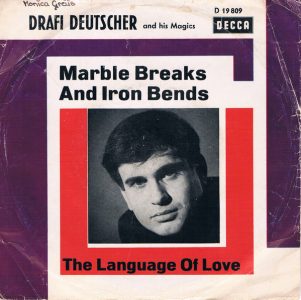 In October 1965, nineteen-year-old Drafi Deutscher had ad-libbed the tune during an audition at Musikverlag Edition Intro Gebrüder Meisel GmbH by humming the melody and only singing the characteristic chorus line of "Dum-Dum, Dum-dum". He was asked by presenter and songwriter Christian Bruhn what he intended to do with it to turn it into a complete song. Deutcher replied, "Det machst du!" ("You do that!"). So, songwriter Günter Loose subsequently wrote the German lyrics to the melody. In North America, the song was released in 1966 under the title "Marble Breaks and Iron Bends" with English lyrics sung by Deutscher.
Rudolf-Günter Loose was born in Berlin in 1927, and began writing songs in 1955. In 1966, he collaborated with James Last to compose "Games That Lovers Play", a #2 Easy Listening hit in the USA for Eddie Fisher, and a Top 20 hit for Connie Francis in South Africa. In 1970, Gunter Loose wrote the German-language translation for the Tony Orlando & Dawn hit "Candida". Loose wrote songs recorded by Rita Pavone, Paul Anka and Jackie Trent.
The lyrics to "Marble Breaks And Iron Bends" contrast the permanence of the love a couple shares with the variableness of sunshine. Sometimes the sun is hidden by rain, fog, snow, clouds or the night sky. But the love the couple shares is constant. Marble may break, and iron may bend, but "our love will never end."
"Marble Breaks And Iron Bends" peaked at #5 in Boston, #8 in Edmonton (AB), #11 in Manchester (NH), #12 in Denver, and #14 in Erie (PA).
After his 1965 hit "Marmor, Stein und Eisen bricht", his career in Germany was in full swing, when it was shaken by a 1967 conviction for public indecency (Erregung öffentlichen Ärgernisses) after he had urinated from a balcony while drunk. This was in plain view of a group of schoolchildren watching him from street level.
After his 1967 conviction for public indecency, Drafi Deutcher virtually disappeared from the public eye as a singer for more than a decade. He wrote and produced several worldwide hits for Tina Rainford ("Silver Bird"), Boney M ("Belfast" and "Ma Baker") Nino de Angelo ("Jenseits von Eden"), and Tony Christie throughout the 1970s under a number of pen names. He also wrote songs for Miguel Rios, His few appearances included the song "United (Te Deum)" from 1971 in the show Disco on German television, and the duet "Alaska" with long time friend Tina Rainford in 1972, a song he wrote under the pseudonym 'Renate Vaplus' but produced under his real name. He also wrote and produced Rainford's hits "Silver Bird" and "Fly Away Pretty Flamingo" from 1976. In 1977, he performed as 'Mr. Walkie-Talkie' the song "Be My Boogie Woogie Baby", which was a hit in the Netherlands and Flanders, and peaked at number 62 in Australia.
It took until the early 1980s for him to make media appearances as a singer again. In 1982, a biopic loosely inspired by Deutscher's life was released to German theaters under the title of his greatest hit, Marmor, Stein und Eisen bricht, in which he appeared in a small cameo role.
In 1983 Drafi Deutscher performed as part of a musical project called Masquerade. He sang a duet of the song "Guardian Angel" which topped the pop charts in Austria and Denmark. The single peaked at #2 in West Germany and Switzerland, #4 in Sweden, #5 in the Netherlands, and #7 in Italy and New Zealand. The Sound of Masquerade was a charting album on the Australian pop album chart.
From 1986 to 1989, Deutscher was part of a group called Mixed Emotions. They had a series of five Top Ten hits in West Germany: "You Want Love (Maria, Maria)", "Bring Back (Sha Na Na)", "Sweetheart – Darlin' My Dear", "Just for You" and "I Never Give Up". Mixed Emotions also released two studio albums. The group disbanded in 1989.
n 1991, Drafi Deutscher decided to continue with a new member, Andreas Martin, under a slightly changed name – New Mixed Emotions. The new line-up released an album called Side By Side and two singles.
In November 1998, Deutscher suffered two strokes. In 1999, the original line-up of Drafi Deutscher and Oliver Simon reunited under the original name the Mixed Emotions for a new album called We Belong Together consisting of two new songs and 11 remakes (new music, new vocals) of their old hits. They had a number of successful TV appearances. Following this album the group disbanded again. This coincided with a breakdown Deutscher suffered in 1999 due to increasing diabetes.
He nevertheless continued touring, celebrating his 40-year stage anniversary in 2003. Drafi Deutscher died of heart failure in 2006 at the age of 60.
November 1, 2023
Ray McGinnis
References:
"Drafi Deutscher," Wikipedia.org.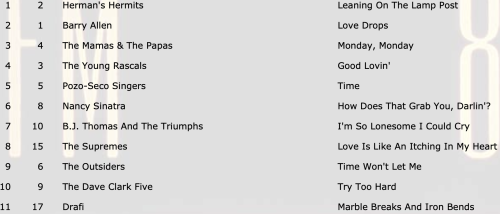 CJCA 930-AM, Edmonton (AB) May 8, 1966