#781: Marcheta by Karl Denver
Peak Month: October 1961
8 weeks on Vancouver's CFUN chart
Peak Position #5
Peak Position on Billboard Hot 100 ~ did not chart
YouTube.com link" "Marcheta"
Lyrics: "Marcheta"
Angus Murdo McKenzie was born in Glasgow, Scotland, in December 1931. He quit school at the age of fourteen. Soon he got work as a deckhand with the Scandinavian Mercantile Marine at the close of World War II. Next he went into the Argyll and Sutherland Highlanders and fought in the Korean War where he was wounded. Then he returned to the sea. In his 1999 obituary in The Independent, it is written, "He was such a tough, hard-living character that the Rhodesians gave him the nickname "Boaty Maseteno," meaning "brother of Satan." In 1953, Denver arrived in a port in America. He impressed people with his guitar playing, falsetto and yodeling abilities. He made friends with Faron Young and Lefty Frizzell. In 1956, going by the name, Karl Denver, he became the first British act to perform on the Grand Ole Opry. He would later tell the British press, "I had a son called Karl who was killed and I thought I would keep his name. For a time I lived in Fort Collins in Colorado and I thought Denver was a good place, so I became Karl Denver."
Karl Denver got an offer of a record contract in Nashville. However, he was in America illegally. As he puts it in his Scottish vernacular, "I was asked to sign up, but I had to do the bump as I shouldn't have been there in the first place." He was deported from Nashville, Tennessee, for being an illegal immigrant in 1959. Denver formed the Karl Denver Trio in 1961. His first hit, "Marcheta", showed his prowess as a yodeler.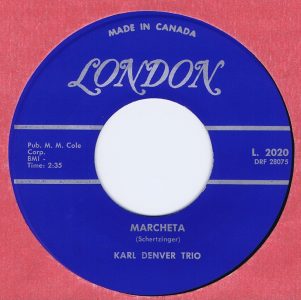 Victor L. Schertzinger composed "Marcheta" in 1913. It was his first song among many he composed over the next three decades until he died in 1941. In his final year his biggest hits were "Tangerine" and "I Remember You". Both were given lyrics by Johnny Mercer. Both songs were featured in Schertzinger's final movie, The Fleet's In, in 1942. As a director, composer or producer, Schertzinger worked on over one hundred films from 1916 to 1941.
"Marcheta" was covered by American actress and vaudeville singer Elsie Baker in a duet with American soprano Olive Kline in 1922. Gene Autry, Tommy Dorsey and Perry Como were among other artists to record versions of the tune. The song was also featured in the 1945 American World War II movie, They Were Expendable, The film concerned the Battle of the Philippines in World War II. Featuring John Wayne, "Marcheta" is played several times and reprised when Rusty Ryan, played by Wayne, realizes that he's never going to see the girl he loves again.
"Marcheta" is a song about a man who is haunted by the loss of the woman he loves. "All has been sadness, without you Marcheta, each day seems lonesome and blue…" Marcheta is still alive and living somewhere. If only she would come back to him, then his life could once more be joyful. Due to Karl Denver's expulsion from America in 1959 his single got no play on the airwaves in the USA. It was only in Vancouver where the song got airplay and climbed to #5. Over in the UK it reached #8.
A key feature in "Marcheta" is yodeling. There were other songs in the 50's and 60's that featured yodeling. These include "Mule Skinner Blues" by the Fendermen, "Swiss Maid" by Del Shannon, "I Remember You" by Frank Ifield and "Lovesick Blues" by Hank Williams. A number of Top ten hits from the 70's also featured yodeling, including "Hocus Locus" by Focus and "Calypso" by John Denver. And in the late 80's an Austrian electronica/dance group, named Edelweiss, featured yodeling in "Bring Me Edelweiss".
Yodeling originated in Austro-Bavaria. Of course, Bavaria extended north beyond the shifting national borders of the Austro-Hungarian Empire into the Dutchy of Barvia in southern Germany, and also into northern Italy. In the 1830's yodeling became fashionable to feature in musical events. In a journal entry on June 4, 1830, Sir Walter Scott complained, "Anne wants me to go hear the Tyrolese Minstrels but…I cannot but think their yodeling…is a variation upon the tones of a jackass." Yodeling was popular in America in the 19th Century. Roy Rogers and Gene Autry both yodeled in numerous recordings. Yodeling was not uncommon in country music through the 1940's. But, by the 1950's, yodeling was rarely featured in a pop or country music recording.
Karl Denver went on to record "Wimoweh" in 1961. The tune had been recorded earlier by other folk artists like The Weavers. While his version of the song stayed true to the South African roots, it was The Tokens who had the biggest international hit with an English version called "The Lion Sleeps Tonight", at the close of the year. "Marcheta" was the first of eleven singles by Karl Denver to reach the British Top 40 between 1961 and 1964.
Denver hosted a British variety show called Side By Side in 1962-63. On three occasions he had The Beatles on the show with him. In the fall of 1964, The Beatles had Karl Denver on TV as their guest in the US variety show, Shindig! Despite the exposure, once the Mersey Beat sound caught on in the UK, Karl Denver's sound was no longer hip.
In 1963 Denver appeared in a British movie called Just For Fun. The plot concerned extending the vote to British teenagers. This became a catalyst for the creation of a political party, named The Teenage Party, that runs a slate of candidates for the upcoming fictional British election. A host of teen pop stars are enlisted to help the upstart party win the election. These include Karl Denver, Freddy Cannon, Bobby Vee, Johnny Tillotson, The Tremeloes, Kitty Lester, The Crickets and The Tornadoes.
In 1964 Denver recorded a live album titled Karl Denver at the Yew Tree. The album featured Denver's covers of "Long Black Veil" and the operatic "Indian Love Call" from the 1924 operetta, Rose Marie. Another track featured on the album was the 1953 #1 country hit for Hank Williams, "Kaw-Liga". The song is about a wooden "Indian" named Kaw-Liga who falls in love with an "Indian maid over in the antique store." Another song on the album was about a guy who falls in love with a pretty "Little Dutch Girl". The album was recorded on an afternoon, since Denver was performing as a pantomime at night at the Palace Theatre, Manchester.
Karl Denver had an anti-government streak and felt no obligation to pay his taxes. In 1966, he was declared bankrupt in 1966. The took place again in 1973. When he went bankrupt again, in 1978, he was told by a judge, "You must be shown that court orders have teeth. Otherwise, you will cock a snook at authority ad infinitum." In the 1980's, Karl Denver told a reporter for The Independent, Spencer Leigh, "I've had three wives, God bless 'em and keep 'em, because I certainly can't."
In the 1980's Karl headed up the Karl Denver Trio. A group named Tight Fit, had a #1 hit in 1982 for three weeks with "The Lion Sleeps Tonight". The song knocked "Town Called Malice", by The Jam, out of the number one spot. However, with this folk revival in the UK, Karl Denver didn't grasp the opportunity to record any new material.
Karl Denver ended up being on a cabaret circuit into the early 90's. He recorded his last song in 1993. By that time heavy drinking had taken it's toll on and his health was frail. He died at the age of 67 of a brain tumor in December 1998.
June 20, 2018
Ray McGinnis
References:
Spencer Leigh, Obituary: Karl Denver, The Independent, January 20, 1999.
Victor L. Schertzinger, Wikipedia.org
Gordon Flemyng, Just For Fun, Columbia Pictures, 1963, (Wikipedia.org)
Tosches, Nick. Country: The Twisted Roots of Rock 'n' Roll. De Capo Press, 2009.
"C-FUNTASTIC FIFTY," CFUN 1410 AM, Vancouver, BC, October 14, 1961.
For more song reviews visit the Countdown.