#548: Martika's Kitchen by Martika
Peak Month: February 1992
13 weeks on CKLG's Vancouver Chart
Peak Position ~ #7
Peak Position on Billboard Hot 100 ~ #93
YouTube.com: "Martika's Kitchen"
Lyrics: "Martika's Kitchen"
In 1969 Marta Marrero was born in Whittier, California. Her parents were born in Havana, Cuba. At the age of 12 she had an uncredited role in the comedy-musical film based on the Broadway show Annie. From 1984-86 she was cast as Gloria in the children's television show Kids Incorporated. In 1984 she appeared, along with other Kids Incorporated cast members in the motivational video Be Somebody… or Be Somebody's Fool! hosted by Mr. T. In the video Ice T and New Edition were also featured. In 1987 she signed a record deal with Columbia.
In 1987 she released her first single, "We Are Music", which was available only in Japan. But in 1988 her first North American release was "More Than You Know". The single climbed into the Top 20 on the Billboard Hot 100 in early 1989. Her next release was "Toy Soldiers" which topped the pop charts in the USA and New Zealand. It also climbed into the Top Ten in Australia, Canada, Finland, Germany, Ireland, Norway, Spain, Sweden, Switzerland and the UK. Her third single release in North America was a cover of the Carole King song "I Feel The Earth Move", which cracked the Top 30 nationally in the USA. Internationally, her cover climbed to #2 in Australia, #3 in New Zealand and #7 in both Ireland and the UK. While her initial release, "More Than You Know", was re-issued and peaked in the Top Ten in Ireland in 1990.
In 1990 Martika appeared in the role of lounge singer Dahlia Mendez in Wiseguy, in the fourth season of the TV crime drama series.
In 1991 Martika released her second album titled Martika's Kitchen. The debut single from the album was a song co-written by Martika and Prince titled "Love… Thy Will Be Done". The single topped the Australian pop chart, and climbed into the Top Ten in Canada, France, Ireland, New Zealand, the UK and America. The write-up for the song in Wikipedia observed "The song is particularly remarkable for its constant backline, played by the drums and the bass, without any variation throughout the song, neither as far as rhythm or intensity are concerned, independently of other effects in the song (climax, forte, piano, backing vocals, etc.)."
The followup single from the album was the title track.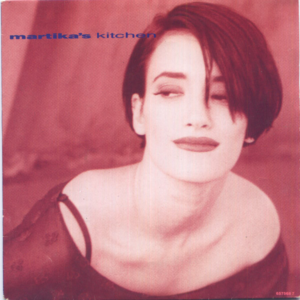 "Martika's Kitchen" was written by pop-funk-R&B recording artist Prince. In 1958 Prince Rogers Nelson was born in Minneapolis, Minnesota. His parents were in a jazz trio called the Prince Rogers Trio. Prince wrote his first song at age 7 and learned to play piano, keyboards, guitar, bass guitar and drums as he grew up. In 1977, at the age of 19, Prince signed a record deal with Warner Bros. Records. In 1978 he released his first single, "Soft And Wet", which entered the Top 20 on the Billboard Hot Soul Singles chart. In 1979 he released a self-titled album featuring "I Wanna Be Your Lover". The single topped the Billboard Hot R&B/Hip-Hop Songs chart, and #3 on the New Zealand pop chart. More hits followed with "Little Red Corvette" and "Delirious" cracking the Top Ten on the Billboard Hot 100 in 1983, while "1999" made the Top Ten in Australia, Canada, New Zealand, and the UK. But his truly international breakthrough came with the album Purple Rain in 1984. The title track plus "When Doves Cry" and "Let's Go Crazy" were all huge sellers. In the years following Prince had numerous hit singles including "Raspberry Beret", "Kiss", "Batdance" and "The Most Beautiful Girl In The World". Between 1979 and 2006 Prince charted over 50 singles into the Top Ten in one or more nations.
Prince has been nominated 36 times for a Grammy Award, winning seven. In addition, three of his albums were inducted into the Grammy Hall of Fame: 1999, Purple Rain and Sign o' The Times. Prince also won an Academy Award in 1985 for Best Original Song Score for Purple Rain. Between 1979 and 2016 Prince mounted 29 concert tours. He performed at the Pacific Coliseum in Vancouver (BC) on November 17, 1988. He returned to Vancouver on September 26, 1997, at GM Place; The Orpheum Theatre on May 28, 2002; Rogers Arena on December 16, 2011; And at the Vogue Theatre on April 15th and 16th, 2013. He died accidentally at the age of 57 from fentanyl toxicity that was contained in counterfeit painkiller pills.
"Martika's Kitchen" is a song where a kitchen is a metaphor for a woman's body. Martika suggestively sings "It's been so long since you've been down to the kitchen baby. My desire's running hotter than a country mile." She even lets her lover know that he can "break all the dishes." Clearly, this is not a kitchen where you make dinner for four. Martika oozes "the oven is hot."
"Martika's Kitchen" peaked at #7 in Vancouver (BC) and #14 in Hamilton (ON). The album went to #9 on the Australian Album chart.
A third single from Martika's Kitchen titled "Coloured Kisses" was a minor hit in Australia and the UK in 1992. The pressures of fame and the pressures of the music industry were a catalyst for Martika walking away from it all and returning to a private life.
She did collaborate with her husband in forming a pop duo they named Oppera which released two albums in 2004 and 2005. In the 2010s she made a few appearances in concert in small venues. In 2016, she was part of a "Totally 80s Review" with eight concerts in Australia. She shared the stage with Men Without Hats, Real Life, Katrina and the Waves, Paul Lekakis, Stacey Q, Kajagoogoo and Limahl.
September 7, 2020
Ray McGinnis
References:
Paul Cashmere,"Martika Explains How Prince Crafted Love Thy Will Be Done," Noise11.com, Melbourne, June 26, 2012.
Michael Dwyer, "Totally 80s! Review: Martika Steals Show with Timeless Hits," Sydney Herald, Australia, July 15, 2016.
Cameron Adams, "80s Hitmaker Martika Reveals Why She Retired From Pop Music and Why She's Making a Comeback," News.com, Sydney, Australia, January 28, 2016.
Emanuella Grinberg, "Prince Death: What We Know," CNN, April 21, 2016.
Barry Nicolson, "Prince: June 7, 1958 – April 21, 2016. The NME Obituary," NME, April 22, 2016.
"Vancouver's Official Top 40," CKLG 730 AM, Vancouver, BC, February 10, 1992.
For more song reviews visit the Countdown.