#1003: Masquerade by Edward Bear
Peak Month: July 1972
8 weeks on Vancouver's CKVN chart
Peak Position #10
Peak Position on Billboard Hot 100 ~ did not chart
YouTube.com: "Masquerade"
Lyrics: "Masquerade"
In the mid-60's Larry Evoy and Paul Weldon were jamming in basements and experimenting with blues rock tunes. In 1966 bass player Craig Hemmings and drummer Dave Brown formed a band with Evoy and Weldon. They got guitarist Danny Marks to join them after he answered an ad. (Marks left the band in 1970 and was replaced by Roger Ellis). After a year they settled on the name The Edward Bear Revue. They got the name from A.A. Milne's children's book, Winnie The Pooh, whose central character has the proper name of Edward Bear. In time the band shortened their name to Edward Bear. The band originally was a blues and rock band and opened in 1968 for a Toronto concert with Led Zeppelin as the headliner.
In 1969 Craig Hemmings left the band and was replaced with Bill Loop. Edward Bear released their first album, Bearings, on Capitol Records. A single from the album, "You, Me And Mexico", made the Top Ten across Canada and #9 in Vancouver. It would be Edward Bear's first of five Top Ten singles in Vancouver between 1970 and 1973. The band released a second album titled Eclipse, in 1970. Two singles that were commercial failures and a calamitous tour led Danny Marks to quit the band. Fortunately, Edward Bear bounced back and released a self-titled album with solid singles among the tracks. "Fly Across The Sea" and "Masquerade" did well in Canada, and the latter made it to #10 in Vancouver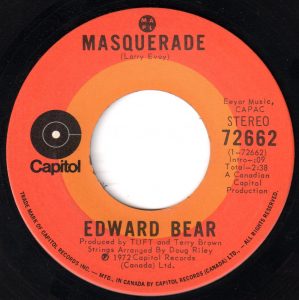 "Masquerade" is a song about someone who is trying to hide the games they are playing on their partner. The masquerade, properly understood, reveals a lie that has been going on a lifetime. Whatever promises or understandings there are between the couple in the song, it is clear that he sees through her party persona of putting on lots of makeup, going out a lot and dancing in trendy outfits. We don't know specifically what she is up to, but she is turning his full length mirror down. A mirror lets a person see their reflection and also can be used to look off a mirror to see other parts of a room from a different angle. She is the one whose put the mirror down. This is possibly a metaphor. In any event, there are things she doesn't want him to see, which he is seeing nonetheless. Her masquerade is "an awful game to play," he concludes. A masquerade is a false show or pretense, deception, a disguise. As a verb, a masquerade is pretending to be someone you are not.
The masque was a form of festive courtly entertainment that flourished in 16th- and early 17th-century Europe, though it was developed earlier in Italy. A masque involved music and dancing, singing and acting, within an elaborate stage design, in which the architectural framing and costumes might be designed by a renowned architect, to present a deferential allegory flattering to the patron. Professional actors and musicians were hired for the speaking and singing parts. Often the masquers, who did not speak or sing, were courtiers: the English queen Anne of Denmark frequently danced with her ladies in masques between 1603 and 1611, and Henry VIII and Charles I of England performed in the masques at their courts. In the tradition of masque, Louis XIV of France danced in ballets at Versailles.
The earliest masquerade balls in Europe date back to the 1390's. Masquerade balls were sometimes set as a game among the guests. The masked guests were supposedly dressed so as to be unidentifiable. This would create a type of game to see if guests could determine each other's identities. But in "Masquerade," as a metaphor for the dynamics in a relationship, the masquerade reveals the persons in relationship aren't getting a clear picture of who they're involving themselves with. The relationship gets caught up with a myriad of guises and far away from an authentic way of being.
The band released a third single from their Edward Bear album titled "Last Song". The tune became a #1 hit in Canada, #2 in Vancouver and #3 on the Billboard Hot 100. In 1973 the band won a Juno Award for Outstanding Group Performance. A fourth album, Close Your Eyes, had a title track that made the Top Ten in Canada and the Top 40 in the USA. But that was it. The bandmates had differences of opinion regarding their direction and they split up in 1974. Although there have been hopes they would reunite, Edward Bear has never had a reunion since their break-up in 1974.
After Edward Bear's demise, Larry Evoy ran a music publishing business and a recording studio. He also operated a horse farm with his spouse in King City, Ontario, north of Toronto. Danny Marks has played as a blues guitarist and hosted local radio shows, while Bill Loop has been a guitar teacher and continues to play with local session musicians. Paul Weldon has been an instructor at Seneca College and a member of a jazz combo. Since 1997, Roger Ellis has had a TTC (Toronto Transit Commission) license to perform in the Toronto subway system. Ellis is found in locales like the York Mills subway entertaining commuters.
September 19, 2017
Ray McGinnis
References:
"Roger Ellis, former Edward Bear guitarist, plays at York-Mills," Toronto Star, August 17, 2012.
Emily Jackson, "Underground Rock Star: Edward Bear Guitarist Roger Ellis Auditions for TTC License. The Onetime Rock Star Now Plays in Subway Stations, Happy to still Be Making Music after Years Out of the Business," Toronto Star, August 17, 2012
The Glamorous And Gruesome History Of The Masquerade Ball, All That's Interesting.com, November 17, 2017
Roberta Brokenshire, Danny Marks, and The Murf, Edward Bear – Bio, Canadian Bands.com.
The Story Behind 'Last Song': Q&A with Songwriter Larry Evoy: Edward Bear Frontman Shares His Inspiration for the Song, Talks About its Success and Fills us in on What He's Up to Now, Canadian Songwriters Hall of Fame.ca, June 30, 2015.
"The Top 40 Hits," CKVN 1410 AM, Vancouver, BC, July 3, 1972.
For more song reviews visit the Countdown.