#893: Me And Bobby McGee by Gordon Lightfoot
Peak Month: August 1970
7 weeks on Vancouver's CKLG chart
Peak Position #6 on CKVN
Peak Position on Billboard Hot 100 ~ did not chart
YouTube.com: "Me And Bobby McGee"
Lyrics: "Me And Bobby McGee"
Gordon Meridith Lightfoot Jr. was born in Orillia, Ontario, on November 17, 1938. His parents, Jessica and Gordon Lightfoot Sr., ran a dry cleaning business. His mother noticed young Gordon had some musical talent and the boy soprano first performed in grade four at his elementary school. He sang the Irish lullaby "Too Ra Loo Rah Loo Rah" at a parents' day. As a member of the St. Paul's United Church choir in Orillia, Lightfoot gained skill and needed confidence in his vocal abilities under the choir director, Ray Williams. Lightfoot went on to perform at Toronto's Massey Hall at the age of twelve when he won a competition for boys who were still boy sopranos. During his teen years Gordon Lightfoot learned to play piano, drums and guitar.
In the years that followed Lightfoot performed in coffee houses in Toronto. He got work as a performer on the CBC's Country Hoedown and went to England to host the BBC TV Country and Western Show in 1963-64. At that time, Lightfoot's songs were recorded by numerous recording acts. These included "Early Morning Rain" by both the Kingston Trio and Judy Collins, and "Ribbon of Darkness" by Marty Robbins. The attention Lightfoot got as a songwriter landed him a record contract with United Artists in 1965. In 1966 he was commissioned by the Canadian Broadcasting Corporation (CBC) to compose the "Canadian Railroad Trilogy" for a broadcast on New Year's Day in 1967, the nations centennial.
Lightfoot had a number of album and 45 RPM single successes in Canada in the late 60's and early 70's, including "Bitter Green" and his cover of Kris Kristopherson's "Me And Bobby McGee".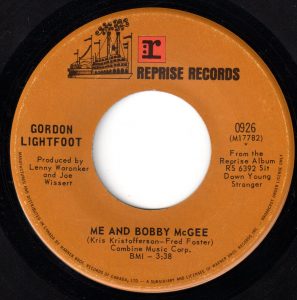 "Me And Bobby McGee" is a song written by Kris Kristofferson and Fred Foster. It was first released as a single by Roger Miller. In June 1969 Miller's cover of the song made the Top Ten in selected radio markets in Florida, Kentucky, Indiana and California. His recording climbed to #12 on the Billboard Country charts that year. Others have recorded the song including Kristofferson, Thelma Houston, Jerry Lee Lewis and Charlie Pride. After Janis Joplin died on October 4, 1970, her album, Pearl, was released the following January. Her version of "Me And Bobby McGee" peaked for two weeks on the Billboard Hot 100 in March 1971. Joplin had heard the song when Kristofferson sang it for her. He didn't know she'd recorded it until after she died. In Joplin's version Bobby is a male, while in the original lyric Kristofferson wrote Bobby is a female.
"Me And Bobby McGee" is a song about Bobby McGee and her companion as they travel from Louisiana to Kentucky to California. During their travels he shares the "secrets of his soul" with Bobby. They hold hands riding in a diesel truck after thumbing a ride to New Orleans. Looking back, he considers that he'd "trade all his tomorrows for a single yesterday" when he was holding Bobby's body close to his. Bobby McGee has left a lasting impression, a body memory that has left him a changed man. The song would have connected with radio listeners remembering their own first sensual/sexual awakening, and being able to safely share emotional intimacy with someone you feel attracted to.
Aside from the lasting memory of holding Bobby's body, what they both have in common is being poor. They're "busted flat in Baton Rouge," meaning their broke and have no money. So their in no position to move into a tony address in Lake Shore-Lake Vista by Lake Pontchartrain in New Orleans. Based on recent tax information, coming from Baton Rouge this guy and Bobby McGee wouldn't be alone in living close to the edge. The average reported total income in East Baton Rouge Parish in 2014 was $23,821. While wearing faded (and ripped) jeans has become a fashion trend more recently, back in the late 60s you might be wearing faded jeans because you couldn't afford a new pair.
The song mentions the coal mines of Kentucky. Coal mining is hard and dangerous work. And being a coal miner in Kentucky through much of coal mining history has been a hard scrabble life. Ronald D. Eller, a professor at the University of Kentucky, is author of Miners, Millhands and Mountaineers, a book on the industrialization of the Appalachian South. Coal mining companies controlled every aspect of their towns, "some even paying miners in scrip, company money used to buy goods at the company commissary." Eller writes that the miner "had no voice in community affairs or working conditions, and he was dependent upon the benevolence of the employer to maintain his rate of pay." Bill Estep, in his article, 100 Years of Coal Mining in Harlan County, points out that if you were a coal miner in Kentucky your wages were much lower than in unionized coal mines in northeastern states. In addition to Kentucky being one of the lowest wage environments for a prospective coal miner, automation was coming to the coal mining industry after World War II. And in Lowell Harrison and James Klotter's book, A New History of Kentucky, between 1950 and 1965, "Employment in Kentucky's underground mines fell 70 percent" and in Harlan County, the number of coal miners employed in the mines "dropped from 13,619 to 2,433." One can infer from "Me And Bobby McGee" that they might have gotten a bit of work in a Kentucky coal mine to help them move on to their next destination.
In the American national anthem, "The Star-Spangled Banner" the lyrics end with reference to the nation as "the land of the free and the home of the brave." But in Kris Kristofferson's lyrics "freedom is just another word for nothin' left to lose." In the late 60s, when he wrote the song, freedom meant people were also free to be poor, and many were. Being busted flat and having nothing left to lose is something you know about if you've been evicted 'cause you can't make the rent. Being busted flat means having to hitch hike, not because it's a thrill, but because you can't afford to buy bus fare to your next destination. The home Bobby McGee is searching for in Salinas isn't a home she plans on buying. (Almost fifty years after Kris Kristofferson wrote the song, in 2018, the median price of a home in Salinas, California, is $560K, and the average price is $930K). The home Bobby McGee is searching for is some place to call home, or a place she can feel at home. The couple in the song, "Me And Bobby McGee" are homeless in many ways, living on the dark side of the American dream. However, in the late 60s Salinas was a town with a different history that included migrant farm workers with a history of lettuce workers strikes. It seems Bobby McGee is bouncing around from Baton Rouge to Kentucky to Salinas, and in each place people have fallen on hard times. Say the name of a town or a state. The name evokes feelings and associations. And in "Me And Bobby McGee", Kris Kristofferson has offered up names of places associated more with hard times than good times.
Meanwhile, in Canada, Gordon Lightfoot's "Me And Bobby McGee" climbed to #13 on the Canadian RPM pop chart and #1 on the RPM Country in the summer of 1970. It was also a Top 10 hit in South Africa in 1971. "Me And Bobby McGee" was the second track on the first side of the album. It was Lightfoot's first single release from the album. Lightfoot's cover of Kristofferson's song didn't break into the Billboard Hot 100, getting hardly any airplay south of the border. But in Canada it peaked at #6 in Vancouver, #1 in Edmonton, #4 in Calgary and Chilliwack and #7 in Hamilton. "Me And Bobby McGee" was a track off of the album, Sit Down Young Stranger, Gordon Lightfoot's sixth album and best-selling album. The album was renamed If You Could Read My Mind shortly after the release of the single "If You Could Read My Mind", once the single took off. "If You Could Read My Mind" climbed to #1 on the Canadian RPM singles chart and #5 on the Billboard Hot 100 in the US.
Lightfoot's breakthrough in the USA was with "If You Could Read My Mind". He went on in the mid-70's to chart "Sundown" to #1 and "The Wreck Of The Edmund Fitzgerald" to #2 in the USA. Both were #1 hits nationally in Canada. Between his initial breakthrough and later hits in the mid-70's, there were three songs that did well in Canada but less well in the USA. These were "Talking In Your Sleep", "Beautiful" and "You Are What I Am".
Gordon Lightfoot's last charting single in Vancouver was "Daylight Katy" in 1978. Between 1966 and 2004 Lightfoot released 19 studio albums and 46 singles. In 1997, Gordon Lightfoot received the Governor General's Performing Arts Award, the top honor a recording artist can receive in the performing arts in Canada. A tribute album to Gordon Lightfoot was recorded by many Canadian recording artists in a special release in 2003. In 2012 he performed the "Canadian Railroad Trilogy" at the 100th Grey Cup football championship between the Toronto Argonauts and the Calgary Stampeders.
As of February 7, 2018, Gordon Lightfoot has 21 concert dates scheduled between February 13, 2018 and November 24, 2018, across 5 states in the USA and multiple dates in Ontario, Canada.
February 7, 2018
Ray McGinnis
References:
Gordon Lightfoot – The Man And His Music, Gordon Lightfoot.com
"The 50 poorest places in Louisiana, by ZIP code," Times-Picayune, New Orleans, March 15, 2017.
Bill Estep, "100 Years of Coal Mining in Harlan County," Lexington Herald Leader, Lexington, Kentucky, August 21, 2011.
"The Monterey Country Real Estate Trends Report," Mark Bruno.com, February 2018.
The Salinas Lettuce Strike of 1936, from Routes and Roots: Culivating Filipino American History on the Central Coast, South County Historical Society, Cal Poly San Luis Obispo Ethnic Studies Department, San Luis Obispo, CA.
"Your Average Rock and Roll Radio Survey," CKVN 1410 AM, Vancouver, BC, August 28, 1970.
For more song reviews visit the Countdown