#538: Medicine Man by Buchanan Brothers
Peak Month: July 1969
8 weeks on CKLG's Vancouver Charts
Peak Position ~ #4
1 week Hit Bound
Peak Position on Billboard Hot 100 ~ #22
YouTube.com: "Medicine Man"
Lyrics: "Medicine Man"
Thomas Picardo Jr. was born in Jersey City, New Jersey, in 1942. In 1958 he co-founded a doo-wop group called The Criterions with Tim Hauser. The pair attended St. Rose High School in Belmar, NJ. The Criterions had a minor hit on the Alan Freed show in New York City and on WMGM in Wildwood, New Jersey in 1959 titled "I Remain Truly Yours". West and Hauser went to Villanova University in Pennsylvania and in 1960. West became the conductor of the Villanova Singers, the university glee club. From the glee club, West formed another group of singers named The Villanova Spires. This was a 12-man folk group who sang with guitars. Tim Hauser also joined the Villanova Spires. In 1961, West another student named Jim Croce joined The Villanova Spires and they became friends.
In 1963 West graduated from Villanova and got a job as a radio announcer and music director with WRLB-FM in Long Branch, New Jersey. After three years Tommy West left the station to work for ABC Records in New York City. Soon after he met fellow songwriters Terry Cashman and Gene Pistilli. West became a session singer and sang back-up vocals on albums by Frank Sinatra, Perry Como, Sammy Davis Jr., Connie Francis and Mitch Ryder. In addition, West became a singer of jingles for radio and TV commercials.
Eugene "Gene" Pistilli was born in Hoboken, New Jersey. He was raised in a home where his father played guitar and his sister played accordion. Other members of the family sang along. His parents played a lot of big band music. and took a degree in music. However, after graduation he was considering taking a position as a conductor on the Long Island Railroad. However, he made his way to ABC Records and was hired as a songwriter by Terry Cashman.
Dennis Minogue was born in New York City in 1941. He played baseball for the Montgomery Rebels, a Double-A farm team for the Detroit Tigers. He changed his name to Terry Cashman when he started working as a songwriter for ABC Records and then became the head of their publishing companies.
In 1967 West and Pistilli recorded a single under the billing Gene and Tommy. The song was titled "Richard & Me" and it concerned racial tension and an interracial friendship. "Richard & Me" became a Top Ten hit in Stockton, Monterey and San Diego (CA) in the fall of '67, and a Top 20 hit in San Francisco, Sacramento and Seattle.
Also in 1967 Terry Cashman and Gene Pistilli co-wrote "Sunday Will Never Be The Same" for Spanky And Our Gang. Cashman told Songfacts that one day Gene Pistilli "came into the office, and he had this chord progression he came up with. Most simple rock and roll chord progressions in the key of G would be G to E minor to A minor to D. And Gene came in with a change which was instead of going from G to E minor, he went to E major, and instead of going to an A minor – the typical rock and roll kind of thing – he went to an A major, so it made it sound different. And when he played it for me, I started singing this melody to it. And you know, it made me think of a girlfriend that I had a few years before. We used to walk in the park on Sundays, and that whole story became the idea for the song because she left him, and the love affair was over, that Sunday, that special day would never be the same. We wrote the song very quickly. That song Gene and I wrote and Tommy West helped us with the demo, and we did a really, really good demo of the song." "Sunday Will Never Be The Same" climbed to #7 in the Canadian RPM singles chart, #9 on the Billboard Hot 100 and #10 on CFUN in Vancouver (BC) in the spring of the year. A 1969 Plymouth car commercial had Petula Clark singing a jingle to the tune of "Sunday Will Never Be The Same" with the words "Just look what Plymouth's up to now."
In 1968 Cashman, Pistilli & West released the first of five singles between 1968 and 1970. In 1969 the trio released another single, only this time they billed themselves as the Buchanan Brothers. The single was titled "Medicine Man (Part 1)".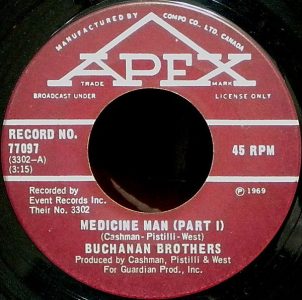 Cashman told the Songfacts website "We had started our own company. There was a label called Event Records, and we made a deal with them to some singles. They were mainly a black record, R&B label. But they wanted to get into some pop stuff. So we came up with the idea for a group called the Buchanan Brothers, which was actually the three of us. That song was from a bass figure that Tommy and Gene were figuring out with like an eighth-note bass thing. I think Gene came up with the title. Tommy was more of an arranger than a songwriter – Gene and I would come up with the melodies and lyrics – I was more of the melody, Gene more of the lyricist. But that song… the three of us were just sitting around and someone came up with the chorus of 'Medicine Man': 'I'm the man, understand, I'm the only one who can.' It was written pretty quickly, which happens with a lot of songs, something flashes and you get a riff, or a line or a title, and then everything kind of falls into place after that. It didn't have any particular category, but it was a catchy song."
In "Medicine Man (Part 1)" the subject of the song has been trippin' the light fantastic. To "trip the light fantastic" is to dance nimbly or lightly, or to move in a pattern to musical accompaniment. This phrase evolved through a series of usages and references. The phrase is attributed to Milton's 1645 poem L'Allegro, which includes the lines: "Com, and trip it as ye go/On the light fantastick toe." Prior to L'Allegro, the expression tripping on toes appeared in 1610 in William Shakespeare's The Tempest: "Before you can say come, and goe, / And breathe twice; and cry, so, so: / Each one tripping on his Toe, / Will be here with mop, and mowe." This expression was popularized in the 1890s song by Charles B. Lawlor and James W. Blake called "Sidewalks Of New York". The chorus includes these lyrics: "Boys and girls together, me and Mamie O'Rourke / Tripped the light fantastic / On the sidewalks of New York." In 1967, Procul Harum's song, "A Whiter Shade of Pale", included lyrics that were a riff on the phrase: "skip the light fandango."
When someone is "trippin' the light fantastic," they can be a person who is also carefree and even a bit detached from the cares of routines in ordinary life. Whatever, the circumstances, this person in "Medicine Man" is headed for a "shakedown," a "breakdown." Along comes a guy known as the Medicine Man. He has a potion and a way to be in "perpetual motion." He can see that this female needs "huggin'" and "super lovin." As far a sexual healing goes, the "Medicine Man" is "loaded for action," and can "guarantee you satisfaction," presumably in bed. It's a pitch he's bold to make, and it's likely his "baby" opens up to him as his one desire is to make her feel "glad."
In traditional indigenous cultures around the world, a medicine man is a spiritual healer. The role of the medicine man in these cultures was to help put a person who came to them back in balance, to cure whatever ailed them. In the case of the subject who the medicine man is addressing in "Medicine Man", it seems the cure they need is some "super lovin'."
"Medicine Man (Part 1)" peaked at #1 in Spokane (WA), Louisville (KY), Memphis, Tucson (AZ), Saint Charles (MO) and Kalamazoo (MI), #2 in Seattle, Milwaukee (WI), Indianapolis (IN) and Columbus (OH), #3 in San Diego, Gary (IN), Edmonton (AB) and Lansing (MI), #4 in Vancouver (BC), Salt Lake City, Sacramento, Los Angeles and Pittsburgh, #5 in Calgary (AB), Chicago and Oshkosh (WI), #6 in St. Louis, #7 in Cleveland, San Jose (CA) Kansas City (MO) and San Bernardino, #8 in Windsor (ON), Minneapolis/St. Paul and Fort Lauderdale, and #10 in San Francisco and Toronto. However, the single got little airplay in over fifteen states in the USA, and peaked at #22 on the Billboard Hot 100.
The Buchanan Brothers next single release was "Son Of A Lovin' Man". It climbed to #7 in Windsor (ON) in October '69, and #61 on the Billboard Hot 100. In December '69 the trio had a minor Top 40 hit titled "The Last Time" in a few radio markets in New York, Michigan, Kentucky, Missouri and Iowa. A subsequent release titled "Rosiana" got little radio airplay in early 1970. The Buchanan Brothers released two more singles in 1971 that were both commercial failures. Meanwhile in 1969 Gene Pistilli and Tim Hauser formed a new vocal group they named the Manhattan Transfer. Concurrently, under the billing of Cashman, Pistilli & West, the trio had a minor hit in 1970 with "Goodbye Jo".
In the early 70s Cashman and West wrote eight songs for the Partridge Family which the teen pop stars recorded as tracks on their albums. In 1971 Terry Cashman and Tommy West signed Jim Croce to ABC-Dunhill Records. They produced three of Croce's albums which included the hits "You Don't Mess Around With Jim", "Operator", "Bad, Bad Leroy Brown", "I Got A Name", "Time In A Bottle" and "I'll Have To Say I Love You In A Song". The duo later produced "Shannon" for Henry Gross who had a #6 hit with the single in 1976. Cashman and West also produced an album for Dion in 1978.
Meanwhile, Cashman and West recorded "American City Suite" in 1972 which became a #1 hit in Hartford (CT), Salisbury (NC) and Boise (ID), and made the Top Ten in Kansas City, Fort Lauderdale, Boston, Tulsa and Portland (OR). And in 1973 they had a Top Ten hit in Yakima (WA) and Dayton (OH) called "Snowman". In the summer of '73 they had Top Ten hit called "The King of Rock 'N Roll" in Great Falls (MT) and Hartford (CT).
In 1976 Terry Cashman had a Top 20 hit in Buffalo titled "Baby, Baby I Love You". Then in 1981 he had a local hit with "Willie, Mickey And "The Duke" (Talkin' Baseball)" in New York City. Cashman also recorded a parody of his song in 1992, "Talkin' Softball," for the end credits The Simpsons episode "Homer At Bat." In 2011 Terry Cashman was inducted into the National Baseball Hall of Fame and Museum in Cooperstown, New York.
In the 1980s Tommy West produced three #1 singles on the Billboard Country chart. These were "You're The Best Break This Old Heart Ever Had" for Ed Bruce in 1981, "Until I Met You" for Judy Rodman in 1986, and "Love Someone Like Me" by Holly Dunn in 1987. In 1993, West produced an album by Anne Murray titled Croonin'. This was a collection of classic pop song covers from the fifties including "Hey There", "The Wayward Wind", "Moments To Remember" and "Secret Love". Croonin' won a Juno Award for best engineered pop recording of 1993 with special mention for the album tracks "Old Cape Cod" and "Cry Me A River". Among the many albums Tommy West has produced over the years is 2004 collection of pop standards from The American Songbook by Anne Murray titled All Of Me.
Gene Pistilli left the Manhattan Transfer before they became famous in 1975 with their hit "Operator". He moved his family to Nashville and wrote songs. His songs were recorded by Barry McGuire, Jane Morgan, Bobby Goldsboro, Harry Belafonte, Bette Midler and others. Gene was awarded Country Song of the Year by the Country Music Association for his song "Too Gone, Too Long" recorded by Randy Travis which topped the Billboard Country chart for a week in 1988. Years later he began a solo career singing and playing guitar mostly in New Jersey. He billed himself as 'the Hoboken Saddletramp'. In 2003 he released a solo album of western swing music. Pistilli died in December 2017.
October 28, 2019
Ray McGinnis
References:
Carl Wiser, "Songwriter Interviews: Terry Cashman," Songfacts.com, February 16, 2009.
Mike Ragogna, "From Jim Croce to MTM: A Conversation With Producer, Singer & Songwriter Tommy West," Huffington Post, August 17, 2011.
"Manhattan Transfer," Wikipedia.org.
"Gene Pistilli bio," Allmusic.com.
"Eugene 'Gene' Pistilli Obituary," Legacy.com, January 2018.
"The Meaning and Origin of the Expression: Trip the Light Fantastic," Phrases.org.
Chysti the Wordsmith, Verbivore's Feast: Second Course – More Word & Phrase Origins, (Farcountry Press, 2006).
"CKLG Boss 30," CKLG 730 AM, Vancouver, BC, July 4, 1969.
For more song reviews visit the Countdown.