#493: Melting Pot by Booker T. & the M.G.'s
Peak Month: July 1971
9 weeks on Vancouver's CKVN's chart
Peak Position #3
Peak Position on Billboard Hot 100 ~ #45
YouTube.com link: "Melting Pot"
Booker T. & the M.G.'s is a band founded in Memphis in the summer of 1962. That summer 17-year-old keyboardist Booker T. Jones, 20-year-old guitarist Steve Cropper, and two seasoned players, bassist Lewie Steinberg and drummer Al Jackson Jr. were in the Memphis studio to back the former Sun Records recording aritst Billy Lee Riley. During downtime, the four started playing around with a bluesy organ riff. The president of Stax Records, Jim Stewart, was in the control booth. He liked what he heard, and he recorded it. Cropper remembered a twelve-bar blues riff that Jones had come up with weeks earlier on a Hammond M3 organ. Before too long a second track was recorded. Stewart wanted to release the single with the first track, "Behave Yourself", as the A-side and the second track as the B-side. And so "Green Onions" was released as the B-side. However, Cropper and radio DJs argued that "Green Onions" was the better A-side. Soon, Stax re-released Booker T. & the M.G.'s' "Green Onions" as the A-side.
Booker Taliaferro Jones Jr. was born in 1944. From childhood, Booker T learned to play the oboe, saxophone, trombone, double bass and piano at school. While at church he mastered the organ. In 1960 he contributed saxophone on Carla and Rufus Thomas' single "Cause I Love You". That year he joined a band headed by Willie Mitchell. It was there he met drummer Albert "Al" J. Jackson Jr, who was born in Memphis in 1935. Al had been playing the drum professionally in his father's band since the age of five.
Al Jackson Jr. played drum on the Bar-kay's 1967 hit "Soul Finger", William Bell's "I Forgot To Be Your Lover" and Bill Wither's "Ain't No Sunshine". Jackson also was in the recording studio with Otis Redding for "Try A Little Tenderness", "(Sittin' On) The Dock Of The Bay", "The Happy Song (Dum-Dum-De-De-De-Dum-Dum)" and "Fa-Fa-Fa-Fa-Fa-Fa (Sad Song)". In all, Al Jackson Jr. played on ten studio albums for Otis Redding, along with other members of Booker T. & the M.G.'s.
Steven Lee Cropper was born in 1941 in Dora, Missouri. He began to play guitar at the age of 14, five years after his family moved too Memphis. He was one of the founding members of the Mar-Keys who recorded an instrumental hit in 1961 titled "Last Night", peaking at #3 on the Billboard Hot 100. Cropper co-wrote "Knock On Wood" with Eddie Floyd, "In The Midnight Hour" with Wilson Pickett, and "(Sittin' On) The Dock Of The Bay" with Otis Redding.
Donald "Duck" Dunn was born in Memphis in 1941. He taught himself how to play the bass guitar from a young age. He joined the Mar-Keys, a house band for Stax Records in Memphis in 1958, along with Steve Cropper.
Booker T. & the M.G.s played the instruments for Sam & Dave's soul hits "Hold On, I'm Comin'" and "Soul Man". In the mid-60s Booker T. & The M.G.'s were less successful on the pop charts. However, they managed to chart four singles into the Top Ten on the Billboard R&B chart: "Boot-Leg", "Hole In The Wall", "Hip-Hug-Her" and "Groovin'". In 1967 they were nominated for Best Rhythm & Blues Group Performance, Vocal or Instrumental for "Hip-Hug-Her".
Meanwhile, in 1968 the band had another Top Ten instrumental hit with "Hang 'Em High", the theme tune for the film of the same name. This was followed in early 1969 with another instrumental Top Ten hit titled "Time Is Tight" from the film Up Tight. Their most successful effort in the 1970s was "Melting Pot".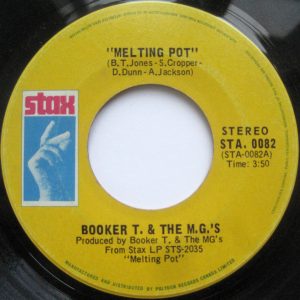 "Melting Pot" is the title track from the album Melting Pot. In a review of the track Rolling Stone magazine wrote in 1971 "The title tune is one of the extended pieces and it's just great from start to finish with some incredible textural control from Booker's wide-open organ and burning guitar. Here and elsewhere, Cropper's mixing gives the music a wide and perfectly-controlled dynamic range, though of course the group demonstrates just as much dynamic precision in live performances."
A melting pot is a term that means is a monocultural metaphor for a heterogeneous society becoming more homogenous. With a melting pot, the different elements melt together with a common culture. And despite the influx of foreign elements with different cultural backgrounds, possessing the potential to create disharmony within the previous culture, the different elements merge toward one another. Historically, a melting pot is often used to describe the cultural integration of immigrants to the United States.
Though is use for the previous century, the term "melting pot" gained ascendance with the production of the 1908 play The Melting Pot. The play by Israel Zangwill told the story of a Russian Jewish immigrant family, the Quixanos. David Quixano has survived a pogrom, which killed his mother and sister, and he wishes to forget this horrible event. He composes an "American Symphony" and wants to look forward to a society free of ethnic divisions and hatred, rather than backward at his traumatic past.
Near the climax of the play David Quizano says to his wife, Vera, "There she lies, the great Melting Pot—listen! Can't you hear the roaring and the bubbling? There gapes her mouth [He points east]—the harbour where a thousand mammoth feeders come from the ends of the world to pour in their human freight. Ah, what a stirring and a seething! Celt and Latin, Slav and Teuton, Greek and Syrian,—black and yellow." Vera chimes in "Jew and Gentile." David continues, "Yes, East and West, and North and South, the palm and the pine, the pole and the equator, the crescent and the cross—how the great Alchemist melts and fuses them with his purging flame! Here shall they all unite to build the Republic of Man and the Kingdom of God. Ah, Vera, what is the glory of Rome and Jerusalem where all nations and races come to worship and look back, compared with the glory of America, where all races and nations come to labour and look forward."
"Melting Pot" peaked at #2 in San Francisco, #3 in Vancouver (BC), #7 in San Jose and Denver, and #8 in Oakland (CA).
Over the years Al Jackson Jr. co-wrote and performed on Al Green's "Let's Stay Together", "Call Me (Come Back Home)", "You Ought To Be With Me", "Look What You've Done For Me" and "I'm Still In Love With You". He also contributed drums to "Lady Blue" by Leon Russell. In July 1975 Jackson was shot in the chest by his wife Barbara. But he chose not to press charges. Then, on October 1, 1975, he was fatally shot by the boyfriend of soul singer Denise LaSalle, his wife Barbara's friend.
Steve Cropper played guitar on recordings for David Clayton-Thomas, "Bad Blood" and "Breaking Up Is Hard To Do" for Neil Sedaka in 1975, "Tonight's The Night" for Rod Stewart, "If I Can't Have You" for Yvonne Elliman, The Blues Brothers, Stephen Bishop, Johnnie Taylor and others.
Donald "Duck" Dunn played on "Starting All Over Again" by Mel & Tim, "Stop Draggin' My Heart Around" by Stevie Nicks, albums by Ritchie Havens, Joan Baez, Eric Clapton, Neil Young and others. Both Dunn and Cropper appeared in the film The Blues Brothers as themselves. Dunn died in his sleep at the age of 70 while on tour in Tokyo, Japan.
Booker T. Jones has been credited with writing hundreds of songs and appearing as a session musician with hundreds of other songs. He won the Best Pop Instrumental Album Grammy in 2009 for Potato Hole and again in 2011 for The Road From Memphis. In 1994 he won his first Grammy for Best Pop Instrumental Performance for "Crusin'". Jones also was nominated for two other Grammy awards in the mid-90s for "A Change Is Gonna Come" in 1995 and "Green Onions" in 1996. The latter was for Best Rock Instrumental Performance.
Between January and March 2020, Booker T. Jones will appear at 14 concerts in the USA and six concerts in London, England.
January 29, 2020
Ray McGinnis
References:
Bob Palmer, "Melting Pot," Rolling Stone, March 18, 1971.
The Melting Pot (Play), Wikipedia.org.
Andria Lisle, "Memphis Sunset: The Mysterious Death of Stax Heartbeat Al Jackson, Jr." Guardian, November 25, 2015.
"Steve Cropper Bio," Playitsteve.com.
"Legendary Session Bassist Donald "Duck" Dunn Passes Away at 70," Vintage Vinyl News, May 13, 2012.
"Booker T. Jones," Grammy Awards.
Eric R. Danton, "Soul Man Booker T. Jones Keeps Having 'Fun' (Song Premiere)," Wall Street Journal, April 16, 2013.
"West Coast Music Survey," CKVN 1410 AM, Vancouver, BC, July 9, 1971.
For more song reviews visit the Countdown.