#757: Mexican Lady by Steel River
Peak Month: February 1972
8 weeks on Vancouver's CKVN chart
Peak Position #6
Peak Position on Billboard Hot 100 ~ did not chart
YouTube.com: "Mexican Lady"
In 1965 an R&B group formed in Toronto called The Toronto Shotgun. Coincidentally, possibly there was a huge Motown hit that year called "Shotgun," by Junior Walker & the Allstars. The band consisted of vocalist John Dudgeon, drummer/percussionist Ray Angrove, bass player Rob Cockell, guitarist Tony Dunning and on keyboards, Bob Forrester. In 1969, Toronto Shotgun changed their name to Steel River. As Toronto Shotgun, they had played a lot of dances at high schools and performed at clubs in town on the weekends. As Steel River they became a full time rock n' roll act. Their producer, Greg Hambleton owned his owned Tuesday Records and signed the band to the label.
In 1970 they released their first single, "Ten Pound Note". The song peaked at #1 on CJOC in Lethbridge, Alberta, #2 on CJFX in Antigonish, Nova Scotia, #4 in CHWK in Chilliwack, #12 on CHAM in Hamilton and#15 on CKVN in Vancouver. The year-end RPM Canadian singles chart in 1970 listed "Ten Pound Note" at #79. In the USA, "Ten Pound Note" made the Top 30 in Tampa, Florida, at WLCY, and in Seattle on KRJ. "Ten Pound Note" also made the Top 40 in New Haven (CT). The song was the debut single from their first album, Weighin' Heavy.
They didn't manage much chart success after their debut single. Their follow up single, "Walk By The River" made it into the Top 20 on CHWK in Chilliwack. But it got little airplay elsewhere. Their third single release was "Southbound Train". That song made it to #8 on CKOC in Hamilton, #15 on CKRC in Winnipeg, #18 on CFRA in Ottawa, #21 on CKLG in Vancouver, the Top 30 in Cleveland and Akron, Ohio, and the Top 40 in Minneapolis/St. Paul. Steel River heir fourth single release, "Mexican Lady", received a following in Vancouver where it climbed to #6 on CKVN. It also charted on CKVL in Montreal where it climbed to #10.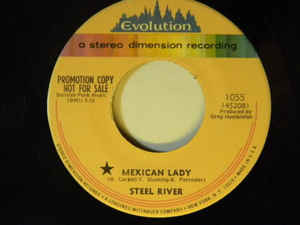 The song was co-written by three of the band's members, bassist Rob Cockell, keyboardist Bob Forrester and guitarist Tony Dunning. On its face, the song is about a romance with a Mexican lady. Of course, in the media buzz about rock 'n roll and drugs, some in the press may have thought the son was an about an addiction to drugs coming from Mexico. Steel River wasn't the only band recording songs with reference to Mexico. In 1970, Edward Bear had a hit record with "You, Me And Mexico".
"Mexican Lady" was the second single from the bands' second album, A Better Road. On the strength of their two albums the band ended up on three North American tours in 1971. They began their first tour with Sly & The Family Stone in Knoxville, Tennessee, on February 4, 1971. They had four more concerts that month opening for Steppenwolf across Ohio and Pennsylvania. Two of these, in Dayton and Athens, Ohio, also included Edwin Starr. They opened for three consecutive concerts for Three Dog Night in New York City on March 2, 3 and 4, 1971. Then they drove to Philadelphia to open a March 5th concert for Melanie. An article at Axe Records titled, Steel River On Tour 1971, includes recollections from bass player, Rob Cockell: "What I remember the most was the amount of time spent in the van driving. We had a great van but we cheaped out on the seats and went with these iron bench things. Horrible if you're trying to sleep, not much better for sitting. The driver was always able to fall asleep because the drivers seat was the most comfortable one. Every hour or so you'd be woken by the sound of a car horn or gravel from the soft shoulder! It happened so may times it's a miracle we survived. We did have some amazing times. Day one opening for Steppenwolf in Ohio. We met and hung with all the big names in rock, James Gang, Three Dog Night, Steppenwolf, Emerson lake and Palmer, Black Sabbath, Humble Pie, Mountain, Johnny Winter, Poco, Rare Earth, Melanie, Edger Winter, Sha Na Na, to name a few." Cockell also remembers the bandmates of Steel River having a bunch of people come back to their hotel room in Chicago. It turned out most of them were members of the Black Panther Party. Someone was alerted and the hotel sent the band and their guests packing.
Steel River also toured extensively in Canada, especially in Ontario, Quebec and the Atlantic provinces. However, after their second album, Tuesday Records folded. In search of a new manager, producer and record company, they were able to secure a deal with Axe Records in 1973. They continued to tour across North America and release a series of singles. However, "Just Remember", "Armoured Car" and "We Want You To Love Us" were largely given a pass by radio station programmers. The band members couldn't persuade Axe Records to release another album. This was a catalyst for Steel River deciding to split up in 1974.
According to Richard Green and Dennis Watson, writing for Canadian Bands.com, Steel River did have a reunion in 1980 and performed a number of concerts. Vocalist, John Dudgeon, went solo and in 1983 released an album titled Put My Arms Around You. Later, in 2004, Dudgeon was in a band named Mojo Grande for several years until they folded.
July 31, 2018
Ray McGinnis
References:
Richard Green, Dennis Watson, Steel River bio, Canadian Bands.com
Steel River bio, Citizen Freak.com
Steel River On Tour 1971, Axe Records.ca, September 27, 2017
Steel River – Weighin' Heavy (1970 canada, hard psych groovy rock, 2008 second harvest issue), Rockasteria.blogspot.com, December 18, 2012.
"West Coast Music Survey," CKVN 1410 AM, Vancouver, BC, February 4, 1972.
For more song reviews visit the Countdown.