#994: Milk And Honey by Eddie Fisher
Peak Month: March 1962
8 weeks on Vancouver's CFUN chart
Peak Position #6
Peak Position on Billboard Hot 100 ~ did not chart
Peak Position on Cashbox chart ~ #104
Peak Position on Music Vendor ~ #107
YouTube.com: "Milk And Honey"
Lyrics: "Milk And Honey"
Edwin John "Eddie" Fisher was born in Philadelphia, Pennsylvania in 1928 in Russian Jewish immigrants. His father's surname was originally Tisch, but was changed to Fisher by the time of the 1940 USA census. From childhood Eddie had a vocal talent. He made his radio debut on WFIL, a local Philadelphia radio station. He also performed on Arthur Godfrey's Talent Scouts, a popular radio show that later moved to television. Because he became a local star, Fisher dropped out of high school in the middle of his senior year to pursue his career. By 1946, Fisher was crooning with the bands of Buddy Morrow and Charlie Ventura. He was heard in 1949 by Eddie Cantor at Grossinger's Catskill Resort Hotel in the Borscht Belt. Cantor's so-called discovery of Fisher was later described as a totally contrived, "manipulated' arrangement by Milton Blackstone, Grossinger's publicity director. After performing on Cantor's radio show he was an instant hit and gained nationwide exposure. He then signed a recording contract with RCA Victor.
Fisher was drafted into the U.S. Army in 1951, sent to Fort Hood, Texas for basic training, and served a year in Korea. From 1952 to 1953, he was the official vocal soloist for The United States Army Band and a tenor section member in the United States Army Band Chorus assigned at Fort Myer in the Washington, D.C. Military District.
After his discharge, he began to sing in top nightclubs and had a variety television series, Coke Time with Eddie Fisher on NBC (1953–1957). Fisher also appeared on The Perry Como Show, Club Oasis, The Martha Raye Show, The Gisele MacKenzie Show, The Chesterfield Supper Club and The George Gobel Show, and starred in another series, The Eddie Fisher Show (NBC) (1957–1959. During this time Fisher became a pop idol in his early twenties. He had 17 songs in the Top 10 on the Billboard and Cashbox charts between 1950 and 1956 and 35 in the Top 40. Among his biggest hits were "Anytime", "Wish You Were Here", "Oh! My Papa" and "Dungaree Doll". His final appearance in the Top 40 was in November and December 1956 with "Cindy, Oh Cindy".
In 1956, Fisher co-starred with then-wife Debbie Reynolds in the musical comedy Bundle of Joy. He played a dramatic role in the 1960 drama Butterfield 8 with second wife Elizabeth Taylor. His best friend was showman and producer Mike Todd, who died in a plane crash in 1958. Fisher's affair and subsequent marriage to Taylor, Todd's widow, caused a show business scandal because he and Reynolds had a very public divorce. Due to the unfavorable publicity surrounding the affair and divorce, NBC canceled Fisher's television series in March 1959. In 1960 RCA Victor dropped Fisher from their roster.
After "Cindy, Oh Cindy", Fisher had released eight singles the following three years. The highest any of these charted on the Billboard Hot 100 was #94. After being dropped by RCA Eddie Fisher got a contract with a minor label in New York City called 7 Arts Records. With them he recorded one single, "Tonight", the song from the musical West Side Story. Fisher's cover of the Broadway tune made the Top 50 nationally in the USA. His next recording was with ABC-Paramount with a cover of the title tune from the Broadway musical Milk And Honey.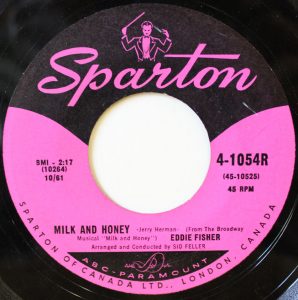 Milk and Honey is a Broadway musical that debuted in October 1962 at the Martin Beck Theatre and had a run of 543 performances. The cast included soprano Mimi Benzell, baritone Robert Weede and Tommy Rall, a ballet, tap and acrobatic dancer. The story centers on a busload of lonely American widows hoping to catch husbands while touring Israel and is set against the backdrop of the country's struggle for recognition as an independent nation.
The opening scene in the musical is a calm of a morning street in modern Jerusalem. The quiet is shattered when a police officer orders a Yemenite boy to remove his flock of sheep to a side street. Phil Arkin, an American visiting his married daughter, defends the boy, and in the ensuing fracas he meets Ruth Stein, a tourist travelling with a group of widows from the United States. She is impressed with Phil's command of Hebrew as he explains the meaning of the word in the song, "Shalom".
Phil and Ruth keep running into each other and together they celebrate Israel's Independence Day. Their friendship begins to deepen and Phil's conscience starts troubling him. Although he has been separated from his wife for many years, he does not think it right to continue seeing Ruth since he is still married. Phil's daughter, Barbara, however, likes Ruth and invites her to go with them to her farm in the Negev. After some hesitation, Ruth accepts. On the farm – called a Moshav – Phil tries to talk Barbara and her husband David into going back to Baltimore with him. But the young man vows his devotion to his country and is joined in its praise by his neighbors, including his cynical friend Adi, who claims he would rather live in the city. This is the context in the musical for "Milk and Honey". The musical received five Tony Award nominations including for Best Musical and Best Original Score. The winner of Best Musical was How To Succeed In Business Without Really Trying, a show that would enjoy a performance run of 1,417 shows. Richard Rogers' No Strings won Best Original Score, being the first composition he'd done since the death of his longtime collaborator, Oscar Hammerstein II.
Eddie Fisher's cover of "Milk And Honey" did better in Canada than America. It climbed to #2 on CHUM in Toronto and #6 in Vancouver. The song made the Top Ten at #7 in Denver and Cleveland and #1 in Lincoln, Nebraska. But in America that was pretty much it. The song missed the Billboard Hot 100 doing better on the Cashbox charts where it stalled at #104.
In 1981 Fisher published an autobiography, Eddie: My Life, My Loves. This was after his fourth divorce. He'd been married to Debbie Reynolds, Elizabeth Taylor, Connie Stevens and Terry Richard. He would marry for the fifth and final time, in 1993, to Betty Lin.
Fisher has two stars on the Hollywood Walk of Fame, one for recording, at 6241 Hollywood Boulevard, and one for television, at 1724 Vine Street. Milk and Honey opened off-Broadway in January 2017.
September 28, 2017
Ray McGinnis
References:
Julie Miller, Debbie Reynolds Understands Why Eddie Fisher Left Her for Elizabeth Taylor, Vanity Fair, New York, NY, January 5, 2015.
Eddie Fisher, Former Husband of Elizabeth Taylor, Dies, The Telegraph, London, UK, September 24, 2010.
Fisher, Eddie. Eddie: My Life, My Loves. HarperCollins, New York, NY, 1984.
Gabriela Geselowitz, 'Milk and Honey' – a Musical About American Widows Who Tour Israel In Search of Husbands – Opens Off-Broadway, Tablet Magazine, New York, NY, January 30, 2017.
"C-FUNTASTIC FIFTY," CFUN 1410 AM, Vancouver, BC, March 2, 1962.
For more song reviews visit the Countdown.