#1152: Mind Excursion by The Trade Winds
Peak Month: September 1966
6 weeks on CKLG chart
Peak Position #6
Peak Position on Billboard Hot 100 ~ #51
YouTube.com: "Mind Excursion"
Lyrics: "Mind Excursion"
Peter Andreoli was born in Providence, Rhode Island, in 1941, and Vincent Ponica Jr. was born there one year later. At the age of five Peter was given a ukulele and by the age of nine began to play guitar and sing. Perhaps a natural aptitude passed down from his guitar playing mom and an aunt who played the accordion. Peter was comfortable performing on stage, along with his sister, Caroline at community, church and social functions. At the time he focused on Italian songs. But in 1954 Peter got introduced to Rhythm & Blues and never looked back. At Mount Pleasant High School in 1956, he became the lead singer of a doo-wop group called The Videls. "Vini" Poncia also joined The Videls, whose fan base steadily increased.
The Videls became one of the top acts on the Rhode Island teen scene performing at school dances and proms, CYO (Catholic Youth Organization) gatherings, private functions and occasionally (though underaged) in nightclubs. It was around this time that Peter adopted the anglicized version of his surname as his stage name: Peter Anders. They had several local hit singles and in 1960 had a modest national hit in the USA with a song called "Mr. Lonely", climbing to #73 on the U.S. Billboard Hot 100 chart. The Videls were quickly group is whisked off directly after Vini Poncia's graduation ceremony in 1960 to join Dick Clark's Caravan Of Stars tour which includes an appearance on American Bandstand.
When The Videls folded after failing to score a follow up hit single on the national charts in the USA, Peter got a contract as a songwriter with Hill & Range Music in Manhattan. Vini Poncia joined Peter Anders and together they made $50 a week (or $25 each) at Hill & Range Music's office in the Brill Building. While they were in that locale, they met fellow songwriters Carole King, Gerry Goffin, Barry Mann, Cynthia Weil, Doc Pomus & Mort Shuman, Jeff Barry & Ellie Greenwich, Paul Simon, Neil Diamond and others. Simultaneously, the pair were performing in a reformed line-up of The Mystics, singing "Hushabye" and lesser known tunes by that doo-wop group.
While they were at the Brill Building, they got on the radar of Phil Spector. This led to work with Spector's house band, the Wrecking Crew. And they became friends with Nino Tempo, Leon Russell, Glen Campbell, Hal Blaine, Joe Osborn, Sonny Bono and others. During this time they wrote "The Best Part Of Breaking Up" for The Ronettes and a few B-sides for The Crystals. They also produced Cher's first recording, "Ringo, I Love You", released under the name "Bonnie Jo Mason."
In addition to writing songs for other recording artists, Anders and Poncia Jr. recorded some demos. One of their tunes, "New York's A Lonely Town", was influenced by the new surf sound coming out of California. They recorded the demo along with former Videls members Bobby Calitri and Norman Marzano. Their East-coast surfing tune climbed into the Billboard Top 40, and the local Top 30. The Trade Winds, so-named by Red Bird Records, appeared on Shindig. 1965 continued to bless Anders and Poncia when Elvis Presley chose their song, "Harem Holiday", as the theme song to his upcoming film, Harum Scarum.
The psychedelic-tinged "Mind Excursion" was their follow up hit in 1966. The song invited listeners to use the power of their mind to dream whatever they fancy as a "slight diversion" from their everyday reality. In the 1960s there was a growth in articles about psychology and the role the mind can play in changing a persons' outlook from negative to positive. Magazine articles would discuss popular psychology and its' benefit in helping people change negative styles of thinking as a way to change how they feel. Imaging different futures for ourselves had a noticeable effect on ones emotional states. Concurrently, there was a growing psychological understanding of the nature of happiness. The suggestion that a person could create a new reality through envisioning new scenarios was very topical in some circles. This included Vancouver where the Human Potential Movement was strong. The Esalen Institute in Big Sur, California, was offering courses and running studies on human potential and expanded self-awareness. Leading thinkers presenting at Esalen included Virginia Satir, Aldous Huxley and Michael Murphy. A sister retreat centre to The Esalen Institute's human potential/self-awareness generatively was located north of Vancouver on Cortez Island. It was called Cold Mountain Institute (later renamed Hollyhock Retreat in 1982).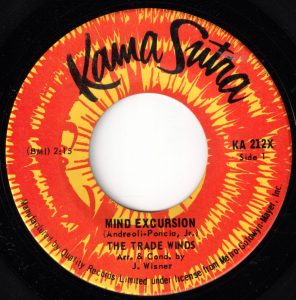 The possibility thinking that the Trade Winds invited their listeners to do include winning a bull fight in Spain, doing a rain dance having painted "your face like an injun," drive out a window of your home in your own car (presumably without causing any damage to your home) or watching planet Earth from outer space. Perhaps these scenarios had a multiplier effect on radio listeners who rushed out to buy a copy at Kelly's Record Store or A&B Sound. The song may have even been a catalyst for some older children and young teens to take an elective psychology course once they entered high school.
It climbed to #51 on the Billboard charts and #6 in Vancouver. It seemed that on the Pacific Coast, radio stations in the same region as California's Esalen Institute, the Trade Winds had their most successful chart runs with this song: Vancouver (#6), San Jose (#5), Seattle (#4), Merced, CA (#6) Chico, CA (#3), Richland, CA (#8) and San Diego (#9). In the 60s there were also people beginning to experiment with drugs to take a mind excursion. But that was a whole other matter.
In 1966, the Trade Winds changed their name to The Innocence. They made an self-titled album that included the Top 20 hit single in Vancouver in 1966, "There's Got To Be A Word!" Following the LP release the duo released another album under the name Anders & Poncia on Warner Bros. Records, in 1969, and shortly after broke up.
By 1968 the relationship between Anders and Poncia began to fray due to Anders dabbling in hard drugs. Anders would fail to show up for work for days leaving Poncia Jr. to write on his own to meet deadlines for their publishing house. Poncia went on to produce material for artists such as Ringo Starr, Melissa Manchester and Kiss. Meanwhile, Peter Anders entered rehab six times, but each attempt fails. By 1989, Anders found himself out of the music business and completely out of friends. A seventh trip to rehab was successful.
In 1991, Peter Anders got a phone call from Vini Poncia. One of the songs Anders had written in the 70s, "If I Can Just Get Through Tonight", had been recorded by Phoebe Snow. There were royalties awaiting him if Anders could be located. In the late 90s Peter Anders recorded some new material with his old friend from Brill Buiding days, Ritchie Cordell (the composer of such big hits as "Mony Mony" and "I Think We're Alone Now").
In 2010, at a reunion concert, Anders & Poncia became the first inductees into the Hall Of Fame of the Rhode Island Pop Music Archive. That year Anders, recovering from cancer, released an album titled So Far. Other performers who've recorded songs by Anders and Poncia include Tommy James & The Shondells, Vince Edwards (TV's "Ben Casey"), Bobby Bloom and Jay & The Americans, Tiny Tim, Vic Dana, Dave Edmunds, Bobby Rydell, Jackie DeShannon, Manfred Mann, Dean Martin, Lou Rawls and Jackie Wilson. The Trade Winds was mentioned on the second episode of Mad Men in that TV show's fifth season in 2011-12.
March 14, 2017
Ray McGinnis
References:
Vini Poncia Interview, Cue Castanets, July 23, 2016
Songwriters Keep Rocking and Rolling, Seniors Digest, August 30, 2013
Elvis Presley, "Harem Holiday," 1965
The Innocence, "There's Got to Be a Word!," 1966
Passings: Peter Anders of the Trade Winds, Songwriter (1941 – 2016), Vintage Vinyl News, Penfield, NY, March 2016.
"Boss 40," CKLG 730 AM, Vancouver, BC, September 17, 1966.
For more reviews on this website visit the Countdown.