#12: Modern Love by David Bowie
Peak Month: November 1983
17 weeks on Vancouver's CKLG chart
Peak Position #1
2 weeks Playlist Hit Bound
Peak Position on Billboard Hot 100 ~ #14
YouTube.com: "Modern Love"
Lyrics: "Modern Love"
David Robert Jones was born in 1947 in Brixton, a suburb in the southern part of London, UK. From an early age he demonstrated talent as a singer and especially through dance and movement. When he was nine years old his father brought home some 45's by Elvis Presley, Frankie Lymon & The Teenagers, Fats Domino and others. When David Jones heard Little Richard sing "Tutti Frutti" he later said in an interview that he "heard God." Growing up, David learned to play the recorder, ukulele, piano and baritone saxophone. In 1962, at the age of 15 he formed a band named the Konrads. In 1964 he formed a band named David Jones and the King Bees. They appeared on the variety show Ready Steady Go! to sing their debut single, "Liza Jane". Jones briefly moved on to join the Mannish Boys before being the front man for Davy Jones and The Lower Third. They released a single in 1965 titled "You've Got A Habit Of Leaving". Due to the growing popularity of another English recording artist named Davy Jones (who went on to become lead singer for The Monkees), David Robert Jones decided to change his professional name to David Bowie. He chose his surname after a 19th Century American pioneer named James Bowie who invented the Bowie knife.
In 1966 the first single released credited to David Bowie was with his backing band, The Buzz. However, Bowie continued to be met with a string of commercial failures with each single release and his debut album in 1967. He enrolled in the London Dance Center in the fall of 1967. Bowie added mime to his repertoire and was an opening mime act for a tour with Tyrannosaurus Rex in 1968. David Bowie also appeared in a TV commercial for Lyons Maid ice cream. But it was in 1969 with the release of "Space Oddity", that David Bowie had his first commercial success as a recording star. The single climbed to #5 on the UK singles chart. It was a commercial failure in North America until it was re-issued in 1973 and became a Top 20 hit nationally in the USA and Canada, and peaking at #4 in Vancouver.
In 1972 Bowie launched a ground-breaking tour billed as the Ziggy Stardust Tour with the Spiders from Mars. The tour promoted his album The Rise and Fall of Ziggy Stardust and the Spiders from Mars and Aladdin Sane. Between January 1972 and June 1973, David Bowie and his band performed at 191 concerts across the UK, North America and Japan. During this time Bowie had a number of Top Ten hits in the UK including "Starman", "Suffragette City", "The Jean Genie", "Drive-in Saturday Night", "Life On Mars", "Laughing Gnome", "Sorrow", "Rebel Rebel" and "Knock On Wood". While some of these had local radio market chart success in Canada ~ for example, "Rebel Rebel" climbed to #8 in Ottawa. But most were only known as tracks from albums played on FM stations in Canada (and the USA).
But in 1975 David Bowie's Young Americans album produced a minor hit with the title track and a number one hit in the USA with "Fame". He made the Top Ten again that year with "Golden Years" as his debut single release from Station to Station. In early 1976, on the strength of his recent hits, David Bowie appeared at the Pacific Coliseum in Vancouver for a concert on February 2.
But after his chart-breaking year in the USA in 1975, Bowie again struggled to attain chart success across the Atlantic. In the UK he had several Top Ten singles in the late '70's: "Sound And Vision" in 1977 and "Boys Keep Swinging" in 1979. But these best chart runs in the UK did no better than #69 on the Billboard Hot 100. And Low, Heroes and Lodger each failed to crack the Top Ten on the Billboard album chart.
In 1980 "Ashes To Ashes" became his second #1 single in the UK. The song was given airplay in Vancouver. In 1981 Bowie had a #1 single in the UK, featuring Queen. The song also reached #1 in Vancouver. The following year Bowie had a #1 hit in Sweden and Norway with "Cat People (Putting Out Fire)". But it was his 1983 album release of Let's Dance which sent him to the top of the album and singles charts. His singles from the album were the title track "Let's Dance", "China Girl" and "Modern Love".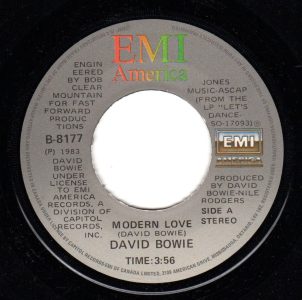 "Modern Love" draws its musical influences from Little Richard-influence piano, new wave and jazz.
"Modern Love" is a song that picks up a recurring theme in the Let's Dance album, concerning a conflict between "God and man" in a secular world. The singer tells us "God and man don't believe in modern love." 'Modern love' embodies the secular world that walks beside and then walks on by the singer. The increasingly disorienting secular world drives him to go to church. But, going to church makes him want to party, and put his trust in "God and man." But the church also "terrifies me." And in the secular world of "no confessions" and "no religion," the singer is left "still standing in the wind." In the face of the foundations of society shifting, he determines to "try" and rely on his "power to charm" and stay positive. As well, getting to "the church on time," reflects the challenges the narrator has of coping with routines and making commitments. The church is also a place where one makes commitments, like getting married. In the secular dating world, the narrator finds "modern love" walking beside him and then walking on by, leaving him in the rain. This 'modern love' is one of impermanence and no commitments. There is nothing to confess about how one is interacting with other dates, or treating people. We just leave people lying in the rain on our way to our next hook up.
"Modern Love" peaked at #1 in Vancouver (BC), Yellowknife (NWT), and Winnipeg (MB), #2 in Buffalo, Minneapolis/St. Paul, Roanoke (VA), and Bangor (ME), #3 in Seattle, #4 in Toronto, San Francisco, Tacoma (WA), Montreal, Regina (SK), New York City, and Evansville (IN), #5 in Milwaukee (WI), #6 in Los Angeles, Denver, Saskatoon (SK), Boston, St. Cloud (MN), Cleveland, and Phoenix, #7 in Kitchener (ON), Dallas, Philadelphia, and Calgary (AB), #8 in Presque Isle (ME), #9 in San Jose, Tampa (FL), #10 in Redding (CA) Davenport (IA), and Portland (OR).
Internationally, "Modern Love" peaked at #2 in Canada, Israel, and the UK, #3 in Belgium and Ireland, #6 in Australia and New Zealand, #9 in the Netherlands, and #14 on the Billboard Hot 100.
To support Let's Dance, Bowie performed in 96 concerts across 15 countries for his Serious Moonlight Tour. This included three sold-out concerts in Vancouver: the first at BC Place Stadium on August 9, 1983, and a month later on both September 11th and 12th, 1983, at the Pacific Coliseum.
During the rest of the '80's, David Bowie had three notable international hits: "Blue Jean", "Dancing In The Street" with Mick Jagger, and "Absolute Beginners". In 1987 Bowie had another international tour which included a concert at BC Place Stadium in Vancouver on August 15. And in 1990 his Sound + Vision Tour exceeded his personal best with 108 concerts across 27 countries. This included a concert date at the Pacific Coliseum on March 15, 1990. The concert must have been sold out, as Bowie returned to Vancouver two months later to appear at BC Place Stadium on May 20, 1990.
In 1997 Bowie was a featured artist in the #1 hit "Perfect Day", for the fundraising single for Children In Need. That year be performed in concert at the Plaza of Nations in Vancouver on September 6th. And on January 24, 2004, David Bowie was back in Vancouver performing at General Motors Place.
Bowie made the Top Ten internationally for the last time in 2013 with "Where Are We Now?", breaking into the Top Ten in 13 countries.
In 2016 David Bowie died on January 8. He was 69 years old. His twenty-fifth and final studio album, Blackstar, was released to critical acclaim. The album climbed to #1 in 23 countries.
On February 16, 2019, an event was held at the Commodore Ballroom in Vancouver titled A Bowie Celebration.
June 26, 2023
Ray McGinnis
References:
"About David Bowie," David Bowie.com.
Nicholas Pegg, The Complete David Bowie, (Titan, 2011) 30.
Sophie Heawood, "David Bowie has Gone from New to Old – and What a Beautiful thing it Is," Independent, January 8, 2013.
Mick Brown, "David Bowie interview from 1996: 'I Have Done Just about Everything that it's Possible to Do'," Telegraph, January 10, 2017.
"Rolling Back: David Bowie's infamous 1976 interview with Cameron Crowe," Rolling Stone, Steve Pafford.com, January 2018.
"C-FUN Top Thirty," CFUN 1410 AM, Vancouver, BC, November 5, 1983.
For more song reviews visit the Countdown.