#827: Molly by Bearfoot
Peak Month: March 1974
10 weeks on Vancouver's CKLG chart
Peak Position #12
Peak Position on Billboard Hot 100 ~ did not chart
YouTube.com link: "Molly"
Lyrics: "Molly"
In 1949, Terry Danko was born in Greens Corners, Ontario, north of Lake Erie. In his childhood he learned a number of instruments and, according to hi biographer, Carol Caffin, Danko had his own radio show at the age of twelve. He was also a regular performer before he entered his teens in Turkey Point by Lake Erie. In 1967, then eighteen-year-old Danko met fellow musician Jim Atkinson. The duo formed Tin Pan Alley in 1968, along with drummer,Tom Wells. They were a regular act in the circuit in and around Brantford, Ontario. Danko's brother, Rick, was part of the band with rockabilly legend, Ronnie Hawkins. Once Hawkins got introduced to Tin Pan Alley, he persuaded Tony Danko and Jim Atkinson to join the Ronnie Hawkins' Rock and Roll Revival and Traveling Medicine Show. Into the early 70's they played with Ronnie Hawkins.
Another member of the band with Ronnie Hawkins was Dwayne Ford. Born in Edmonton in 1949, Ford had learned the piano from the age of five. He was a professional musician by the time he turned sixteen. Ford joined the Nomads while in Alberta. He moved to Toronto in 1970 and was hired on by Hawkins. By late 1971 Ford, Danko and Atkinson were feeling ready for a new challenge. The Threesome left Hawkins band and formed Atkinson, Danko and Ford. Two other members of Hawkins band, guitarist Hugh Brockie and Brian Hilton also joined up with the new trio which changed its name to Bearfoot.
In 1972 Atkinson, Danko and Ford released a debut album with all five bandmates as personnel for the recording. They re-released the album in 1973 titled as Bearfoot. A follow up album, Friends With Bearfoot, led to the release of the single, "Molly" in early 1974.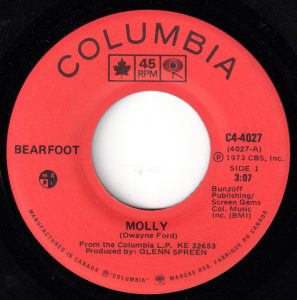 "Molly" is a song about a guy who loves a woman named Molly. Sometimes he sees the sun shine on her hair. Other times he sees the moon shine on her skin. The natural elements of sun, moon, hair and skin ~ and his having seen the light as a consequence of these things, are reflective of their lovemaking. Yet, the guy has also seen the rain fall on Molly's sad blue eyes. There is a chance that she might not remain with him and he sings "without your love there ain't nothing at all." Each verse ends with his certain claim on her: "Molly, you belong to me." But in the early 70's, it might have been the case that Molly didn't want to "belong" to anyone. Though, we don't know from the song if Molly was a feminist.
The sentiment, "you belong to me," goes back many decades in popular music across the 20th Century. Back in 1923 the Canadian singer, Henry Burr, sang a Top 5 hit called "You Know You Belong To Someone Else (So Why Don't You Leave Me Alone)". In the 1920's it was understood that in a coupled relationship you "belonged" to someone. And if you belonged to someone else, it was improper to stray from that persons affections. However, Gene Austin could sing all the way to the top of the charts in 1927, "Tonight You Belong To Me", even though the person his character is spending time with belongs to somebody else. In 1952, Jo Stafford had a smash hit with "You Belong To Me". The song was a reminder to one's partner that they could travel far and wide, but needed to remember "when a dream appears" they had someone back home committed to them.
"Molly" climbed to #12 in Vancouver and St. John's (NFLD) and #28 in Toronto. Barefoot split up after the second album. There was a third album called Passing Time. It was credited to Dwayne Ford and Friends. The "friends" included Jim Atkinson and Hugh Brockie and several studio musicians who joined Dwayne Ford for the recording. In this new iteration, Bearfoot's follow up single, "Passing Time" was a Top 20 hit in Toronto and Hamilton and peaked at #23 in Vancouver's CKLG. The third Bearfoot album was also released due to Columbia records requiring Bearfoot to complete contractual obligations to the label.
Dwayne Ford was a musician on a 1974 album for the Canadian duo, Gary & Dave. He also was a studio musician on recordings with Shirley Eikhard, Patsy Gallant, Michel Pagliaro, Donovan, Tom Middleton and April Wine. Ford has kept on creating new material and released an album, On The Other Side, in 2007.
Meanwhile, Tony Danko appeared alongside Gary Busey in the 1978 film, The Buddy Holly Story. Tony and his brother Rick, and Jim Atkinson, were a trio named Rendezvous, based in Malibu, California. Tony Danko writes that he and Jim Atkinson had left for Hollywood. For almost a decade they pursued session work as well as acting. Atkinson was also part of a San Francisco based folk band for a number of years. Danko returned to Canada in 1985 and reformed Barefoot along with Atkinson and other musicians. In 1986-87, Danko and Atkinson joined up with Ronnie Hawkins for several world tours in 1986 and 1987. After that both went on to solo careers.
According to an article in the Brantford Expositor in 2008, Barefoot had a reunion in Simcoe, Ontario, in the summer of 2006. At that concert Terry Danko, Jim Atkinson and several others played to rave reviews.
April 20, 2018
Ray McGinnis
References:
Terry Danko, Bearfoot, Canadian bands.com.
Carol Caffin, Terry Danko Authorized Biography, 2007.
Dwayne Ford and Doug Grant, Dwayne Ford – bio, Canadian Bands.com.
Glen Silverthorn, "Atkinson's Talent Comes Naturally," Brantford Expositor, Brantford, Ontario, November 6, 2008.
"CKLG 'Thirty'," CKLG 730 AM, Vancouver, BC, March 15, 1974.
For more song reviews visit the Countdown.