#1324: Monday Morning Choo Choo by The Stampeders
Peak Month: March 1972
7 weeks on CKLG chart
Peak Position #15
Peak Position on Billboard Hot 100 ~ did not chart
Peak Position on Record World ~ #107
YouTube.com: "Monday Morning Choo Choo"
Lyrics: "Monday Morning Choo Choo"
The Stampeders are a rock trio from Calgary named after that city's football team, The Calgary Stampeders. Although, it could be argued that the yearly Calgary Stampede was also an inspiration for their name. During the band's most successful chart run from 1968 to 1976, it was made up of guitarist Rich Dodson, bass player Ronnie King (born Cornelius Van Sprang) and drummer Kim Berly (born Kim Meyer). All three provided vocals. Originally, the band was a group of five formed in 1964 called The Rebounds. The Rebounds had five members: Rich Dodson, Len Roemer, Brendan Lyttle, Kim Berly, and Race Holiday. They renamed themselves The Stampeders in 1965 and Len Roemer was replaced with Ronnie King and Van Louis, making them a band of six for a few years. But after a temporary move to Toronto in 1966 the band was down to three members, Dodson, King and Berly by 1968. Between 1967 and 1976 The Stampeders charted 15 singles into the Canadian RPM Top 40.
Originally outfitted with cowboy hats, T-kay denim pants, shirts and jackets and cowboy boots, by the early 70's the band kept only the cowboy boots as mandatory attire. Their first single as a trio was in 1971 called "Carry Me". While the song got some air play in Vancouver, it did not chart here. However, it climbed to #2 nationally. Their cache only increased with the release of their debut album and a #1 hit across Canada called "Sweet City Woman". It also made the Top Ten in the USA. The band won four Juno Awards for "Best Composer," "Best Producer," "Best Single" and "Best Vocal Instrumental Group."
On the strength of their success, their UK label, EMI, sponsored a tour to the UK and continental Europe. While on tour in 1972 they found themselves booked at the same hotel in Amsterdam overlapping with The Eagles. Back in North America, The Stampeders flew to Los Angeles where they performed at the iconic Whisky A-Go-Go, and were guests on the TV shows Don Kirshner's Rock Concert and The Dating Game. It was in Hollywood that the band met The Who's drummer, Keith Moon, who invited them to attend his birthday party at the Beverly Hills' Wiltshire Hotel. In addition The Stampeders toured extensively in the early 70's and on either side of the Canada-U.S. border found themselves variously sharing the billing with Black Oak Arkansas, Santana, Joe Cocker, Steve Miller, The James Gang, Robin Trower, Steely Dan, Sonny and Cher, The Beach Boys, ZZ Top, The Eagles, Earth, Wind And Fire, Mountain, America, Tower Of Power, Blood, Sweat and Tears and Genesis. The Stampeders also traveled to Brazil to perform at a song festival in Rio in front of 90 million TV viewers.
A second album, Carryin' On, produced several Top Ten singles across Canada: "Devil You", Monday Morning Choo Choo" and "Wild Eyes".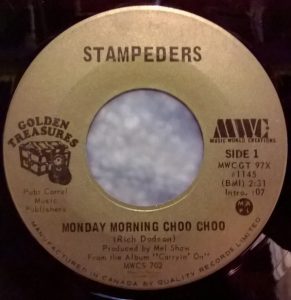 "Monday Morning Choo Choo" is a song that draws on Vaudevillian and British Music Hall influences. In both cases the setting of American Vaudeville and British Music Hall was low-brow comedy and variety entertainment. Charlie Chaplin was a popularizer of British Music Hall and Vaudeville comedy in his silent and later talking films, as were the Marx Brothers, Jimmy Durante, Milton Berle, Abbot and Costello, Eddie Cantor, W.C. Fields, Fanny Brice and Mae West. In the treatment of any material that was emotionally sad or melancholy the Vaudevillian musical style, preferring a comedic effect to a tragic one, chose to twin sad lyrics with upbeat melodies in a major key. In the case of "Monday Morning Choo Choo", the song is about a guy who's feeling neglected and rejected by the object of his affections who has left on on a train on Track Nine, presumably never to return. The outcome of being left on Track Nine while his sweetheart boards a train to leave town is to feel like crying and feel like dying. Now he feels destined to repeat his lunchtime blues and return again to Track Nine on subsequent days to re-visit the scene that is a catalyst for his ongoing sadness. The story is set to an upbeat melody with the banjo and guitar evoking the possibility of ending the sad mood.
The Stampeders inspiration for doing a song in this style may be owed to what some other recording artists were doing years prior to their second album's release. The British Music Hall style was popularized in rock 'n roll in the late 60's by The Beatles who showcased it on the Sgt. Pepper's Lonely Hearts Club Band album, as the Sgt. Pepper was fashioned a fictional British Music Hall band. This style of music is reflected in songs like "When I'm Sixty-Four", "Maxwell's Silver Hammer", "Penny Lane" and "Lovely Rita" (piano and comb and tissue kazoo). There were also examples of other recording acts using Vaudevillian music to sing a sad song to an upbeat melody, for example "Westminster Cathedral", by the New Vaudeville Band. Sopwith Camel also borrowed from Vaudeville musical styles in 1967 to sing about a guy who is trying to get to know someone in their song "Hello Hello".
Rubes, Dudes and Rowdies brought them further sales successes with several more single releases, including "Oh My Lady". Another release from The Stampeders third album, "Minstrel Gypsy", made the Top Ten in many radio markets across Canada, but failed to chart in Vancouver. In 1975 the band released their fifth album featuring the rocker, "Ramona." Another studio album followed with two covers. One was the old Ray Charles hit, "Hit The Road Jack", while the other was a former hit for Gary U.S. Bonds, "New Orleans". The former cover by The Stampeders featured the DJ of American Graffiti fame, Wolfman Jack. The single won The Stampeders another Juno.
But the days were numbered for The Stampeders as a hit-making machine. They had some success again in 1976 with several singles. But after that in most Canadian radio markets the band was off the radar. By degrees the band was breaking up as Ronnie King and then Kim Berly left and were replaced by numerous other musicians. The larger line-up of Stampeders made the cost of touring unfeasible and the band finally split up in 1980. As of July 2017, The Stampeders trio of King, Berly and Dodson continue to tour with 13 upcoming concerts across British Columbia, Alberta, Saskatchewan and Ontario.
July 27, 2017
Ray McGinnis
References:
The Stampeders – About, Stampeders.net
Rich Dodson and Ronnie King, The Stampeders, Canadian Bands.com
The Story of Music Hall, Victoria and Albert Museum, London, UK.
"CKLG 'Thirty'," CKLG 730 AM, Vancouver, BC, March 17, 1972
For more song reviews visit the Countdown.