#119: Money by the Flying Lizards
Peak Month: February 1980
10 weeks on Vancouver's CKLG Chart
Peak Position #2
Peak Position on Billboard Hot 100 ~ #50
YouTube.com: "Money"
Lyrics: "Money"
David Cunningham was born in Armagh, Northern Ireland, in 1954. From 1973 to 1977, Cunningham attended the Maidstone College of Art in Kent, England. Deborah Evans-Stickland was born in the 1950s and went to art school. She joined the Flying Lizards in 1976. David Toop was born in 1949 in suburban London. He studied at the Hornsby College of Art. He became involved with the London Musicians Collective. In 1975 he recorded New and Rediscovered Musical Instruments. Steve Beresford was born in 1950 in Shropshire, England. Beresford joined the Portsmouth Sinfonia in the 70s. While the Flying Lizards were a recording act, Beresford and Toop were also part of a band called Alterations. Michael Upton was born in 1938 in Birmingham, England, and studied at the Birmingham College of Art in the mid-50s. Vivien Goldman was born in 1952 in London. She began her career as a journalist for Cassettes and Cartridges in the early 70s. Next, she was hired as a PR officer for Atlantic Records, and subsequently for Island Records, where she worked with Bob Marley. She was a writer and editor for London-based Sounds magazine in the late 1970s, at the time she joined the Flying Lizards. Julian Marshall British singer, songwriter, and keyboard player, who was one half of the duo Marshall Hain.
Deborah described the Flying Lizards as "an exercise in pop absurdism." They aligned themselves far more closely with the avant-garde movement, than as potential pop stars. However, they began to achieve some commercial success with the release of a cover of Eddie Cochran's 1958 rock classic "Summertime Blues". The single cracked the pop chart in Australia in 1978. Evans-Stickland recalls the recording of "Summertime Blues" and other tracks for their first album. The Flying Lizards booked themselves into the studio, which Evans-Stickland referred to as a "cold meat fridge in Brixton, London, at a cost of £6.50". The band of artists and avant-gardists' mangled the rule book as far as pop production was concerned. They used a bass guitar string hit with a stick as the bass drum sound. They managed to give the piano a banjo like quality by throwing an array of objects on top of the piano's strings. This included ashtrays, sheet music, Monopoly money, a miniature guitar and rubber toys. One of the songs they recorded in the studio in 1978 was a cover of an R&B classic from the late '50s by Barrett Strong, "Money (That's What I Want)".
The single release by the Flying Lizards after "Summertime Blues" was "Money" in 1979.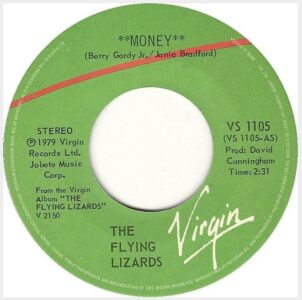 "Money" was originally recorded by Barrett Strong who was born in West Point, Mississippi, in 1941. In August 1959, at the age of 18, Strong recorded "Money (That's What I Want)" for Tamla Records. It became the first hit for fledgling the Motown Record company. The single climbed to #2 on the Billboard R&B chart. Strong went on to write "I Heard It Through The Grapevine" for Marvin Gaye, "War" for Edwin Starr, and "Smiling Faces Sometimes" for the Undisputed Truth. Strong wrote numbers of hits for the Temptations, including "Ball of Confusion", "Psychedelic Shack", "Cloud Nine", Papa Was A Rolling Stone", "I Can't Get Next To You", "I Wish It Would Rain", and "Just My Imagination".
"Money (That's What I Want)" was written by Barry Gordy and Janie Bradford. Berry Gordy III was born in 1929 in Detroit. His father Barry Gordy II had moved to Detroit from Georgia, prompted by stories of the KKK lynching black men. Young Barry dropped out of school in grade eleven to be a boxer. He was drafted into the U.S. Army in 1951 and was assigned to the 58th Field Artillery Battalion, 3rd Infantry Division, in the Korean War. After the war ended in 1953, Gordy opened a record store. But it was not successful. However, he kept his hand in the music business. In 1956 he met Jackie Wilson and the following year co-wrote "Reet Petite", a #6 hit in 1957 in the UK. Next Gordy wrote "To Be Loved", "Lonely Teardrops", a #1 R&B hit in the USA, which climbed to #7 on the Billboard Hot 100. Gordy also co-wrote "That's Why (I Love You So)", a #2 R&B hit for Wilson in '59. Late that year Gordy wrote a couple of Top Ten hits for Marv Johnson titled "You Got What It Takes" and "I Love the Way You Love".
In the 1960s, Barry Gordy penned many hit songs. These include "Shop Around" for the Miracles; "Do You Love Me" by the Contours; "I'm Livin' In Shame" for Diana Ross & The Supremes; and "You've Made Me So Very Happy" for Blood, Sweat & Tears. Gordy also penned four number-one hits for the Jackson Five in the early 1970s: "I Want You Back", "ABC", "The Love You Save", and "I'll Be There". Barry Gordy is known also as a talent scout. Gordy signed many recording acts to Motown. These include Mary Wells, the Supremes, Marvin Gaye, the Temptations, Jimmy Ruffin, the Contours, the Four Tops, Gladys Knight & The Pips, Little Stevie Wonder, the Martha & the Vandellas, and the Jackson Five.
Janie Bradford was born in Charleston, Missouri, in 1939. She penned "Too Busy Thinking About My Baby" for Marvin Gaye, and "You're Old Standby" for Mary Wells. But other songs recorded by the Miracles, Little Stevie Wonder, Jr. Walker and the All-Stars, and Marv Johnson didn't generate the royalties she hoped for. Nonetheless, Bradford ended up working for Motown for 25 years.
"Money" is a song that takes issue with the philosophy that "the best things in life are free." "The Best Things In Life Are Free" is a song from the 1927 Broadway musical Good News. The lyrics from the musical tell how:
The moon belongs to everyone, the best things in life are free.
The stars belong to everyone, they gleam there for you and me.
The flowers in spring, the robins that sing,
the sunbeams that shine, they're yours, they're mine.
And love can come to everyone, the best things in life are free.
In "Money", much as these things may be pleasing, the singer exclaims: "The best things in life are free. But you can give them to the birds and bees I want money. That's what I want." Deborah Evans-Stickland robotically details with the emotion of a clock: "Your love gives me such a thrill. But your love won't pay my bills. I want money. That's what I want." From the aristocratic tone of the vocals, it is not clear there is any thrill going on behind closed doors. While Barrett Strong was being candid with his main squeeze about an economic priority over sentimental things, the Evans-Stickland's vocals suggest an undying obsession with acquiring more and more money as an end in itself. She riffs "In fact I want so much money. Give me your money. Just give me your money."
When the Flying Lizards tackling "Money", they made a huge departure from the Barrett Strong original, and the Beatles cover. "Money" the single was released just two months after Margaret Thatcher became UK Prime Minister, and there was something about Deborah's delivery that made it hard to tell if this was pure sarcasm, or some kind of anthem to the rising yuppy class. Her art school roots hint at the former. Thatcher spoke in a fake-posh voice that slightly resembled Evans-Stickland's aristocratic tone. Deborah's vocals were unique, she delivered them in a spoken, BBC announcer monotone which gave the record an easily identifiable, robotic and entirely unemotional feel. The result was subtle political satire of a new Prime Minister who championed the economic theory of monetarism. The music too, was a simple and stripped down version of the original, relying on its repetitive rhythm, electronic sound effects and avant-garde production over any kind of virtuoso musicianship.
"Money" peaked at #1 in Lethbridge (AB), #2 in Vancouver (BC), Los Angeles and Ottawa (ON), #3 in Regina (SK), #4 in Sherbrooke (PQ), #5 in Toronto, #6 in London (ON), #14 in San Diego, #17 in San Francisco, and #18 in Chicago. Internationally the single peaked at #5 in UK and New Zealand, #7 in Canada, #11 in Australia, #23 in Austria, and #28 in Belgium. The single stalled at #50 on the Billboard Hot 100.
In 1980, the Flying Lizards released a single titled "TV". It climbed to #43 on the UK singles chart. This was followed by a cover of a 1920 Charlie Penrose British dance hall tune called "The Laughing Policeman", credited to the Suspicions. In 1981, the band released an album titled Fourth Wall. The vocalist on the album was Patti Palladin, formerly with the punk rock band Snatch, and collaborator with former guitarist with the New York Dolls – Johnny Thunder. A notable cover of the Curtis Mayfield tune "Move On Up" stood out on an album with otherwise original material. "Move On Up" was released as a single by the Flying Lizards.
In 1984 the Flying Lizards most commercially successful album, Top Ten, covered hits by other recording artists. They released single of their cover of James Brown's "Sex Machine", and Larry Williams 1958 R&B classic "Dizzy Miss Lizzie". Other covers on the album include "What's New Pussycat" (Tom Jones), "Tutti Frutti" (Little Richard), "Suzanne" (Leonard Cohen), "Then He Kissed Me" (The Crystals), "Purple Haze" (Jimi Hendrix), "Great Balls of Fire" and "Whole Lotta Shaking Going On" (Jerry Lee Lewis), and "Tears" (Rudy Vallee, Ken Dodd).
After he left the Flying Lizards, Michael Upton took a teaching post at the Royal Academy Schools and also served as an external assessor and visiting tutor at other art schools. He exhibited widely, having several solo shows in London, mainly at the Anne Berthed Gallery; As well as in New York in 1987 at the Yale Centre for British Art and the Anthony Ralph Gallery in New York. He died at the age of 64 in 2002.
Deborah Evans-Stickland left the Flying Lizards ever-changing line-up and formed the band Deborah and the Puerto Ricans. She retrained as a psychotherapist. Then she took time out to have a child. She currently works professionally to help people with learning difficulties. She still sings, and in 2003 appeared on an album by Richard X, Presents His X-Factor Vol. 1. She has also been featured on soundtracks in the films Empire Records, The Wedding Singer, Charlie's Angels and Lord of War. Advertising usage of her performances includes two of Gordon Brown's budget campaigns as well as Selfridges and Telewest commercials.
Vivien Goldman wrote for the music magazines New Music Express, Sounds and Melody Maker with a focus on reggae, punk and post-punk recording artists. While she was a member of The Flying Lizards, Goldman shared a flat with fellow NME journalist and The Pretenders singer Chrissie Hynde. Goldman became a documentarian and adjunct professor of punk and reggae at New York University's Clive Davis Institute of Recorded Music. Additionally, she became an adjunct professor of musical cultures and industry at Rutgers University's School of Communication and Information. In January 2007 BBC America began a regular Ask the Punk Professor feature on their website, with Goldman answering questions and commenting on current events. Goldman has authored a half a dozen books, with her most recent in 2019: Revenge of the She-Punks.
In 1984, Toop published Rap Attack: African Jive to New York Hip Hop. This was followed in 1995 by Ocean of Sound: Aether Talk, Ambient Sound and Imaginary Worlds. To date he had published a dozen books on art and sound. His most recent in 2018 is Inflamed Invisible: Collected Writings on Art and Sound 1976-2018. In 2021, Toop released his 27th solo album, Breathing Spirit Forms (with Akio Suzuki and Lawrence English).
Steve Beresford has continued to play free improvisation with a number of prominent musicians, including Evan Parker, Lol Coxhill, John Zorn, and Han Bennick. Beresford has collaborated extensively with Swiss-American artist/musician Christian Marclay, and is member of the London Improvisers Orchestra. In 2015 Beresford performed at the Blow Out! Festival in Oslo, Norway. Between 1975 and 2019, Beresford has recorded over fifty albums either as a solo artists, or collaborating with other artists. In 2012 Beresford performed at The BBC Proms at The Royal Albert Hall in London.
Drummer Julian Marshall appeared with several acts during the 1980s, including Eye 2 Eye. He turned his attention to teaching in the 1990s. In 2003 he was part of the recording act the Umbrella People. Marshall continues to write and lecture, working-out of Suffolk, England. Most recently, Marshall has been part of the Rupa Ensemble. He also lectures with The Institute of Contemporary Music Performance.
Since 1993, Cunningham has been creating installations in which sounds within an architectural space were picked up by a microphone and then fed back into the space; the presence of an audience altered both the shape of the space and the sounds within it. In 1995, Cunningham released an experimental album credited to the Flying Lizards titled "The Secret Dub Life Of The Flying Lizards."
September 5, 2022
Ray McGinnis
References:
"Deborah Evans-Stickland profile," Discogs.com.
"Deborah Evans-Stickland," Voicemajesty.com.
"David Toop," Wikipedia.org.
"Steve Beresford Discography," Stalk.net.
Sue Hubbard, "Obituary: Michael Upton," Independent, London, October 15, 2002.
"David Cunningham," Wikipedia.org.
"Vivien Goldman bio," Rocks Back Pages Library.
"Julian Marshall bio," The Institute of Contemporary Music Performance, London.
Jim Ottewill, "Interview with ICMP Teaching Fellow Julian Marshall," The Institute of Contemporary Music Performance, October 17, 2018.
"CKLG Top 20," CKLG 730 AM, Vancouver, BC, February 6, 1980.
For more song reviews visit the Countdown.