#969: Moon Dawg '65 by The Arrows Featuring Davie Allan
Peak Month: June 1965
7 weeks on Vancouver's CFUN chart
Peak Position #8
Peak Position on Billboard Hot 100 ~ did not chart
YouTube.com: "Moon Dawg"
Davie Allan is a guitarist best known for his work on soundtracks to various teen and biker movies in the 1960s. Allan's backing band is almost always the Arrows (i.e., Davie Allan & the Arrows), although the Arrows have never been a stable lineup. In the late sixties, Davie Allan & The Arrows carved their niche in the musical history books with an array of classic instrumentals and two dozen motion picture soundtracks. The most notable of the movies was Roger Corman's cult classic The Wild Angels featuring Peter Fonda and Nancy Sinatra. The Arrows also were featured in Devil's Angels, The Glory Stompers (Dennis Hopper) and Born Losers (the film that introduced the character Billy Jack). Some of the other 60's "B" films were Riot On Sunset Strip, Thunder Alley, The Angry Breed, Mary Jane, Teenage Rebellion, Hellcats, Mondo Hollywood, The Wild Racers, Wild in The Streets, The Golden Breed, Skaterdater and The Hard Ride. The LA Reader described the bands' sound as "perhaps the closest thing you'll ever hear to a combination of Link Wray, Dick Dale and Henry Mancini…"
Davie Allan grew up in the San Fernando Valley and learned to play guitar his mother bought him as a teenager. He was initially turned onto music when he saw Elvis Presley as a guest on a TV show back in 1956. Allan knew from that very moment what he wanted to do with his life. "I was simply blown away when I saw him walk out there with his guitar, and then blown away again when he sang. He was and is my favorite singer." Duane Eddy was Dave Allan's guitar idol. In 1961 and 1962 Allan played in trios' mostly at private parties. His career as a musician took off when he teamed up with Mike Curb, a friend he met in the choir at Grant High School in Van Nuys, California, to form an instrumental surf combo in 1963.
When the Ventures were churning out surf instrumental tunes, like "Walk Don't Run," played on clean-sounding Stratocasters drenched in reverb, Davie Allan was cranking his Fender Concert to 10 and plugging his Jazzmaster into a Mosrite Fuzzrite to create some of the first fuzz sounds ever heard on record. While Nokie Edwards and the Ventures and Dick Dale and the Del-Tones – dubbed "King of the Surf Guitar" – were taking the sounds of crashing waves and translating them into guitar instrumentals, Allan was tapping into his own unique imagination and rendering what he thought a motorcycle might sound like if it was a musical instrument.
The first tunes Davie Allan remembers with distorted bass were "Don't Worry" in 1961 by Marty Robbins and "Zip-A-Dee-Do-Dah" in 1962 by Bob B. Soxx & the Blue Jeans.
Initially, recalls Allan in an interview in 2016 with Ultimate Guitar, he was "mostly backing a female vocal trio that went by various names: the Jaydetts, the Sharlets, and the Starlets." The later girl group had a minor hit in San Bernardino in 1963 called "Find A Star" that featured Davie Allan as a session musician. Allan adds that in 1963-64, "I was doing the hits of the day mostly at frat parties and Curb played keyboards. Then during 1965, I started doing some of my own (instrumental) intros and backing various artists on stage such as the Paris Sisters," of "I Love How You Love Me" fame.
Allan's most notable contribution is the creation of the fuzz sound. While Link Wray was the pioneer of guitar distortion, Allan pushed it to a new level, distorting his signal so much as to give his guitar tone a buzzing, grinding quality: "fuzzy."
In January 1965, billed as The Arrows Featuring Davie Allan, the band had their first regional hit single "Apache '65", which climbed to #5 in Phoenix. Their next single release, also credited to The Arrows Featuring Davie Allan, was "Moon Dawg '65". It was given that title as it was a cover by the Arrows of a Beach Boys tune on their 1962 Surfin Safari album. The Arrows' cover did not chart in the USA, but it did in Vancouver peaking at #8.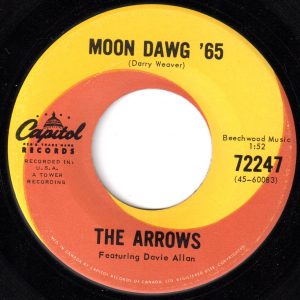 "Moon Dawg '65" appeared on only a few radio markets and Vancouver gave the instrumental its best chart performance. The origins of "Moon Dawg '65" are owed to a group called The Gamblers. They were an American surf rock band formed in Los Angeles, California, in 1959. Distinguished by their vocal harmonies and early instrumental surf songs, the Gamblers were one of the first influential musical acts that recorded surf music, a genre popularized initially in Southern California. The group was lead by their primary songwriter Derry Weaver. Weaver recorded "Moon Dawg!" in late 1959. It was acknowledged as the first known surf record released. "Moon Dawg!" is a surf instrumental written by Weaver who was inspired by pioneering rock 'n roll DJ from Cleveland, Ohio, Alan Freed, whose on-air nickname was Moondog. It was covered by a number of West Coast groups, including the Beach Boys. "Moon Dawg!" was released by The Gamblers in February 1960. Despite failing to chart nationally in the USA, the single found an audience in Southern California where it reached #12 on KFWB in Los Angeles, #20 in San Francisco. #11 on KJR in Seattle and #14 on CFUN in Vancouver. "Moon Dawg" was also covered by The Hollywood Tornados in 1963 who had a Top 20 hit in San Bernardino. As a classic surf instrumental, "Moon Dawg" was also recorded by The Challengers, The Ventures, The Surfaris, The Rhythm Rockers and others.
Albert James Freed was born on December 15, 1921 outside of Johnston, Pennsylvania. At age twelve his family moved to Salem, Ohio. In high school, Freed played trombone and formed a band. He loved bandleaders like Artie Shaw and Benny Goodman. Though he intended to study mechanical engineering, his introduction to seeing the Ohio State campus radio station in action caused him to fall in love with radio. Freed became a DJ at the age of twenty in 1942 at a small station in Pennsylvania. He was a sports announcer in Youngstown, Ohio. After a gig as a DJ in Akron, Ohio, he moved to Cleveland as a DJ on WAKR, a jazz and pop radio station. In April 1951 Freed moved on to WJW on the graveyard shift. A local record store owner, Leo Mintz, sold many R&B discs at his store called Record rendezvous at 300 Prospect Avenue, near Cleveland's inner city ghetto. It was Mintz's Record Rendezvous shop that sponsored Alan Freed's Moondog Show and Freed was happy to play lots of rhythm and blues records.
Initially hesitant, Freed soon championed the music and its teen record buying audience. Once Freed's Moondog Show gained in ratings, he chose to host a dance with stars of the day including The Dominoes and Varetta Dillard. The Moondog Coronation Ball was scheduled for March 21, 1952. The 10,000-capacity Cleveland Arena was sold out. However, 20,000 additional R&B fans showed up, including youth trying to crash the gates. After the first song by the opening act event had was shut down by the police. Neither The Dominoes or Varetta Dillard got a chance to perform on stage. However, The Moondog Coronation ball is viewed by rock 'n roll historians as the first ever rock and roll concert.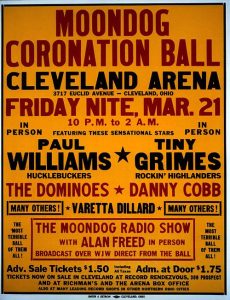 Alan Freed's pioneering Moondog Show in Cleveland was a basis for that city's decision to lobby for the Rock 'N Roll Hall of Fame to be located there. The Rock 'N Roll Hall of Fame was established in Cleveland, Ohio, in 1983. The significance of Alan Freed and his Moondog Show for rock 'n roll inspired The Gamblers to compose "Moon Dawg!" and countless other instrumental groups, like The Arrows Featuring Davie Allen, to cover the tune.
In the fall of 1966 Davie Allen and The Arrows had a regional hit, "Theme From The Wild Angels," that climbed to #1 in Orlando, #4 in Houston and #7 in Dallas.
It was later retitled "Blue's Theme" and became a Top 40 hit in the USA in the spring of 1967. When Mike Curb assigned soundtrack duties for the 1967 biker film The Wild Angels to Allan and the Arrows, it would prove a breakthrough success. The song from the film's opening, "Blues Theme", a hard driving, repetitive and very catchy instrumental showcasing Allan's new fuzzed-out, heavily distorted, guitar sound became their biggest hit. It was recorded in one take. The song stayed on the Billboard Hot 100 charts for 17 weeks peaking at #37. The song was a #1 hit in Vancouver on CKLG (April 22/67) and next on CFUN (April 29/67). It had been #1 for four weeks in Allan's hometown of San Bernardino in March 1967. It also climbed to #1 in San Diego, San Francisco, Honolulu, Detroit, Pittsburgh and Denver, #2 in Windsor (ON), #3 in Los Angeles, Chicago and Toledo (OH) and #4 in Phoenix. Their next single release, "Devils Angels", was a Top Ten hit in Denver in the summer of 1967.
Allan's career floundered in the 70's, but he got a revival in the mid-90's and has had a cult following these past two decades. Allan did some concerts in Los Angeles and Pacifica in the fall of 2015.
Davie Allan is also notable for being what has been called the missing link between surf music and garage rock, 1960's punk and psychedelic rock. By fusing the simple, clean, guitar-focused musicianship of surf with these heavier, tougher, more vocal-centric styles, Allan helped pave the way for the "guitar hero" idiom of rock music that dominated the 1970s and 1980s. You can hear Allen's influence on many bands who emerged during the late 1960's in the Summer of Love. Groups like Iron Butterfly, Jefferson Airplane, Big Brother & the Holding Company and many others were stomping on fuzz boxes in celebration of the sounds Allan had created in previous years. At times record companies would credit a song by Allan as Dave Allan and The Arrows. This misspelling of his name, Allan has stated in interviews, takes place about one-third of the time. It's a constant challenge for him to get record labels to credit his first name as Davie and not Dave.
October 30, 2017
Ray McGinnis
References:
Davie Allan and The Arrows – Biography, Davie Allan.com.
Jonny Whiteside, "Davie Allan, Soundtracker of Countless Outlaw Biker Films, Is the King of Fuzz Guitar," L.A. Weekly, June 24, 2015.
The Wild Angels, American International Pictures, 1966.
John Petkovic, "Record Rendezvous: Cleveland Cradle of Rock 'n Roll Sits Empty, Awaits New Life," Cleveland Plain Dealer, July 9, 2017.
Alan Freed, Moondog Show – intro, YouTube.com.
Moondog Coronation Ball, March 21, 1952, Alan Freed.com.
"C-FUNTASTIC FIFTY," CFUN 1410 AM, Vancouver, BC, June 12, 1965.
For more song reviews visit the Countdown.