#949: More Than This by Roxy Music
Peak Month: October 1982
9 weeks on Vancouver's CFUN chart
Peak Position #9
Peak Position on Billboard Hot 100 ~ #102
YouTube.com: "More Than This"
Lyrics: "More Than This"
In 1945, Bryan Ferry was born in Washington, near Durham, England. His dad worked on a farm and took care of pit ponies. After he got his undergraduate degree, he took courses in fine art at Newcastle University in the mid'60's. While he was studying, he was part of a student band named the City Blues. With his fine arts degree he started to teach pottery at a girl's school in London. Concurrently, Ferry founded a band called Banshees. After that he formed a band that included Graham Simpson named the Gas Board. In 1968 he took up residence in London. Ferry was fired from his teaching post for hosting sessions with the students where they listened to records. Ferry moved on and assembled a band with bass player, Graham Simpson, saxophone and oboe player, Andy MacKay, synthesizer player, Brian Eno, guitarist, Phil Manzanera, and Paul Thompson on drums and percussion being the musicians who endured in the midst of a few minor lineup changes in the early years. He called the band Roxy Music.
In 1972 the band charted their debut single, "Virginia Plain", to #4 on the UK Singles Chart. Roxy Music cut a striking visual image that was novel in the early 70's. They became part of the vanguard of the glam rock trend in the UK. Between 1972 and 1981 the band charted nine singles into the Top Ten of the UK Singles Chart, including "Love Is The Drug".
The early style and presentation of Roxy Music was influenced by the art school backgrounds of its principal members. Ferry, Mackay and Eno all had studied at prominent UK art colleges during the mid-to-late 1960s, when these institutions were introducing courses that avoided traditional art teaching practice, with its emphasis on painting, and instead focused on more recent developments, most notably pop art, and explored new concepts such as cybernetics. As writer Michael Bracewell notes in his book Roxy: the band that invented an era, Roxy Music was created expressly by Ferry, Mackay and Eno as a means of combining their mutual interests in music, modern art and fashion.
In 1982 they released their eighth and final studio album, Avalon. Avalon peaked at #1 in the UK on the album charts for 3 weeks and staying on the album charts for over a year. A multi-million seller, the album contained several singles that were hits in the UK and Australia. "More Than This" was the first single release followed by "Avalon" and then "Take A Chance With Me". "More Than This" peaked at #6 in the UK. Although it only charted at #102 in the United States, it remains one of their best known singles there. It peaked at #9 in Vancouver, #2 in Winnipeg and #13 in Halifax, Nova Scotia.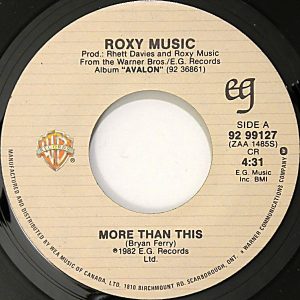 By the time Roxy Music went to the studio to record the album, Avalon, they were only a trio of Bryan Ferry, Andy MacKay and Phil Manzanera. There were ten other additional musicians and vocalists assisting in the production. In the case of "More Than This" the additional personnel were backing vocalist Fonzi Thornton, percussionist Jimmy Maelen, bass guitarist Alan Spenner, drummer Andy Newmark and guitarist Neil Hubbard.
Fonzi Thornton has provided backing vocals,on the recordings of Aretha Franklin, Luther Vandross, Bryan Ferry, Roxy Music, CHIC, Diana Ross, Garth Brooks, Ray Charles, Mariah Carey, David Bowie, Robert Palmer, Patti Labelle, Al Jarreau, Celine Dion, Phoebe Snow and Bette Midler and many others. He has featured as a backing vocalist on three of Bryan Ferry's solo albums.
In addition to Roxy Music, Jimmy Maelen featured as a percussionist on solo albums by Bryan Ferry, Peter Gabriel, James Taylor, Dire Straits, Barry Manilow, Alice Cooper, Kiss, Madonna, Bryan Adams, Michael Jackson, Mick Jagger, David Bowie and John Lennon. He also played on hit records by Duran Duran, Carly Simon, Barbra Streisand, Yoko Ono, Meatloaf, Alice Cooper, BJ Thomas, and many others. Maelen's percussion features prominently in the Barry Manilow hit "Copacabana".
Alan Spenner played bass on recordings for ABC, David Soul, Joe Cocker, Lynda Carter, Peter Frampton, Ted Nugent, Mick Taylor, China Crisis, Murray Head and others. He played on the original 1970 concept album Jesus Christ Superstar, and was at Woodstock playing on stage with Joe Cocker.
Andy Newmark was once the drummer for Sly and The Family Stone. He has played as a session musician on recordings with John Lennon, David Bowie, George Harrison, George Benson, Carly Simon, Cat Stevens, B.B. King, Rod Stewart, Sting, Joe Walsh and others.
Neil Hubbard has played guitar on recordings with B.B. King, Joe Cocker and others. He played guitar on the original Jesus Christ Superstar album in 1970.
Andy MacKay, when not with Roxy Music, has been part of recordings with Duran Duran, Mott the Hoople, John Cale, Paul McCartney, Godley & Creme, Brian Eno and others.
Phil Manzanera has performed with Bob Dylan, Keith Richards, Dave Edmunds and others. He has also been a session musician in studio recordings with Godley & Creme, Steve Winwood, John Cale and others.
With this stellar lineup, Roxy Music's "More Than This" was acclaimed by music critics. The song is about going with the flow as one explores a love relationship. This is nothing more incredible, the song contends, than the experience of this human connection. They are "as free as the wind" and have "no care in the world." The couple are having "fun for awhile." But the relationship is like the tide. And all tides rise and fall, increase and subside. In this tidal relationship what is he learning? The comment is made, "who can say where we're going." It could be that the receding tide in the relationship will cause one member of the couple to give up on what they have. Or, they will learn that the tide, having receded will rise again. Will the high points of their connection, where they discover "more than this ~ there is nothing," inspire them to hold on to what they've got?
In 1983 the group had a non-album single, "Like A Hurricane", climb into the Top 30 in Ottawa. Roxy Music split up in 1983. Bryan Ferry had begun a parallel solo career in 1973 and released his sixth solo album, Boys And Girls, in 1985. He released his fifteenth studio album, Avonmore, in 2014. Meanwhile, Roxy Music reunited from 2001 to 2011.
November 24, 2017
Ray McGinnis
References:
Barney Hoskins, Bryan Ferry: Melancholic of Glam, The Independent, London, UK, June 15, 2001.
John Leibman, Neil Jason ~ Interview, For Bass Players Only.com, September 26, 2011
Andy MacKay bio ~ The Great Rock Bible.com, 2012
Jimmy Maelen bio ~ revolvy.com
Phil Manzanera bio ~ manzanera.com
Fonzi Thornton bio ~ Wikipedia.
"CFUN Top 30," CFUN 1410 AM, Vancouver, BC, October 30, 1982.
For more song reviews visit the Countdown.