#727: Morning Dew by Lulu
Peak Month: September 1968
6 weeks on CKLG's Vancouver Charts
Peak Position ~ #4
1 week Hit Bound
Peak Position on Billboard Hot 100 ~ #52
YouTube.com: "Morning Dew"
Lyrics: "Morning Dew"
Born in 1948 as Marie McDonald McLaughlin Lawrie, Lulu is a singer and actress from Scotland. In a 2015 interview with the Telegraph in the UK, she said "I've been one of the luckiest people but I've been thrown from pillar to post, emotionally. I've dealt with demons, sadness … anxiety, anxiety, anxiety. I wasn't happy. I don't want people to really see me, I don't want you to see my pain, I don't want to have to tell you about the angst and craziness going on in my head. And I was trained to do that, as a very young girl. I've always tried not to be vulnerable. I'm fine, that's what I always say. I'm fine. Let me tell you what my brother says FINE means? F—ing Incapable of Normal Expression!" She told reported Neil McCormick that her emotional roller coaster ride stems from her childhood.
Lulu explained that in her family home "there was a lot of violence. My mum and my father hammered each other nightly. And I was the eldest, you know. I never slept properly. I was afraid that my parents would accidentally kill each other. So that fear has ruled my whole life. It's all about being trained not to tell anybody. My mother would have a black eye. 'Oh yeah, walked into the door.' Everybody heard the screams. It sticks to you." However, Lulu reflects that on the upside, her parents gave her "the gift of music, and music is a great healer."
In 1964, she had a #7 hit in Britain with a cover of the Isley Brothers tune, "Shout." However, it was not until her international hit from the film, To Sir With Love, in 1967, that Lulu came to prominence in North America. "To Sir With Love" topped the Billboard Hot 100 on October 21, 1967. Curiously, the song was only a B-side and didn't chart back in the United Kingdom. It reached #1 on August 19, 1967, on both the CKLG and CFUN record surveys in Vancouver. In both cases the song took only two weeks to climb to #1. In the case of CFUN, the song jumped from #25 to the top of the chart the following week.
In 1968, Lulu recorded a song written by Bonnie Dobson, a folk singer from Canada. It was titled "Morning Dew".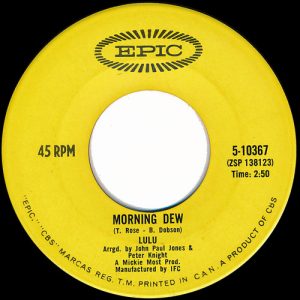 "Morning Dew" was a song written by Dobson in 1961. Dobson had seen the 1959 film, On the Beach. The subject matter of the film concerned the few survivors of a nuclear war coping with what was left of the planet. The apocalyptic science fiction film gave Dobson inspiration to write a dialogue between the last man and woman left on earth. One dialogue partner wonders if they can go for a walk in the morning dew. The other person informs them there's no morning dew to left walk on. Subsequently, the person adjusting to the post-nuclear reality wonders if they might have heard a young girl crying, or a young boy crying? In both cases, there are no children, girls or boys crying (left alive). In 1962, Dobson performed the song at the Mariposa Folk Festival in Orillia, Ontario.
Four years later, in 1966, the Grateful Dead recorded the song. They altered the lyrics in one stanza: Where have all the people gone my honey?/Where have all the people gone today?/Well there's no need for you to be worryin' about all those people/You never see those people anyway.
While the background story told on stage at some folk music concerts may have been repeated by some radio station deejays, it was mostly received by radio listeners as a pretty song, and a vaguely sad song about loss. Some people assumed that the loss of the morning dew related to damage to the environment. In 1968, the public was beginning to hear news stories about acid rain and air pollution. For some people, they thought of how cool the temperature in the morning needs to be in order to have dew on the grass. For these folks, the takeaway from the song was it might be about a town or city where an increase in temperature precluded any morning dew.
Lulu got a Top Ten hit with "Morning Dew" in Britain, but in the USA it peaked at #52. "Morning Dew" climbed to #4 in both Vancouver and Edmonton, Alberta. The song also reached the Top Ten in the USA in Burlington, Vermont (#6), Los Angeles (#8) and San Francisco (#10). The song was subsequently covered by The Allman Brothers, Jeff Beck, Nazareth, Devo, Long John Baldry and Robert Plant.
Between 1965 and 2002 Lulu charted 19 singles into the UK Top 40, including ten in the Top Ten. In 1994 she had her first #1 hit in the UK in a duet with Dan Hartman called "Relight My Fire". Subsequently, she toured as an opening act with Hartman's band, Take That. Lulu has starred in eight films including as herself in the 2016 film Absolutely Fabulous: The Movie. In her personal life, she dated Monkees singer, Davy Jones, when she was 18. But she broke up with him when she found out he was having an affair with Jones future wife, Linda Haines. She got married at 19 to 20-year-old Maurice Gibbs of the Bee Gees. She knew at the time he drank a lot and his heavy drinking became a prime factor in her decision to leave the marriage after four years.
Now, at 69 years of age, she is known as Lulu Kennedy-Cairns OBE. She received her Order of the British Empire from the Queen in 2000. Over the past few years Lulu has appeared on Celebrity Juice, Piers Morgan's Life Stories and Strictly Come Dancing. Her most recent album, Making Life Rhyme, was released in 2015.
September 12, 2018
Ray McGinnis
References:
Neil McCormick, Lulu interview: 'Fear has ruled my whole life', Telegraph, London, UK, April 12, 2015
Will Payne, Lulu: Why I had to Dump Bee Gee Husband Maurice Gibb Over his Drinking: Sixties Pop Icon on her Turbulent four-year Marriage and her Affair with Late Monkees Singer Davy Jones, Mirror Online, May 13, 2012
John Hornbuckle, Something to Shout About: How old is Lulu, what is the 'Shout' singer's real name and when did she perform with Take That?, The Sun, London, UK, March 22, 2018
Rosanna Greenstreet, Q&A: Lulu, Singer, Actor and Television Personality: How often do you have sex? Remind me what is that again?, Guardian, March 28, 2015.
Stanley Kramer – Director, On The Beach, Wikipedia.org
Stanley Kramer ~ Trailer, On The Beach, United Artists, 1959
"The FUN FORTY," CFUN 1410 AM, August 19, 1967.
"Boss 30," CKLG 730 AM, Vancouver, BC, September 13, 1968.
For more song reviews visit the Countdown.