#491: Mouldy Old Dough by Lieutenant Pigeon
Peak Month: December 1972
8 weeks on Vancouver's CKLG's chart
Peak Position #3
Peak Position on Billboard Hot 100 ~ did not chart
YouTube.com link: "Mouldy Old Dough"
Both Rob Woodward and Nigel Fletcher had played in bands in the early 1960s, they'd even been writing songs together since 1963. But it would be much later in the decade before they would eventually join forces and launch 'Stavely Makepeace'. In the mid sixties Nigel fulfilled an ambition and joined the merchant navy, where he stayed for almost three years. In the summer of 1967 he left his last ship and moved to London where he stayed until early 1969. Meanwhile Rob worked in various office jobs and continued to play in bands on a semi-pro basis. By 1966 however he was working full time in the music business, traveling the country with his one man cabaret act. At the close of 1968, Rob traveled to visit Fletcher in London with an idea. He suggested they collaborate writing songs, produce records and build a sound recording studio.
Rob's mother Hilda was an accomplished pianist. She donated the front room of her semi-detached house in Coventry to Rob and Nigel so that they could record their own demo tapes. On a simple domestic reel to reel tape recorder, they produced a number of backing tracks which they completed in other recording studios. But, since this was costing money, other musicians were brought in to help out on the recordings. At last complete master tapes could be made "in house." Out of this Stavely Makepeace was born.
The music Stavely Makepeace created was a form of eccentric pop that reflected their obsession with the producer of Johnny Kidd & The Pirates and the Tornados, Joe Meek. Their debut single "(I Wanna Love You Like a) Mad Dog" was released in 1969. But the single was not a hit. Their fourth single release, "Edna", was a minor hit, peaking at #46 on the Melody Maker pop chart in the UK. With several more commercial flops Stavely Makepeace wound down by late 1971. But in early 1972 Rob and Nigel decided to create a novelty band they named Lieutenant Pigeon.
As an additional gimmick they introduced Rob's fifty-nine-year-old mother, Hilda Woodward, to the line up. As a result Lieutenant Pigeon consisted of Rob on one piano, Hilda on a second piano, Nigel on drums and Steve Johnson on bass guitar. Meanwhile, there was a renewed recent interest shown in Stavely Makepeace by Decca Records. So Rob and Nigel used the new contact to present the Lieutenant Pigeon idea for a possible record deal. Decca liked the idea and selected "Mouldy Old Dough" to be the first single.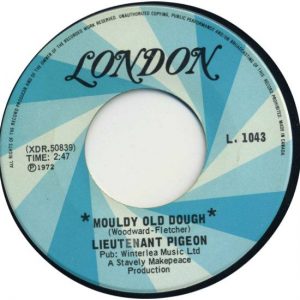 "Mouldy Old Dough" is a honky-tonk bar-room style inspired instrumental. Well, mostly. Lieutenant Pigeon sang "mouldy old dough" at the end of most of the piano riffs. The song's title derived from an adaptation of a 1920s jazz phrase, 'Vo-De-O-Do'. The two pianos were accompanied by the tin whistle and drum. The Guardian newspaper once described the vocal as "unspeakable" and continued "it sounds like he's just emerged from a skip, clutching the titular dough with hideous relish." The vocals were indeed gruff.
While "Mouldy Old Dough" was released, another single by Stavely Makepeace was issued. But the BBC refused to put it on their playlist. So Rob Woodward flew to Erie, Pennsylvania, to for a gig at a recording studio. The rest of Lieutenant Pigeon were deputized as sidemen for other bands. Steve Johnson declared "Mouldy Old Dough" dead in letters to his bandmates in June '72. What they didn't know was that the recording had been used every weekday evening to introduce a Belgian nationwide news and current affairs Television program since the spring of the year. Those watching the national news in Belgium began asking about the news' theme song and sales of "Mouldy Old Dough" began to soar. By the end of July '72, the single topped the Belgian pop chart.
As a result, Decca Records re-issued "Mouldy Old Dough" and the song climbed to the top of the UK pop chart for four weeks in October '72. It peaked at number one for a week in Ireland in November '72. The song continued to catch on internationally, as it became number one in New Zealand for consecutive weeks between December 15, 1972, until the week of January 26 – February 1, 1973. And it also made it to #2 in South Africa and #5 in Australia. "Mouldy Old Dough" also charted in the Netherlands, Spain, West Germany, Denmark, Tasmania and Japan.
Hilda Woodward was now sixty years old. Having her in the band on TV appearances was quite a draw and won the band much sought after press.
"Mouldy Old Dough" peaked at #3 in Vancouver (BC), #4 in Hamilton (ON), #13 in London (ON) and #17 in Winnipeg (MB). "Mouldy Old Dough" went on to become the biggest selling British hit single of the year and earned Rob Woodward and Nigel Fletcher the Ivor Novello songwriting award for 1972. Since its chart run, "Mouldy Old Dough" has appeared on a BBC TV nature program where Kate Humble presented a show about pigeon breeding. In the 1990's it was used as a background to a Instant Kiwi Scratchcard commercial. It has also been used as the British Banger Car racing theme song.
For a followup, Lieutenant Pigeon released "Desperate Dan" which peaked at #17 on the UK pop chart in December '72. Several more single releases followed with no commercial traction. This changed in 1974 when the band did a cover of the 1875 song "I'll Take You Home Again, Kathleen" by Thomas P. Westendorf. The single climbed to #3 in Australia.
Lieutenant Pigeon had minor hits in Australia with a cover of the Johann Strauss II tune "The Blue Danube". They also sold copies of their cover of "My Grandfather's Clock" by Henry Work from 1876, cited as "The Grandfather Clock" on Lieutenant Pigeon's disc. They had "Oompa-pa" backing vocals to the harpsichord. Another oldie they resuscitated from the vaults was Jerome Remick's 1926 song "Bye Bye Blackbird".
Lieutenant Pigeon continued to go on mini-tours until 1978, when Hilda Woodward was sixty-six. They band released four studio albums between 1972 and 1974. But after that the novelty was wearing off. Decca Records, Rob Woodward recalls, was a stumbling block. "If we tried to make our records too sophisticated, they'd say it wasn't Lieutenant Pigeon. Yet, if we stuck to fun music, they'd moan it was the same old thing." The band split up in 1978.
In the late 70s and through the 80s Rob Woodward recorded a number of records, but without any success. Lieutenant Pigeon reformed later in the 80s to accept an invitation to go on tour to Scandinavia. Otherwise, things were pretty quiet. However, in 1992 there was a revival of interest in music from the seventies across the UK. Suddenly Steve Johnson was back performing as Lieutenant Pigeon on revival tours and earning $1,000 pounds a performance.
Hilda Woodward died in 1999 at the age of 85. Nigel and Rob have continued to keep their hands in the music business into the 2000s. In 2001, Rob Woodward and Nigel Fletcher co-wrote an autobiography titled When Show Business Is No Business.
February 2, 2020
Ray McGinnis
References:
Sharon Davis, Every Chart Topper Tells a Story: The Seventies, Mainstream Digital, 2012.
John Kutner, "Mouldy Old Dough (Lieutenant Pigeon)," Single of the Week, Johnkutner.com, August 16, 2015.
Pete Chambers, "Pop Into The Past: Rob Woodward and Nigel Fletcher," BBC, March 3, 2006.
Pete Clemons, "Mouldy Old Dough Was A Big Hit," Coventry Telegraph, 2014.
"Stavely Makepeace & Lieutenant Pigeon," Lieutenantpigeon.co.uk.
"CKLG Thirty," CKLG 730 AM, Vancouver, BC, December 22, 1972.
For more song reviews visit the Countdown.