#1227: Mustang/Meadowlands by The Chessmen
Peak Month: December 1964
7 weeks on Vancouver's CFUN chart
Peak Position #14
Peak Position on Billboard Hot 100 ~ did not chart
YouTube.com: "Mustang"
YouTube.com: "Meadowlands"
In 1959 Guy Sobell became a member of a Vancouver band called The Ken Clark Trio. They drew inspiration from The Shadows, The Beatles and Sweden's instrumental group the Spotnicks. For the first few years the trio subsisted by playing at frat parties at the University of British Columbia. In 1962 Sobell decided to form a new band. Among the musicians responding to an ad was Terry Jacks, who was 17 years old and studying architecture and a member of a band called The Sand Dwellers. Jacks band had released a single called "Build Your Castle Higher". Written along with bandmade John Crowe, it was Jacks' first recording. It was covered by Jerry Cole and His Spacemen as a track on their debut album, Outer Limits. The track was retitled "Midnight Surfer" and Jerry Cole went on to be part of Phil Spector's group of now legendary session musicians called the Wrecking Crew who played on over 40 #1 hits in the USA. Prior to His Spacemen band, Jerry Cole was a member of the instrumental group The Champs who had a #1 hit in 1958 called "Tequila". I don't know if The Sand Dwellers got any royalties from Jerry Cole and His Spacemen.
In addition to Terry Jacks, there was bass player Bill Lockie and Erik Kalaidzis who was the bands singer. Kalaidzis played chess with Guy Sobell and so they were inspired to call their band The Chessmen. By the time Kenny Moore became the bands' drummer, Kalaidzis had left the band and Terry Jacks became the lead vocalist. They played coffee houses in greater Vancouver and in 1964 released a double-sided instrumental 45 called "Meadowlands" b/w "Mustang". The single was produced by local Vancovuer deejay, Red Robinson, and released in December. It peaked at #14 in Vancouver and #19 in Calgary. It was released in the USA but didn't chart.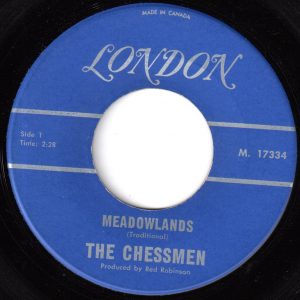 Meadowlands was a surfing version of a traditional Russian folk song. The music was composed by Lev Knipper, with lyrics by Viktor Gusev in 1933. The song was part of the symphony with chorus (lyrics by Gusev) "A Poem about a Komsomol Soldier" (Поэма о бойце-комсомольце) composed in 1934. The original lyrics are sung from the perspective of a Red Army recruit, who proudly leaves his home to keep watch against his homeland's enemies. The song has been recorded instrumentally and with vocals in many languages since the 1930s including in French and Arabic. In 1944 it was adapted by Glenn Miller and released as "Russian Partol: Red Cavalry March." The song was covered instrumentally on Hammond organ on Jefferson Airplane's 1969 album Volunteers as a one minute interlude prior to the albums' title track. It has been covered by other recording artists including The Waterboys and Marc Almond. The instrumental version of the tune was used to very dramatic effect in the 1967 film The Russians Are Coming, the Russians Are Coming.
The other side of the 45 was credited to Lordan & Mould. The single was also produced by Red Robinson and has a western-surfing sound.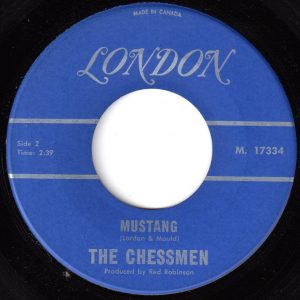 Jeremiah Patrick Lordan was born in the West End of London, UK, in 1934. In his childhood he taught himself to play piano and guitar. After serving in the Royal Air Force, Lordan worked in comedy and advertising. In 1959 he penned a #3 UK hit for Anthony Newley titled "I've Waited So Long". In 1960 Lordan recorded several songs, with "Who Could Be Bluer?" climbing to #16 on the UK singles chart. Lordan wrote an instrumental he named "Apache" for the Shadows and became a number-one hit in the UK for a week in August 1960. It also topped the pop charts in Ireland, New Zealand and South Africa. "Apache" was covered in 1961 by Danish guitarist Jørgen Ingmann (and His Guitar). The single became a #2 hit in both the USA and Canada. Also in 1961, Jerry Lordan wrote "A Girl Like You" which climbed to #3 for Cliff Richard. Lordan also wrote a minor hit for Shane Fenton ("I'm A Moody Guy"), and a Top 20 hit in '62 for Louise Cordet ("I'm Just A Baby").
In 1962 Jerry Lordan's "Wonderful Land" was recorded by the Shadows and peaked at #1 for eight weeks, and ranked at number-three on the UK Top 100 singles of 1962. Later in 1962 Jerry Lordan composed "Diamonds". It became a number-one UK hit for former Shadows bandmates Jet Harris and Tony Meehan in January 1963. The duo had a number-two instrumental UK hit later that year written by Jerry Lordan titled "Scarlett O'Hara". The single also made the Top Ten in Ireland, Israel and New Zealand. And in 1963 the Shadows recorded another tune Lordan wrote titled "Atlantis" which climbed up the UK singles chart to number-two. Jerry Lordan went on to write "Good Times (Better Times)" for Cliff Richard in 1969. Jerry Lordan's songwriting career went into a tailspin and he never recovered. He died at age 61 in 1995 of acute renal failure. Little is known about "Mustang" co-writer, Tom Mould.
After the release of "Mustang"/"Meadowlands", Chris Bishop, writing for Garage Hangover.com, comments that The Chessmen "played roller rinks, high school and dances across the British Columbia through the spring of 1965." The Chessmen were openers for headliners in Vancouver through 1965 including Gary Lewis & The Playboys, Buddy Knox, The Castaways, Charlie Rich, Roy Orbison and The Beach Boys. The Chessmen were featured regularly in 1965-66 on the local CBC pop music show Let's Go. They also got featured in an article in Chatelaine Magazine. Several singles followed: "The Way You Fell", "Love Didn't Die" and finally " What's Causing This Sensation". After the band split in 1966 Terry Jacks was asked in a 1966 Chatelaine Magazine interview if success had changed The Chessmen in any way. Jacks replied, "No, we all still eat raw eggs for breakfast!"
Terry Jacks went on to form The Poppy Family with Susan Jacks, his new wife who he met at a taping of Let's Go. The Poppy Family had numbers of hit records in Vancouver and internationally, as well as solo releases by Susan Jacks and Terry Jacks. The latter's biggest hit was "Seasons In The Sun" in 1974. He would go on to produce records for other recording artists including Nana Mouskouri, Valdy, George Jones and Buddy Knox. Jacks remarried and moved to Haida Gwai on the northwestern coast of British Columbia. He has worked on a number of environmental films over the years. In 2016 he suffered two strokes.
Guy Sobell went on to be a producer and married recording artist Denice McCann. He also produced, arranged and played guitar on an album titled Snakebite by Canadian recording artist, Mya, in 1975.
Canadian Bands.com comments that in 2009 Regenerator Records released a best of collection of The Chessmen.
January 9, 2017
Ray McGinnis
References:
Chris Bishop, The Chessmen, Garage Hangover.com, December 1, 2009
The Chessmen, Canadian Bands.com
"Polyushka Polye" ~ Russian Folklore, Lev Knipper (music)
A Poem about a Komsomol Soldier, Viktor Gusev, 1933
Glenn Miller, "Russian Patrol: Red Calvary March," 1944
Jefferson Airplane, "Volunteers" (One minute interlude), 1969
The Spotnicks, "Orange Blossom Special," 1962
Jerry Cole and His Spacemen, "Midnight Surfer," 1963
Guy Sobell credits, Discogs.com
John Mackie, "The Many Seasons of B.C. Singer Terry Jacks," Vancouver Sun, Vancouver, B.C., April 1, 2016.
Terry Jacks bio, Canadian Bands.com.
Terry Jacks bio, The Canadian Encyclopedia.ca.
Ryan Edwardson, Canuck Rock: A History of Canadian Popular Music, (University of Toronto Press, 2009).
"Jerry Lordan bio," 45-rpm.org.uk.
"C-FUNTASTIC FIFTY," CFUN 1410 AM, Vancouver, BC, December 19, 1964.
For more song reviews visit the Countdown.