#1407: My Coloring Book by Barbra Streisand
Peak Month: February 1963
7 weeks on CFUN's Vancouver Chart
Peak Position ~ #19
Peak Position on Billboard Hot 100 ~ did not chart
YouTube: "My Coloring Book"
Lyrics: "My Coloring Book"
Barbara Joan Streisand was born in 1942 in Brooklyn, New York. A year after she was born her 34-year-old father died of complications from an epileptic seizure, and a morphine injection given to address the situation. She had an older brother named Sheldon who was born in 1935. Barbara started her schooling at a Jewish Orthodox Jeshiva. Her mother remarried to Louis Kind in 1949, and with that marriage Barbara gained a half-sister named Roslyn. When she was nine years of age, she auditioned with MGM Records, though this didn't result in a record deal. While attending Erasmus Hall High School she got to know a member of a choral club named Neil Diamond. When she was 14, Streisand saw the Broadway play The Diary Of Anne Frank. After seeing the play she knew she wanted to pursue acting. In the summer of 1957, Barbara Streisand got small acting parts in Picnic and Desk Set at the Playhouse in Malden Bridge, New York, a small town southeast of Albany. In 1958 she appeared in a play called Driftwood, opposite a new actress named Joan Rivers.
Aged 16 and then living on her own, Streisand took various menial jobs to have some income. During one period, she lacked a permanent address, and found herself sleeping at the home of friends or anywhere else she could set up the army cot she carried around. Ain 1960 Streisand got work as an usher at the Lunt-Fontanne Theater for The Sound of Music. In that capacity she learned that the casting director was auditioning for more singers. And for the first time she sang in an audition. The casting director felt she was not right for the part. However, he encouraged Streisand to start including her talent as a singer on her résumé when looking for other jobs.
In late spring 1960, Barbara's boyfriend Barry Dennen encouraged her to enter a talent contest at an upscale gay club called The Lion in Greenwich Village. In order to enter the talent contest, she had to audition for the manager of the club, Burke McHugh. As he related in his biography, "I used to audition the contestants, along with my male pianist, every Monday morning. We'd select four of them to come back for the contest … We were having auditions out in the bar, in the front room … and this girl came along wearing a pair of dungarees, with her hair down to her shoulders … So we brought her out into the front room. I heard about two lines come out and I said to the piano player, 'Oh, my God, this girl is unbelievable!' So I said to her, 'Hold it a minute. Let's go in the back room with the grand piano.' So we moved into the back room, where there was a microphone. I turned the mic on and asked her her name. She said her name was Barbra Strinberg. So I said, 'OK, Miss Strinberg, do a number for us.' When she sang, the piano player looked at me and I looked at him. We just couldn't believe what we were hearing."
The talent contests at were held at The Lion each Tuesday and started at 11 p.m. Dennen remembers that it was a packed evening. Streisand competed against a couple of comics and a jazz singer. Accompanied by a pianist, she sang "A Sleepin' Bee". The reaction was "utter silence. There was a breathless pause. The audience was dead still, frozen in time […] and then suddenly the whole room crashed into applause, an eruption of yells and whistles, ear-shattering stomping and screaming. They wanted another song!" She launched into the second number she'd rehearsed titled "When Sunny Gets Blue". Dennen recalls that Streisand walked through the crowd with the microphone. She won the $50 prize, and was invited back the next week to compete again against a gay comedian and an eccentric singer named Tiny Tim. Streisand performed at The Lion on Mondays and Saturdays in June and July 1960. While she was performing at The Lion, Streisand dropped her second "a", changing her name from Barbara to Barbra.
In September 1960, Barbra Streisand began to appear as an opening act for comedian Phyllis Diller at the Bon Soir nightclub. She earned $125 a week. On April 5, 1961, Barbra appeared on The Tonight Show, hosted at the time by Jack Paar. The guest host that night was Orson Bean. Phyllis Diller was also a guest on the show and called Barbra "one of the great singing talents in the world." Later in 1961 Streisand became a regular on a variety show called PM East/PM West hosted by Mike Wallace and Joyce Davidson. Next, she was cast in her first role on Broadway in Another Evening With Harry Stoones, in which she sang two solos. That year she also appeared at the Village Vanguard jazz club in Greenwich Village.
On May 29, 1962, Barbra Streisand appears on The Gary Moore Show and sang four songs, including a slow version of the 1930s tune "Happy Days Are Here Again". The song became her signature song in these early years, and was made into her first single recording. Next, she got a role in the Broadway musical I Can Get It For You Wholesale, and played the secretary, Miss Marmelstein, opposite a young actor named Elliott Gould, who played the lead as businessman Harry Bogen. The play was set in 1937 in New York City's Garment District. Streisand and Gould became romantically involved and latter married. At age 19, Barbra Streisand was nominated for a Tony Award for Best Performance by a Featured Actress in a Musical. Groucho Marx hosted The Tonight Show on August 21, 1962, and told Streisand that twenty was an "extremely young age to be a success on Broadway." The new Tonight Show host, Johnny Carson, invited Barbra Streisand to appear on his show a half a dozen times in 1962-63.
Barbra Streisand made her first appearance on The Ed Sullivan Show on December 16, 1962. On the show the 20-year-old sang "My Coloring Book".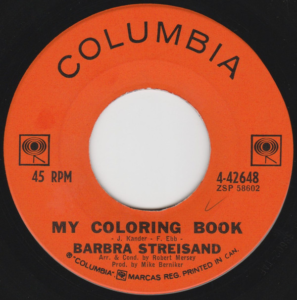 "My Coloring Book" was written by Kander and Ebb. John Harold Kander was born in Kansas City, Missouri, in 1927, and raised in a Jewish family. He served in the Korean War and studied music at Oberlin College and Columbia University. In 1957 he became the rehearsal pianist for the original Broadway run of West Side Story. In 1960 he wrote the dance arrangements for the Broadway English version of the French musical Irma la douce. Then, in 1962 Kander wrote the score for the Broadway musical A Family Affair, starring Shelley Berman and Eileen Heckart. That year John Kander met Fred Ebb and the two wrote their first song together: "My Coloring Book".
Fred Ebb was born in 1928 in Manhattan. Also raised in a Jewish family, Ebb bronzed baby shoes for a living in the early fifties and also worked as a trucker's assistant and at a hosiery company. Meanwhile, he pursued his dreams by moonlighting as a songwriter. In 1949 he wrote "Don't Forget" recorded by country singer Eddy Arnold. Ebb he co-wrote the lyrics for the musical revue Baker's Dozen in 1951. In 1953 Ebb co-wrote "Heartbroken" which was recorded that year by Judy Garland. During the '50s Ebb wrote songs recorded by Les Baxter, Mindy Carson, the Mills Brothers, Kay Starr, Lionel Hampton, Jim Lowe, Eartha Kitt, June Valli, Georgia Gibbs, Teresa Brewer, Carmen McRae, a very young Petula Clark, Dean Martin and Nat King Cole.
In 1960 Fred Ebb wrote songs for the Broadway musical From A to Z, starring Woody Allen.
"My Coloring Book" is a song that uses a coloring book as a metaphor for a relationship that ended. Instead of using the coloring book, like children do in an elementary school art class to draw flowers, animals, sea creatures or pastoral scenes, the narrator invites the listener to "color me." He eyes are colored "grey" when "he walked away." Her heart is colored "blue," now that she's discovered her man wasn't faithful in her relationship. Now that he's gone, she instructs that her arms be colored "empty now," leaving them blank. The beads around her neck are colored "green" in response to her feelings of jealousy/envy toward the woman who "came between" the married couple. At the end of the song, the narrator instructs those who are trying to finish their coloring book to color the ex-husband "gone."
After "My Coloring Book", Kander and Ebb went on to write the musical Cabaret, which opened on Broadway in 1966. The musical won 8 of 11 Tony Award nominations in 1966, including Best Musical and Best Score. Cabaret was later made into a film in 1972. In 1975 John Kander and Fred Ebb wrote the music for the film Funny Lady, starring Barbra Streisand in a sequel to Funny Girl. Also in 1975, Kander and Ebb wrote the music for the musical Chicago. The musical received eleven Tony Award nominations, but came away with none. In 1997 the musical was re-mounted on Broadway and came away with six of eight Tony Award nominations, including Best Direction of a Musical. Kander and Ebb co-wrote the theme song for the 1977 film New York, New York, directed by Martin Scorsese. In 1981 Kander and Ebb co-wrote the music for Woman Of The Year starring Lauren Bacall. For this effort the songwriting duo won their second Tony Award for Best Musical Score. Their later work included a 1993 Broadway adaptation of the film Kiss Of The Spiderwoman. Fred Ebb died in 2004 at age 76.
The first recording of "My Coloring Book" was made by Sandy Stewart. "My Coloring Book" was first performed on television by Sandy Stewart on Perry Como's Kraft Music Hall on NBC on October 31, 1962. Stewart's recording climbed the Billboard Hot 100 to #20 in February 1963.
Sandy Stewart's recording of "My Coloring Book" peaked at #2 in Akron (OH), #3 in Montreal, Tucson (AZ) and Columbus (OH), #4 in Trenton (NJ), #5 in San Antonio (TX), Chico (CA), San Bernardino (CA) and Hartford (CT), #6 in Ottawa (ON) and Orlando (FL), #7 in Miami, Great Falls (MT), Cleveland and Philadelphia, #8 in Toronto, and #9 in Winnipeg (MB).
Kitty Kallen also made a recording of the song in the pop-country genre, complete with backing harmonica. Kallen's version of "My Coloring Book" peaked at #1 in Monroe (LA), #3 in Dallas, #4 in Cedar Rapids (IA) and Trenton (NJ), #5 in Erie (PA) and Louisville (KY), #6 in San Diego, Denver, Buffalo and Cincinnati (OH), #7 in Minneapolis/St. Paul, Philadelphia and Chester (PA), #8 in Dayton (OH), Newport News (VA), Boston and Chicago. Kitty Kallen edged out Sandy Stewart's recording, reaching #18 on the Billboard Hot 100.
All three versions of "My Coloring Book" climbed up the pop chart on CFUN in Vancouver (BC). But it was Barbra Streisand's version that was making a rare Top 40 appearance in a local radio market. Streisand's "My Coloring Book" peaked at #1 in Calgary (AB), #8 in Toronto and Chester (PA), #9 in Winnipeg (MB) and #19 in Vancouver (BC). Otherwise, her version was passed over by DJ's who gave either Kitty Kallen or Sandy Stewart airplay.
While "My Coloring Book" was still on the CFUN chart in Vancouver in February 1963, Barbra Streisand released her first album, The Barbra Streisand Album. The album won three Grammy Awards at the 1964 Grammy ceremonies for Album of the Year, Best Album Cover (Other Than Classical) and Best Female Vocal Performance. In the latter category Streisand beat out Eydie Gorme, the Singing Nun, Peggy Lee and Miriam Makeba. And in 1964 Barbra Streisand also made the covers of Time and Life. She also sang on the Judy Garland Show.
Ed Sullivan had Barbra Streisand back on his show on March 24 and June 9, 1963. In 1963 Streisand also released The Second Barbra Streisand Album, which included "My Coloring Book" as one of the album tracks. In 1964 she released the album People, which included the hit title-track. In 1965 Streisand won a Grammy Award for Best Female Pop Vocal Performance for People. "People" was one of the musical numbers from the 1964 Broadway musical Funny Girl, starring Barbra Streisand. Streisand was nominated for a Tony Award in the category of Best Performance by a Leading Actress in a Musical. However, she lost to Carol Channing for Hello Dolly! In 1964 Barbra Streisand also released The Third Album. And in 1965 Barbra Streisand released My Name Is Barbra. The album earned her a third Grammy Award in the category of Best Female Vocal Performance. In 1966 she released Color Me Barbra and received two Grammy Award nominations.
In 1972 Streisand received another Grammy Award nomination for Best Pop Female Vocal Performance for "Sweet Inspiration/Where You Lead". In 1976 she released her eighteenth studio album titled Classical Barbra, and was nominated for a Grammy Award in the category for Best Classical Vocal Soloist Performance. At the 1977 Grammy Awards she received four nominations for "Evergreen", winning in the categories for Song Of The Year and Best Pop Female Vocal Performance. In 1978-79, Streisand received three Grammy Award nominations for her duet with Neil Diamond titled "You Don't Bring Me Flowers". But in 1980 she finally won another Grammy Award, this time in the category for Best Pop Vocal Performance – Duo, Group, or Chorus, for "Guilty" with Barry Gibb. And in 1986 she won her eighth Grammy Award, this time for Best Pop Female Vocal Performance with The Broadway Album. In 2018 Streisand received her 43rd Grammy Award nomination, for Walls in the Best Traditional Pop Vocal Album category.
Barbra Streisand has also received a Grammy Legend Award and a Grammy Lifetime Achievement Award. In addition, two of her albums – Funny Girl and The Barbra Streisand Album, and two of her singles – "People" and "The Way We Were", have each been inducted into the Grammy Hall of Fame.
Over the decades Barbra Streisand has starred in many films. In 1968 she starred in the film adaptation of Funny Girl and won an Academy Award for Best Actress. In 1973 she received an Academy Award nomination for Best Actress for her performance in The Way We Were. The award was won by Glenda Jackson for A Touch Of Class. In 1976 she won her second Academy Award for Best Original Song for "Evergreen" in A Star Is Born.
Barbra Streisand also directed several films she also acted in and produced. These include Yentl and Prince Of Tides. The former received five Academy Award nominations and the latter received seven nominations. Yentl earned an Academy Award for Best Adaptation Score, and Golden Globe Awards for Best Director and Best Motion Picture – Musical or Comedy. And Nick Nolte won a Golden Globe Award for Best Actor in Prince Of Tides. In 1997 she received an Academy Award nomination in the Best Original Song category for "I Finally Found Someone" from The Mirror Has Two Faces. Over the years Barbra Streisand has performed in 19 films, her most recent – The Guilt Trip – was in 2012. In addition, she has also appeared in 17 television specials.
After separating from Elliott Gould in early 1969, Barbra Streisand dated Canadian Prime Minister Pierre Elliott Trudeau in 1969-70. Before her second marriage in 1998 to actor James Brolin, she also dated Richard Gere, Clint Eastwood, Peter Jennings, Don Johnson, Liam Neeson, Jon Voight, tennis star Andre Agassi, and in the 1970s lived for some years with film producer Jon Peters.
Barbra Streisand has also toured internationally. She performed in Vancouver (BC) on October 29, 2012, at the Rogers Arena.
August 21, 2020
Ray McGinnis
References:
James Gavin, "Straight Out of Brooklyn," New York Times, October 5, 2012.
"The Lion," Barbra Streisand Archives.
Orson Bean host, "Barbra Streisand on The Tonight Show," April 5, 1961.
16th Tony Awards – 1962, "Tony Award Winners and Nominees for Best Performance by a Featured Actress in a Musical," Wikipedia.org.
Anthony Tommasini, "Streisand's Fine Instrument and Classic Instinct," New York Times, September 24, 2009.
Karen Swenson and Christopher Nickens, The Films Of Barbra Streisand, (Citadel, 2000).
Shaun Considine, Barbra Streisand: The Woman, the Myth, the Music, (Delacorte, 1985).
Groucho Marx host, "Barbra Streisand Interview," The Tonight Show, August 21, 1962.
"Guest Star: Barbara Streisand," The Dinah Shore Show, May 12, 1963.
Barbra Streisand and Judy Garland, "Happy Days Are Here Again"/"Get Happy", The Judy Garland Show, October 6, 1963.
Cliff Lee, "Five Reasons Barbra Streisand has Stayed on Top for 50 Years," Globe And Mail, September 25, 2014.
"C-FUNTASTIC FIFTY," CFUN 1410 AM, Vancouver, BC, February 2, 1963.
For more song reviews visit the Countdown.