#1268: My Definition of a Boombastic Jazz Style by Dream Warriors
Peak Month: March 1991
8 weeks on Vancouver's CKLG chart
Peak Position #15
Peak Position on Billboard Hot 100 ~ did not chart
YouTube.com: "My Definition of a Bombastic Jazz Style"
Lyrics: "My Definition of a Boombastic Jazz Style"
The Dream Warriors were a duo who joined together in 1988. The duo were Louie Robinson and Frank Allert who lived in the Jane and Finch and Willowdale neighborhoods in Greater Toronto. Louie Robinson had recorded a single that year when he was featured on Michie Mee and L.A. Luv's single "Victory Is Calling". The dancehall reggae tune with Jamaican funk, rap and hip-hop got the attention of others in the Toronto recording scene. By 1991 their debut album had received critical acclaim across Europe and Canada winning awards and music magazine rankings among the top albums of the year.
Robinson went by the moniker of King Lou and Frank Allert was known as Capital Q. By late 1990 they had a studio album ready for release, And Now the Legacy Begins. The album went on to sell over 800,000 copies. It was listed in the Top 25 albums of the year by industry music magazines in the UK, Germany, Canada and Spain. The monthly Spanish music magazine rockdelux ranked And Now the Legacy Begins as the number 3 album of 1991. Though the album and several singles from the album sold well in Canada and in Europe, the Dream Warriors were mostly given a pass by American record buyers. The album received a Juno Award in Canada for the Rap Record of the Year in 1992.
The debut single from the the album was "Wash Your Face in My Sink" which entered the UK singles chart in July 1990 and climbed to #16. The second single was "My Definition of a Boombastic Jazz Style" which climbed to #13 on the UK singles chart in the winter of 1990-91. The song featured a sample of a Quincy Jones single from 1962 titled "Soul Bossa Nova." This instrumental happened to be the theme song for the CTV game show Definition which was aired from 1974 to 1989. The show, created by Nick Nicholson and E. Roger Muir who had earlier created the successful Newlywed Game TV show. So the melody from "Soul Bossa Nova" was a kind of ear-worm that had been playing in a lot of people's ears in Canada after being played for 16 seasons on TV. In Vancouver the song charted for two months and peaked at #15.
To sampling, as done on many tracks off this album by the Dream Warriors, is the act of taking a portion, or sample, of one sound recording and reusing it as an instrument or a sound recording in a different song or piece. Sampling was originally developed by experimental musicians working with musique concrète and electroacoustic music, who physically manipulated tape loops or vinyl records on a phonograph. By the late 1960s, the use of tape loop sampling influenced the development of minimalist music and the production of psychedelic rock and jazz fusion.
However, hip hop music was the first popular music genre based on the art of sampling – being born from 1970s DJs who experimented with manipulating vinyl on two turntables and an audio mixer. The use of sampling in popular music spread with the rise of electronic music and disco in the mid-1970s to early 1980s, the development of electronic dance music and industrial music in the 1980s. Hip hop drew on sampling as a key ingredient in crafting single recordings.
"My Definition of a Boombastic Jazz Style" is a song about making new sounds, new forms of music. They tell us they are making a "new blend," including a jazz influence and invite listeners to answer the question "now what's my definition"? At the end of the second verse, after commenting on subliminal rhymes and using a mixer, they tell their listeners "there is no definition."
The Juno Award in March 1992 for the 1992 Rap Recording of the Year went to "My Definition of a Boombastic Jazz Style". While their album and singles climbed the charts in Canada and Europe the Dream Warriors joined a Canadian rap/hip-hop supergroup called Dance Appeal. The group was an assemblage of local Toronto hip hop musicians including Decon, Maestro Fresh Wes, B-Kool, Michie Mee, Lillian Allen, Lorraine Scott, Lorraine Segato and Leory Sibbles. Dance Appeal recorded a record called "Can't Repress the Cause" advocating hip-hop's inclusion into the Canadian music scene. Then in 1992, the Dream Warriors were asked to make a record of "Man Smart, Woman Smarter" a 1936 song by calypso star King Radio. The song was initially made popular in North America by Harry Belafonte on his 1959 album Belafonte at Carnegie Hall. The Dream Warriors cover was used in the film Buffy the Vampire Slayer.
Their follow up album, Subliminal Simulation, was released in 1994. The duo added rapper Spek and DJ Luv (of L.A. Luv) to form a foursome. For this album and a third album, The Master Plan, the Dream Warriors received Juno nominations for Best Rap Recording of the Year. Music journalist Robert Christgau commented about their 1999 release of a best of Dream Warrors album, Anthology: A Decade of Hits 1988–1998, "Certainly they belong in the same sentence as De La Soul and A Tribe Called Quest."
Canadian Bands.com notes that the duo made a final record in 2002 titled The Legacy Continues. In an interview with Christian Pierce of the Toronto Star in 2011, King Lou (Louie Robinson) reflected on Dream Warriors and what he's been doing since that project ended. "I've done a lot of ghostwriting, and I've done a lot of publishing . . . And I've been doing a lot of charity work, but not necessarily always in Canada. I'll do things in the prisons. I won't go to the media and tell them that's where I'm going. I do my thing like that." In February, 2011, the Dream Warriors were one of a number of recording acts to perform at the Horseshoe Tavern in Toronto for a night billed as "'90s Throwback!": Juno Awards' 40th Anniversary Concert Series.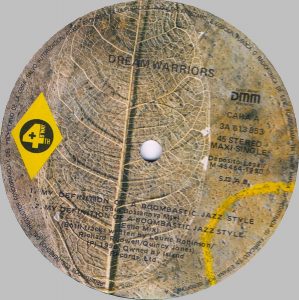 November 28, 2016
Ray McGinnis
References:
Dream Warriors bio, Canadian Bands.com
25 best Canadian Debut Albums, CBC, June 16, 2017
Juno Award for Rap Recording of the Year, Wikipedia.org
Quincy Jones, "Soul Bossa Nova,"
Harry Belafonte, "Man Smart, Woman Smarter," 1957
Christian Pierce, Dream Warriors: the Legacy Continues, Toronto Star, February 4, 2011.
"CKLG Top 40," CKLG 730 AM, Vancouver, BC, March 3, 1991.
For more song reviews visit the Countdown.