#1048: My Town by Glass Tiger and Rod Stewart
Peak Month: November 1991
10 weeks on Vancouver's CKLG chart
Peak Position #13
Peak Position on Billboard Hot 100 ~ did not chart
YouTube.com: "My Town"
Lyrics: "My Town"
Discovered in the summer of 1984 when a band from Newmarket, Ontario called Tokyo spent two evenings performing before capacity crowds at Toronto's Maple Leaf Gardens opening for Boy George and Culture Club. Their dynamic original sound captured the moment, and the race to sign them was on. Tokyo, which had become a major force in suburban high schools and the Ontario club circuit, officially became Glass Tiger early the following year when a record deal was finally signed with Capitol Records. The band consisted of Alan Frew on vocals and guitar, Sam Reid on keyboards, Al Connelly on guitar, Wayne Parker on bass and Michael Hanson on drums.
After being introduced to Jim Vallance, who had previously produced albums for Prism and Bryan Adams, Glass Tiger was off to the recording studio to work on their first album. The Thin Red Line set a record for being the fastest selling debut recording in Canadian history, going gold within weeks of its release. To date, this album has received four Platinum records in Canada and earned Gold status in the USA. One of Glass Tiger's many hit singles "Don't Forget Me (When I'm Gone)" climbed all the way to #2 on the Billboard Hot 100, followed by "Someday" which peaked on the US charts at #5. Both songs were written by Jim Vallance and made Canadian history when Glass Tiger won successive Juno's a year apart for Single of the Year from the same album.
The title track from the album, "Thin Red Line", was also a hit in Vancouver. While it was still on the charts, Glass Tiger performed at the Expo Theatre at Expo '86. Another single from the album, "You're What I Look For", peaked in the Top Ten in Vancouver in January '87.
With five Juno awards and a Grammy nomination under their belt, Glass Tiger was invited as concert openers for Tina Turner's 1987 European tour. Glass Tiger's second release Diamond Sun, established Glass Tiger's reputation as being one of Canada's better recording artists at crafting a song. Diamond Sun ended up charting four singles into the Canadian RPM Top 30 singles chart: "Diamond Sun," "I'm Still Searching," "My Song", and "(Watching) Worlds Crumble". The album was awarded Double Platinum status based on its sales. After the album was released drummer Michael Hansen left the band. While Glass Tiger didn't replace him with a drummer until Chris McNeill in 2000, they had studio musicians who were drummers hired for subsequent album productions.
Glass Tiger's third album, Simple Mission, sold well and went Platinum in Canada. It featured the hit singles "Animal Heart" and the band's duet with Rod Stewart on the Celtic tune, "My Town".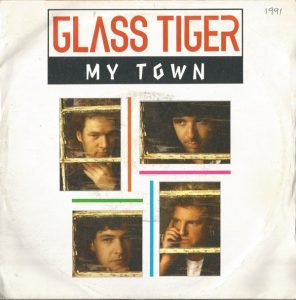 "My Town" was co-written by bandmates Frew, Reid and Parker, along with studio musician Jim Cregan. Cregan had co-written two of Rod Stewart's hit singles "Passion" (1980) and "Forever Young", (1988). Jim Cregan also produced "My Home Town". The session drummer for "My Home Town" was Tony Thompson, a member of the disco group Chic of "Le Freak" and "Good Times" fame.
"My Town" draws on the Celtic tradition of singing and instrumentation for its inspiration. The song is about place. "Scotia" is shorthand Scotland. By the Middle Ages Scotia was the latin term used to refer to what is now called Scotland. Scotia was a way of saying "Land of the Gaels." It originally was used as a name for Ireland, as when Isidore of Seville in 580 CE wrote that "Scotia and Hibernia are the same country." Over time Scotia referred more and more to Scotland, which is how it wss used by King Robert I of Scotland (Robert the Bruce) and Domhnall Ua Néill during the Scottish Wars of Independence (between 1296 and 1357). By then Ireland was called Scotia Maior, and Scotland Scotia Minor.
Glass Tiger bandmate, Alan Frew, was born in Coatbridge, Scotland, ten miles east of Glasgow. So Scotia, in the mind of the songwriters, refers to Scotland and not to Nova Scotia, despite Glass Tiger being a Canadian band. Alan Frew remarked about the song, "I'd known Rod for awhile and we'd kicked a ball around a few times. It's a song about Scotland – we're both Scottish and thought it might be fun to do it. He'd heard the demo, asked why I hadn't asked him if he'd sing on it. I said if he wasn't shitting me we'd love to have him. But these are things that just happened through providence, really." In the official video there are numerous references to Scotland. These include video footage of the monument to Scottish chemist and inventor of the steam engine, James Watt, who died in 1819, men walking down cobblestone streets wearing kilts, a Scottish flag in a man's bedroom, a potable passenger staircase with the proper name Glasgow on the side, The Old Toll Bar in Glasgow, a man dancing in a kilt and with a tam on his head among other images.
The songs title, "My Town", is a title anyone who grew up in a town can relate to as it evokes a memory of a place. In "My Town" the singer testifies that Burlington Bertie is in his heart forever. Burlington Bertie is a reference to a British music hall song composed by Harry B. Norris in 1900 and sung by Vesta Tilley. It concerns an aristocratic young idler who pursues a life of leisure in the West End of London. Here are the lyrics to give a context for the character Glass Tiger and Rod Stewart are calling to mind:
Burlington Bertie's the latest young jay,
he rents a swell flat somewhere Kensington way.
He spends the good that his pater has made,
along with the Brandy and Soda Brigade.
A girl wants a brooch or a new diamond ring,
and thinks a seal jacket is just now the thing.
Or sees a new bonnet she likes oh! So much,
her simple remark is, 'Now who can I touch?'
Chorus: What price Burlington Bertie,
the boy with the Hyde Park drawl,
What price Burlington Bertie,
the boy with the Bond Street crawl?
A nice little supper at the Savoy,
Oh! What a duck of a boy,
'So free' says she, 'with L.s.d.,
Burlington Bertie's the boy for me.'
When pretty young dancers are out of a shop,
when sweet little barmaids have just had to hop,
when singers cannot with their agents agree,
when trim little widows want someone for tea.
Who is it that turns up, the lonely girl's friend?
Who is it that nightly his club must attend?
Who is it drinks brandy and smokes strong cheroots?
Who is it that gets into bed with his boots?
(Chorus)
When there are symptoms of warlike alarm,
and Burlington Bertie sees his brothers in arms.
Altho' absent minded he does not forget,
that Englishmen always must pay off a debt.
He drops all his pleasures, the polo, the hunt,
and just like the rest he is off to the front.
Altho' he's a johnny, he'll fight in the ruck,
he's wealthy and foolish, but if you want pluck… (chorus)
Burlington refers to the luxurious Burlington Arcade in the fashionable area of Piccadilly, London, at the start of the 20th C. Burlington Bertie is a "man-about-town." "Burlington Bertie" refers to king and country and fallen soldiers. Someone like Bertie who would volunteer to join the army would resonate with anyone whose community has had generations of youth who've gone off to fight in numbers of wars. In the lyrics of "Burlington Bertie" it refers to capital "L," small "s," small "d," each with a period after them. I suspect this is an abbreviation for something, I haven't discovered what. It is not a reference to the psychedelic drug invented thirty-eight years later in 1938. The song was parodied in 1915 in a song titled "Burlington Bertie From Bow" by William Hargreaves. Though Burlington Bertie presents himself as gentile, his residence in poverty-stricken neighborhood of Bow expose him as a poser.
To reference Burlington Bertie in a song recorded 83 years later may be a sign that there is nothing new under the sun. There are still characters like Burlington Bertie who pretend to be of a higher station in life who are contemporary dedicated followers of fashion trying to impress others in Glasgow, the town Glass Tiger and Rod Stewart are singing about.
After the Simple Mission album Glass Tiger went dormant, but reformed and began to tour again ten years later in 2003. On January 20, 2006, Glass Tiger performed at the Commodore Ballroom in Vancouver.
Keyboard player Sam Reid founded his own production company called Willow Music. Alan Frew wrote the 2010 Olympic Broadcast theme song "I Believe". Guitarist Al Connelly has continued producing and writing new material, as well as performing. And Chris McNeil has been a drummer with Randy Bachman, Honeymoon Suite and Platinum Blonde. As well, McNeil has been a producer. On September 12, 2012, Glass Tiger appeared in concert at the Rogers Arena in Vancouver, with Roxette the opening act. Two years later Glass Tiger returned to Vancouver to appear at the PNE Summer Nights Concert series on September 1, 2014.
In 2015 Alan Frew suffered a stroke and was partially paralyzed for awhile. In 2018 Glass Tiger released their fourth studio album 31. In June 2019 they went on tour with Corey Hart, performing at the Rogers Arena in Vancouver on June 25th. They also released their fifth studio album titled 33.
June 28, 2017
Ray McGinnis
References:
Jim Cregan website (bio)
glasstiger.ca (band bio)
Pegler, Martin. Soldiers' Songs and Slang of the Great War. Osprey Publishing, Oxford, UK, 2014.
The Old Toll Bar ~ Facebook page
Scottish History ~ scotland.org.
"CKLG Top 40," CKLG 730 AM, Vancouver, BC, November 12, 1991.
For more song reviews visit the Countdown.