#1293: Never Change My Mind by John Acosta and James Russell
Peak Month: April 1991
Peak Position #18
9 weeks on Vancouver's CKLG Chart
Peak Position on Billboard Hot 100 ~ did not chart
YouTube: "Never Change My Mind"
Lyrics: "Never Change My Mind"
Juan Carlos was born in Montevideo, Uruguay, around 1969. The Carlos family moved to Canada and settled in Toronto. In 1983, while in grade nine, he met another classmate named James Russell. The pair soon discovered a mutual passion for music. Russell had been a member of the Toronto Youth Symphony. The two decided to form a singing duo and won a talent contest at their high school while still in grade nine. They would perform live again while still in high school. Meanwhile, Juan Carlos was going by John Acosta as a stage name when the duo performed live.
AllMusic writer Charlotte Dillon wrote a bio for the duo, describing a catalyst for their becoming recording artists: "Things began to look promising for the young duo when Acosta landed a spot writing for and singing on a demo recording for another artist. That demo ended up at Eureka Records and as luck would have it, happened to catch the attention of the right person at the right time."
In 1990 John Acosta and James Russell released the album Acosta – Russell. From the album came their lead single "Never Change My Mind".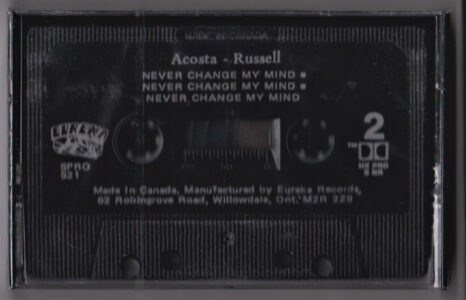 John Acosta and James Russell co-wrote "Never Change My Mind". The song is about the confidence and certainty someone feels when they are truly committed to their romantic partner. The singer recognizes "when I look into your eyes I'm found." As a consequence, they are determined "to hold onto this precious love." In order to reassure their loved one, they sing "don't be afraid" of making a commitment, "'cause I'll never change my mind."
"Never Change My Mind" climbed to #9 in Hamilton (ON) and #18 in Vancouver.
A second single from their debut album, "Call Me" was released in July '91. It climbed to #23 in Hamilton and #35 in Vancouver. In the fall of 1991, another track from the Acosta/Russell debut album, "Without You", climbed into the Top 40 on CKOC in Hamilton.
Then in 1992 the duo went back to the studio to record their second album A Little Direction. There were two single releases later that year: "You're So Tempting" and "Deep In My Soul".
In subsequent years, other tracks from A Little Direction found their way onto compilation dance albums. These were "Bad Addiction" and "Do It To Me" in 1993, and "Don't Fade Away" on a 2012 compilation.
In 1992 Canadian synth-pop recording artist Lisa Lougheed released an album titled World Love. It featured four tracks written by John Acosta and James Russell.
While John Acosta and James Russell were making musical waves in Toronto, their record label – Eureka – folded. Finding themselves without a record contract the duo soon split later in 1993.
In 1998 John Acosta contributed backing vocals on most tracks of a funk/soul album Piece Of Paradise by Canadian recording artist Sky. In 1999, Acosta appeared on guitar on one track for Canadian recording artist Jazmin's Better Be Good. Then in 2001, Acosta contributed electric piano on a song he wrote – "I Got U" – for Canadian funk group Sugar Jones. And in 2002 John Acosta wrote a singles "Frontin' On Me" and "Wha, Wha, What", for the Canadian funk-soul group Velvet Empire. He also contributed backing vocals.
In 2005 Acosta produced three tracks for Canadian jazz-funk recording artist Toya Alexis. He also wrote one of the songs on her S.O.B Story album, and provided backing vocals on two of the tracks. And in 2006 Acosta provided backing vocals and guitar on the album Redemption for Jude – "Love, Love, Love" – a recording artist from France.
In 2007 Greek guitarist Pavlo Simtikidis appeared in concert at Massey Hall in Toronto. Among the musicians was John Acosta, who provided backing vocals and guitar. The world music concert was made into an album by Pavlo titled Live At Massey Hall.
In 2019 John Acosta appeared on a various artists album with singer Pavlo, contributing vocals and guitar on the track "Fire And Diamonds".
While John Acosta has remained active in the music industry, James Russell seems to have left the business when Acosta/Russell split in 1992. On the discogs.com website, there is no mention of Russell, in relation to writing, arrangement, instruments, performance or production, since 1992.
January 30, 2021
Ray McGinnis
References:
Charlotte Dillon, "Acosta/Russell: Artist Biography," AllMusic.com.
"Acosta/Russell," Discogs.com.
"CKLG Top 40," CKLG 730 AM, Vancouver, BC, April 15, 1991.
For more song reviews visit the Countdown.