#402: Never Going Back by the Lovin' Spoonful
Peak Month: August 1968
8 weeks on CKLG's Vancouver Chart
Peak Position ~ #2
1 week Hit Bound
Peak Position on Billboard Hot 100 ~ #73
YouTube: "Never Going Back"
Lyrics: "Never Going Back"
Bass player Steve Boone (born on Long Island) and drummer Joe Butler (born on Long Island in 1941) had been playing in a band called The Kingsmen based on Long Island in the early 1960's. By 1964 their band (not to be confused with the Kingsmen from Washington State who had a hit with "Louie Louie") were one of the top rock and roll bands on Long Island. Their live sets included folk songs put to a rock beat, pop standards and some new hits showcasing the British Invasion. Steve's brother, Skip Boone, and several three other bandmates filled out the group. In 1964, Joe and Skip chose to relocate to Manhattan. They focused on writing original material and blending a rock bass and drums with their jug band sound. Three other bandmates chose not to move, except Steve Boone, who joined Joe and Skip in New York City's Greenwich Village, the nexus of the folk music scene.
By the fall of that year Joe and Skip had formed a band with several other musicians called The Sellouts. This was the first rock band to play in Greenwich Village, the mecca which of folk music in the USA. As they met with positive reviews, among their new fans were John Sebastian (grew up in Greenwich Village and born in 1944 in New York City) and Zalman Yanovsky (born Toronto in 1944). John and Zal were playing in a folk group with Pappa Denny Dougherty called The Mugwumps in Washington D.C. John and Zal hit is off with Skip and Joe and invited them to join their electric jug band, as they needed a bass player and drummer. John Sebastian had grown up in Greenwich Village and was the son of John Sebastian Sr. who was a world renowned classical harmonica player and John Jr. had himself acquired quite the reputation as blues mouth harpist and guitar player and Zally was rapidly becoming a very respected player who just needed an amplifier that went to 11 on the volume scale. Steve Boone had just returned in December, 1964, from a motorcycle trip around England & Europe. Skip and Joe both mentioned that he might be a perfect fit as the bass player for this electric jug band they were looking to start.
The formation of both The Lovin' Spoonful and The Mamas and The Papas is narrated in the song "Creeque Alley," a Top Ten hit for The Mamas And The Papas in 1967. Bob Cavallo became the Lovin' Spoonful's manager, and Sellouts record producer, Erik Jacobsen, worked with them in the studio. By June '65 they released "Do You Believe In Magic." It was the first of seven single releases to each climb into the top 10 on the Billboard Hot 100. The band toured almost non stop. They also were openers for The Supremes which gave them even wider exposure.
After their first debut Top Ten hit single, the Lovin' Spoonful kept the hits coming in the winter of 1965-66 with "You Didn't Have To Be So Nice," "Did You Ever Have To Make Up Your Mind" and "Daydream." In the spring of 1966 the band released "Didn't Want To Have To Do It." The song had originally been recorded by Cass Elliott of The Mamas and The Papas. "Didn't Want To Have To Do It" was a B-side in the USA for "Did You Ever Have To Make Up Your Mind." But it was released as an A-side single in Canada. The non-charting B-side in the USA climbed up to #6 in Vancouver. It was not a hit single anywhere else in Canada, and got only airplay elsewhere in San Antonio, Texas, and Burbank, California.
In the summer of 1966, The Lovin' Spoonful had an international #1 hit called "Summer In The City." This was their only #1 hit in the USA. In Vancouver the band charted two more songs to #1 with "Rain On The Roof" and "Darling Be Home Soon."
After "Rain On The Roof," Joe Butler provided lead vocals on "Nashville Cats," a song that climbed to #3 in Vancouver in January, 1967, and #8 on the Billboard Hot 100. Zal Yanovsky left the Spoonful after the soundtrack album You're a Big Boy Now to the Francis Ford Coppola film was released in May 1967. Yanovsky's departure was mostly the result of a drug bust in San Francisco where he was arrested for possession of pot and pressured by police to name his supplier. He was a Canadian citizen and feared that he would be barred from re-entering the U.S., so he complied. The news story led to a campaign to boycott Lovin' Spoonful concerts as the band was seen by conservative politicians as degenerate. Zal went on to open a restaurant in downtown Kingston, Ontario, in 1979 called Chez Piggy, currently run by his daughter. Yanovsky's replacement was Jerry Yester, formerly of the New Christy Minstrels of "Green Green" fame. Yester's brother, Jim, was in a band called The Association who had a series of hits including "Cherish" and "Windy." The Lovin' Spoonful next released "Six O'Clock".
The Lovin' Spoonful made the Top Ten again in Vancouver with their next single release "She's Still A Mystery". And in January 1968 the band returned to the Top Ten in Vancouver with "Money". After "Money" was released, John Sebastian left the Lovin' Spoonful in 1968 to pursue a solo career.
This left Butler, Yester and Boone to carry on with session musicians to round out further recordings including their next release in 1968, "Never Going Back".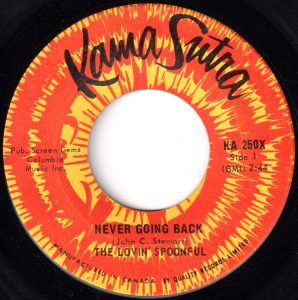 "Never Going Back" was written by John C. Stewart. Born in 1939 in San Diego, he was influenced by the Sons of the Pioneers and Tex Ritter. At the age of ten Stewart wrote a song, and was learning to play banjo, guitar and ukulele. He formed a band in 1956 called Johnny Stewart and the Furies, while he was still in high school. They toured around colleges and coffee houses in Southern California. Subsequently, he was a member of a folk group called the Woodsmen, imitating the sound of the Kingston Trio. Next, John Stewart joined the Cumberland Three, who released three albums in 1960. Two of these were Civil War-themed, and a single release "Johnny Reb" was about a soldier who followed Confederate General Robert E. Lee.
In 1961 John Stewart replaced founding Kingston Trio member David Guard. The Kingston Trio already had released ten albums, and had several hit records including the 1958 chart-topper "Tom Dooley". With the trio John Stewart sang on a dozen more albums, and on single releases that included "Where Have All The Flowers Gone", "Greenback Dollar" and "Reverend Mr. Black". But with the British Invasion, the surf sound advanced by the Beach Boys and Jan And Dean, and Motown, the Kingston Trio was crowded out of the Top 40. Into the mid-sixties their album tracks featured "Norwegian Wood" and "A Taste Of Honey". But the folk trio found themselves performing to smaller and smaller crowds. John Stewart left the folk group in 1967.
Stewart had been writing songs for the Kingston Trio, but also Jay & the Americans, We Five and others. But in 1967 he penned a number-one hit for The Monkees titled "Daydream Believer". "Never Going Back" was another of his more successful compositions. In 1968 Stewart toured with Senator Robert F. Kennedy in his campaign run for Democratic candidate for president. Between 1968 and 2008 he released over fifty solo albums. His most successful featured the 1979 hit single "Gold", which climbed to #5 in the USA and #3 in Vancouver (BC).
"Never Going Back" is a song about a relationship with someone in Nashville that has ended. While they were together, they had lots of time, but they didn't talk as much as the singer wishes. When he sees a Greyhound Bus – presumably with the sign "Nashville" on the front – he starts to remember the relationship. But there are inferences of a relationship that was in trouble. He contrasts other cities like Oklahoma City that doesn't treat him "cruel," or Denver, Colorado, that doesn't make him "feel like such a fool." But, back in Nashville he was made to feel foolish, and was treated cruelly. His seeing the Greyhound Bus may be a catalyst for wishing, but he knows "it's nothing more." So, he resolves never to go back to Nashville anymore.
"Never Going Back" peaked at #2 in Vancouver (BC), and #9 in Spokane (WA) and Los Angeles.
From 1965 to 1969 the Lovin' Spoonful released seven studio albums and charted ten Top 40 singles onto the Billboard Hot 100. In Vancouver the Lovin' Spoonful charted 16 songs into the Top 20, and twelve of these reached the Top Five.
After the Lovin' Spoonful broke up in 1969, Joe Butler initially got a role in the Broadway production of Hair. He continues to play with the band since it's reformation in the early 90's and is the lead singer. Jerry Yester went on to be a producer arranger for The Turtles, Pat Boone, Tom Waits and Zal Yanovsky's solo album in 1973. Yester continues to produce and arrange records for recording artists and performs occasionally as a solo artist, as well as with the Loving Spoonful.
Since 1991 the Lovin' Spoonful has re-formed and often been on tour with Joe Butler, Jerry Yester and Steve Boone the core of the live band. The band recently appeared for three nights in concert in Laughlin, Nevada, in March 2018. From February 24 to March 2, 2019, they were one of the acts performing during the Rockin' The Caribbean Cruise. Their next upcoming concert is December 7, 2019, at the Riviera Theatre in North Tonawanda, New York.
John Sebastian performed at Woodstock in 1969 and had a #1 hit in the mid-70's called "Welcome Back." He also became a session musician on a variety of tracks including "If You Could Read My Mind" by Gordon Lightfoot, "Deja Vu" by Crosby, Stills, Nash and Young and "Roadhouse Blues" for The Doors. Sebastian has also contributed to soundtracks for a number of children's TV shows and films including The Care Bears. In 1993, Sebastian authored a children's book, JB's Harmonica, about a young bear whose musical aspirations are overshadowed by the talents of his famous musician father. John Sebastian has declined offers to join the reformed Lovin' Spoonful on tour over the past 29 years. He has performed most recently in concert in November 2019, in Massachusetts and Pennsylvania.
October 9, 2020
Ray McGinnis
References:
Lovin' Spoonful 50th Anniversary (Three Original Members Steve Boone, Joe Butler & Jerry Yester), The Iridium.com, Washington D.C., March 4, 2016.
"'Daydream Believer' Songwriter, 68, Dies," USA Today, January 21, 2008.
Lovin' Spoonful – bio, Classic Bands.com
Lovin Spoonful – bio, Rock and Roll Hall of Fame.com
John Sebastian bio, John Sebastian.com
Cass Elliott with Lovin Spoonful, "Didn't Want To Have to Do It," YouTube.com, 1965.
"Boss 30," CKLG 730 AM, Vancouver, BC, August 9, 1968.
For more song reviews visit the Countdown.