#1238: Never Said I Love You by Payola$ with Carol Pope
Peak Month: October 1983
8 weeks on Vancouver's CFUN chart
Peak Position #15 ~ CKLG
Peak Position on Billboard Hot 100 ~ did not chart
YouTube.com: "Never Said I Love You"
Lyrics: "Never Said I Love You"
In 1978 a band was formed in Vancouver by Paul Hyde and Bob Rock called the Payola$. Hyde was born in Yorkshire, England, in 1955, and came to Vancouver in his teens. Bob Rock was born in Winnipeg, Manitoba, in 1954, and moved to Victoria, British Columbia, with his family in his later childhood. Rock learned to play guitar. Meeting in the Victoria suburb of Langford, the band settled on a name recalling the American music industry scandal investigated by the US Congress starting in 1959 called Payola. This was an illegal act where record companies paid deejays and radio stations a bribe for playing a single the record company wanted to get promoted. While it was legal for a record company to receive money in exchange for playing it on the radio, such a transaction had to be disclosed and not counted as regular airplay. While the Payola scandal did not spread into the Canadian radio market, as local legendary Vancouver Deejay Red Robinson attests in Robin Brunet's book Red Robinson: The Last Deejay, Payola still had a bad name in the industry in America into the 80s. Consequently, although the Payola$ sold well in Canada, they met with stiff resistance south of the border.
The term payola fused the word "pay" with the suffix "-ola." The latter was a common suffix for a variety of product names in the early 20th century. A player piano was invented in 1895 in the USA called the Pianola and was first put on sale in Meriden, Connecticut, by the Aeolian Company in 1898. RCA Victor made a record player in 1906 called the Victrola. Blue Amberol cylinder phonograph records by Thomas Edison Inc. were first introduced to the public in 1908 and called amberolas. The Rock-Ola company made jukeboxes from 1935 onward. While another company connected to the music industry, Motorola, manufactured radio equipment. The practice of payola was satirized by Neil Young in song "Payola Blues" by Neil Young off his 1983 album Everybody's Rockin'. Young's lyrics begin: "This one's for you, Alan Freed…cause the things they're doing today would make a saint out of you." Young was hinting that Payola was more extensive in the 1980s than in the '50s. So the Payola$ were just rubbing salt into a wound that hadn't healed in the USA since it was still going on.
The Payola$ debut single from 1979 was called "China Boys" recorded at Little Mountain Sound Studios in Vancouver. The band got a contract with A&M records and after an initial EP release in 1980 they went on to record their first album in 1981. Although the first album was a commercial failure, their second album, No Stranger To Danger got them their biggest hit, "Eyes Of A Stranger." The single resulted in the Payola$ earning three Canadian Juno Awards. These were for Best Single, Best Songwriting for Hyde and Rock, and Most Promising Group. The single peaked at #3 in Vancouver and #4 on the Canadian RPM charts, but it didn't crack the Billboard Hot 100.
On May 13, 1982, the Payola$ appeared in concert at the Kerrisdale Arena in Vancouver (BC).
The Payola$ still had the US record market in their sights and their sound shifted to resemble a new wave sound on their third album, Hammer On A Drum released in 1983. The album, like the previous one, was produced by Mick Ronson from England. Ronson had produced nine albums with David Bowie including The Rise and Fall of Ziggy Stardust and the Spiders From Mars and Aladdin Sane. Ronson also produced Lou Reed's 1972 album, Transformers, and Hard Rain for Bob Dylan in 1976. While the Payola$ had a constantly changing line-up backing Rock and Hyde, on Hammer On A Drum they had Christopher Livingston on keyboards and Chris Taylor on drums. Several singles were released from Hammer On A Drum and the biggest in was a Top Ten hit peaking at #8 on the Canadian RPM singles chart, "Never Said I Loved You".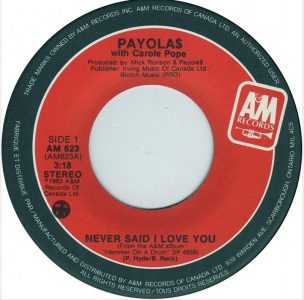 The song is about two people having a casual affair. They'd rather have each other than an empty bed. But they never said I loved you. "Once the groaning's over" they get ready to leave. They might get together on a Friday night to see a show. But she'll have to let him know, in subtle words, that she never said "I loved you, I only like you a lot." The songs frankness about casual sex made it lyrically edgy at the time.
Among the bigger hits of 1983, Lionel Ritchie sang about a lasting love in "You Are". Michael Jackson and Paul McCartney sang about both dating the same woman who was going to love them forever in "The Girl Is Mine". Meanwhile, Patti Austin and Luther Ingram sang a duet of endless love in "Baby, Come To Me". Eddie Rabbit and Crystal Gayle were singing about an everlasting love in "You And I". Joe Cocker and Jennifer Warnes were celebrating their one love in "Up Where We Belong". The Human League were building on a committed relationship with "(Keep Feeling) Fascination". Spandau Ballet sang about the "sound of my soul" in "True" and Stephen Bishop longed for a lasting relationship in "It Might Be You". While the Payola$ and Carol Pope were shaking the foundations with their playful "Never Said I Loved You," most recording artists penned hit singles about lasting romantic love.
Along with the Payolas on this recording were the featured vocals of Carol Pope. She was born in Manchester, England, in 1950. Based in Toronto, Pope was part of the Canadian new wave scene and among the first to convey homoerotic lyrics in her songs with her mid-70s band Rough Trade. She won Canadian Juno Awards in 1981 for Most Promising Female Vocalist. The following two years she won Best Female Vocalist at the Juno's. Carol Pope had recent Top Ten hits in Canada with "High School Confidential" and "All Touch" in 1981. The combination of the Payola$ and Carol Pope successfully took "Never Said I Loved You" to the Canadian Top Ten, although in Vancouver it only peaked at #19 during an 8 week chart run.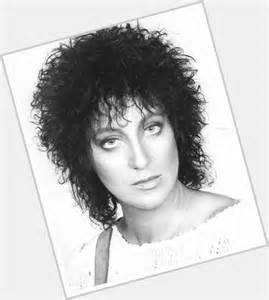 Failing to crack the Billboard Hot 100 with their last song, the Payola$ rebranded themselves as Paul Hyde & the Payola$. This change in the bands' name did little to dissuade US radio stations from their aversion to play a single by a group with the name Payola$ anywhere in their name. In 1985 a third album, Here's The World For Ya was a dud in record sales and the four singles failed to climb into the Canadian RPM Top 30 singles chart.
Nonetheless, 1985 proved to be a great year for Rock and Hyde as songwriters. They teamed up with Bryan Adams, David Foster, Rachel Paiement and Jim Vallance to co-write a song to raise money in Canada in response to the ongoing famine in Ethiopia (1983-85). The song, "Tears Are Not Enough" was a number one single in Canada for the year 1985. It was recorded with cameo appearances from many celebrities of the Canadian pop music scene as Northern Lights. Gordon Lightfoot, Burton Cummings, Anne Murray, Joni Mitchell, Dan Hill, Neil Young and Bryan Adams were among the artists lending cameo solos during the songs' opening verse. Later in the song Carol Pope and Paul Hyde sang a few lines as a duet.
Although the Payola$ were later rebranded as Rock and Hyde, and had minor hits "Dirty Water" and "I Will". However, their chart-making days were fading. However, Bob Rock who was already a producer and recording engineer when he joined the Payola$, continued work with recording artists. He has produced recordings by Cher, Loverboy, The Cult, David Lee Roth, Bryan Adams, Bon Jovi, the Tragically Hip, Jann Arden, Michael Bublé, Nelly Furtado, Metallica and Motley Crue. Meanwhile, Paul Hyde released his latest album, Peace Sign, in 2009. He continues to perform.
December 30, 2016
Ray McGinnis
References:
Payola$ biography, Canadian Bands.com
Rough Trade biography, Canadian Bands.com
Linda Richards, "Auntie Diva: An Interview with Carole Pope," January Magazine, January 2001.
"CKLG Top Thirty," CKLG 730 AM, Vancouver, BC, September 28, 1983.
For more song reviews visit the Countdown.