#861: New Orleans by Stampeders
Peak Month: October 1975
8 weeks on Vancouver's CKLG chart
Peak Position #9
Peak Position on Billboard Hot 100 ~ did not chart
YouTube.com: "New Orleans"
Lyrics: "New Orleans"
The Stampeders are a rock trio from Calgary named after that city's football team, The Calgary Stampeders. Although, it could be argued that the yearly Calgary Stampede was also an inspiration for their name. During the band's most successful chart run from 1968 to 1976, it was made up of guitarist Rich Dodson, bass player Ronnie King (born Cornelius Van Sprang) and drummer Kim Berly (born Kim Meyer). All three provided vocals. Originally, the band was a group of five formed in 1964 called The Rebounds. The Rebounds had five members: Rich Dodson, Len Roemer, Brendan Lyttle, Kim Berly, and Race Holiday. They renamed themselves The Stampeders in 1965 and Len Roemer was replaced with Ronnie King and Van Louis, making them a band of six for a few years. But after a temporary move to Toronto in 1966 the band was down to three members, Dodson, King and Berly by 1968. Between 1967 and 1976 The Stampeders charted 15 singles into the Canadian RPM Top 40.
They were originally outfitted with cowboy hats, T-kay denim pants, shirts and jackets and cowboy boots. By the early 70's the Stampeders kept only cowboy boots as mandatory attire. Their first single as a trio was called "Carry Me". While the song got some air play in Vancouver, it did not chart here. However, it climbed to #2 nationally. Their cache only increased with the release of their debut album and a #1 hit across Canada called "Sweet City Woman". It also made the Top Ten in the USA. The band won four Juno Awards for "Best Composer," "Best Producer," "Best Single" and "Best Vocal Instrumental Group."
On the strength of their success, their UK label, EMI, sponsored a tour to the UK and continental Europe. While on tour in 1972 they found themselves booked at the same hotel in Amsterdam overlapping with The Eagles. Back in North America, The Stampeders flew to Los Angeles where they performed at the iconic Whisky A-Go-Go, and were guests on the TV shows Don Kirshner's Rock Concert and The Dating Game. It was in Hollywood that the band met The Who's drummer, Keith Moon, who invited them to attend his birthday party at the Beverly Hills' Wiltshire Hotel. In addition The Stampeders toured extensively in the early 70's and on either side of the Canada-U.S. border found themselves variously sharing the billing with Black Oak Arkansas, Santana, Joe Cocker, Steve Miller, The James Gang, Robin Trower, Steely Dan, Sonny and Cher, The Beach Boys, ZZ Top, The Eagles, Earth, Wind And Fire, Mountain, America, Tower Of Power, Blood, Sweat and Tears and Genesis. The Stampeders also traveled to Brazil to perform at a song festival in Rio in front of 90 million TV viewers.
Another release from The Stampeders third album, "Minstrel Gypsy," made the Top Ten in many radio markets across Canada, but failed to chart in Vancouver. In 1975 the band released their fifth album featuring the rocker, "Ramona." Another studio album followed with two covers. One was the old Ray Charles hit, "Hit The Road Jack", while the other was a former hit for Gary U.S. Bonds, "New Orleans". The former cover by The Stampeders featured the DJ of American Graffiti fame, Wolfman Jack. The single won The Stampeders another Juno.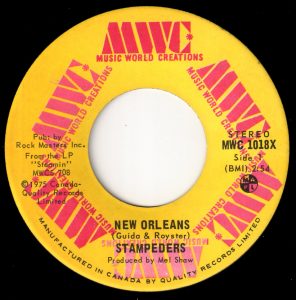 Gary Anders0n, of Jacksonville, Florida, was 19 when he sent promotional copies of his first single, "New Orleans", to radio stations. He enclosed the promotional 45 RPM singles in a sleeve that read "Buy U.S. Bonds." He promptly became Gary U.S. Bonds, named so by his record label owner, Frank Guida, who hoped that the singers' name would be confused with a public service announcement advertising the sale of government bonds and consequently receive more radio airplay. The gimmick worked and "New Orleans" climbed to #6 on the Billboard Hot 100 and #9 in Vancouver. Bonds had a #1 hit in 1961 called "Quarter To Three", followed by several more Top Ten hits in the early 60's including several tunes part of the Twist craze. In 1981, he had a hit titled "This Little Girl", which climbed to #11 on the Billboard Hot 100. It was the #96 song of 1981 on the Canadian RPM singles charts. Gary U.S. Bonds continues to perform on occasion, and recently published his autobiography, Buy U.S. Bonds: That's My Story.
"New Orleans" is a song about the some of that cities biggest attractions. These include the jazz scene in the French Quarter. Basin Street, at end of the French Quarter, is named after the turning basin it is eight blocks from. The turning basin at the end of the Carondelet Canal to allow cargo ships to turn and reverse their direction of travel. Basin Street, like Bourbon Street, is one of the storied street with heritage homes and storefronts with great nightlife. Originally one of the finest residential streets in the city, Basin Street became a red light district around 1870. From 1897 through World War I, the back side of Basin Street was the front of the Storyville red light district, with a line of high end saloons and mansions devoted to jazz and blues music. The street has been immortalized in "Basin Street Blues" written by Spencer Williams in 1926. "Basin Street Blues" was recorded in 1929 by Louis Armstrong. Its lyrics include these lines,
"Steam down the river, down to New Orleans
The band's there to meet us
Old friends there to greet us
Where all the proud and elite folks meet
Heaven on earth, they call it Basin Street."
Gary U.S. Bonds' "New Orleans" draws from many images in "Basin Street Blues". The images include taking a boat down to Mississippi to get to the city of New Orleans, hearing a band play, and likening the scene to heaven. However, Basin Street shifted from being a red light district to a street with lots of empty buildings. It has a storied past, but still searches for regeneration. The Stampeders cover of "New Orleans in 1975 was near the end of the rock 'n roll revival that began in 1969 in response to the emergence of heavy metal and hard rock sounds of Led Zeppelin, Black Sabbath, Deep Purple and others. Nostalgia for late 50's to early 60's rock 'n roll was expressed in Don McLean's "American Pie" in 1972, with its tribute to "the day the music died" with the small plane crash that killed Buddy Holly, the Big Bopper and Ritchie Valens in 1959. That same year Robert John did a cover of "The Lion Sleeps Tonight", Michael Jackson redid Bobby Day's "Rockin' Robin", Bobby Vinton had a hit with "Sealed With a Kiss", a number one hit for Brian Hyland in 1962. And Commander Cody and His Lost Planet Airmen did a cover of Johnny Bond's 1961 hit, "Hot Rod Lincoln".
Other songs in the early 70's that were covers of earlier hits were "Spanish Harlem" by Aretha Franklin (1971), first recorded by Ben E. King in 1961; Dave Edmunds "I Hear You Knocking" (1971) that was an R&B hit for Smiley Lewis in 1955, and the Animals "House of the Rising Sun" (1964) given a new rendering by Frijid Pink in 1970. Johnny Rivers took Huey "Piano" Smith's 1957 hit, "Rockin' Pneumonia and the Boogie Woogie Flu", into the Top Ten in 1973, while Bobby "Boris" Pickett's #1 hit from 1962, "Monster Mash", returned to the Top Ten in 1973. Meanwhile, Donny Osmond took the old Johnny Mathis hit from 1957, "Twelfth of Never", back up the charts, also in 1973. Bette Midler reached back to the early 1940's for inspiration with a cover of an old Andrews Sisters tune called "Boogie Woogie Bugle Boy". In 1974 Grand Funk Railroad took Little Eva's 1962 dance tune, "Loco-motion", back to #1. And Ringo Starr got an even bigger hit out of Johnny Burnette's 1960 tune, "You're Sixteen".
That same year Fancy gave a harder edged version of The Trogg's 1966 hit, "Wild Thing". In 1975 Tony Orlando and Dawn took Jerry Butler's 1961 classic, "He Will Break Your Heart" to #1 with a retitled "He Don't Love You (Like I Love You)". The Carpenters tool the Marvelettes 1961 hit, "Please Mr. Postman" back to #1, James Taylor covered Marvin Gaye's 1963 hit, "How Sweet It Is (To Be Loved By You)", and Donny and Marie Osmond had success with Tommy Edwards minor 1951 hit, "Morning Side of the Mountain" into the Top Ten in 1975.
In 1976 Nazareth remade Roy Orbison's minor hit from 1961, "Love Hurts" into the Top Ten, while Dr. Hook had success with Sam Cooke's old chestnut, "Only Sixteen". The Beach Boys got back into the Top Ten with an old Chuck Berry hit from 1958, "Rock 'N Roll Music", and Elton John took a Beatles tune off the Sgt. Pepper album, "Lucy In The Sky With Diamonds", to #1 in 1975. In 1977, Shaun Cassidy had a Top Ten hit with the old Crystals song, "Da Doo Ron Ron", and that same year James Taylor tackled Jimmy Jones 1960 tune, "Handy Man", by slowing it down. It seemed that in the 1970's covering a record from the early rock 'n roll era could get you a hit single.
But the days were numbered for The Stampeders as a hit-making machine. They had some modest success again in 1976 with several singles off their Hit The Road album. But after that, in most Canadian radio markets the Stampeders were off the radar. The disco onslaught on Top 40 AM radio was full on and the Stampeders weren't doing disco. By degrees the band was breaking up as Ronnie King and then Kim Berly left and were replaced by numerous other musicians. The larger line-up of Stampeders made the cost of touring unfeasible and the band finally split up in 1980. As of March 2018, The Stampeders trio of King, Berly and Dodson continue to tour with 20 upcoming concerts across British Columbia, Alberta, Saskatchewan and Ontario.
March 13, 2017
Ray McGinnis
References:
The Stampeders – About, Stampeders.net
Rich Dodson and Ronnie King, The Stampeders, Canadian Bands.com
Bonds, Gary U.S. Buy U.S. Bonds: That's My Story. Gary U.S. Bonds.com
Jazz Standards Songs and Instrumentals (Basin Street Blues), Jazz Standards.com.
"CKLG 'Thirty'," CKLG 730 AM, Vancouver, BC, October 14, 1975
For more song reviews visit the Countdown.