#746: New York Is Closed Tonight by Greenfield
Peak Month: August 1972
11 weeks on Vancouver's CKVN chart
Peak Position #7
Peak Position on Billboard Hot 100 ~ did not chart
YouTube.com: "New York Is Closed Tonight"
Lyrics: "New York Is Closed Tonight"
Barry Greenfield was born in the UK in early 1951. He spent his childhood in Rhodesia (now Zimbabwe). He moved with his parents to Vancouver in 1967. It was in Vancouver he soon attended his first rock 'n roll concert featuring Herman's Hermits, The Who and Buffalo Springfield. The concert was a catalyst for buying a guitar and Barry Greenfield soon began writing songs. Then in May 1968, he watched a telecast of NBC's Tonight Show with featured guests John Lennon and Paul McCartney. On the show they spoke about their new Beatles' record label, Apple. During the interview, young Barry Greenfield heard them say "Come to London! Come to Apple." Greenfield took them seriously. He promptly bought a plane ticket to London, UK, and made his way to Apple Records at 3 Saville Road. As he tells it on his website, Barry Greenfield "met John Lennon and was told that his songs were special. Barry called his mom that night from a London payphone to share his joy at the reaction from Apple." Things started to unfold quickly and he was given an offer off a recording contract with EMI. But Barry Greenfield turned it down. On his website, bio, Greenfield recalls the reason was "he felt that stardom was not a journey he wanted to apply for." Back in Vancouver, he was focused on going into Law School.
He flew back to the UK in early 1970. At age 19, Greenfield met the manager of Herman's Hermits and 10cc, Harvey Lisberg. He also was introduced to Andrew Lloyd Weber. Barry's first single was listed as Tony Blackburn's BBC Record of the Week during October 1970. Greenfield remembers, "each morning at 8am, that week in October, the BBC trumpets would play to introduce Barry to the British audience. Quite an honour for the young Canadian songwriter."
Among the songs he wrote in the early 1970's was "New York Is Closed Tonight".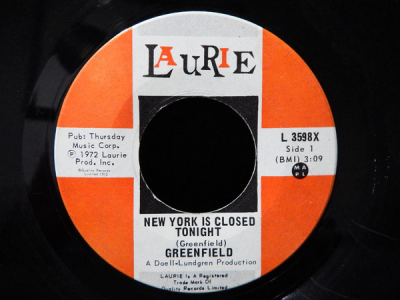 Greenfield wrote this vision of a New York City dystopia when he turned 19, based on a catalogue of social issues plaguing Manhattan in 1970. Pollution, violence, homelessness, decaying cities at a time when the nation was spending billions on the Vietnam War were all part of this protest song. In a city that went dark before dusk because of smog, the song gently prodded listeners to wake up to the world around them. The symptoms the singer mentions as signs of industrialization gone wrong are eyes that hurt (itch), soiled clothes from the pollution, difficulty breathing, trees starved of nutrients making them look "brown and dingy." Apparently, his dog is overcome by the pollution and dies.
The song's context is owed to the New York City garbage strike of February 2 to 10, 1968. 10,000 sanitation workers went on strike that winter. The strike lasted nine days. The New York Daily News reported on February 3rd, "the situation is most acute in tenement areas where there are no incinerators and no facilities for storing refuse." Reporters witnessed refuse "strewn into the street." On February 5, the New York Times bemoaned that the city looked like "a vast slum as mounds of refuse grow higher and strong winds whirl the filth through the streets." By February 5 there were over 30,000 tons of trash on the streets of Manhattan. By the time the strike ended there were over 100,000 tons of refuse on the streets of New York. Vincent Cannato described the scene in the Lower East Side, "Garbage was piled chest-high. Egg shells, coffee grounds, milk cartons, orange rinds, and empty beer cans littered the sidewalk." The strike ended on February 10th when Governor Nelson Rockerfeller took control of the Sanitation Department on behalf of the state of New York, citing a health crisis. The sanitation workers were given a $425 raise (5%).
The strike in New York City inspired sanitation workers in Memphis, Tennessee, who went on strike on February 12. Dr. Martin Luther King Jr. came to Memphis to support the sanitation workers strike on March 18, where he spoke to an audience of several thousand at Mason Temple. King participated in a "March for Jobs and Justice" on March 22nd. King returned to Memphis on March 28 and participated in a demonstration that sparked violence where a 16-year-old African-American named Larry Payne, was killed by police officer Leslie Dean Jones. The and delivered his "I've Been to the Mountaintop" speech in support of the striking sanitation workers on April 3, 1968. On April 4, 1968, Dr. Martin Luther King Jr. was assassinated on a balcony at the Lorraine Motel at 6:01 p.m.
In 1972, Bo Diddley heard the song and took it to a New York music publisher. The tune was not a hit in America, but found appeal in Canada peaking at #7 in Vancouver. The song also climbed to #17 on CJME in Regina. "New York Is Closed Tonight received a Certificate of Honour for Canadian Music in 1972.
"New York Is Closed Tonight" was one of a number of environmental protest songs in the 1960's and 70's. Marvin Gaye, in "Mercy Mercy Me (The Ecology)", lamented "Oil wasted on the oceans and upon our seas fish full of mercury." Joni Mitchell, in "Big Yellow Taxi" observed the serial losses of mother nature to progress: "They paved paradise and put up a parking lot." And The Searchers took Malvina Reynolds song, "What Have They Done To The Rain", to #6 in Vancouver in 1965. The song was protesting the fall-out of above ground nuclear testing on rain. In 1970, the Kinks sang about over-population and threat of nuclear war in "Apeman:" "don't feel safe in this world no more, I don't want to die in a nuclear war/I want to sail away to a distant shore and make like an apeman." And in 1966, the Yardbirds, in "Shapes Of Things", pleaded, "don't destroy these lands, don't make them desert sands."
1973, Barry recorded his debut album, Blue Sky. A single from the album, "Sweet America", made the Top 30 on WMYQ in Miami. Between 1973 and 1975, Barry Greenfield went on tour. Other recording acts he shared the spotlight with while on the road included Mose Allison, Cheech and Chong, Chilliwack, John Lee Hooker, Susan Jacks, Steve Martin, Maria Muldaur, the Pointer Sisters, Supertramp, Frank Zappa and more. A second album came out in 1975. However, after a festival in the Okanagan Valley, Barry Greenfield walked away from the music industry in 1975, went to school. For over twenty-five years he built a financial planning business and had a family. All the while, he kept on writing songs.
In 1999 he released an album titled Cold Water Cure. Local Vancouver Record Store, A and B Sound gave it the Best Independent CD Award in 1999. In the early 2000's, he released King of The Wolves. His song, "Landmines", was acclaimed as the best song about the issue by then CEO of Mines Action Canada, Celina Tuttle. A Mine Ban Treaty, known as the Ottawa Convention, was signed on December 3, 1997. And the issue of landmines was in the news. Greenfield's song was used to "promote landmine awareness for 4 years." In 2004 he recorded an album titled #3 (the White Album). His next recording was Heavy Horses in 2006. Personnel on the recording include David Sinclair, Sarah McLaughlan and k.d. lang. A track from the album was an anthem for Cancer research titled "Pink Ribbon." In 2008 he released an album titled Exposed Soul. In 2011 Barry Greenfield released an album titled You Can't Always Get What You Want, drawing inspiration from a Rolling Stones song.
In 2014 Greenfield continued had a 45thanniversary tour showcasing his songs recorded since the late 60's. In 2015, Greenfield released another album titled This Blue. In a July 2016 article primarily about the Tragically Hip, there was mention of a upcoming concert with Barry Greenfield at Frankie's Jazz Club on Beatty Street in Vancouver on September 1, 2016. Also, Greenfield recorded his first live album at Blue Frog Studios on March 5, 2016. Located in White Rock, BC, Blue Frog bills itself as "Canada's hottest live broadcast theatre." According to iTunes, Barry Greenfield released another album, Nashville Sessions, on November 21, 2016. On his website, Barry Greenfield has upcoming shows at Frankie's on September 30, 2018, and at the Yaletown Roundhouse on February 15, 2019.
August 16, 2018
Ray McGinnis
References:
Ken Eisner, "Veteran Barry Greenfield has Worked with Heavy Hitters," Georgia Straight, Vancouver, BC, March 7, 2007.
Barry Greenfield bio, Barry Greenfield Music.com.
Thomas Poster and Jack Mallon, "New York City Garbage Strike of 1968: Trash Piles Up on Sidewalks After Sanitation Workers Walkout," New York Daily News, February 3, 1968 (reprint Feb 3, 2016).
Janos Marton, "Today in NYC History: The Great Garbage Strike of 1968," Untappedcities.com, February 11, 2015.
Tom Harrison, "Robertson Declares July 26 Tragically Hip Day in Vancouver," Vancouver Sun, July 5, 2016.
Tom Harrison, Eurovision: Vancouver Singer Rykka to Represent Switzerland, Vancouver Sun, February 28, 2016.
International Campaign to Ban Landmines, Wikipedia.org.
"The Top 40 Hits," CKVN 1410 AM, Vancouver, BC, August 7, 1972.
For more song reviews visit the Countdown.